Wallowa County, Oregon, is in the throes of one of the most narrow, nail-biting elections in the region's history. Right now the count is still ongoing for a ballot measure that would require the northeastern Oregon county's elected officials to seriously discuss the possibility of seceding from the state and joining Idaho.
Last week, during Oregon's special elections, a few thousand Wallowa voters took to the polls to decide on ballot measure 32-007, better known as the Greater Idaho initiative. If the referendum passes, county commissioners would have to "discuss promoting interest of Wallowa County to relocate State Borders, and to prepare County to become part of Idaho," lest they risk a lawsuit or fine. The results are still too close to call, although votes in favor appear to have a single-digit lead, and there may well be a recount.
Successful passage would make Wallowa the 12th Oregonian county to officially consider swapping the Beaver State for the Gem State. It's all part of the so-called Greater Idaho movement, a 3-year-old initiative that aims to move the Oregon-Idaho border westward so as to absorb eastern Oregon's whiter, more militant, more Republican, and more rural enclaves. Idaho's politics, always very conservative, have taken an extreme far-right turn in the post-Trump era, thanks to an influx of white nationalists and conspiracy theorists who've fled Democrat-run areas. And some Oregonians want in.
Greater Idaho capitalizes on the vast political gap between urban and rural Oregonians, as well as their political and cultural affinity with many nonurban residents of Idaho, Washington, and Northern California. Oregon, once known as a state where moderate suburban Republicans and rural Democrats could work together in relative harmony, has seen its parties and coalitions fracture sharply in recent years. Joe Lowndes, a political science professor at the University of Oregon, explained that these shifts began in the 1980s: a tech boom benefited urban areas, while the industries that ran rural Oregon—timber, fishing, agriculture—went into decline. Democrats subsequently clustered around the cities, while other areas embraced the GOP (or even extremist militias).
Greater Idaho also recalls past attempts by both left and right to reshape the Northwest into their own ideological bubbles. There was the American Redoubt proposal, in 2011, to establish a safe space for conservative Christians by combining the Plains States with rural Washington and Oregon; the 1980s Cascadia movement, pushing for an autonomous region consisting of Northwestern cities and the Canadian province of British Columbia; the World War II–era breakaway announcement from California-Oregon border counties wishing to establish Jefferson state; and the decades-old, white supremacist Northwest Front idea. (Notably, American Redoubt's founder wrote in support of Greater Idaho just last year.)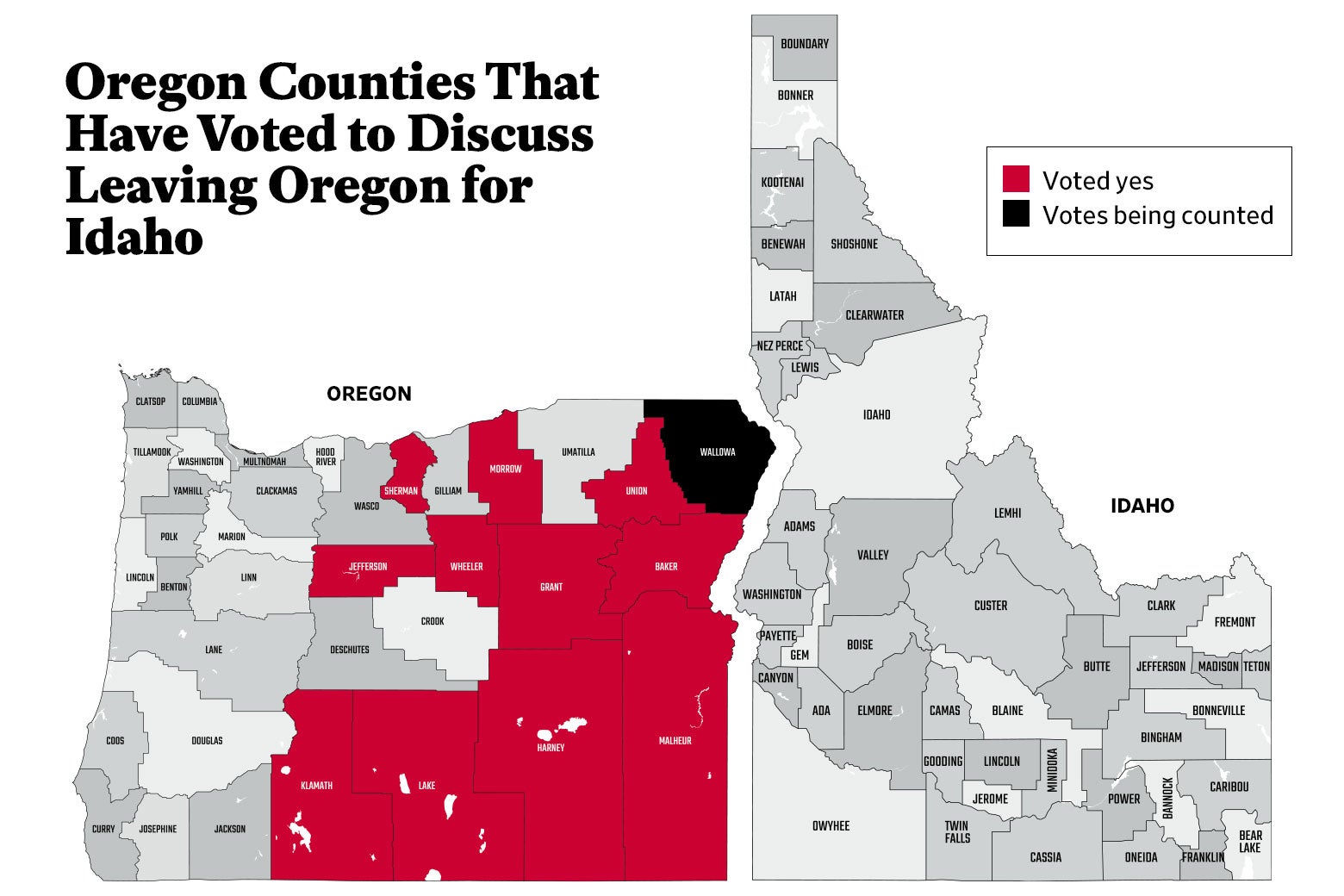 But the Greater Idaho Movement has gained much more ground than these historic examples—at least on paper. That may be because it's backed up existing ground-level organizations with cross-state solidarity as well as backing from some conservative thinkers. "They implemented a good strategy for keeping themselves in the public eye, which was to have conversations in county after county," said Lowndes.
Oregon Public Broadcasting news editor Ryan Haas, who has overseen his newsroom's coverage of the movement, told me that Greater Idaho has benefited from two factors: its route through the electoral process (as opposed to, say, vigilantism), and its attempt to avoid being tarred as a bunch of right-wing cranks by building a somewhat ideologically wide coalition. "A lot of times, movements that are separatist or dissatisfied with the status quo in a blue state, they tend to be anti-government or not really interested in the democratic process," said Haas. "This is a really broad idea that a lot of people could be interested in, whether they support the Bundys or they're a political conservative who thinks Salem doesn't hear the complaints they have." The Greater Idaho website broadly claims that its base also includes "progressives and conservatives of northwestern Oregon who welcome a smaller Oregon."
Part of the movement consists of Move Oregon's Border, a reportedly 12,000-strong political action committee that started working in 2019 to petition for ballot initiatives voicing the desire to shift various Oregon counties into Idaho's borders. Across the Snake River, MOB is complemented by Citizens for Greater Idaho, a years-old nonprofit that advocates for Idaho to expand its state lines and welcome those tired, poor Oregon districts, along with remote bits of Northern California. Collaborating to jointly form Move Oregon's Borders for a Greater Idaho, the two groups found gradual success. During the 2020 elections, 2 out of 4 Oregon counties with Greater Idaho ballot measures approved those initiatives, and six more counties voted in favor of the initiative throughout 2021. (Some notable facts about these votes: Wallowa was one of the counties that voted against the Greater Idaho study in 2020 before taking it back up in 2023, and the 2021 victories included Malheur County, famously the location of Ammon Bundy's National Wildlife Refuge militia occupation and standoff. Bundy has endorsed the idea of Greater Idaho.) After 2 out of 3 counties with Greater Idaho referenda voted down the proposal in May 2022, the Greater Idaho movement narrowed the scope of its geographic ambition by excluding Californian regions, and it earned a couple more county wins that November.
Throughout this year, the Greater Idaho movement seemed to have gotten a lot more steam and attention, not least because an Idaho bill meant to kick-start interstate talks passed the state's House in February, although it stalled in its Senate last month. (A January bill introduced to Oregon's Senate in January never got past the reading stage.) After the Idaho House vote, Democratic U.S. Rep. Earl Blumenauer of Oregon quipped that he would "entertain a trade for Boise and Sun Valley," two of the most liberal parts of Idaho. The movement also got a spotlight from the Claremont Institute, the influential, ultraconservative think tank that provided the legal and intellectual underpinnings for the Trump administration's agenda, up through the former president's attempts to overturn the 2020 election. One of the institute's affiliated websites, the American Mind, published multiple pieces in 2021 praising the Greater Idaho movement, following in the vein of other Trumpian publications like American Greatness. (More traditional conservative outlets, such as the Spectator and National Review, have tended toward skepticism.) In February, Claremont furnished a nearly 100-page study claiming that Greater Idaho's goals would be of great economic benefit to the defecting counties (mainly because, the institute purports, these residents would pay fewer taxes as Idahoans). For Claremont, whose leaders regularly decry blue-state values and invoke the possibility of another civil war, support for Greater Idaho may seem like a no-brainer.
By the time its ballot initiative returned to Wallowa County this year, the Greater Idaho Movement gained enough prominence to finally earn some semblance of pushback, with some county residents protesting the idea ahead of the election in a way previous counties hadn't. In fact, in Greater Idaho–approving Grant County, some residents have attended public meetings on the issue while wearing shirts that read "Just Say No to Idaho."
"Early on, there was little opposition because no one would have thought to organize against such a long-shot campaign," said Lowndes. As Oregon Public Broadcasting reported, some of the backlash involved the work of Western States Strategies, the political branch of the Portland-based nonprofit Western States Center. "Greater Idaho has really not been challenged in these previous ballot measures," said Western States organizer Stephen Piggott. "We felt like it was time for someone to lift the cover a little bit and provide some information for the voters as to the history of secessionist movements in this state, the white nationalists who've supported Greater Idaho, and the election denial, COVID conspiracies, homophobia, and anti-trans rhetoric coming from people associated with the movement."
It's worth noting that functionally, the successful ballot measures are requests for local officials to talk about seceding from Oregon to link up with Idaho. "It's sometimes portrayed that these counties want to join Idaho, but for the most part, they've been positive votes for county councils to begin to have a conversation about what that looks like," said Lowndes. A real move in this direction would require not only mutual agreement between the two states, but also an act of Congress. We're … not even close to any of that. For Oregon's leaders to be OK with this, they'd have to embrace the prospect of losing a significant population chunk—which would pare down the state's Electoral College votes, shrink its congressional delegation, and whittle away business and income tax revenues.
But there's something more insidious that could be awakened outside the ballot box. "It enlists people's democratic energies and aspirations to put themselves down on paper as being opposed to autocratic rule by Salem," Lowndes said. "Sometimes you hear organizers say, 'We wanna do this because we don't wanna see more radical responses than this,' which is kind of a way of saying there's this ever-present possibility of political violence."
For now, despite the heated sentiment driving the Greater Idaho movement, the effort so far has been civil. The campaign's merchandise and promotional material resemble those of a typical political campaign, with photos of beaming families and activities. The rallies favoring or opposing Greater Idaho haven't flared up into violent hostility. Supporters who speak to the press cite the appeal of Idaho's anti-abortion laws or their hatred of Oregon's environmental and business regulations.
But now that the movement is finally experiencing some visible spotlight and pushback, that superficial tranquility may not last forever. And the hazy nature of the movement's actually passed measures have proved more baffling than enticing to county commissioners, who have no clear idea how to follow voters' requests here. Turns out, successfully lining up voters behind a pithy, vague slogan does not a tangible movement make.
Whatever the future of Greater Idaho, it's undoubtedly yet another signal of how once-fringe ideas are becoming slowly institutionalized, eventually trickling down to envelop their supporters into the political process. "This is not necessarily a growing movement, but a movement that has become wiser about its political messaging, how it approaches this in the public view, and how it goes about gaining attention for itself," said Ryan Haas. "People who are more politically extreme are looking for any vehicle they can get to disrupt the status quo."