A few years ago, the yellow yard signs started appearing all over Arlington, Virginia, the large D.C. suburb where I live. This was in the early days of the yard-sign boom, when, driven by political frustration and COVID isolation, people were posting their feelings as if their lawns were social media: BLACK LIVES MATTER. THANK YOU DR. FAUCI. IN THIS HOUSE, WE BELIEVE …
The casual observer might have been forgiven for thinking, at first, that these new signs were driven by the same progressive politics animating much of this deep-blue suburb. But these were a little different. NO UPZONING, they said. PRESERVE THE CHARACTER OF THIS NEIGHBORHOOD. NO MULTIPLEXES. The signs focused on the one issue overwhelming neighborhood listserv discussions and county board meetings: a proposal to end single-family zoning, called "missing middle."
In March, after years of controversy and hundreds of public comments at chaotic meetings, the county board passed the missing-middle proposal, a zoning change that, with some limits, eliminates the requirement to build only single-family housing in residential neighborhoods. Starting July 1, a builder can knock down a single-family home in Arlington and replace it with a duplex, a triplex, or, in some areas, up to a six-apartment structure—the so-called middle options between single-family homes and high-rise apartment buildings.
The debate is urgent here, as it is in many places feeling the acute effects of a housing crisis that's left the nation with a shortfall of more than 3 million homes. Similar missing-middle plans have been passed in Minneapolis and Portland, Oregon; the state of California mostly eliminated single-family zoning in 2021. Supporters of the policy in Arlington have long argued that the city is suffering affordability and diversity crises, and that eliminating single-family zoning—which exists in large part because of decades-old racist, exclusionary policies—was one route out of those crises. Opponents warned of new crises should the measure pass: overcrowded schools, overwhelmed infrastructure, and traffic nightmares.
Ten of those opponents just filed a lawsuit in state court, arguing that the board didn't sufficiently study the possible results of the missing-middle plan. But the dry procedural claims in the 162-page lawsuit read more like the last frustrated cry of a population that has long driven policy in Arlington and isn't used to having its opinions disregarded: the mostly white, upper-middle-class homeowners of the city's northern enclaves. Passing missing middle "would transform Arlington from an urban village to a paved metropolis," one advocacy group warned.
But those opponents, and even some supporters, are missing something important about missing middle. It won't do what either side seems to think, at least not at first. As I watched the YIMBY vs. NIMBY wars come to my own city—and realized that the NIMBY stronghold was my own part of town—I began to see how easy it is for many to hide the truth about their arguments from themselves. Here, that began with something called the Arlington Way.
"This is a first for us," said Daniel Weir, a member of the Arlington County Planning Commission, surveying the hearing room. "There are a lot of people here."
It was a frigid Monday night in December, and more than 80 Arlingtonians had come out to the county government building in the Courthouse neighborhood. Dozens more observed from their home computers. Winter coats were shoved under benches or dropped on the floor as the room heated up. The commission is not usually this hot a ticket, but just a few months before an expected full board vote on missing middle, people were out in force.
What many wanted, it seemed, was to give a piece of their mind. Speaker after speaker stepped to the lectern, or unmuted on Microsoft Teams, and began this way: "I've been an Arlington resident for 30 years." Or 40 years. Or 46 years. Or since 1961. They hated missing middle. They worried about parking, about sewer capacity, about tree canopy. They seemed resigned to the idea that whatever happened tonight, the county board would pass the proposal, despite their objections. "You already know it's not going to work, and you're doing it anyway," one woman said. "I'm here to scold you."
Over and over, opponents eulogized the Arlington Way. ("This isn't the Arlington Way!" was a typical refrain.) That's a philosophy that gets referred to a lot around here, in all sorts of circumstances and by all sorts of people. Its roots lie in the city's revolt against the planning of Interstate 66 in the 1960s and '70s. Concerted community efforts led to the highway's shrinking from a planned eight lanes to four and succeeded in driving planned aboveground Metro trains into underground stations. It was this process that delivered Arlington as it exists now: dense housing and retail centered on those underground stations—like the Courthouse neighborhood where this meeting was taking place—surrounded by expansive neighborhoods of single-family homes.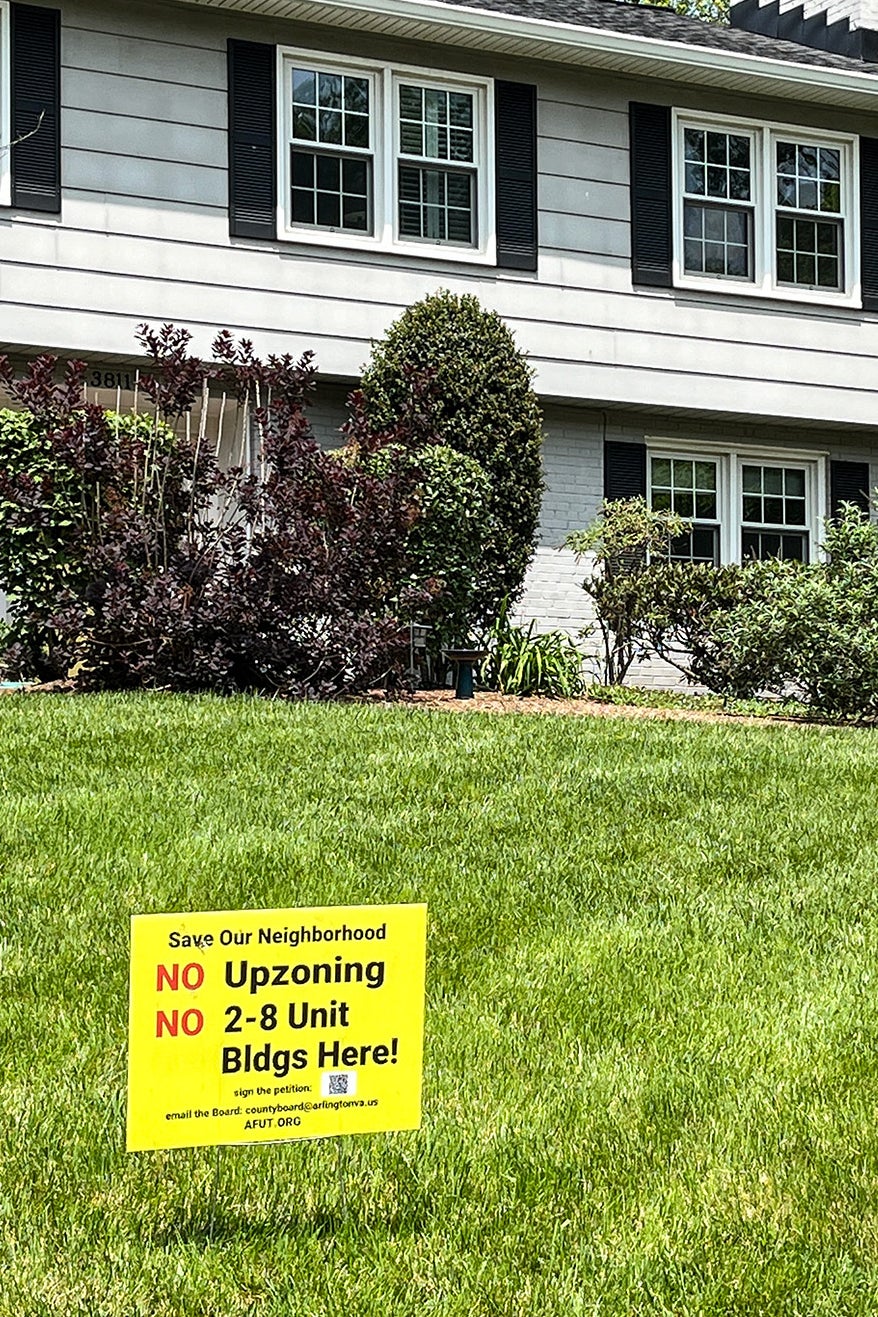 "At its best, the Arlington Way is a belief in an inclusive process that takes in as much good input as possible to reach a collective outcome," Matt de Ferranti, a member of the county board, told me. But who is giving the input in Arlington? The civic organizations and community boards most closely tied to Arlington civic planning are made up mostly of wealthy, older white homeowners—the people with the time and money to participate. A 2000 study on the Arlington Way concluded that those whose opinions tended to be underrepresented included racial and ethnic minorities and new Arlingtonians, often younger renters. "The Arlington Way has been whiter and older and more male, historically, than the community as a whole," de Ferranti said. "We have to acknowledge that." The Arlington Way has proved compatible with the many 20th-century policies that enforced segregation in Arlington: the deeds restricting ownership in new subdivisions to white people; the destruction of Black neighborhoods to build the Pentagon; even the literal, physical wall built around the Black neighborhood of Hall's Hill.
Arlington is wealthy, whiter than the rest of the country, and still notably segregated. These trends are increasing: Since 2000 the median household income has more than doubled to almost $130,000, and the county, 64 percent white in 2010, is now 74 percent white. Route 50, traveling west from D.C., splits Arlington in half physically and psychically; the southern half is less white and more poor than North Arlington, epicenter of the yellow signs. And the arguments from North Arlington homeowners citing the Arlington Way resembled the arguments that homeowners always make when the housing battle comes to their backyards: They bought their homes because they wanted a particular kind of life, and now that way of life feels under threat. Many of them seemed to feel as though single-family homes are going to be torn down en masse, or outlawed. "If missing middle passes, our block would go from 17 houses to 136 units overnight," one man declared, a prediction that obviously had no grounding in reality.
Anti–missing middle speakers outnumbered supporters about 4-to-1 at that planning commission meeting. But at the full county board meeting the next month, the YIMBYs came out in force, waving signs and speaking in support of the proposal. Many of them pointed out that as things stand, single-family homes get knocked down all the time in Arlington—it's just that they're replaced by larger, uglier single-family homes. "Why is it OK for millionaires to take down trees to triple the size of their houses," one nervous young woman asked at the lectern, "but it's not OK when we could provide housing to multiple families?"
In the end, over the course of multiple public hearings, de Ferranti said, supporters of missing middle outnumbered opponents. (Emails to the board cut the other direction.) In the meetings I attended, opponents sounded disappointed that so many people were speaking in support of the proposal, and often referred to the debate as "deeply dividing" the community, in a manner that suggested they were just now learning whom their community actually consists of. Arlington's renters live well away from the leafy neighborhoods of single-family homes sporting yellow yard signs: on busy streets and in the transit corridors, in town houses and tall apartment buildings, often in the southern half of the county. "The people who live there aren't visible to missing-middle opponents," said Jane Green, head of an organization called YIMBYs of Northern Virginia. "We've heard over and over in meetings: 'No one supports this!' Which means the people you talk to don't support this." Over half of Arlington households are renters; the battle over missing middle is the first time that many Arlington homeowners have been forced to face this fact.
Toward the end of one of the many, many public response sessions in front of the county board, an older man stood at the lectern and again angrily decried the loss of the Arlington Way. "The Arlington Way is about building consensus," he said. "Have you heard consensus here today? No! What you've heard today is volubly discordant. There is no community opinion! Acting as if there is consensus by advancing this item absolutely abandons the Arlington Way."
"The Arlington Way means I will listen and fully consider your perspective," de Ferranti told me later. "It does not mean that I will agree with you."
I've had plenty of time to think about what missing middle might mean for me and my single-family home. The absentee owner of the run-down house next door seems to have died in the early days of the coronavirus pandemic, and his heirs haven't sold yet. How would I feel about a multiplex building sprouting up—if not in my backyard, then in my side yard? How would I feel about all those oak trees getting cut down, and who knows how many cars parking on my street? As I reported this piece, I came to understand that asking myself these questions—that grappling with these possibilities—is in many ways the point of missing middle.
In March, when the county board unanimously approved missing middle for Arlington, supporters responded with a standing ovation, and opponents held up tombstones reading "R.I.P. The Arlington Way." "Whoa, we just desegregated Arlington," one supporter said to another in the boardroom. But that's not true—no more than it's true that the county is tearing down single-family homes overnight. Both those views ignore the reality of how slowly change is likely to come, and how the real legacy of missing middle has as much to do with a transformation in viewpoints as with any individual building project.
You have only to look to other places that have eliminated single-family zoning to see the pace at which Arlington is likely to transform physically. Los Angeles saw 211 applications for multifamily dwellings in the year after California passed SB 9. In the two and a half years after Minneapolis took action, only 48 new duplexes or triplexes were permitted on lots formerly zoned single-family. Arlington will see similarly low numbers in the first few years of missing middle—by design. For the first five years, development is capped at 58 buildings per year, distributed among specific kinds of former single-family lots.
Indeed, it's likely that many, or even most, of the people who fear six-plexes springing up everywhere will never see a multifamily house on their block. Take my ZIP code, for example, the epicenter of anti–missing middle sentiment in Arlington. (Half the residents whose names are on the lawsuit live in this ZIP code.) Each year for the next five years, thanks to the distributed caps, no more than 20 or so multifamily buildings will be permitted in the large lots of North Arlington. There are 1,114 blocks in this ZIP code—if you don't want a multifamily dwelling on your block, the odds are in your favor!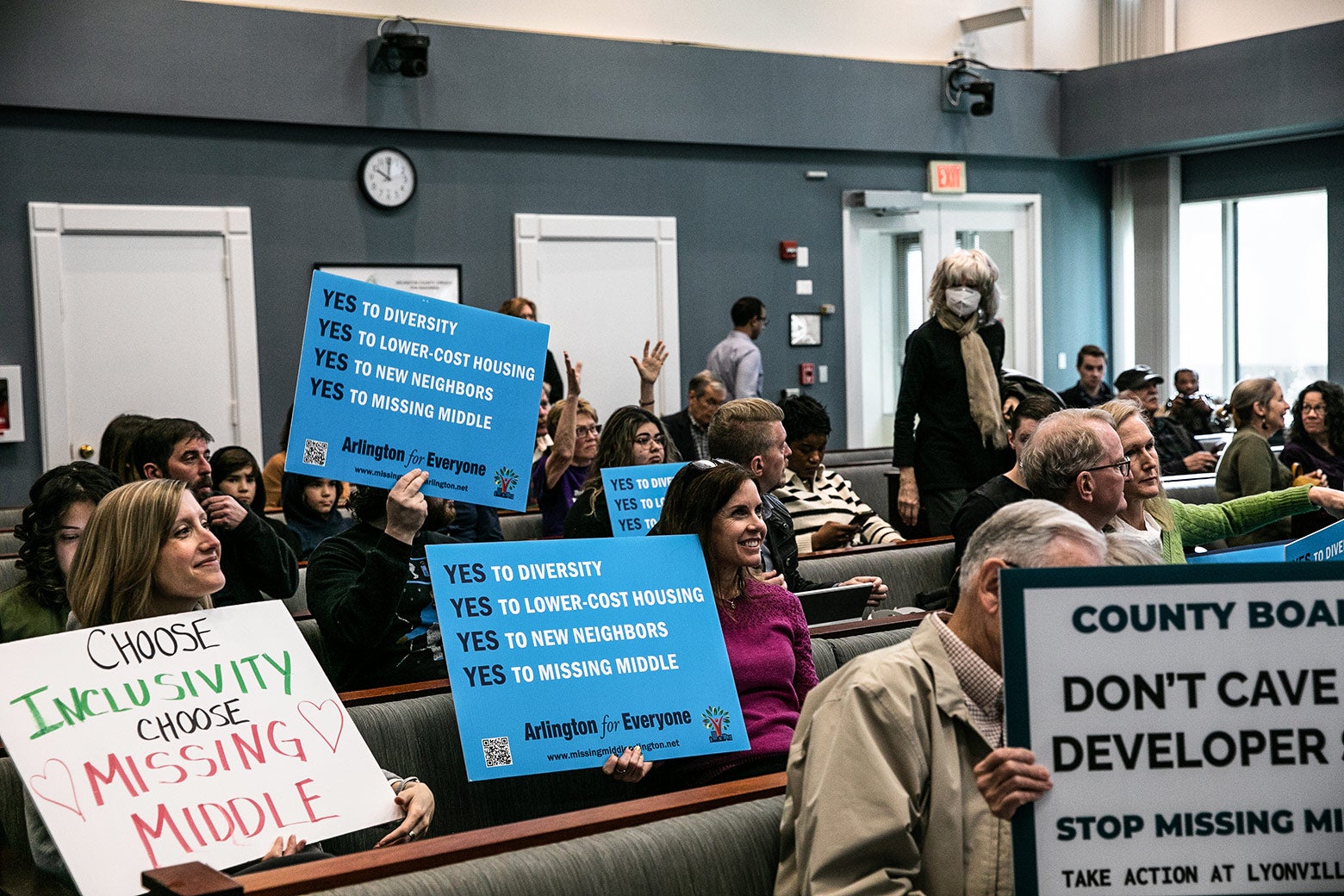 So, missing middle's power isn't in causing a thousand apartment buildings to bloom on July 1. Yes, each duplex or triplex that's built will have an effect on housing in the area, adding a little more stock at the kinds of prices that can be hard to find in a community where the average single-family home sells for more than a million dollars. But in the near term, the real power of missing middle is in changing the way a community talks and thinks about housing. In this, too, we can look to other cities that instituted similar reforms. "It's a mild land use plan that took on enormous emotional significance mainly because the overall conversation around land use in the country was so ossified," urban planner Alex Schieferdecker wrote in a recent assessment of Minneapolis' policies. "It's a forward-looking document at a time when those are remarkably rare and the crises that we collectively face seem so immediate."
"For the last 60 years we have been saying, 'Multifamily buildings are only OK in certain places, and we should keep them away from other places,' " said Jane Green, of the local YIMBY group, who rents with her family in a large apartment building near the courthouse. "Missing middle is Arlington sending the signal that multifamily homes are not bad. They're not dangerous; they're not a blight. They're good. You're not a welcoming, forward-looking community if you don't embrace multifamily homes of many kinds."
Though not everyone is ready to admit it, missing middle has forced Arlingtonians to think about who actually lives in Arlington, and what kind of community we ought to be to make a good home for all of them. It's certainly made me think about how little I considered the renters who make up so much of Arlington's population but take up so little of its physical space. And I know I'm not the only person who saw yard signs demanding we PRESERVE OUR NEIGHBORHOOD'S CHARACTER in the yards of brand-new, 7,000-square-foot McMansions and thought, Huh.
Arlington is already transforming, that is to say. It's getting more wealthy, more expensive, more exclusive. I bought into missing middle, in the end, because the policy represents a commitment to transforming it differently, to making a future that represents the kind of community I'd like to live in.
Since missing middle passed, it's become much more difficult to find those yellow yard signs. On a recent ride around North Arlington, I saw only a few in tony neighborhoods like Country Club Hills and Rivercrest. Perhaps the opponents are beginning to accept that their community is not, has never been, exclusively their own domain.
Though of course there's still the lawsuit. It remains to be seen whether the suit will change the timeline for missing middle's adoption. (Gifford Hampshire, the attorney who filed it, would not speak to me on the record; none of the plaintiffs agreed to speak with me for this piece.) The suit alleges that Arlington fell short in a number of procedural ways relating to how such zoning changes are announced, studied, and decided. I truly have no idea whether such claims are legitimate. But it seems as if all we've been talking about around here for two years is missing middle, and that nonetheless of course we don't know fully how Arlington will change as a result. How could we possibly know? "Embracing some unknowableness is part of it," Green said. "We can't plan everything. Let's just see what happens!" What kind of place is so afraid of a downside that it refuses to try to make life better, to try to make things more equal?
And if those apartments do arrive next to someone's nice house? Next to mine? My house will not crumble into the dust, and my new neighbors—the multifamilies who would move in—will surely be people who want the same things out of Arlington as I did when I moved here. "I hope if and when a triplex comes in next to me, I have the grace to welcome my new neighbors," said Matt de Ferranti, who lives right up the street from me. "We can't just be for fairness for other people's kids in other neighborhoods. We have to live our ideals."