Last week in the New York Times, investment executive and former Obama administration adviser Steven Rattner argued, in a piece called "Is Working From Home Really Working?," that the increasing prevalence of remote work reflects a change not just in technological capacity and social circumstances but in the United States' entire attitude toward labor—a change that is "not for the better," he says, and that "threatens to do long-lasting damage to economic growth and prosperity."
I read Rattner's piece on my phone while walking from my car to my son's 2:30 p.m. elementary school pickup. It was good for a chuckle because I was not in an office, but I was definitely working. If I hadn't been working, I would have been reading an article about sports, or perhaps strolling through the whispering spring breezes without reading an article at all, rather than learning that the chairman and CEO of "Willett Advisors"—and "several dozen" other senior executives to whom he says he's spoken about the subject—suspect I am not working hard enough.
It is true that I prefer to work from "home," as the case may be, although home is sometimes a coffee shop where I type while my son plays games on my phone—he has to read for 30 minutes first; we're an industrious family!—or the front seat of our car, where I connect my laptop to my iPhone hotspot while parked outside a school or day care center.
But I don't think Rattner and the other executives are right about why post-COVID remote workers have this preference. Rattner writes that he thinks virtual commuters have "gone soft" and quotes JPMorgan Chase CEO Jamie Dimon as stating that the remote option appeals to individuals who don't want to "hustle" as much as they should. Americans' "work ethic" is lacking, Rattner says, especially in comparison to that of the Chinese, which he describes as "extraordinary." (Rattner did not respond to a request, passed to him through the Times, to discuss his piece.)
Rattner gets to the heart of the issue in another part of his column, but without realizing it. "Growing prosperity should allow for more leisure," he writes, citing economist John Maynard Keynes' prediction that the workweek would be as short as 15 hours by 2030. He elaborates:
As productivity increased since Keynes's time, we could have cut back our hours on the job far more than we did and easily maintained a 1930 standard of living. Instead, we chose to keep working in order to enjoy greater material rewards; real incomes have increased more than sevenfold since 1900.

Now many may be making a different choice.
Growing prosperity? A choice? Now, that's interesting. It's true that most Americans live in a world of material abundance relative to, say, the bog people, but it's questionable whether their "rewards" for working are "growing," or whether the United States' prosperity, as described by measures like gross domestic product, is being made available to them in a way that affords real choices about how to spend time.
Consider this Congressional Research Service chart: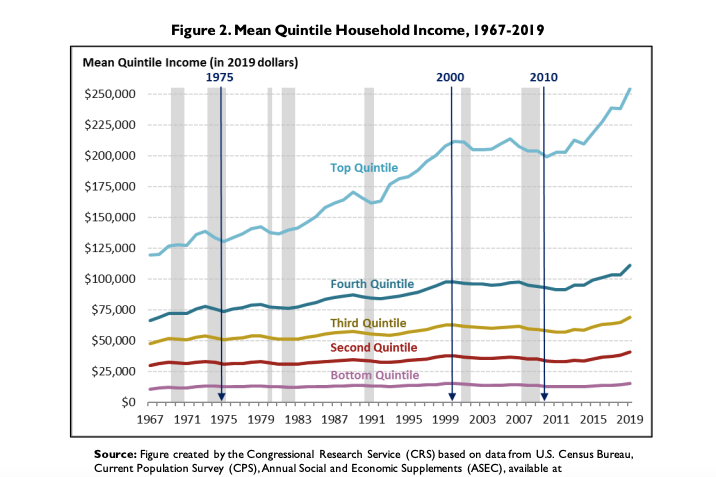 Prosperity per se has grown, but the gains have been sucked up by top earners, particularly since the turn of the century. As the big graph in this 2019 piece in the Times documents, the top 1 percent of earners have done very well, while the top .01 percent—the Steven Rattner percent—has done spectacularly. Most other people's income in the aggregate has muddled along a line that, if not exactly flat, is pretty close to it.
At the same time, costs for some key expenses that affect how practical it is to work all day, every weekday, in an office—namely housing and child care—are increasing faster than overall inflation. (This was true for child care even in 2021, when overall inflation was notably high.) The typical office employee pays more for housing than they used to, or has to live farther from the office to pay the same amount, or lives farther and pays more; if they have children, they either pay more for child care, or have to take care of their kids more often themselves. (The same holds true for those caring for parents or older relatives.) Expenses like health care and higher education are also increasing faster than inflation, further constraining disposable income.
If the typical family is anything like mine, this all means it has little (or no) money available to pay for services of household convenience—drop-off laundry, cleaning, someone to mow the lawn. That stuff takes time, and if you're in a family with two adults who work full time in an office, it has to be done … some other time. (I will never pay anyone except my children to mow our lawn. Just using that as an example.) My wife and I live two miles from the nearest commuter train station in a New Jersey suburb that is frequently written about but not especially fancy; were we both to work full time in New York, our commutes would take more than an hour door-to-door and cost about $6,000 a year in total. The cost of child care for our three kids (even though 2 of the 3 are already in public school) would be more than $40,000.
These problems all existed before the pandemic, to the extent that they had a name and a Wikipedia page: the middle-class squeeze. And while some of the data above is a few years old, COVID hasn't changed the trend. Per the Economic Policy Institute, wages in 2021 "rose fastest for the top 1% of earners (up 9.4%) and top 0.1% (up 18.5%), while those in the bottom 90% saw their real earnings fall 0.2% between 2020 and 2021."
Put it all together, and it's not surprising that only 17 percent of respondents to a new WSJ/NORC poll said their finances are better than they expected them to be at this point in their lives. Forty-four percent said their situation was worse than they'd expected it to be. This does not suggest a nation of workers so well-off that they are choosing free time over surplus income.
Which is to say that for many people, working from home is not a comfortable pullback enabled by prosperity but a frantic necessity in its absence. There were not a lot of good things about a pandemic sweeping through the world, but one of them was that once children were able to return to schools and working remotely was still the norm, the middle-class squeeze loosened its grip a teensy, teeny bit. The tasks of picking up or watching kids, taking care of a household, and/or working extra jobs to earn extra income could be borne more easily without the obligation to be somewhere else 40 hours each week. If someone wanted to take care of all that stuff for me, I would love to start enjoying the relative peace and solitude of New York subway trains again. Chitchatting with people my own age, taking 45 minutes to buy a salad for $16, all that stuff. Sounds great! Imagine having three straight hours in the afternoon to work without getting someone milk! I can't imagine it at all!
I agree with Rattner that some of the reservations workers have about going back to the office full time are cultural rather than financial—but again, not in the way that he thinks. To understand why, consider the two CEOs he quotes as having recently taken their own employees to task for not commuting enough. Salesforce's Marc Benioff asked, passive-aggressively, in company Slack if performance was suffering because not enough employees are in the office helping their colleagues build "tribal knowledge," while Mark Zuckerberg of Meta instructed staff in a memo to "find more opportunities to work with your colleagues in person"—elsewhere, he referred to those colleagues as "teammates"—because it's easier to "build trust" in those settings.
Tribes, trust, teams—it's the familial, emotionally inflected language of the modern corporate leader. But, as I'm not the first person to point out, you can't get laid off from a family. And the actual informative purpose of Zuckerberg's memo, despite its digressions about the nature of human relationships, was to announce that the company intends to terminate 10,000 more employees after having laid off 11,000 just last November. Benioff's Salesforce laid off 8,000 people in January and is considering letting more go as well.
Meta's stock has doubled in value since November, and Zuckerberg is still worth $73 billion. In 2022 Meta made $23.2 billion in net income, commonly known as profit. Salesforce's stock is up 35 percent since its layoffs. Whose prosperity is really threatened here by employees who won't commit to the tribal team culture? Whose tribe are these "senior executives" really a part of, anyway? Whose team are they on, and whose trust do they deserve?
And how long does it take them to get to the office? If previously published information about where Rattner lives and works in Manhattan is correct, his commute takes about 10 minutes by car and 20 on foot. If any senior executives want to set me up such that my commute is a 20-minute walk along Fifth Avenue, I will see their asses by the watercooler every damn day for the rest of their lives.