New York Mayor Eric Adams, throughout his strange political career, has tended to make a big show out of all his public speeches. As state senator, he ran a prominent "Stop the Sag" campaign against the youths' baggy pants, displaying billboards of sagging jeans across New York. As Brooklyn borough president, he professed his hatred of the city's rodents by means of a high-profile "Rat Summit," accompanied by bucket traps and bags of poison pills. The theatrics haven't stopped since Adams entered Gracie Mansion last year; they've arguably only escalated. After controversially denouncing the separation of church and state in a Tuesday speech before an interfaith breakfast, for example, the mayor beseeched his constituents to embrace spirituality—and pulled out a yellow sponge to emphasize the point. "You will never be who you ought to be if you carry around a saturated sponge of despair," Adams proclaimed, waving a sponge that had presumably been soaked in despair. "You got to wring it out."
Plenty of observers were unhappy with Adams' blasé disregard of a core constitutional clause, but also: What was the deal with that sponge? Hackneyed metaphor aside, it's a strange prop to have at an event for whatever reason. Hizzoner had clearly thought this through and packed a sponge before traveling to the interfaith event, because that's a thing you do when you're mayor, I guess. It's a bizarre thing to plan ahead for—one line in a speech where you attack secular government and then encourage New Yorkers to overcome spiritual malaise by … squeezing and twisting and shaking out their internal despair? Hey, some might say it's still not as weird as the time when he yanked a crack pipe out of a backpack, as state senator.
Heavy-handed political staging is nothing new, of course; Dick Nixon's infamous "Checkers Speech" utilized a fake living-room set and his wife's "Republican cloth coat" as symbols to get voters to trust the embattled vice presidential candidate. But what's all the odder about Eric Adams' stagecraft is just how many unexpected things he holds aloft—from heat sensors to vegan wraps to "For Sale" signs to elaborate rat traps—at speeches for events both significant and trivial. Has it worked for him? Well, he did gain prominence as a local pol thanks to his rabble rousing, and he's ridden that to the city's top job. But considering his low approval ratings, it may not be the most fruitful political strategy of the moment.
Let's take a survey of the various props Eric Adams has touted throughout his already-surreal year as actor/mayor.
A napkin with a handwritten, all-caps "LIFT THE MANDATES" message: From March 2022, a fine example of how Mayor Adams sells his agenda to the press:
Food: The vegan mayor of New York would like you to behold these freshly farmed veggies and these locally baked treats: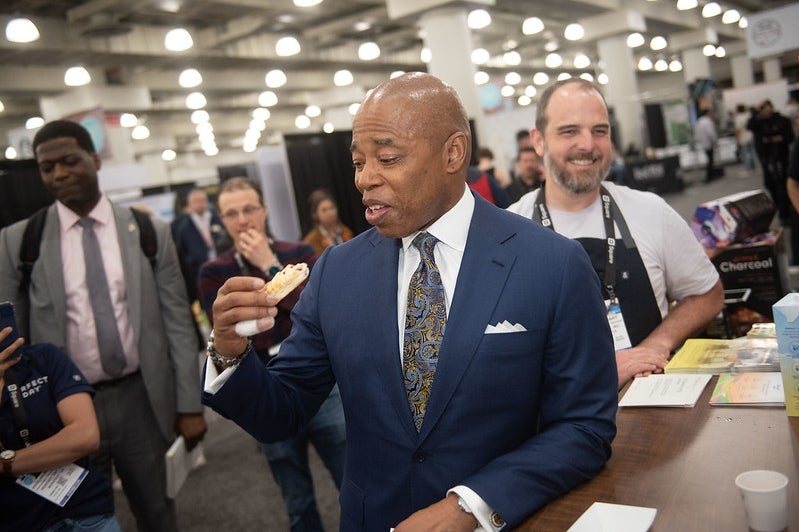 A checkered flag: Adams waved the racing symbol during a live PSA against illegal dirt bikes last summer, signaling for a bulldozer to crush almost 100 bikes seized off city streets. A great use of everyone's time, to be sure.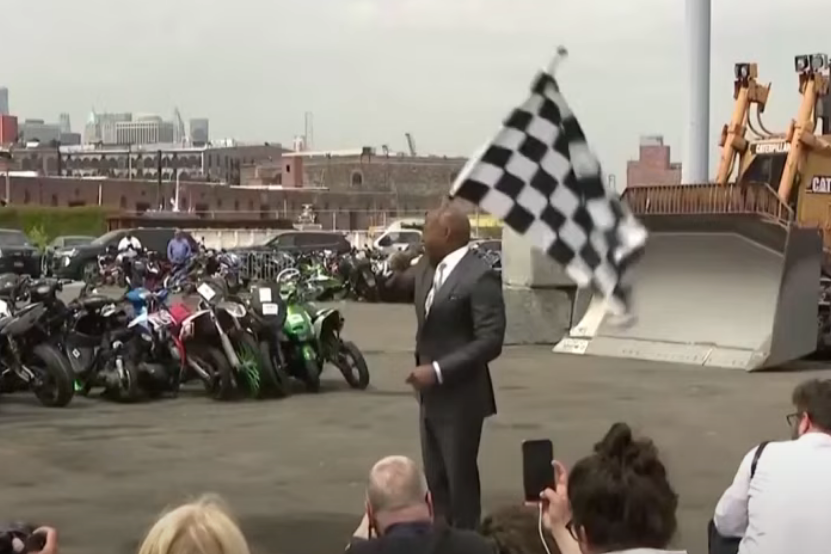 Weed gummies: New York state legalized casual marijuana sales and consumption months before Adams was elected, and it's difficult to tell how that makes him feel. "It's like everyone's smoking a joint now," he joked at a press conference last summer. He's lately taken a more serious tone regarding the plethora of unlicensed dispensaries that illegally sell weed across New York. "This is alarming," Adams declared in a December press conference, holding up two bags of pot-infused gummies that were packaged in the style of the Trolli candy brand. "We are not going to allow these stores to stay open." To hear it from Adams, he's concerned that unlicensed edibles wrapped with the branding of popular kids' foods like Trix cereal could mislead unsuspecting New York youth into consuming something they weren't expecting. A fair message, though a bit hard to take seriously while its speaker is flapping around two brightly colored candy packs.
Giant photos of public housing renovations: Looks pretty neat!
Illegal paper license plates: Adams has railed against unlawful car plates for a while now, but maybe he should make sure that members of his own administration aren't using them, too.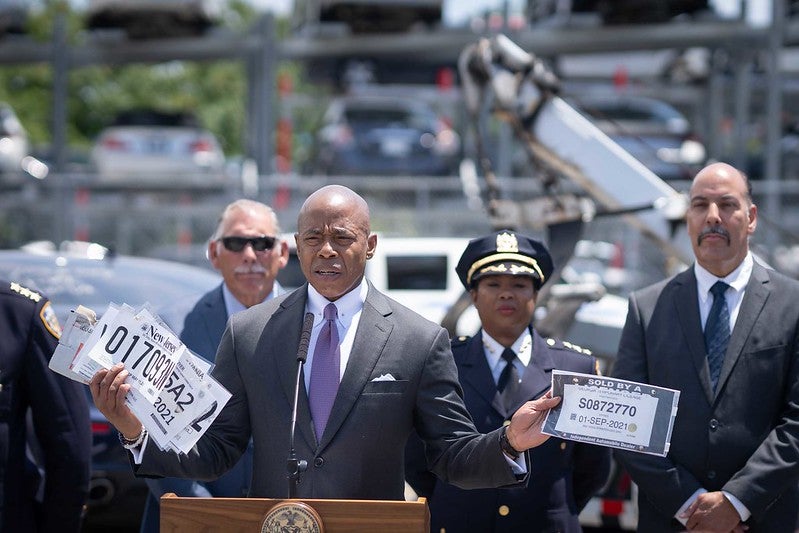 A portrait of his late mother: This one's actually moving: Right after he was sworn in as mayor on New Year's Day 2022, Adams raised high a portrait of his late mother from her 75th birthday, in which her tiara-sporting head is viewed through a brandy snifter. Sandra E. Garcia explained the significance of the photo in the New York Times: "The choice to hold that photo while he was sworn in was more than a salute to his mother; it was a knowing nod to the communities that have been sometimes shut out by city government but continue to toil for progress. 'I wanted everyone to look at that photo and think about their parents and see that we all want the same thing,' Mr. Adams said." (No, you're crying.) It's so meaningful to Adams that he carried it with him into the voting booth on Election Day 2021, Garcia noted.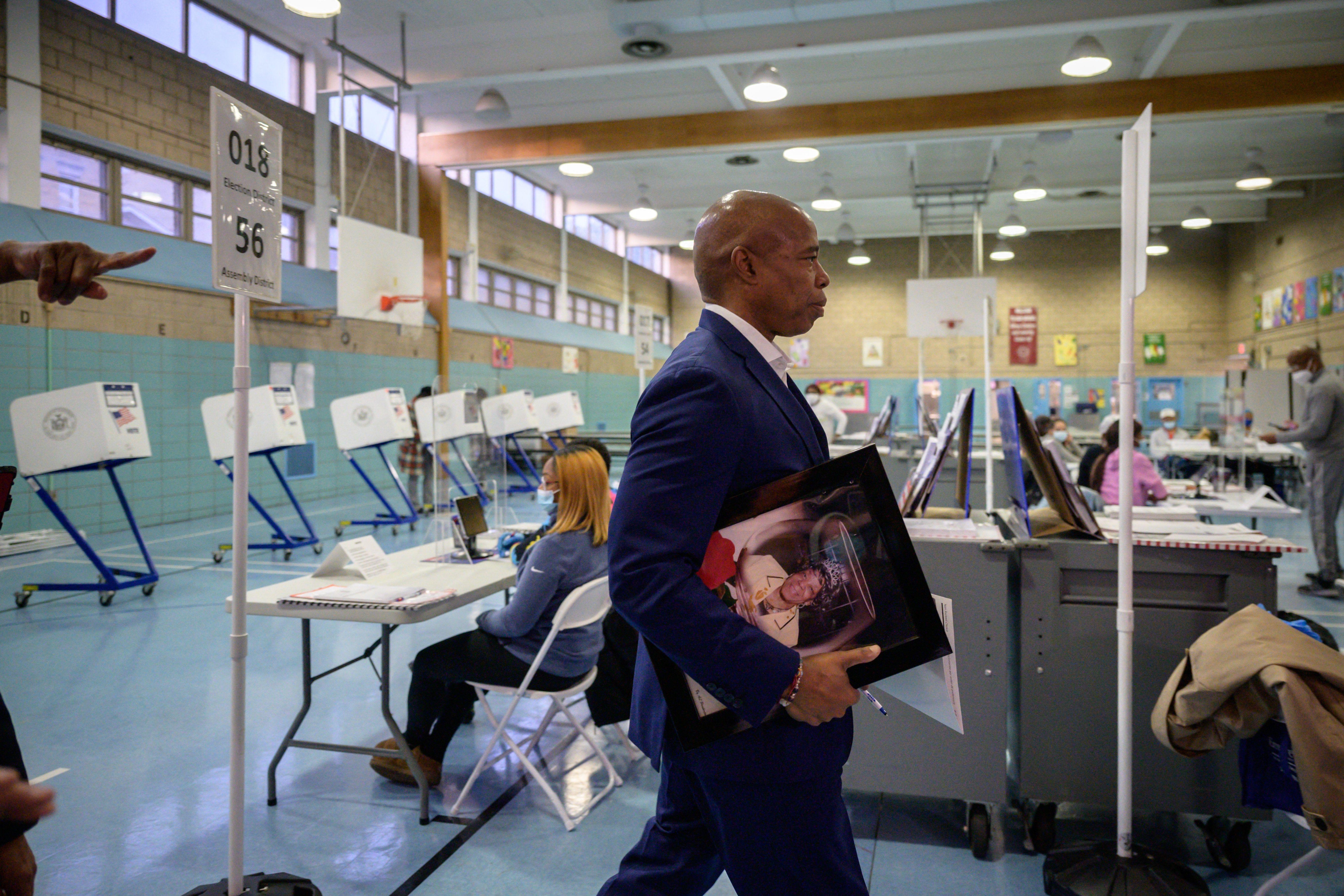 Composting bags and tools: Adams dragged his feet on expanding New York's popular-but-underfunded curbside composting system for months. So naturally, when he made a turnaround and embraced the campaign to improve food-waste disposal, he had to make sure city folk knew he was serious about it, this time. So serious that he's showing off compost bags of all sizes, and even clenching a trash picker, when promoting his new composting agenda.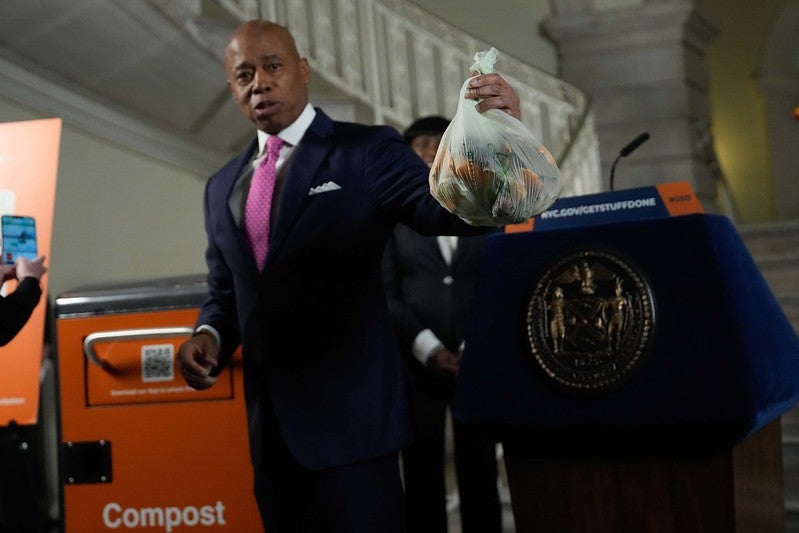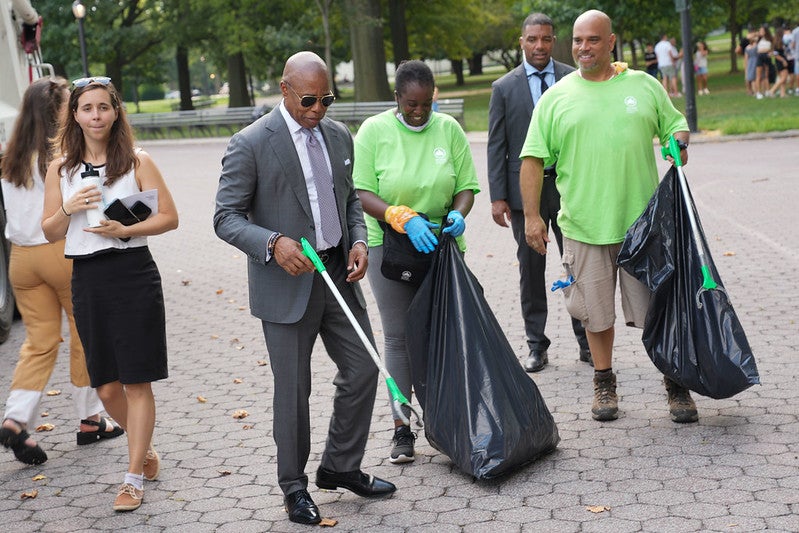 And check out that bespectacled compost disposal bin mascot in the background: