You could hear the hints of a radical idea in New York Gov. Kathy Hochul's State of the State Address on Tuesday. Introducing her efforts to fight the state's high cost of living, she zeroed in on housing—"everyone's largest expense."
One person's cost is another person's value, and efforts to lower housing costs often fail once voters realize such policies inevitably amount to officials saying,  "We want to decrease the value of your home." Nevertheless, it was refreshing to hear the governor describing housing like someone who needs it, rather than someone who has it. (In reality, she owns a pair of waterfront condos in Buffalo and a house in Virginia.)
Hochul was introducing what she calls the New York Housing Compact, a suite of proposed laws that put local zoning rules in the crosshairs. That New York has created only a third as many homes as jobs over the past decade, Hochul said, can be blamed on "local land-use policies that are the most restrictive in the nation." The Empire State is late to this party, though it's not Hochul's fault. New York has done virtually nothing to address its housing shortage over the past decade, even as California, Oregon, Washington, and Massachusetts—four other high-cost states—experiment with various ideas to override onerous local rules that restrict the supply of new homes. Not coincidentally, New York's population has gone into decline. "People want to live here," Hochul continued, "but local decisions to limit growth mean they cannot. Local governments can and should make different choices."
That about sums up the character of the Housing Compact, which urges local governments to do better with the same trust and good faith you might bring to counseling a wayward but sorry teenager. In reality, though, Hochul is dealing with a band of recalcitrant, remorseless ne'er-do-wells. "Her goal is to turn Brookhaven into the Bronx," wrote State Assemblyman-elect Edward Flood, from Long Island, on Twitter. "Hard pass!"
"No governor has prioritized zoning reform for decades, so we're excited to be having this conversation at the state level," said Andrew Fine, the policy director for Open New York, a pro-housing advocacy group. He cautioned: "For all these policies, the devil is in the details and enforcement is what matters."
Hochul is right that when it comes to building places for people to live, New York City's suburbs are the worst in the nation. The fair-housing drama of Show Me a Hero is not ancient history; it took Westchester more than a decade to comply with a federal affordable housing settlement reached in 2009, during which time the county executive attacked the obligation to build affordable housing as "social engineering." New York suburbs build less housing per capita than their peers around Boston, San Francisco, and Washington, D.C.—and it's not particularly close. Nassau County, the Long Island proto-suburb where Levittown is located, is one of the slowest-growing suburbs in the country.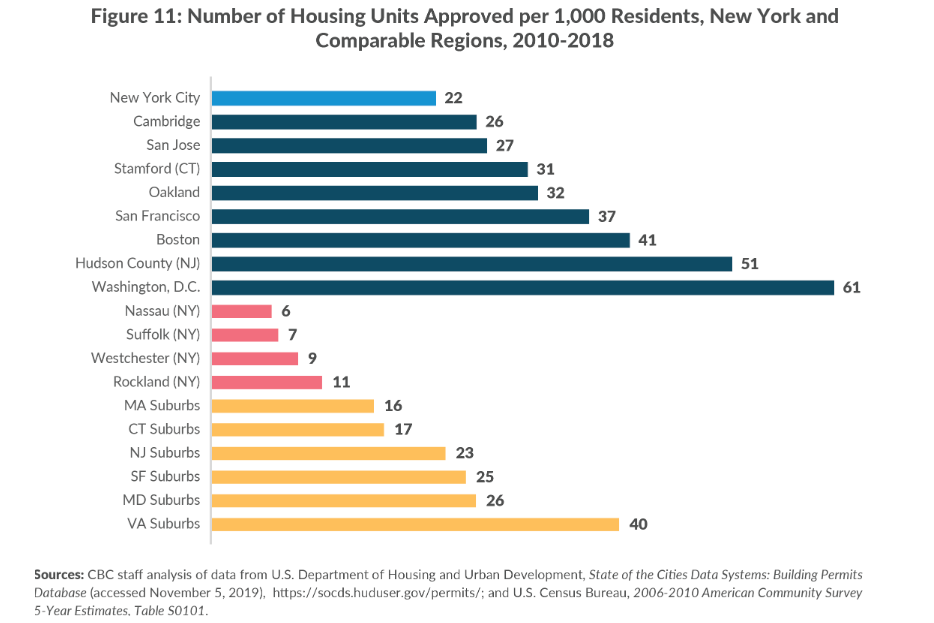 Nor is New York City doing a particularly good job. Despite being one of the most expensive places to live in the world, during the 2010s the city permitted "40 percent fewer units per capita than San Francisco, half as many as Boston, and nearly two-thirds less than Washington, D.C.," according to an analysis by the Citizens Budget Commission, a local watchdog. The supertalls are a red herring; between 2010 and 2017, New York's housing stock grew at a lower rate than Detroit's.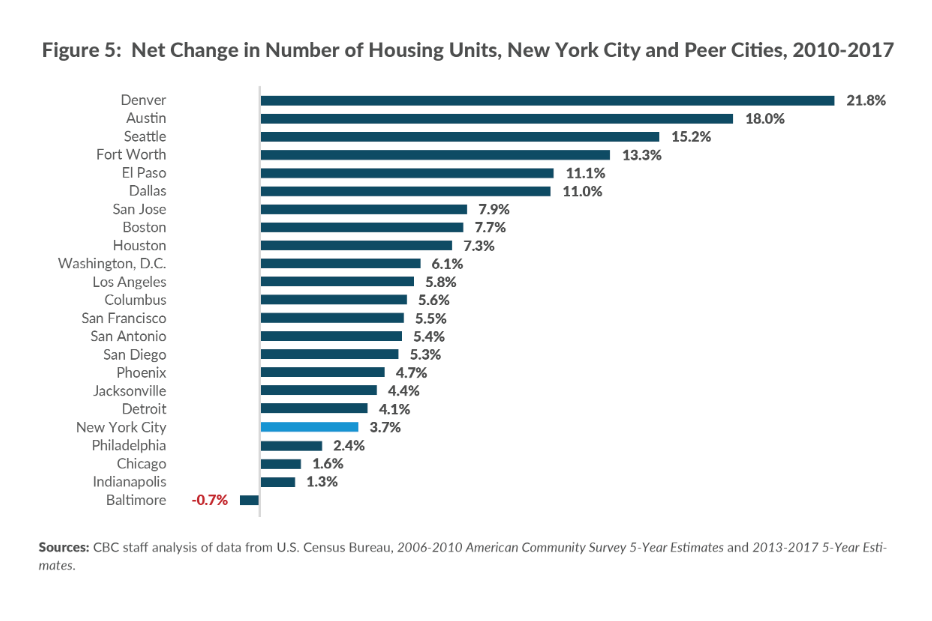 That is what Hochul is fighting against. What has she got up her sleeve? The Housing Compact contains two major proposals, which would do most of the work to double the state's housing production numbers from last decade, and a number of smaller ones.
The first big idea is to require all jurisdictions in the New York metro area to grow their housing stock by 3 percent every three years. It's a goal so modest that Westchester and New York City are close to meeting it already, though it would prompt a more significant shift in the toniest small towns, as well as on Long Island. (Nassau County would have to increase permits threefold, though would still be building little in absolute terms.)
The second obliges communities with Metropolitan Transportation Authority train stations to rezone for greater density within a half-mile of the stop. Her policy book does not specify what that means, though according to the Real Deal, the threshold is 25 homes per acre—equivalent to three-story apartment buildings or clusters of single-family homes, but still recognizably suburban, with lots of green space.
Other ideas from Hochul include:
• renewing a property tax abatement for new construction within New York City, which has existed in one form or another for decades before lapsing a few years ago;
• lifting a cap on the size of apartment buildings in New York City;
• somehow making it easier to convert offices into housing;
• relaxing some environmental restrictions around housing creation;
• legalizing basement apartments; and
• offering $250 million in grants for infrastructure like sewers or sidewalks that supports new housing density.
There's a lot to like about the governor's approach to restrictive zoning. Her proposals are above all simple, which is good and a welcome contrast to California, where even midsize cities can't figure out if they are in compliance with state law. The transit-oriented development rule targets the state's underutilized commuter rail infrastructure, which has been the main focus of a decade of transit investments in New York City, at the expense of the subway. Nassau County has 53 commuter rail stations; Westchester 43. Transit-oriented development will revitalize the mass transit network and maximize new residents' access to the region. Massachusetts is trying something similar around MBTA stations, though that policy merely withholds state grants instead of forcing jurisdictions to comply.
On the other hand, Hochul's goals are relatively modest, and the weight of the penalties is unclear. What happens to towns and counties that don't comply? After three years, affordable housing in those places becomes eligible for "fast-track" approval—though that still requires going before a state board or court. And even noncompliant places can take "good faith" actions to postpone the fast-track process for another three years. Presumably we'll see some housing in 2029?
If Hochul is serving up diet zoning preemption, the heavier fare comes from state Sen. Brad Hoylman-Sigal, who represents Manhattan in Albany and has written a bill that would substantially limit the choices that local governments can make. His bill would ban minimum lot sizes over 1,200 square feet, abolish parking requirements, legalize fourplexes, and legalize six-unit buildings within a quarter-mile of a commuter rail or subway station.
Hoylman-Sigal's bill is similar to recent reforms in California and Oregon, which have effectively abolished single-family zoning and cleared a path for more development in cities and around transit. But he doesn't see it as opposition to Hochul's plans—rather, he hopes that when the governor requires greater density around transit, the rules wind up looking something like his bill.
I asked Hoylman-Sigal why suburban politicians would support such a proposal, stripping away their traditional authority over housing growth. "A lot of their constituents are being forced to move," he responded. "If you're parochial and have blinders on and live in the 20th century, politically, I can understand your opposition. But this is an issue that we as elected officials are dealing with on a daily basis—young families forced to move, a downward spiral of our economy and climate concerns."
There are two more reasons to think Hochul's proposal might win over the doubters. First, she is a powerful governor with lots of leverage in budget negotiations. Second, if upzoning your own town is rarely a winning ticket, upzoning your neighbors might be a more attractive proposition.