On Wednesday morning, Hurricane Florence was spinning toward the Carolinas as a Category 4 storm. It's project to make landfall late Friday, and if it hits anywhere north of Wilmington, it will be the northernmost landfall for a storm of its size on record.
That's only half of it: Even if it lapses back to a Category 3, the storm is expected to slow down over the Carolina coast, dumping upward of 25 inches of rain in parts of Eastern North Carolina through the weekend, beating the previous 24-inch record set by Hurricane Floyd in 1999.
Florence is an example of the kind of storm we are likely to see more of as the planet heats up. Warmer-than-average water—surface temperatures in the Western Atlantic are currently at 84 degrees, 3 to 4 degrees higher than normal for this time of year—is lending it power, as increased evaporation fills the air with water vapor that acts like hurricane fuel. More broadly, according to the 2014 National Climate Assessment, the amount of rain falling in "very heavy events"—those at the top 1 percent of all rainstorms, often hurricanes like Florence—has risen by 27 percent in the Southeast between 1958 and 2013.
It's not completely novel. The coastal Carolinas were walloped by Hurricanes Hazel and Hugo, in 1954 and 1989 respectively. Floyd in 1999 prompted what was then the largest peacetime evacuation in U.S history, and its state-record rainfall was worse than it looks, because it came just days after Dennis dumped 8–10 inches across the Eastern Coastal Plain.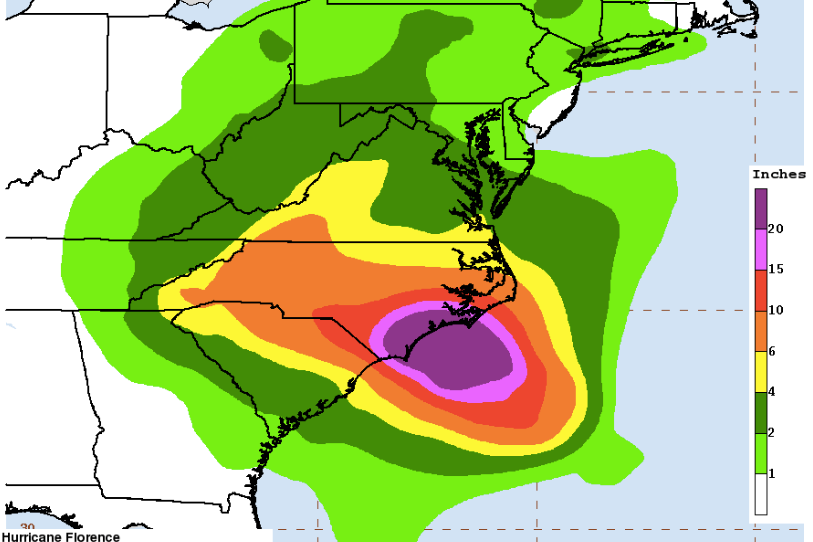 But there are two big differences between then and now: First, we've got a few more decades of global warming under our belts. Second, there's been rapid population growth in the U.S. Sun Belt and in coastal counties in particular.
North Carolina's beloved coastline isn't that well-populated relative to states to the north and south. As of 2008, less than 10 percent of the state's population lived in a coastal county, compared to nearly 20 percent in South Carolina and nearly 40 percent in Virginia. Still, particularly in the southern half of the state around Wilmington—where the storm currently looks to hit worst—population growth has been rapid. That means there will be a lot of residents who won't even remember Hurricane Hugo (when it hit 30 years ago, it was the costliest hurricane in U.S. history).
North Carolina has a much stronger tradition of regulating coastal development than, say, Florida. Even so, reckoning with climate change impacts has been a more complicated story, notes Michael Orbach, a professor emeritus of marine science at Duke who has been involved in coastal planning in the state for decades. "The single biggest problem in planning with respect to sea level rise is all planning and zoning [in North Carolina] was based on sea level rise staying the same. That was true for 6,000 years, but now it's not."
In 2011, North Carolina's Coastal Resources Commission put out a dire forecast for sea level rise on the Outer Banks. But then real estate interests successfully convinced the Republican-led statehouse to discard those conclusions. "You can believe whatever you want about global warming," said state Rep. Pat McElraft, a Republican and real estate agent who sponsored a 2012 law to put a four-year moratorium on state regulations accounting for sea level rise. "But when you go to make planning policies here for our residents and protecting their property values and insurance rates, it's a very serious thing to us on the coast."
The moratorium expired in 2016. In the meantime, coastal towns undertook their own measures to prepare, passing freeboard laws that require new construction to rise above the FEMA "base flood elevation." A 2015 report showed that local building standards had prompted a big chunk of the state's coastal population to add two feet of freeboard. Still, some populous areas were just getting around to freeboard requirements this summer—such as Wilmington, which has grown from 55,000 people in 1990 to approximately 117,000 today.
Preparing for the rain is another story. The towns of Eastern North Carolina, which are now projected to be just on the edge of Florence's worst rainfall bands, are among the most vulnerable places in the United States to inland flooding. In 1999, flooding from Floyd is thought to have caused a spike in gastrointestinal problems after the state's proliferating hog farms contaminated neighbors and natural areas with manure-filled water. The state cracked down, for a while, but didn't solve the problem. After Hurricane Matthew, neighbors were inundated with hog water again. Steve Wing, an epidemiologist at the University of North Carolina, flatly told the Washington Post, "Storing vast quantities of fecal waste in flood plains is a serious and preventable public health threat."
That pattern—talk big and then forget about it—is typical of the state's approach, argues Stan Riggs, a coastal marine geologist at East Carolina University in Greenville who has been advising local governments on flooding for half a century. After Floyd, for example, local governments passed new flood plain ordinances and the state drafted a new hydraulic model to account for changing land use. Riggs: "Everybody cries crocodile tears, says, 'We're never going to let this happen again,' but within a year after Floyd flooding in Greenville they were building student condominiums where there had been 10 feet of water just a year before. The economics take over and greed takes over." Greenville grew by 53 percent between 1990 and 2015, though the state argues that changes in land use have been minimal.
In the Carolinas, as along the Gulf Coast, growth has been characterized by a fast-and-loose approach to water management laws. Older developments sit in the flood plain; newer ones sprout unregulated or win exemptions from tax-hungry governments. South Carolina's devastating 2015 flooding was characterized by the failure of little-regulated, privately owned dams, some of which had been built to create artificial lakes for suburban homeowners.
In coastal North Carolina, population density has more than doubled in the past 50 years as natural land has been transformed from villages, forests, and wetlands to suburban sprawl. The ongoing loss of natural areas that would have once served to dampen the impact of both storm surge and stormwater will change the way those phenomena affect even houses that didn't flood during, say, the rainstorms that ravaged the state in 1999. All told, 430,000 North Carolinians live in the 100-year-flood plain on and off the coast, including much of villages like Princeville, a historic black enclave that flooded during Floyd and again during Matthew.
"These villages and the towns built their infrastructure after World War II, and now growth is taking place really fast in big rings around that. All the water runs into that old core and gets backed up," says Riggs. "What you're going to see starting tomorrow will be a lot like what you saw in Houston."
This article has been updated with new information since it was published.