The sagging state of U.S. home sales has generated some ominous headlines. The market "appears to be headed for the broadest slowdown in years," Bloomberg reported recently. CNN warned that the falloff could be an early warning sign of a looming recession.
If those words elicit flashbacks to the bad old days of 2008, though, relax. Housing doesn't really look like it's about to tank the economy. Not even close. Instead, we seem to be facing a different sort of problem: After years of depressed construction, there simply aren't enough homes on the market to satisfy all of the would-be buyers out there, which is putting a lid on sales, while pushing prices past what many can afford.
The issues that are now frustrating buyers and weighing on sales have been mounting for years. Homebuilding collapsed during the recession and, even after a decade of recovery, is still moving at a snail's pace by historical standards. In the meantime, Americans have finally cleared out the massive glut of single-family homes that was left over after the foreclosure crisis, the economy has improved, and aging millennials have begun trying to buy houses of their own.
The end result? "We have a housing shortage pretty much across the country," Lawrence Yun, chief economist at the National Association of Realtors, told me, which has created the nasty combo of lagging sales and climbing prices. Sales of previously owned houses, which make up roughly nine-tenths of the residential real estate market, fell for the third straight month in June and are now down 2.2 percent for the year, according to NAR's latest monthly report. Prices were up 5 percent. The Case-Shiller 20-city composite price index is similarly up 6.5 percent for the year.
The housing shortage is hurting sales in two different ways. In some parts of the country, there just isn't very much to buy, but when properties do go on the market, they sell fast; most homes are getting snapped up less than a month after their owners plant a for-sale sign on the lawn, according to NAR. In other parts of the country, values have risen so high that shoppers are starting to get priced out. It doesn't help matters that rising interest rates have pushed up the cost of a mortgage.
The data on new home sales is a little less discouraging. In June, sales of new single-family constructions technically dropped to an eight-month low. But the Census Bureau's transactions data can be erratic from month to month, and over the long term, sales still seem to be trending higher; for the year, they're up 2.4 percent.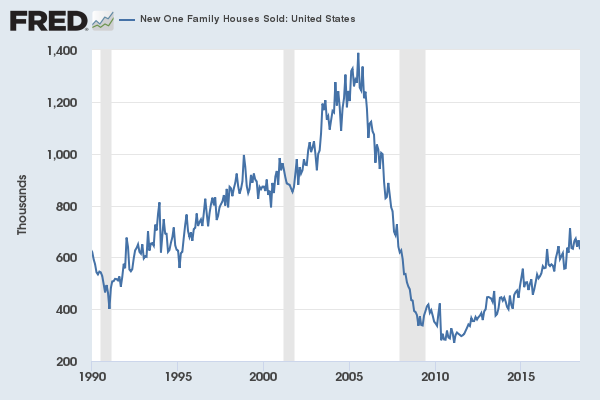 Overall, housing has been a slight drag on economic growth this year—but as long as new home sales continue rising, the sector probably isn't going to pull us into a recession, Moody's Analytics economist Ryan Sweet told me. That's because even though they make up a smaller share of the market than previously owned houses, new homes pack a much bigger punch economically by driving construction spending and large appliance sales. "If new home sales do begin to trend lower, which I don't think they will, that would be an ominous sign," Sweet said.
In the meantime, it's possible that the housing shortage could eventually ease up. Developers could decide to build more midprice houses to take advantage of the pent-up demand, for instance. In parts of the country where building is easy, that seems to be a likely outcome. The president's tariffs and the tight labor market may make it a bit trickier by pushing up building costs, but new construction does seem to be gradually picking up. In places where it's hard to build, such as coastal cities with draconian zoning codes, prices may just be forced to level off as houses start to go unsold. Inventories are already starting to rise in some expensive markets, like Seattle and Portland, suggesting that the years of runaway prices could finally hit a breaking point.
If home values were to somehow start falling outright in pricey markets, it wouldn't necessarily be a disaster either. The mid-2000s housing bubble was fueled by dodgy loans and speculation from house flippers, and needed constantly rising prices to keep from crashing. Today, the demand is being driven by normal households, and lending standards are far higher—according to data from Moody's Analytics, subprime loans make up less than 5 percent of new mortgage balances, compared with about 18 percent at their 2006 peak. If prices ease up after rising too high, it would be a sign of a healthy, self-correcting market, not a collapse.