Washington is at last making its mark on Donald Trump. On Sunday, Axios reported that the president had indulged in one of the inveterate hang-ups of D.C. society: complaining about the FBI headquarters on Pennsylvania Avenue.
"Even the building is terrible," he said of the full-block, 1975 J. Edgar Hoover Building, according to the account. "It's one of the brutalist-type buildings, you know, brutalist architecture. Honestly, I think it's one of the ugliest buildings in the city." The president plans to oversee the long-planned construction of a new headquarters, on that site, in an "excruciating level of detail." While it is amusing to imagine the president playing in a sandbox down the block from the Oval Office, it's not surprising he has an investment in the site: It's a stone's throw from his Washington hotel, where American power brokers and foreign diplomats write checks to the president's family.
It is also not surprising that Trump the architecture critic has no love for FBI HQ, one of the most reviled examples of the maligned Brutalist style. In the public imagination, capital-B Brutalism—the postwar fad named for béton brut, French for raw concrete, and defined by its heavy, cast-concrete forms—tends to be lumped in with both the shoddy, underfunded modernism of public housing projects and the space-age experiments that followed. As Julia Gatley and Stuart King write in Brutalism Resurgent, a 2016 anthology, brutalist came to be "a pejorative term used to describe monolithic buildings of raw concrete construction that impose themselves on their surroundings." In the New York that shaped Trump's aesthetics, that description would have suited affordable housing projects like Waterside Plaza, River Park Towers, Chatham Towers, and Tracey Towers—the antitheses of Trump's new brand. The far right appears to be leading a broader backlash against architecture self-evidently built with 20th-century technology. Such structures, in addition to their perceived deviance from the "Western traditions" venerated by American fascists, represent the tastes and lifestyles of America's treacherous urban elite.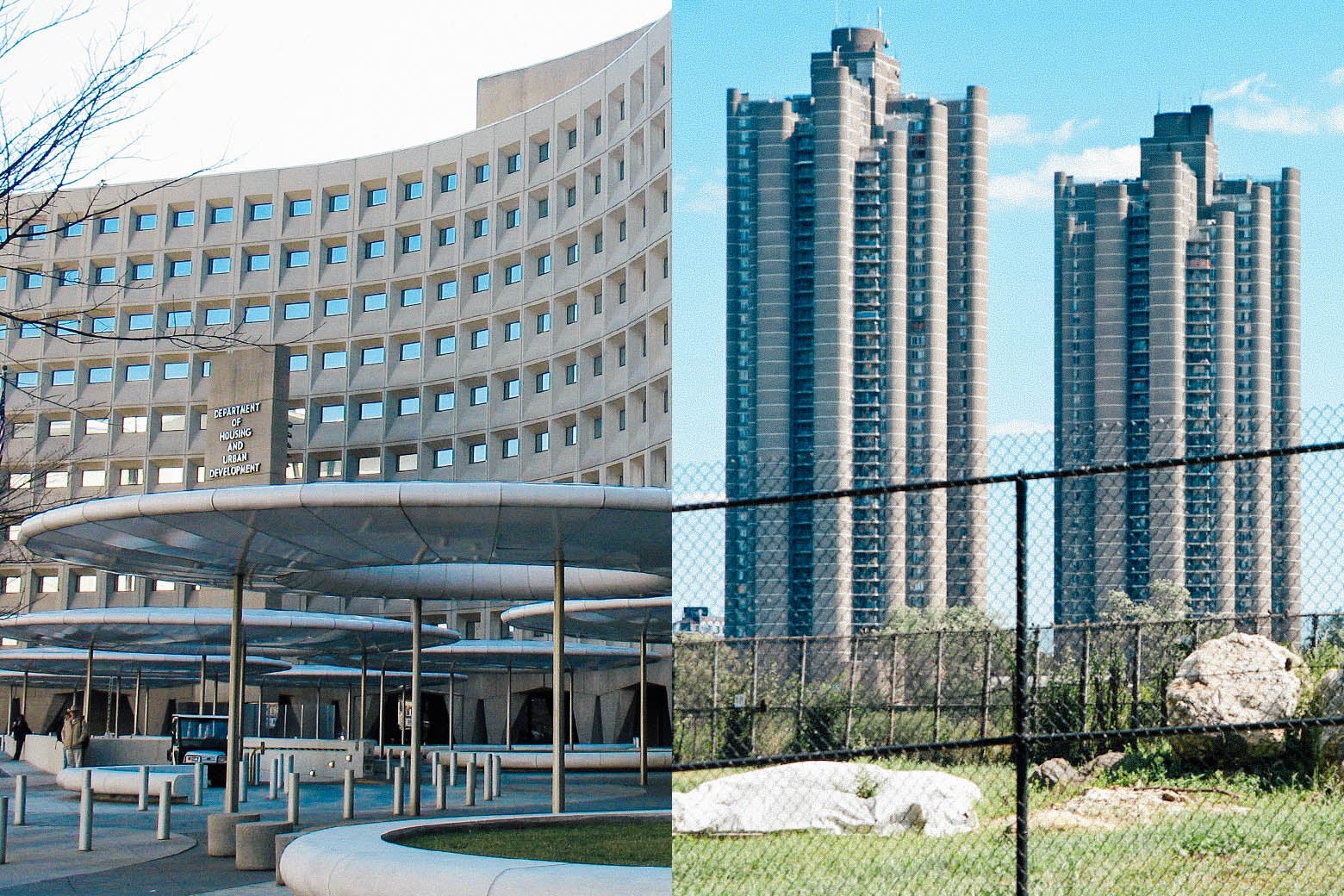 That Brutalism is now cool again is not unrelated. For Trump, as for many Americans of a certain age, the style came to embody the public sphere at a time when Washington's plans for cities were in rapid retrenchment. Our best-known Brutalist edifices tend to be outposts of federal power, municipal facilities like police stations or university landmarks like libraries. For liberals, buildings like Marcel Breuer's headquarters for the Department of Housing and Urban Development in Washington are period pieces that represent an idealistic vision of what government can and should take responsibility for. For architects, they represent a time when the profession's social role was pre-eminent. Another theory of the style's resurgent appeal is that its bold, uncompromising shapes, with their dynamic patterns of sun and shadow, feel newly ambitious against the reflective expanses of contemporary architecture.
Which brings us back to Donald Trump. Over the years, his aesthetic has wavered according to the demands of local advocacy groups (the dull, reactionary style of his Trump Place development on New York's Upper West Side) and the expansion of his naming rights business (I find it hard to believe he played a decisive role in the yonic Panama City hotel). Ultimately, though, his tastes are typically corporate and conservative. If some of his buildings stray toward the gaudiness of his Manhattan apartment (he likes gold, have you heard?), none approaches the futuristic fantasies created by the late hotel architect John Portman, who was more or less his contemporary. "Architecturally undernourished high-rises," was how Chicago architect Edward Keegan judged the Trumpian style. Manhattan's Trump Tower, his most iconic building, is handsome but hardly outspoken.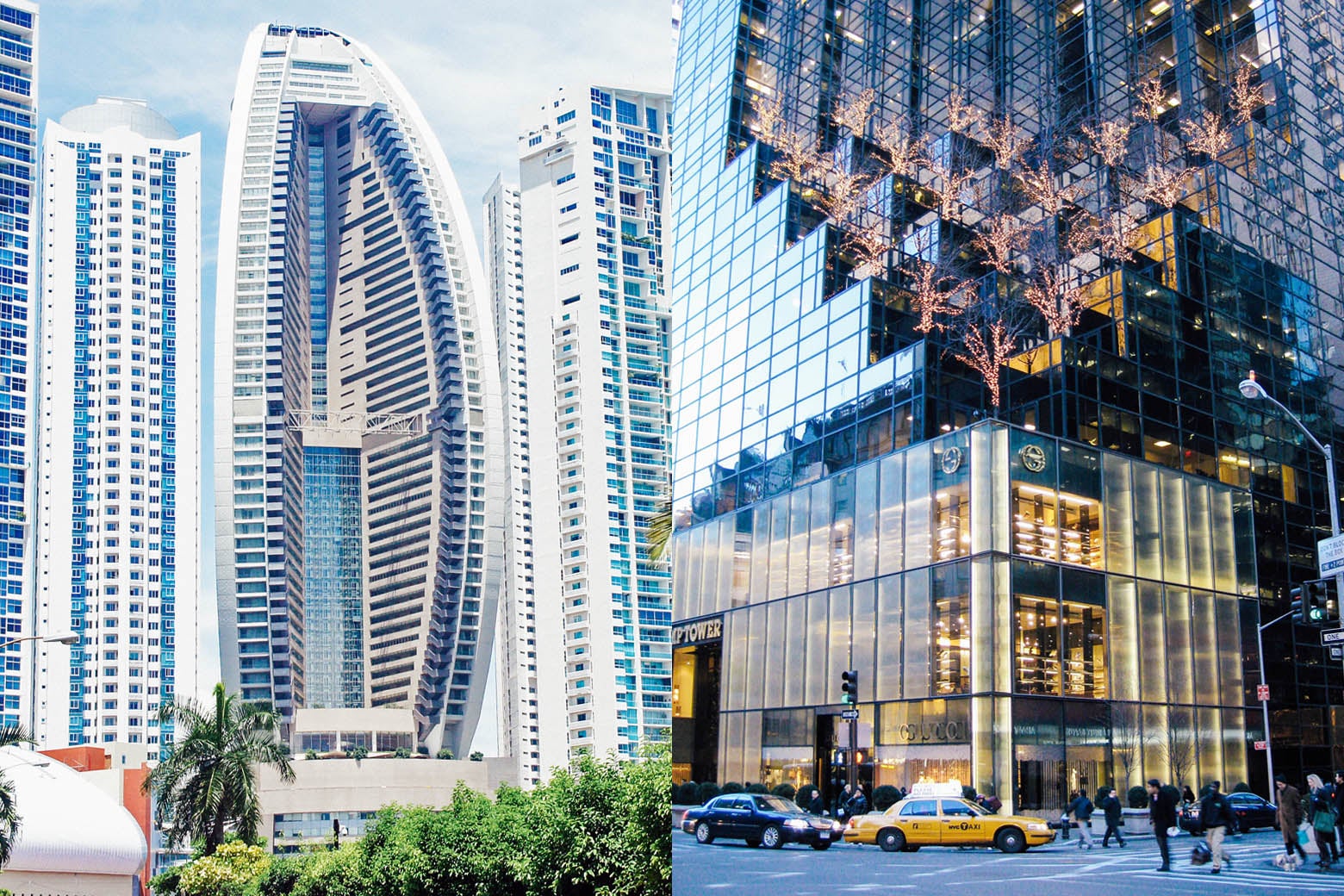 More than the gold, I think, Trump's style—especially in the buildings where he played the greatest role—is defined by façades. The building that put him on the map in New York was the renovation of the faded Commodore Hotel next to Grand Central Terminal. He hired Der Scutt to carve out a big lobby and wrap the building in mirrored glass. Trump International Hotel and Tower, at Columbus Circle, is another landmark Trump renovation of an existing building (this one by Philip Johnson) where the primary visual change was draping the older building in gold-tinted glass. Herbert Muschamp called it "a 1950's International Style glass skyscraper in a 1980's gold lame party dress." Endless mirrored panels make it hard to tell where atrium becomes hotel room or where window becomes wall. The style also fosters an ambiguity about where the floors lie, which allowed Trump to perfect a technique of exaggerating how many stories his buildings had.
Compare that effect to one of the ahistoric explanations for Brutalism's appeal. "My theory about why we love concrete architecture now is simple: It has body," Alexandra Lange writes of the Museum of Modern Art's new show, "Toward a Concrete Utopia," on the monuments of postwar Yugoslavia. "Even as we consume design in pixels, we long for spaces where we can feel the weight of the world."
It's not just the pixels, or the black glass behind which they appear, that make us yearn for something solid. New buildings often seem dissembling and opaque. Inspired by the aviator sunglasses favored by state troopers nationwide, mirrored glass remains the default choice for corporate skyscrapers and has become a popular skin for residential towers too. César Pelli and Anthony Lumsden thought it made their 1969 Century City Medical Plaza feel "non-directional, non-gravitational." As a metaphor for the hidden flows of capital that make the towers pencil out, all that reflective glass is a little too obvious to be elegant.
The FBI headquarters is no paragon of civic architecture. It was at least intended, however, to provide access to the public, which was later curtailed by bureau brass. Compared with a later generation of federal security state architecture, epitomized by the hermetic black cubes of the 1986 National Security Agency headquarters in Maryland, the FBI headquarters is refreshingly forthright. In a world wrapped in glass that masks where weight really falls, a big chunk of concrete sometimes just feels honest.