In 1972, Berkeley, California, installed its first official curb cut. This little ramp descending from the curb into the street was the fruit of hard work by disability advocates. It was not, in fact, the nation's first curb cut—that was in Kalamazoo, Michigan—but it would begin a revolution.
Hundreds of thousands of curb cuts followed, and what was born as a wheelchair convenience, and eventually mandated by the 1990 Americans with Disabilities Act, soon provided a path for all kinds of street users, like kids on bicycles, parents with strollers, and senior citizens with shopping carts. Pedestrians are drawn to using curb cuts, and a street corner would look odd without them. It's a story of how changes made for small groups wind up having positive, unforeseen externalities. It should also prompt us to look again at the stagnant, forgotten piece of infrastructure that is the American curb.
How and where we walk is a function of curb design—where is the curb cut, where are the parked cars, where are the trees? But so is the utility of emergency vehicles, taxis, public transportation, cycling, garbage pickup, and freight delivery. The space at the edge of the street plays a crucial role in stormwater management. It can provide desperately needed public and commercial space. Worth billions but given away for free, the curb is arguably the single most misused asset in the American city—and one that, more than any giant investment in apps, sensors, or screens, can determine the future of transportation.
Google's parent company, Alphabet, has launched a company that "codes the curb" in an attempt to help cities and companies adapt to changes coming with electrification, shared mobility, digitization, and autonomy. "The big context we see is a shift, arguably the biggest since the internal combustion engine, in the transportation sector," said Stephen Smyth, the CEO of Coord. "There's not always accessible data about the curbs and what you can do on them. So we've taken it on ourselves, because we believe that the curb is the nexus of what you can do in transportation."
You can understand why, despite rapid urban growth and punishing traffic jams, the mayors of bustling American cities have been reluctant to disrupt the curb's settled role for the past 70 years: providing free parking. Parking, after all, is one of the most popular words in the NIMBY lexicon. Few mayors could even tell you how much curb space a city has or what it's worth, though they do seem to recognize that a free parking pass can function as a powerful, Tammany Hall–style perk for favored groups.
It's a sensitive subject. "I have a large collection of newspaper articles about parking space murders, some of them are quite brutal," says Donald Shoup, a professor at UCLA and the father of American parking studies. "If you need an example of how emotional people get about the curb, that's good evidence."
But it's not as though curb space is in short supply. Philadelphia has more than 440,000 on-street parking spaces, which seems like a lot, though it represents just over 20 percent of the city's total parking spaces, according to a May report from the Mortgage Bankers Association. Seattle has an astounding 514,000 on-street spots in a city of just 704,000 people. San Francisco, the peninsular city always said to be "running out of room," has approximately 275,000 curbside parking spaces. As you might expect, the curb's unrealized value as a public asset is highest in cities like San Francisco where there's little empty space to go around. (Des Moines, Iowa, by contrast, has an astounding eight parking spaces per resident, mostly in surface parking lots.)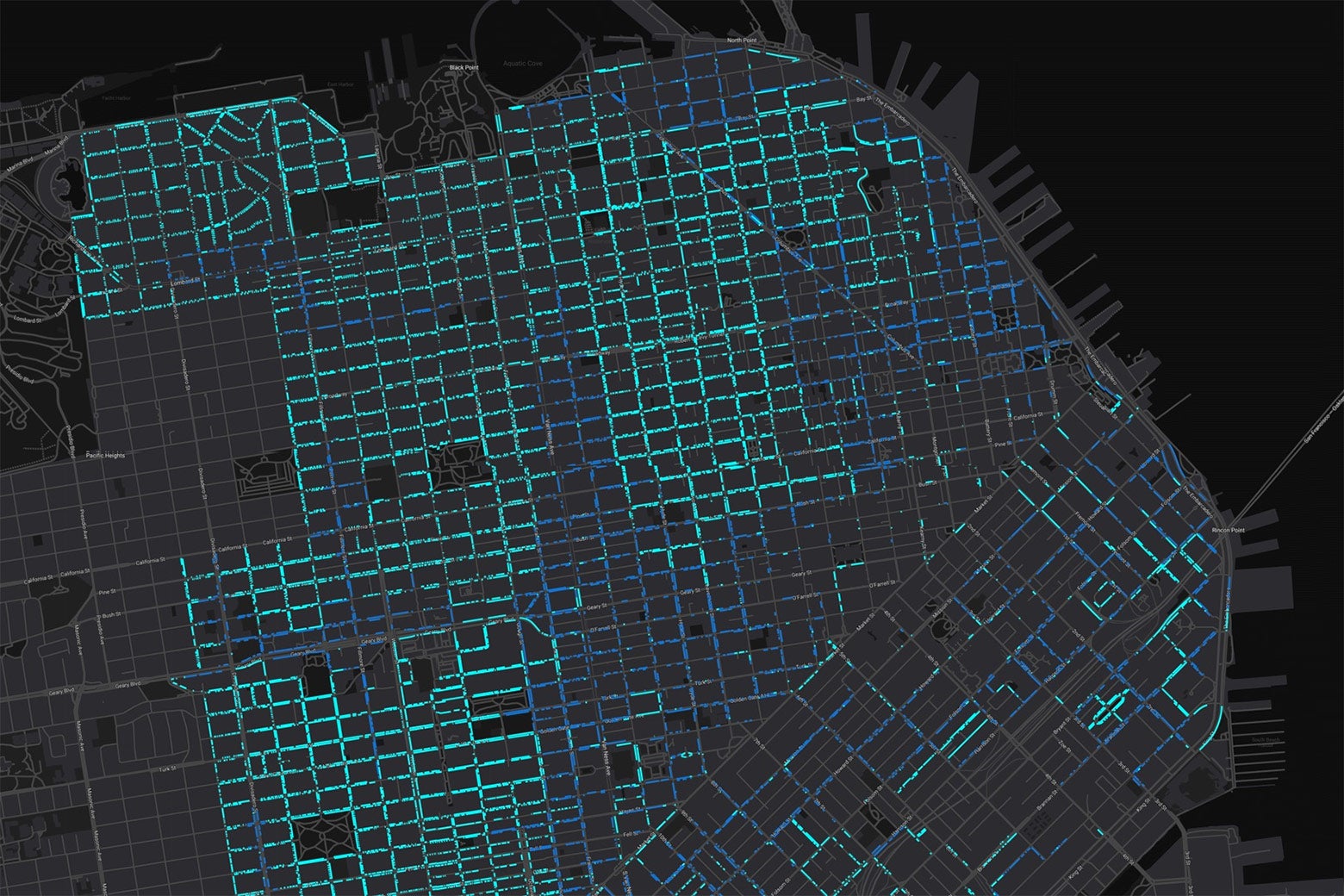 Rarely is personal car parking the highest and best use of this space. In contrast to cars, which spend 95 percent of their lives not moving, scooters and shared bikes have been making busy use of curbside parking spaces. In New York, docks for shared bikes have typically been installed along curbs, and on busy days users clock more than six rides per bike per day. (The city's reluctance to take away personal car parking may, in fact, have limited the network's growth.) One curbside parking space can accommodate a dozen bikes and serve dozens of daily trips. The situation for scooters is similar: In Santa Monica, where Bird's first electric scooters were distributed, each scooter is used five to six time a day, for an average trip of 1.6 miles. That activity is good news for stores and restaurants, which tend to overestimate how many of their customers arrive by car.
Even more significant, for curb space, is the rise of transportation network companies like Uber and Lyft. Back in the fall of 2016, Lyft alone completed 6.3 million rides in Los Angeles—triple what the local taxi industry had done at its peak in 2012. That means millions more pickups and drop-offs on city streets. The company's co-founder John Zimmer touts ridesharing as a way to cut down on car parking in cities and claims 250,000 customers have given up their personal cars—a dubious data point that seems to rely on a cursory survey. Nevertheless, the company's need for space for pickups and drop-offs, and its recent purchase of the bikeshare company Motivate, place its interests squarely against those of the curb status quo.
In busy cities, the rise of TNC services is just one reason that curb space is newly in demand. Businesses are reducing on-site inventory by working with suppliers who can respond quickly to their needs. Apartment buildings are receiving hundreds of Amazon packages a day. Offices are deluged with lunchtime food deliveries. Where curb space is tight, both people and goods tend to be picked up or dropped off from double-parked vehicles.
An astounding portion of traffic congestion comes from just two sources: cars cruising for parking, and those that have given up and double-parked. It's been projected that eliminating double-parking in Athens, Greece, for example, could reduce traffic delays by 33 percent. More than 30 percent of vehicle-miles traveled in the urban core consists of cars looking for parking, according to Shoup.
He estimates that New York's free, on-street parking spaces together amount to 13 Central Parks. Nearly all of them are free. By charging just $5.50 a day for half those spaces, Shoup projected in a proposal published in the New York Times last month, the city could generate $3 billion a year. Higher rates would free up spaces, reducing the time drivers spend spot-hunting, reducing traffic, and shortening journeys.
Solving this congestion comes down to one thing: better curb management. In the United States, airports are at the forefront. At San Francisco International Airport, where Uber and Lyft make up nearly 50 percent of arriving vehicles, the situation had become dire:
Last month, SFO instituted a new system. Uber Pools and other "shared" TNCs will now depart from the top floor of a central parking garage. Because they pick up multiple passengers at the airport, the vehicles tend to have longer dwell times, noted Doug Yagel, an airport spokesman. "Our hope is that by separating out these elements, we'll see an improvement in roadway flow," he says.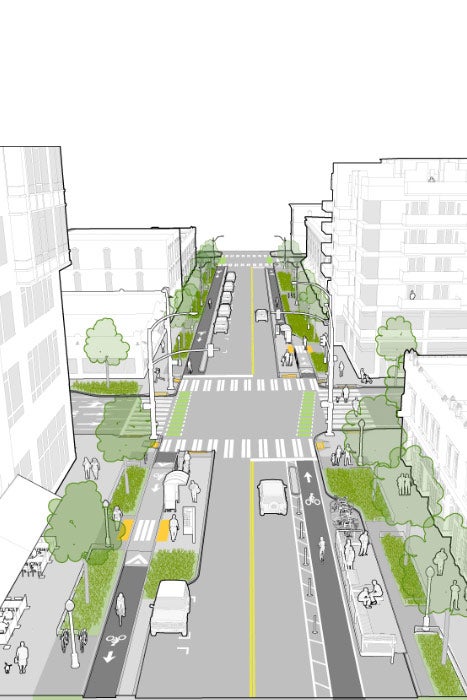 A fundamental change is underway in cities too, contends a recent International Transport Forum report, in moving away from curbs as "static and inflexible installations and more as highly flexible and self-solving puzzles." Paris has been steadily eliminating personal parking spaces from the public realm (down 43 percent since 2001) and has reserved spots for deliveries on major streets. It's a return to an older urban era, where curbs were an active part of the cityscape, the interface for commercial activity between sidewalk and street rather than a barrier.
In this tradition, Seattle recently introduced "flex zones," a rethinking of what can happen in the gutters. "What gets me excited is the idea of a flex zone that's adaptable and dynamic," says Meghan Shepard, a strategic adviser at the Seattle Department of Transportation. "Maybe there's no parking in the morning because we're using it to move people on buses, then at 9 a.m. there's a priority for commercial vehicles, then at noon a food truck, then again people and goods, and then at nighttime it's parking to welcome people to nearby restaurants and entertainment zones. That sounds like a hard-working flex zone."
New ideas ride in on the coattails of the companies offering transit and logistics services—a kind of "curb cut" effect for our time. What might the new curb look like? It can become public space—as it has in Manhattan, where the former transportation commissioner Janette Sadik-Khan established pedestrian plazas at the edges of some of the city's busiest streets. It can also provide desperately needed commercial space on high-rent streets, as fleets of food trucks demonstrate in cities like Washington. Or it can be repurposed to absorb and slow stormwater in flood-prone areas.
As is true in housing, the big changes to be made to public space and transportation in the American city are not technical or financial. They're political. When American mayors are ready to make the most of what limited power they have, the curb will be there, waiting.