On a recent spring evening, architects and planners milled about in the gloom beneath the Brooklyn–Queens Expressway, yelling at each other about the future of public space in New York City. It was loud: Street traffic races by on either side of the steel arch supports, and cars pound the joints of the road above with the heartbeat (bump-bump, bump-bump) of the afternoon commute. This area is usually a dark, dank and unruly parking lot, intercut with sidewalks that guide workers under the highway to Industry City, a bohemian business district in newly renovated waterfront warehouses. "The construction of the Gowanus Expressway," Robert Caro wrote in his landmark 1974 book about Robert Moses, "buried the avenue in shadow, and when the parkway was completed, the avenue was cast forever into darkness and gloom, and its bustle and life were forever gone."
We were gathered to celebrate the opening of the city's first pilot intervention in the el-space—el is for elevated—which is the name for these overlooked urban veins given by the city's Design Trust for Public Space, a nonprofit with its eye on the civic realm. A team of designers had brought order to the space, if not to the sound. Downspouts that had dripped oily highway runoff onto pedestrians' heads now funnel into handsome metal planters. A raised, tiled path will help drivers reach their cars without risking their lives in busy traffic. "We've done the one-offs, but we're taking a systemic approach," hollers Neil Gagliardi, director of urban design at the New York City Department of Transportation. New York is threaded with more than 700 miles of elevated infrastructure, beneath which lie liminal spaces like this one. "This is really an asset, and an untapped asset."
In 2002, the Design Trust published a landmark feasibility study for the overgrown Manhattan trestle that would become the world-famous High Line park. In 2015, it did the same for the space beneath the city's bridges, highways, and railroads. In May, the organization's fellows deployed their design in Sunset Park. "I'm the underpass queen," proclaimed Leni Schwendinger, the lighting designer whose LEDs now illuminate the underside of the highway at night. "I like to glorify infrastructure, and by lighting it teach people about structure—this muscular, necessary world."
Almost anything would be better than what's there now. Jane Jacobs, patron saint of public space, diagnosed the devastating effect that urban expressways had on surrounding neighborhoods. They were the most hopeless case of what she called "border vacuums." "It is hopeless to try and convert some borders into seams," Jacobs wrote in 1961 of the urban expressways whose construction characterized the midcentury American city. And yet, a set of projects around the world are trying. In densely built, high-cost cities, the space around and beneath highways is now seen not as a hopeless barrier but as an opportunity.
The idea has its roots in the rails-to-trails movement that swept across (and below) obsolete urban railroads beginning with Paris' Promenade Plantée, which opened in 1993, and reached its apex with the High Line, New York City's blockbuster real estate catalyst that opened in 2009. Walking under the open sky is not a hard sell to parkgoers, as projects like Chicago's 606 and Atlanta's BeltLine demonstrate. The former is a repurposed elevated railway whose measly 14-foot width sees foot traffic from more than 1 million Chicagoans a year. The latter is a string of linear greenways, also repurposed from freight rail, under construction around Atlanta. Nearly 20 percent of the city is within a half-mile of the BeltLine, and it's hard to underestimate the excitement—and speculation—the project has generated there. "Three years ago, I could have bought a lot [around a new section of the project] for $5,000," Stacy Patton, the BeltLine's director of asset management, told me. "Now they're $80,000."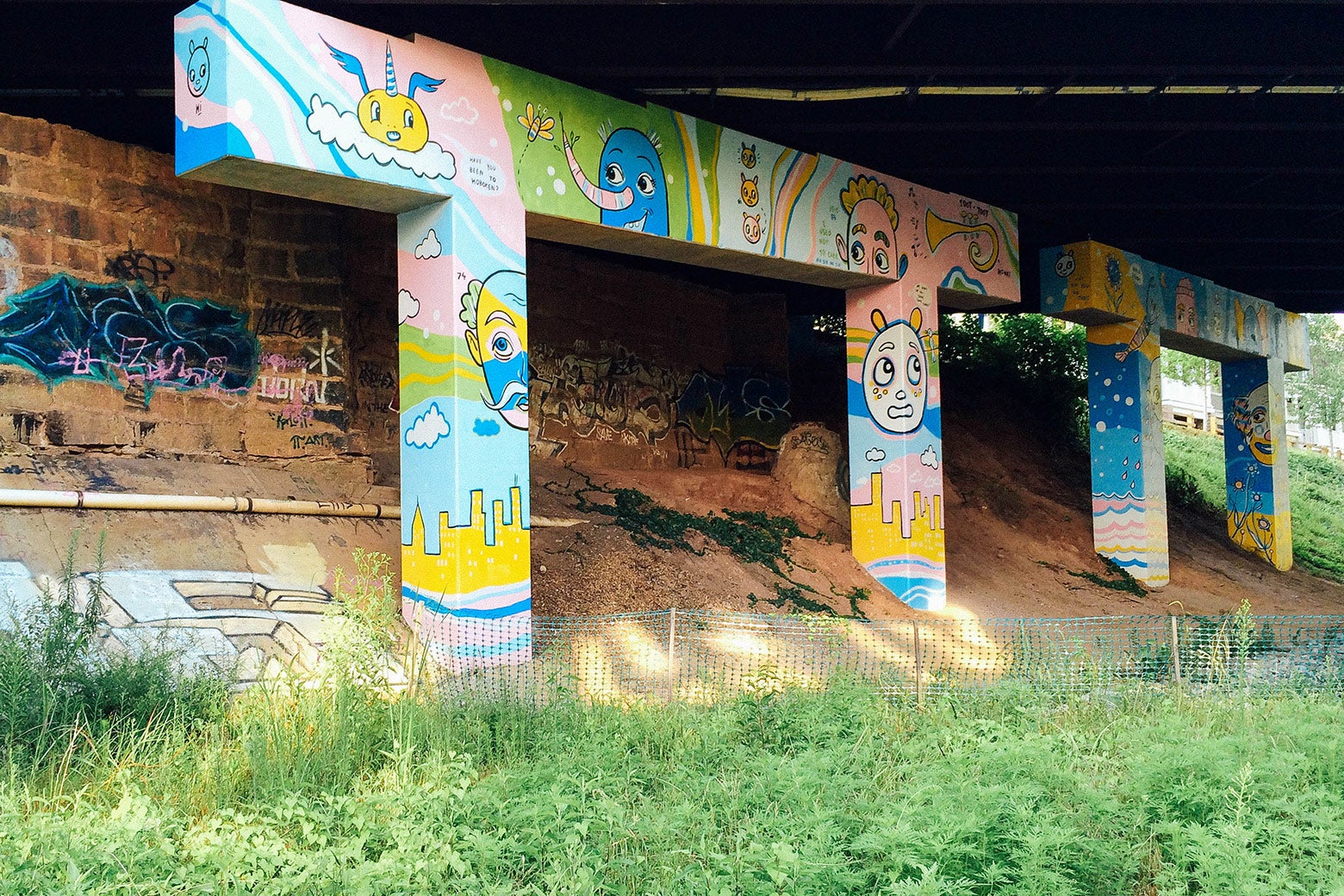 Highway corridors are a tougher nut to crack. Some, like San Francisco's Embarcadero Freeway, have been demolished to great acclaim. Others, in Dallas and St. Louis for example, have been capped with freeway "decks" that support new park spaces over the roadway. Now, attention is turning to the spaces beneath urban expressways. In Boston, the area under Interstate 93 south of downtown was renovated to better dispose of stormwater and provide a pedestrian connection between the South End and South Boston. In Toronto, a 1.2-mile stretch beneath the Gardiner Expressway has been renovated to create a half-mile ice skating trail. The architect of that project, Marc Ryan of Public Work, said the road's 45-foot clearance creates a surprisingly tranquil, bright space beneath. The existing highway pillars were even able to support a suspended bike path.
In sunny Southern cities, the lift is easier still. In Los Angeles, the replacement for the Sixth Street Bridge (made famous by Grease) is set to serve as roof over a café, basketball courts, and green space. The height of the crossing will allow enough sunlight beneath to support trees, noted Deborah Weintraub, the chief deputy engineer for the City of Los Angeles. But, she added, "It's L.A.: Shade is golden."
But any comprehensive review of the space under highways requires confronting the shameful legacy of urban renewal, during which road builders targeted black neighborhoods for demolition. In Charleston, South Carolina, a popular skate park sits beneath the interstate north of downtown, where planners are working on a rails-to-trails project. But even as they try to repair some of the damage that urban renewal did to black Charleston, the city's black population continues to decline under gentrification pressures.
In New Orleans, the largest black commercial district in the Southeast was obliterated by the construction of Interstate 10. More than 300 black-owned businesses were destroyed, and relocated residents never saw the aid money that the city had obtained for them. Today, the area around the expressway is one of the city's poorest. Life expectancy here is 25 years lower than in the city's whiter, wealthier quadrants. The old conventional wisdom was that the arrival of a highway meant the removal of a black community. Now, residents see the same significance in the prospect of a highway teardown, says Asali DeVan Ecclesiastes, the city planner spearheading the project. "We'd love to see it come down," they say. "But we know: Everywhere interstates are taken down, that community is aggressively and immediately gentrified." Residents want to see their neighborhood revitalized, but in an area with high unemployment, they're as interested in who is doing the work as in what's getting done.
More typically, though, job growth finds the el-space only in cities with sky-high land values, where retail is happy to take up the space under highways. That's what has happened in Mexico City, where the Bajo Puentes program has recruited cafés and convenience stores to the darkened space beneath the city's Circuito Interior—though not on the city's poorer east side. In New York, an unused subway passageway at Columbus Circle has been transformed into a minimall.
One legacy of highway construction that can't always be overcome, however, is air-quality problems from truck traffic. "We try and avoid … encouraging people to spend hours at the site, because the respiratory risk can be high," explained Dan Adams, one of the architects behind Boston's Infra-Space below I-93. Olmsted this ain't. But in an age of municipal budget retrenchment and skyrocketing land costs, these shady slivers are what's left for public space.
What was on display in Brooklyn in May was the first fruit of the Design Trust's project—soon it will be followed by five other pop-ups in the shadows of New York's expressways, railroad tracks, and bridges. "We look forward to seeing this all over the city," Design Trust executive director Susan Chin told the crowd. All over the country too.