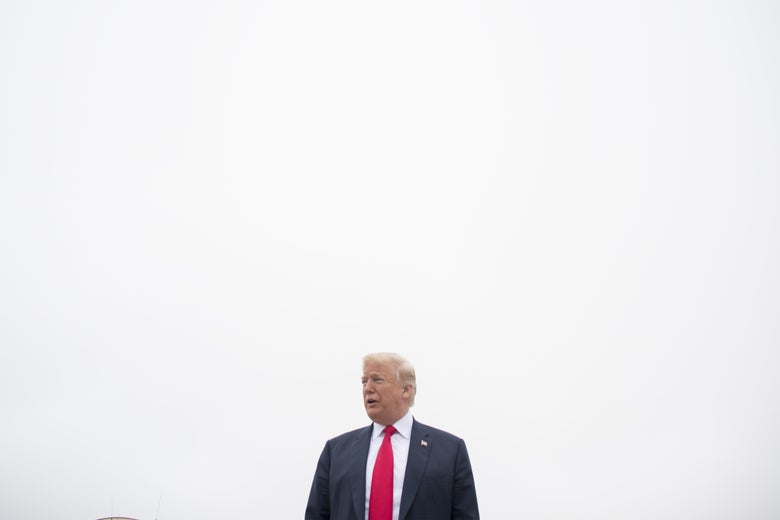 Donald Trump's fortune has shrunk for the second year in a row, dipping to $2.8 billion as business faltered at his golf courses and midtown Manhattan properties, according to a new analysis by Bloomberg.
The decline hasn't been huge. Trump's net worth only shed $100 million last year, according to the analysis. Bloomberg pegged the size of his real estate and branding empire at $3 billion in July 2016.* One of the biggest trouble spots, though, was Trump's beloved Trump Tower on Fifth Ave., which has struggled with lower occupancy rates and provided the news media a handy metaphor for the state of American politics when one of its floors burst into flames not long ago. Trump's 16 golf courses were a mixed bag; some saw revenue increases and others decreases, but overall they lost $70 million in value. Among the casualties: Trump's Winter White House, aka Mar-a-Lago, aka the spot where millionaires can pay to press flesh with POTUS, a perk that apparently wasn't enough to keep its top-line numbers afloat.
Those losses were balanced out somewhat by gains elsewhere at the Trump Organization. The Trump International Hotel in Washington, for instance, managed to generate a healthy $40 million in revenue, increasing its valuation by $30 million, thanks no doubt in part to all the lobbyists and foreign diplomats plunking down cash there.
Of course, estimates like these are always a bit imprecise (the Trump Organization is of course quibbling with the results). As Bloomberg notes, "Trump's net worth could be higher than estimated if he owns assets or has received payments that aren't publicly known, or if he sells properties at values above market averages."
It's also hard to savor much schadenfreude here. After all, the only reason we are even engaging in this exercise is that Trump and his family chose not to divest their business assets, thus leaving open massive conflicts of interest and raising questions about whether the United States is descending into pure, banana republic style graft. One also has to consider how much Trump's net worth would have fallen if he hadn't won the presidency, and foreign dignitaries didn't feel compelled to pay tribute by racking up a bar tab at his D.C. haunt. Even if it really is suffering a bit, Trump's business is really nothing to laugh at.
*Correction, May 31, 2108: This post originally stated that Bloomberg Trump's net worth at $3 billion in 2015.
Support our independent journalism
Readers like you make our work possible. Help us continue to provide the reporting, commentary, and criticism you won't find anywhere else.
Join Slate Plus
Join
---