If there is a definitive source on how Americans get around, it's the National Household Travel Survey, a mega-poll of tens of thousands of people conducted for the Federal Highway Administration every eight years and released last month.
Its findings remind us, for example, that Americans make a lot of short trips by car. More than 35 percent of vehicle trips are under 2 miles, up from 2009, when 33 percent of trips met that qualification. (Caveat: the methodology changed slightly, which for technical reasons seems to have reduced trip distances across the board by 10 percent.* Nevertheless, the distribution looks the same.)
This obvious need for easy ways to go short distances is why Silicon Valley is interested in "micromobility" technology like dockless bicycles and scooters. It's also why activists continue to push for streets safe enough to encourage alternatives to driving. If you build it, they will come!
One big takeaway comes from Chris McCahill, an associate researcher at the State Smart Transportation Initiative. To get around the methodology change, McCahill looks at vehicle miles traveled per capita against the average in each survey. This gave him percentage changes that could be compared between surveys. So, even if the most recent survey's claim that Americans drove less in 2017 than in 2009 wasn't as easy as comparing two survey numbers, he was able to use his method to compare how groups changed in miles traveled relative to the average over the past three surveys (in 2001, 2009, and 2017).
The general trend he found is that most working-age Americans are driving less (relative to the average) than they were in 2001, while older Americans are driving more. The two groups are converging. Americans between the ages of 26 and 33—the core of the millennial cohort, widely predicted to have given up on driving based on recession-era trends—saw a huge rebound in driving miles as the economy recovered.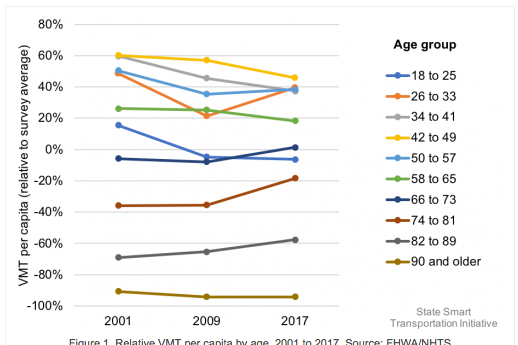 More noteworthy is the trend across income levels. High and middle income people have always driven far more than low-income people, but those numbers, too, have converged over the past eight years.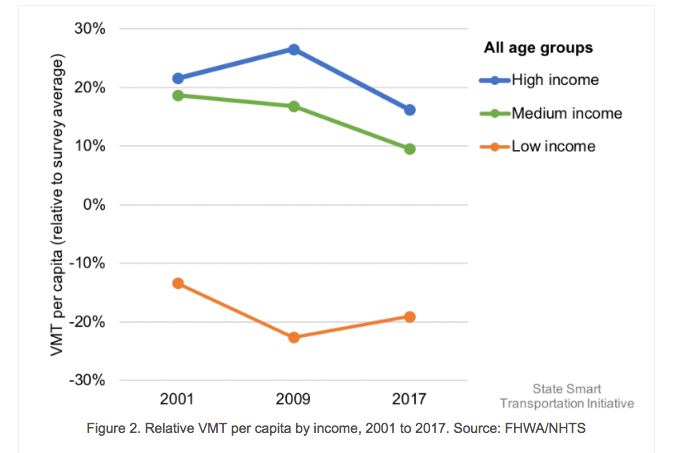 And when you look at the roller-coaster 26–33 age group, you see an even more striking trend. Eighteen years ago, high-income young people drove nearly 70 percent more miles per person than the NHTS average—more than their middle-income and low-income peers. In 2017, they drove less.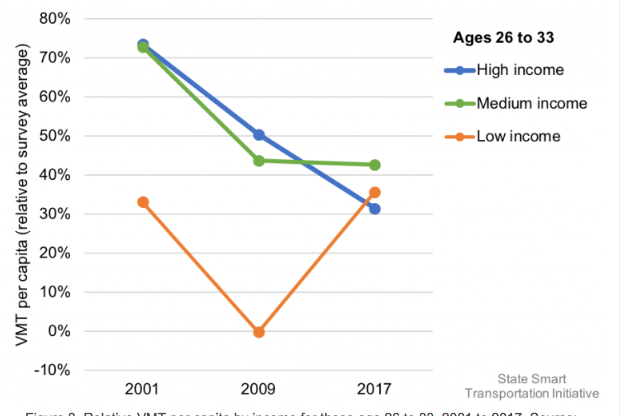 That doesn't necessarily mean anything about millennials' predilection for cars, but it does signify that proximity to job, social activities, and shopping has become a signal of high income.
*The technical change: The 2017 survey used Google Maps to measure how far people walked, biked, or drove. Instead of asking respondents to tabulate how far they went each day, the new survey just asked for their starting and ending addresses. Afterward, using Google to calculate distances, the NHTS found that getting rid of self-determined distances dropped trip length by 10 percent. Why might this happen? It's likely that people overestimate how far they travel. It's also likely people—especially older people with pre-algorithmic driving habits—don't use the shortest route to travel around their neighborhoods. That's pretty interesting, but it makes it impossible to compare trip lengths from the 2009 NHTS and the 2017 NHTS without a big old caveat. In the case of the miles-per-trip data cited above, adjustments might push the graph a little bit to the right, but the fundamental picture remains unchanged.