Rome, as all its lovers know, is littered with the glories of antiquity. It is also simply littered, sullied by unkempt parks, ubiquitous graffiti, and sidewalks strewn with bottles and dog poop.
The mess is documented by blogger Massimiliano Tonelli on his peevish, popular website, Roma Fa Schifo, which translates roughly to "Rome Sucks." "Who," he asks, "has diminished this most beautiful city in the world?"
The causes of this decline are complex, but it appears to be the result of both municipal budget shortfalls and—ironically—an anti-corruption campaign. Several years ago, private firms hired to maintain parks and public spaces were linked to organized crime. Contracts were terminated; new ones were put on hold until a more thorough vetting process could be adopted. That still hasn't happened. With Rome nearly bankrupt, there is no money to hire workers needed to clean and groom its parks or aiuole—the countless flowerbeds, medians, and small open spaces that cool this city of stone. Nor is anyone looking after Roman streets, many of which are paved with charming but high-maintenance cobblestones known as sanpietrini. Walking the streets of Rome is a hazardous pastime, especially in the rain. Drivers find themselves in an obstacle course of potholes the size of sheep.
Into this vacuum step the street sweepers, who have established an unmissable presence in the street life of the city. Nearly all are young Africans, mostly men from Nigeria, Ghana, and Senegal. Some are asylum seekers awaiting a decision on their status; others are undocumented. They began appearing on Roman streets about a year ago, a delayed result of a recent surge of migrants to Italy. Between 2014 and 2017, some 500,000 refugees flooded Italian ports, an influx that has since abated. Anger over this tide of newcomers is the main reason why Italy's center-right and anti-establishment parties did so well in last month's general election. Even if their main purpose is to pocket some change, the sweepers' display of industry also pushes back against right-wing narratives that migrants are a burden and danger to Italy.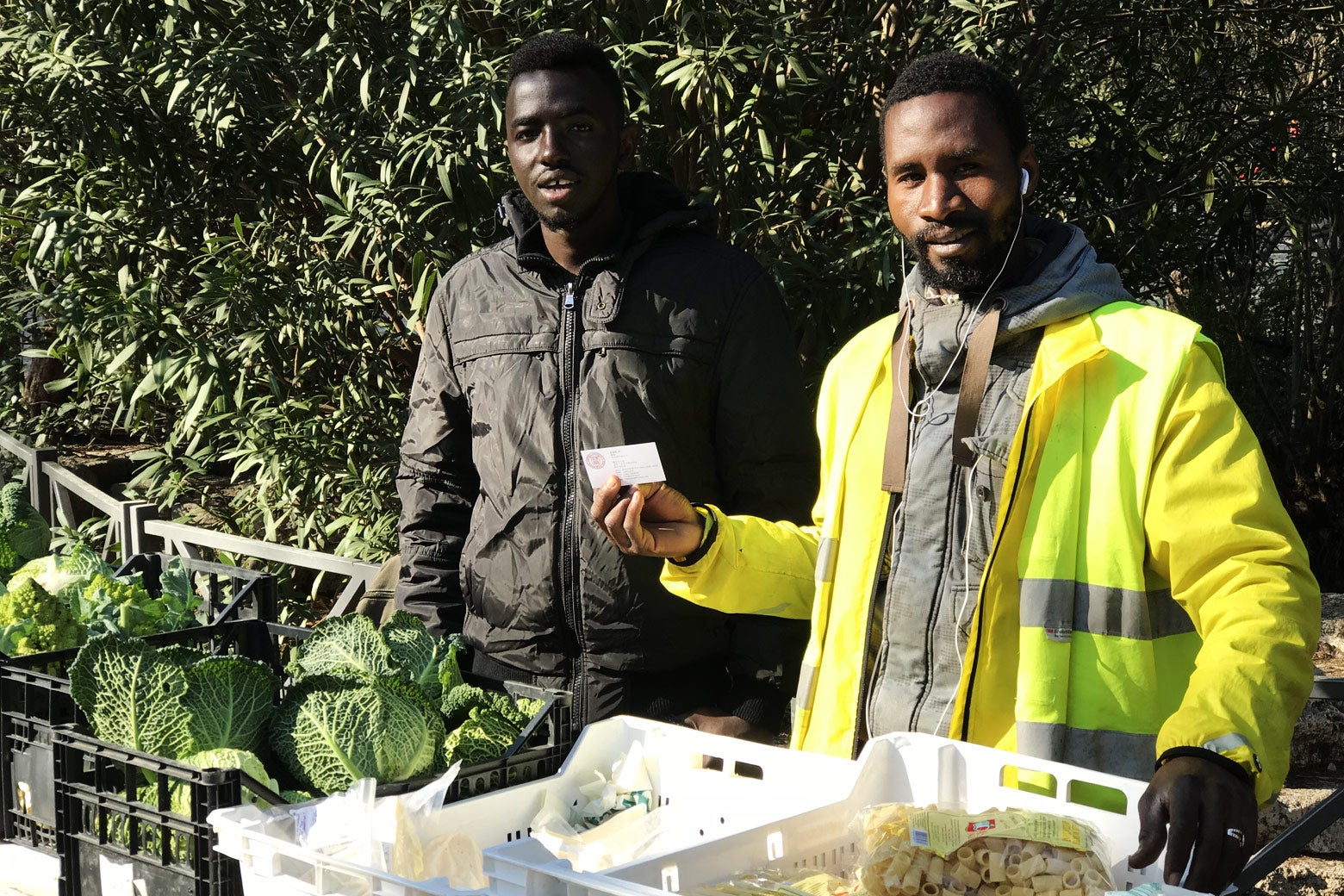 The sweepers are savvy urbanists, selecting cleaning stations based on traffic flow and litter supply. A choice location is a corner or sidewalk in an affluent neighborhood with mature trees overhead and a steady flow of foot traffic below. The ultimate spot is one that many pedestrians are forced to pass through—a kind of bottleneck that the late urbanist Grady Clay called a "venturi." The trees and traffic assure fresh debris to clean each day. This is swept into a pile in the center of the sidewalk, so that passers-by can appreciate the morning's labor. A basket for coins sits plaintively alongside.
Of course, the battle for clean streets is nothing new in Rome—very little is. Under imperial law, this was the responsibility of an elected magistrate known as an aedile—the most powerful of whom was Agrippa, who later built the Pantheon. The emperor Marcus Aurelius was cheered for taking street repair seriously, and Domitian was praised for punishing shopkeepers who sprawled into the rights of way. Vespasian fixed streets as aedile but failed to keep them clean, which so infuriated Caligula that he ordered soldiers "to load him with mud," Suetonius writes, "stuffing into the fold of his senatorial gown as much as it could hold."
When, like Vespasian, government fails to work, outsiders sometimes save the day. It was British parliamentarian (and American expat) Nancy Astor who got Savannah, Georgia, to clean up its act. "Savannah looks like a beautiful woman with a dirty face," she told a reporter in 1946. "Why don't you get a mop and clean her up?" In Rome, American expatriate law professor Rebecca Spitzmiller founded Retake Roma in 2010. Outraged by the graffiti that appeared on her apartment building, Spitzmiller and her friends—all women, all foreigners except for public school teacher Paola Carra and Anita Garibaldi, great-granddaughter of the pater patriae—began leading weekend "retakes" to clean the walls and floors of Rome.* Spitzmiller walked the talk, carrying oven cleaner in her handbag and scrubbing a lot of marble and travertine herself. Retake Roma's message of civic pride and volunteerism has spread. Today there are nearly 100 Retake groups in Rome alone, and Retake initiatives have been launched in cities from Milan to Bari.
On a weekend "retake" in Rome's Prati neighborhood early last year, Spitzmiller was approached by two African migrants sweeping a nearby sidewalk. They ended up joining the Retake effort, working alongside volunteers from a local university. Indeed, in many Roman neighborhoods street sweepers have become part of the daily urban scene. With Rome's density of beggars straining public patience, filthy streets offered migrants an opportunity to perform a needed service, one that is appreciated—and rewarded—by locals. All one needs is a broom and a basket.
In my neighborhood of Trastevere—the "Brooklyn of Rome" (across a river, once gritty, now gentrifying)—two Nigerians anchor a hectic intersection by the Ministry of Public Education. On one side is Destiny, who sweeps by the entrance of Nuova Regina Margherita Hospital. Across is Arthur, who cleans a spacious sidewalk corner every morning before passing the post on to a Ghanaian friend. Between them, the sweepers have the entire junction both spotless and sealed; its virtually impossible to circumvent the men and their suppliant coin baskets. A few blocks north, both sides of the busy Viale di Trastevere are manned by sweepers—Elvis from Ghana on the west and Stanley from Nigeria on the east.
Stanley, whom one of my students has gotten to know, says he makes barely enough each day to cover his rent on the far outskirts of town (a two-hour commute). He appreciates the loose change of passers-by but bridles at his invisibility. "People never look me in the eye," he says. "It is like I don't exist." These sweepers occupy the lowest rungs of Roman society, living provisional lives under the constant threat of deportation. None use their real names; only one agreed to be photographed, and most were reluctant even to be interviewed. But there are hopeful signs that these outsiders can be more fully integrated into Roman life. In 2015, a request went out for a vendor to run a park café kiosk in Rome's affluent Nemorense neighborhood. An agricultural cooperative known as Barikamà—"powerful" in Bambara, the Malian native language—won the contract.
Barikamà was founded by a group of African laborers after a 2010 revolt in the Calabrian town of Rosarno, where they were among thousands of workers exploited on Mafia-controlled farms. The organization produces organic yogurt and vegetables at Casale di Martignano, a lakeside farmstead some 40 minutes north of Rome. Today the men—from Mali, Gambia, Senegal, Benin, and Guinea—not only operate the café, but sell their products alongside and keep all of Parco Virgiliano trimmed and sparkling clean (despite resistance from the parks department, evidently for liability reasons). Perhaps most promising of all is that the Nemorense community, one with a long reputation for right-wing and even fascist politics, has warmly embraced its new African neighbors.
Correction, April 18, 2018: This article originally misstated that all but one woman involved in Retake were foreigners. Co-founder Paola Carra is also Italian.