In some cities, houses are making more money than people.
Over the past 12 months, the average home in San Jose, Calif., in the heart of Silicon Valley, appreciated by just a few cents under $100—per working hour. Why bother going to the office at all?
On Monday, Zillow published home value appreciation across U.S. cities in 2017, divided by 2,087—the number of working hours per year. The typical home was worth 7.6 percent more at year's end, for an equity gain of $14,800. That works out to a little more than $7 an hour.
But in some places, it's much higher. Sixty per hour in San Francisco, $54 in Seattle, $42 in New York, $16 in Denver. For nearly a decade, housing construction has sat near a 60-year-low, creating a national affordability crisis for renters and homebuyers. Homeowners, on the other hand, are sitting pretty.
As Zillow points out, you don't get a paycheck when your home becomes more valuable. Your money is only as good as the local housing market, and many current renters still live with the consequences of having bought into an overheated market more than a decade ago. Still, the numbers issue yet another reminder of how big an economic advantage homeowners currently have over renters. The situation is even more imbalanced than the charts suggest, since renters are usually negatively affected when home prices go through the roof, indicating widespread scarcity. What's more, in the California cities that dominate the top of Zillow's chart, homeowners are paying almost no property taxes on their gains. Home values last year fell in only two large cities, New Orleans and Oklahoma City, according to Zillow.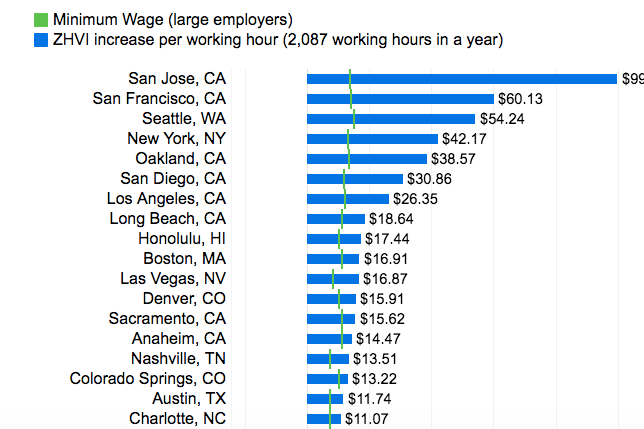 Stability pays. Compare that chart to data released this week by the Eviction Lab, a research group run out of Princeton University by Matthew Desmond, the sociologist whose Pulitzer-winning book Evicted had housers talking in 2016.
In North Charleston, South Carolina, a sprawling industrial area where many black families have ended up as historic Charleston has gentrified, the eviction rate approaches a shocking one in six. That means one in six renter households in this city of a little more than 100,000 people was evicted in 2016. As Desmond has showed, the consequences extend far beyond the hassle of finding a new place to live.
Interestingly, Eviction Lab represents eviction as a national problem with strong concentrations in the Southeast and Midwest, but not necessarily in the cities with strong home price appreciation, high cost of living, or the highest rents. Among other things, this reflects the difference between cities that have created (largely self-imposed) affordability crises by shutting down new construction, and those that have poverty crises. It also shows how the focus on high-cost cities pulls attention away from a persistent, national housing affordability problem for renters.