During a fundraiser on Wednesday night, Donald Trump bragged about having bullshitted his way through a meeting with Canadian Prime Minister Justin Trudeau. During their sit-down, Trudeau had apparently noted that the United States does not currently run a trade deficit with Canada. Trump, relying on nothing but his own gut, insisted that wasn't true:
I had no idea. I just said, 'You're wrong.' You know why? Because we're so stupid. … And I thought they were smart. I said, 'You're wrong, Justin.' He said, 'Nope, we have no trade deficit.' I said, 'Well, in that case, I feel differently,' I said, 'but I don't believe it.' I sent one of our guys out, his guy, my guy, they went out, I said, 'Check, because I can't believe it.'

'Well, sir, you're actually right. We have no deficit, but that doesn't include energy and timber. … And when you do, we lose $17 billion a year.' It's incredible."
As usual, Trump is incorrect. According to the Bureau of Economic Analysis, the United States has run a trade surplus in goods and services with Canada for three years. This is not esoteric information; the data is readily available on the government's own website.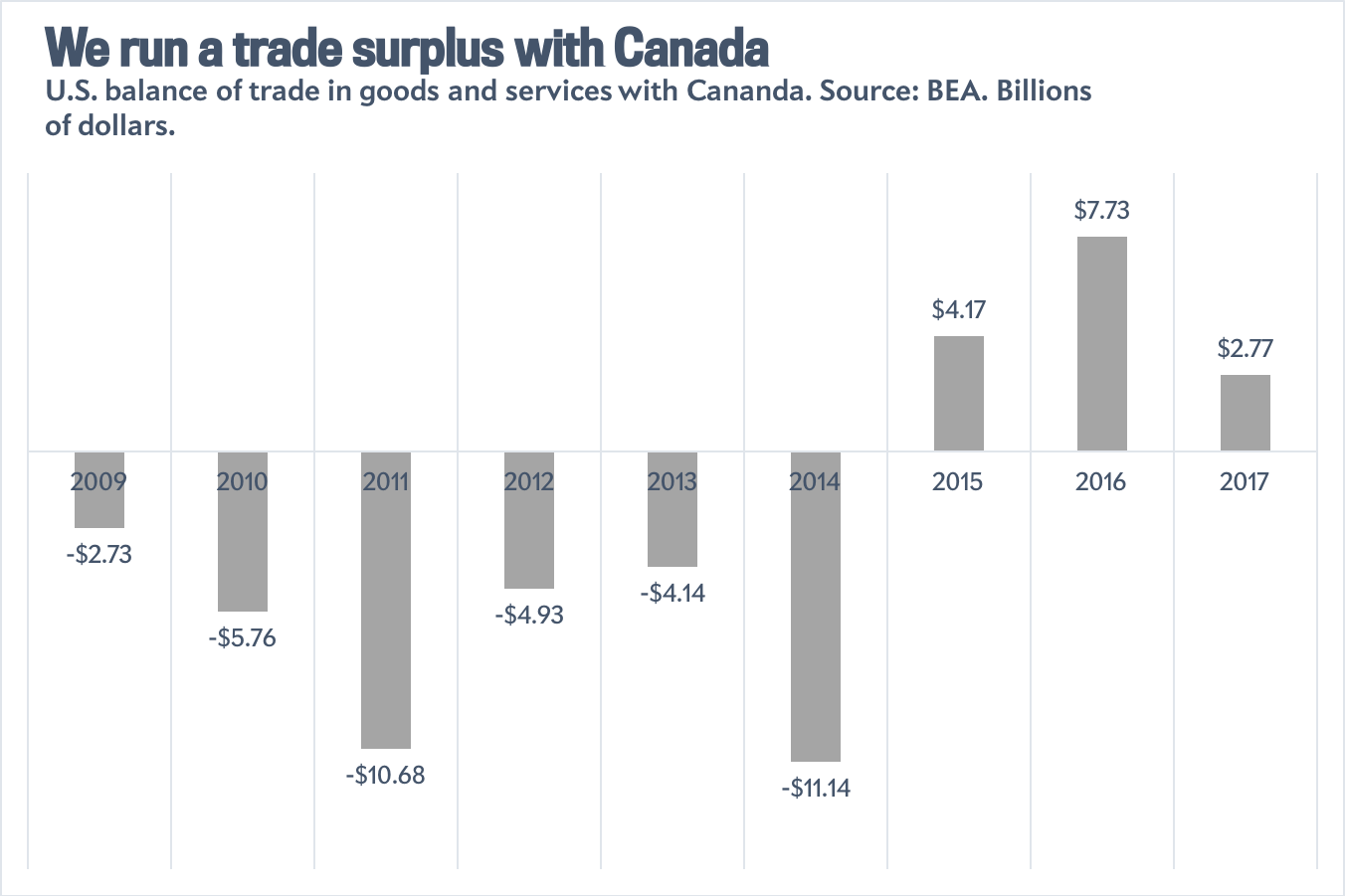 Once Trump's remarks leaked, several journalists noted that the president had just bragged about making up information on the fly during a meeting with a foreign leader. This appears to have bothered Trump, who, in typical form, decided to double down with a Tweet this morning rather than admit fault.
It's possible that all of this is simply a misunderstanding. In 2016, the United States ran a $16 billion deficit in goods with Canada, which is the figure you're left with if you ignore all the services American businesses sell up north—things like banking, insurance, air travel, education, and the like. Judging America's trade performance based on goods alone would not make any sense, mind you; exports are exports, whether you're talking about cars or financial services. But perhaps Trump heard that number, and mistakenly took it to mean that the U.S. has an overall trade deficit with Canada.
If that's the case, it would still be a cause for concern. Trump is trying to renegotiate the North American Free Trade Agreement, and being misinformed about basic trade statistics makes it even less likely that he will make rational decisions about the future of the pact.
It's also possible that Trump is surrounded by yes-men, one of whom fed him a misleading statistic in order to confirm his own mistaken assumption. That would also obviously be cause for concern.
But in the end, this is all just a reminder a broader problem: Our president lives in a solipsistic fantasy world, where facts mostly exist to confirm his own intuitions, and his staff either aren't capable of correcting him or don't want to. When it comes to legislation, that ignorance limits him to making nonsensical demands of Congress, because he simply doesn't understand the issues. But when it comes to issues like trade, where he can unilaterally change U.S. policy with the stroke of a pen, his ignorance is an immediate menace.
Update 4:18 PM:
White House Press Secretary Sarah Huckabee Sanders tried to defend the president's claim this afternoon on Twitter.
Sanders is citing the Census Bureau's stats on trade in goods. They do not included services.
And once again, saying that the United States has a trade deficit with Canada if you ignore all the services we export to them is an inane and misleading point. If this is actually how most of the administration thinks about trade, we're in even more trouble than I initially suggested.