On Wednesday, Yelp released a five-year trove of data about local businesses in the United States. One of the company's big conclusions? Americans prefer independent restaurants (even, in fact, especially independent fast food) to their chain counterparts.
In all 50 metro areas the company examined, the average Yelp rating for independents and chains has been diverging. Nationally, mom 'n' pop eateries were always preferred by a small margin, but since 2012, the gap in Yelp's 142 million ratings between them and chains has nearly doubled. For fast-food restaurants, the average rating gap stands at almost a full star now.
Yelp chalks this up to America's changing tastes, which would be quite a shift. It's not crazy to think a new trend in consumer preferences might be underway. The Bureau of Labor Statistics has restaurant spending up 18 percent between 2012 and 2016; the Census Bureau says we're now spending more in restaurants and bars than at the grocery store. There's social media pressure to find new and interesting ways to represent your life, and maybe going to Applebee's just doesn't cut it.
It's also possible that consumers are more likely to rate chains badly when an individual franchise fails to live up to brand expectations than to rate them well when the Bloomin' Onion is as crispy as promised. Poorly rated indies might also be more likely to go out of business than poorly rated chains.
Yelp has also been able to deduce what percent of local restaurants are chains in various U.S. cities. (Since the data looks at fast food, fast casual, and casual dining, largely excluding "fine dining," this data shouldn't favor wealthier places.) This information serves as a measure of place-based authenticity—the extent to which local food culture hews to a national standard or reflects local tastes and traditions.
The results are varied in all three of those categories. At the top of the chart is New York City, a bastion of independent retail currently under threat from cutthroat corporate landlords. Still, it retains its edge. Just 13 percent of casual dining spots in NYC are chains. Fast casual is less than 20 percent chain. And even fast food is just 34 percent chain. The localism capital of Portland, Maine, is right up there too.
At the bottom of the list is Cincinnati, where 35 percent of casual dining, 47 percent of fast-casual, and 77 percent of fast food consumption happens in franchises with more than five locations.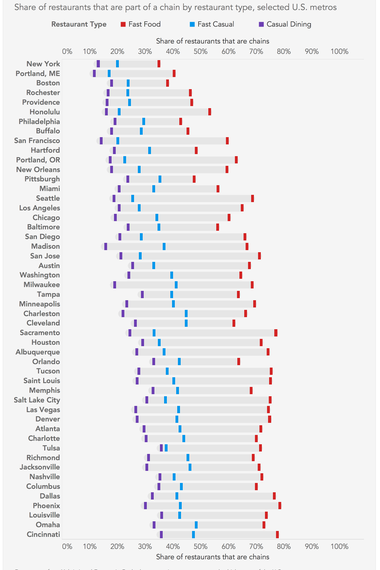 The first thing that stands out is that only a few cities have any real culture of independent fast food. All of those cities where fast food is more than 50 percent independent are geographically concentrated in the Northeast: New York City, Boston, Providence, Pittsburgh, and Philadelphia—as well as smaller cities like Maine's Portland, Connecticut's Hartford, and New York's Rochester and Buffalo.
This phenomenon might also be due to what Serious Eats founder Ed Levine has christened the Pizza Belt, the line of Italian-American settlement that adheres loosely to the I-95 corridor. Pizza is king in these parts, and that endogenous fast food culture has proved fairly resistant to franchise encroachment.
When you start looking at casual dining—another industry category into which Yelp sorted local spots—you can see another group of cities with low chain ownership: the (relatively) old ones. Cities like San Francisco, New Orleans, Miami, Chicago, Los Angeles, Milwaukee, and Madison, Wisconsin.
Some of these places have older urban cores, which may be conducive to local ownership. Pedestrian traffic makes it easier for restaurants without brand-name iconography to pull in customers than it would be on a busy six-lane arterial. Small-time commercial landlords are more likely than Westfield to cut deals with local entrepreneurs.
Others—Los Angeles, Miami—had their big growth spurts decades ago, and independently owned restaurants have taken root despite relatively car-centric design.
The bottom of the list, meanwhile—the place where the chains dominate—is a who's-who of the Sun Belt. These are metros where unmitigated sprawl is evolving in tandem with massive population growth: Atlanta, Charlotte, Dallas, Jacksonville, Las Vegas, Nashville, Phoenix. Most of these cities have been experiencing double-digit population growth over the past couple decades. It stands to reason that a vibrant, locally run food culture could take time to catch up.
Then again: These cities offer both cheap labor and cheap land, which should encourage restauranteurs to experiment. If it was once hard to discover—or even locate—a great new dumpling spot in a strip mall you drove past at 45 mph, well, there's an app for that now.