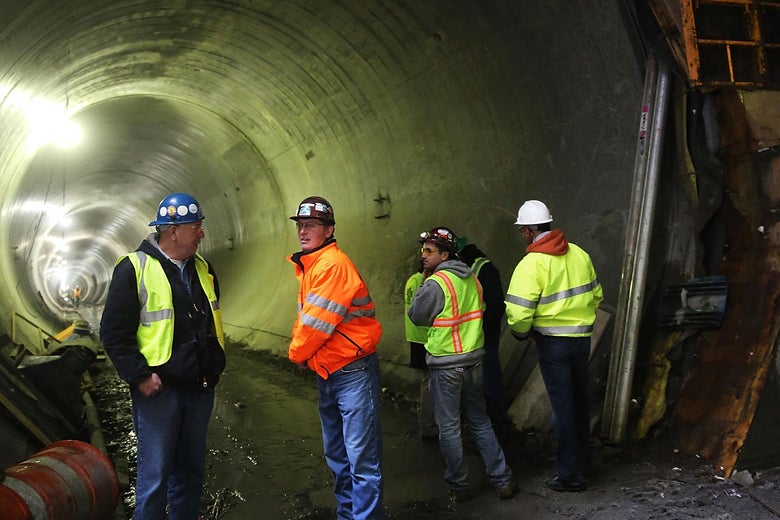 While Elon Musk launched a car into outer space Tuesday, I was reading about his plans underground. Musk's Boring Company is a Los Angeles-based venture with a mission less spectacular but more relevant than that of SpaceX: Helping people get around on earth. The idea is to reinvent the science of tunneling (boring, get it?). Musk's argument is that by making tunneling cheap, we can unleash a wave of underground infrastructure that will solve the problem of "soul-destroying traffic." And you can imagine it doing a lot more, too.
But Musk is focused on something that's not the problem. And he's not alone.
Of course Americans could stand to learn to dig better: As Brian Rosenthal's New York Times investigation of New York City's scandalously expensive Second Avenue Subway project demonstrated, our sandhogs don't always use state-of-the-art technology. Labor unions mandate elevated staffing arrangements, putting twice as many workers as necessary on a TBM (tunnel-boring machine). Per mile, the Second Avenue Subway is the most expensive stretch of heavy rail built in the world. Ergo, we must fix the tunneling. Or at least that's how many of Musk's supporters framed his idea.
But a new report out of New York by the Regional Planning Association, a powerful civic advocacy group, shows (again) that TBMs—the giant cylinders that grind down the earth and lock tunnel walls into place—are not what has made the city's megaprojects so expensive.
Tunneling made up just 6.5 percent of the Second Avenue Subway's $2.91 billion in construction costs—and construction made up barely more than half of the record-breaking $5.57 billion figure. Stations cost far more. Financing, design, and real estate played an even greater role. Should Musk achieve his almost unimaginable goal of reducing the cost of boring by 90 percent, he would still barely put a dent in the tab for one of the country's largest public works projects.
Every tourist will be familiar with the "New York Premium," the idea that things cost more in New York because, eh, it is what it is. This extra cost of doing business has been part of the city's self-image since Boss Tweed spent as much money on a courthouse as the United States spent acquiring Alaska.
Periodically, New Yorkers get upset about this, and one of those reckonings is currently upon us. The Times hired Rosenthal to spend half a year investigating the MTA, the agency that runs the subway; the new speaker of the City Council, Corey Johnson, is talking about it too; the city's most esteemed planning organization has dedicated a new 80-page report to out-of-control costs. The problem is basically everything but the tunnel machines: Short-term thinking, interminable environmental reviews, labor unions, incompetent bidders, fragmented management authority, and bad decisions.
While speaking Tuesday night at the Transit Center, a Manhattan-based research and advocacy organization, Rosenthal said he didn't mean to dig into construction costs. He was trying to figure out the source of delays. Reduced operating expenditures led him to inflated capital projects sucking up time, money, and attention. His had expected to have a "lightbulb moment," uncovering the one thing that explained how New York built itself into a standstill. Like, for example, tunneling.
The example should resonate beyond New York. On Sunday, Amtrak suffered its third fatal crash in two months. Many observers have pointed to the delayed roll-out of positive train control, the sensor-based technology that can prevent such incidents, as a root cause. But Amtrak's issues clearly run deeper. On Tuesday, the rear cars detached from an Acela train traveling at 125 mph through Maryland. It's always alluring to think that there is one broken link that could be fixed with an influx of money or a fancy new piece of technology, and thereby render the entire chain whole. It's rarely the case.
It's time to look beyond better boring machines and positive train control. Jacob Anbinder observed in Democracy Journal last week that interrogating the record of public agencies of any kind can easily start to sound like the bad-faith calls for reform that conservatives make to undermine and privatize those assets. He argues this should not be the case: "[A]ctively questioning the competence of large bureaucracies is not conservatism in disguise; it is the essence of progressivism itself."
This misplaced wish for a magic bullet is not just present in the public sector. McKinsey's analysis of the construction sector's dismal productivity also finds technology to be a minor impediment. When Google announced its plans to build a "smart city" on the Toronto waterfront, the powerful tech company's vision was surprisingly dependent on techniques that had been around for decades, like streamlined, timber-frame construction.
That's not to say a better tunnel machine would be a bad idea. Just a small one.
Support our journalism
Help us continue covering the news and issues important to you—and get ad-free podcasts and bonus segments, members-only content, and other great benefits.
Join Slate Plus
Join
---