On Thursday, Jan. 4, the "bomb cyclone" descended on John F. Kennedy International Airport, smothering Queens, New York, with 8 inches of snow and disrupting America's largest point of entry. Hundreds of flights were canceled before the first flakes fell; delays fanned out across the globe. Thousands of travelers were stranded in nearby hotels, some for days on end, or at the airport itself, where blankets and meal tickets were rationed and police had to step in to keep peace. Passengers compared the scene at Kennedy to a refugee camp and a bomb shelter. Thousands of bags remained at JFK well into last week, and others still have not been reunited with their owners.
Mistakes were made. But in other ways, it's not surprising that the disruption was severe. For one, snow and airplanes don't mix. Thanks to JFK's role as a crucial node in American air travel, any delays ripple across the globe. And an airport like JFK, which must manage an average of 1,100 flights a day, is a finely tuned and highly sensitive operation. Commercial aviation is an industry managed down to the minute, conscious of the cost of an olive and the fuel savings from a thinner in-flight magazine. There is no slack; its very efficiency makes it vulnerable to disruptions that are both predictable and, given the way the industry chooses to operate, unpreventable.
The Port Authority of New York and New Jersey, which runs JFK, has commissioned former Obama Department of Transportation Secretary Ray LaHood to conduct an investigation into the events of the weekend. But LaHood would not need to dig very deep to understand what triggered such a cascading failure. I interviewed people who work at, have worked at, and watch Kennedy Airport, as well as travelers who were caught in the worst of it (their responses have been lightly edited for clarity). The common theme: Under pressure to run smoothly, the system overpromised its ability to do so at every turn, transforming one very snowy day into a chain of failures that would ensnare some travelers for an entire week.
A SERIES OF BAD DECISIONS
Thursday, Jan. 4
8:42 a.m.: The New York office of the National Weather Service issues a blizzard warning for the JFK area—frequent gusts of more than 35 mph, heavy snowfall, visibility under a quarter-mile. The last planes to land at Kennedy Airport for 24 hours touch down. Holds and diversions begin.
10:17 a.m.: Norwegian 7013 flying from London's Gatwick to JFK lands in Albany, 140 miles north. The 304 passengers of the Boeing Dreamliner 787 are bused four hours to JFK. Albany's Times Union reports that the airport "doesn't have the equipment to unload [787 luggage] containers."
10:45 a.m.: The Port Authority closes all JFK runways "temporarily"; flights head to smaller airports in Albany and Newburgh, as well as to Baltimore and Washington. The AirTrain shuts down. The airport is expected to reopen at 3 p.m., says the Federal Aviation Administration.
Robert Mann, former charter-airline executive officer at JFK: "The turning point was probably when the Port Authority decided to close JFK to start cleaning up. They had what appeared at the time to be a pretty optimistic goal to returning it to service. Their estimate would have had implications for somebody dispatching a flight scheduled to arrive after 3 p.m."
Greg Lindsay, co-author, Aerotropolis: "It all went wrong, obviously, when the Port Authority  announces they're going to close it for less than a full day. I thought that was crazy when I read it. Once that happened the die was cast."
1 p.m.: Baltimore–Washington International Airport declares it can't accept any more wide-body planes (the kind with two aisles); eventually two dozen flights from JFK, Newark, and Philadelphia will end up at Dulles in Washington. Passengers are told they will be bused to New York. Flights from London are diverted as far west as Chicago, 800 miles off course, where O'Hare is jammed with diverted planes. Meanwhile, dozens of international flights continue toward JFK under the assumption it will reopen at 3 p.m.
2 p.m.: JFK announces the airport will reopen at 8 p.m.
3:35 p.m.: Iberia 6253 en route from Madrid to Kennedy makes a U-turn west of the Azores and returns to Madrid. Total flight time: 8 hours, 15 minutes.
Consuelo Arias, director of communications for Iberia, via email: "The closure of JFK Airport due to snow had been extended twice. … Our flight hadn't reached the point of no return yet."
Robert Mann, former charter-airline executive officer at JFK: "If you took the bait [by believing the airport would reopen that day], you got screwed. You as the airline got screwed, you as the customer got screwed. And I suspect it managed to also screw anybody trying to get out. I don't think I've ever seen that number of flights just turn around mid-Atlantic and head back."
6 p.m.: JFK announces flights will resume on Friday at 7 a.m. More trans-Atlantic flights turn around: Norwegian 7019 loops back to Paris. Virgin 25 makes its pivot to conclude a seven-hour round trip from London. Royal Air Maroc 202 circles back to Casablanca.
DOMINOS FALL
Friday, Jan. 5
5:26 a.m.: Delta 467 from Tel Aviv lands in Detroit instead of New York, one of 13 diversions for international Delta flights that departed for Kennedy on Thursday. On the flight is a group of more than 100 young Americans returning to the U.S. from a Birthright trip to Israel, some of whom would not reach their final destinations for another 30 hours.
Jared Simon, passenger, Delta 467: "We get to Detroit. None of us paid for any of our tickets and the counter lady goes: 'Because you're a group you have to go back to JFK,' and I said, 'I have a connecting flight to West Palm Beach.' And she said, 'Not our problem, you're going to JFK.' "
6 a.m.: Crews scramble to plow paths for planes and operations vehicles.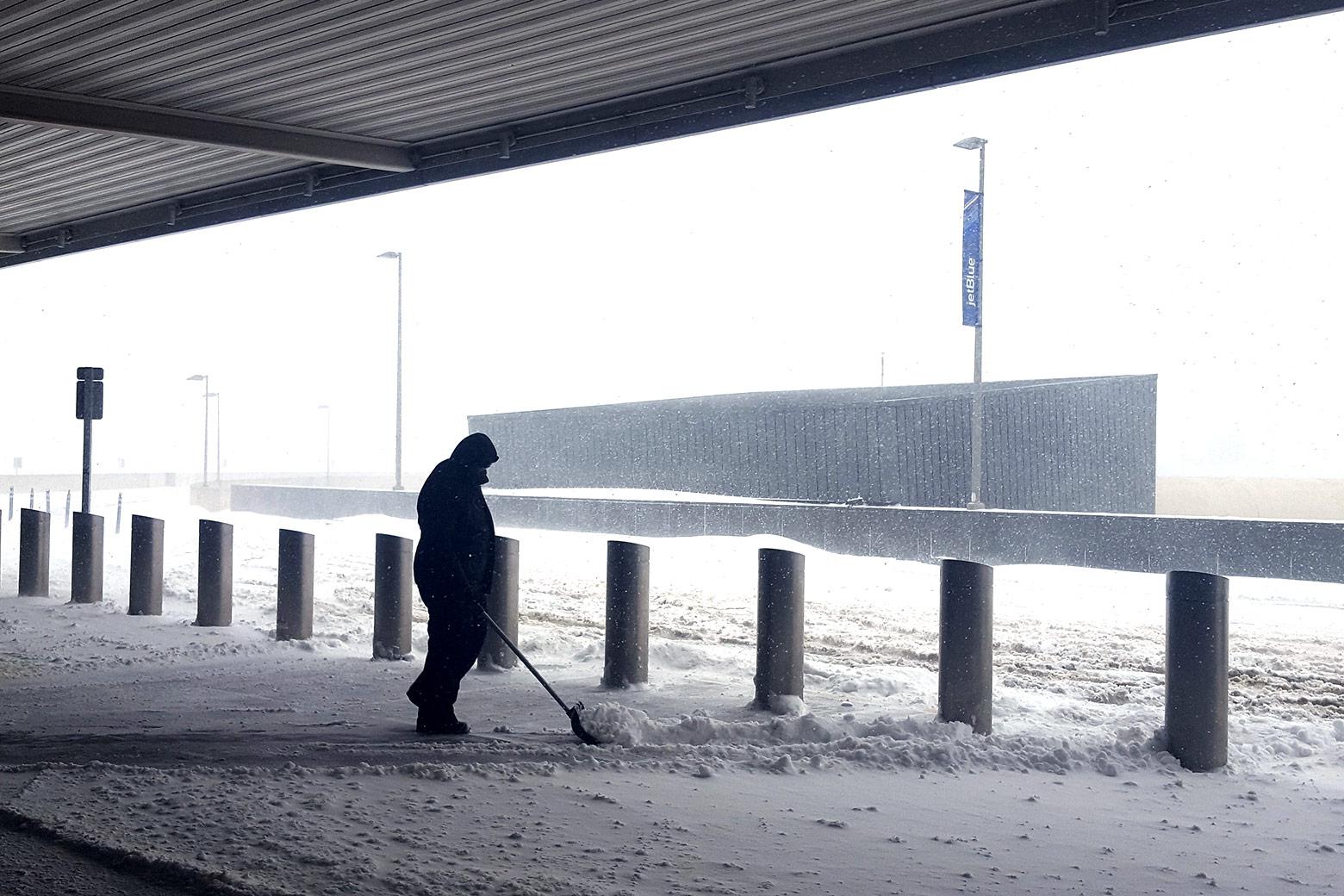 2 p.m.: Delta 467 from Tel Aviv arrives in New York via Detroit. At least 12 international flights are waiting for gates at JFK. Waits grow to two to four hours. Snowplows damage runway lights. Disorder grows on the tarmac and inside the terminals, where stranded passengers have been since the previous day. Outside, snowbanks and the unplowed tarmac reduce space for parked airplanes and hamper the mobility of support vehicles. Some workers have slept at the airport; many tarmac operations are short-handed. Workers like the men "on the ramp"—the low-paid staff that unload bags from cramped airplane holds—try to play catch-up in frigid conditions, relying on hand warmers inside their gloves. Norwegian 7013, the plane that was marooned in Albany, leaves for London with everyone's baggage onboard.
Robert Mann, former charter-airline executive officer at JFK: "Where could you have warehoused these airplanes? Sometimes you warehouse planes by telling them to take a lap around the inner and outer taxiways. In the process of warehousing you create further congestion."
Jared Simon, passenger, Delta 467: "We go to get our bags, and we see hundreds of people screaming. So I'm like, 'What the heck's going on?' I'm a small guy, so I start wiggling around the crowd, and I hear these people had been waiting there since 5 a.m. in the morning."
Adam Newman, passenger, Delta 426 (New York to Los Angeles): "Where you come off the AirTrain and walk into the terminal, there were just people sitting against the wall, arms around their knees and the arms around the luggage. They looked like refugees."
3 p.m.: Dulles Airport, inundated with diverted flights, turns a runway into a parking lot for wide-body planes.
7:48 p.m.: Kuwait Airways 117 lands at JFK from Ireland; passengers won't get off the plane until 1:30 a.m., likely because there are no gates available at Terminal 4. Big domestic carriers with hubs and terminals at JFK, like JetBlue and American, can afford to hold or cancel flights in an attempt to manage their gates, planes, and customers systemwide. For international airlines, however, which share space in terminals with dozens of rivals, a kind of prisoner's dilemma ensues: Everyone might have been better off holding more flights, but no one wants to be the carrier to cancel. The relatively low price of jet fuel—barely half what it was six years ago—reduces the cost of doing everything but canceling: diverting, flying in circles, turning back halfway across the Atlantic. Even luxury airlines like Emirates are unlikely to have a spare plane sitting around in New York. One cancellation can cause a ripple effect that lasts for days.
Adam Newman, passenger, Delta 426: "My flight [to L.A.] was supposed to be at 3:30 p.m. It got delayed, delayed, delayed until 10:30, and then we boarded. We went out on the tarmac for hours, third in line to take off, and then we had to go back to the gate because the crew had worked too many hours. They got this poor kid, probably 20 years old … and they put him at the gate with about 200 people in a semicircle around him asking what to do. He was just about to cry the whole time. He kept apologizing and I said: 'Nobody wants an apology, we just want to know what to do.' And everybody started cheering."
Réal Hamilton-Romeo, senior public relations manager, Norwegian USA: "For the average person looking at it, 'The nose [of the plane] is clear; just get us on the next flight.' It's not that easy. Flights are booked 90 to 100 percent to capacity. A lot of these aircrafts are scheduled extremely tightly. You do that to get the most efficiency out of your staff as well as the multimillion-dollar aircraft."
Stan Boyer, vice president, Sabre Airline Solutions consultancy: "Load factors on the flights are probably 15 percentage points higher than they were 12 years ago. There are more flights and less capacity to deal with it."
Jared Simon, passenger, Delta 467: "At 9 p.m. on Friday [after a Delta connection to West Palm Beach is canceled], I took a $100 Uber from JFK to Newark. I spent $115 on a Holiday Inn and woke up at 4 a.m. The plane is supposed to take off at 6 a.m. But at 5:45, they told us our crew had not arrived yet. People were screaming, 'Give me the application, I'll become a flight attendant!' "
Sam Horowitz, passenger, XL Airways 51 (New York to Paris): "Everything was fine until I got past security. The flight was delayed from 9:25 p.m. to 11, to midnight. At 12:30 a.m.
[Saturday morning] it was canceled completely. Someone said we had to go back and talk to a representative to help us with rebooking a flight. But there was no XL representative in the building. All the XL passengers had to sleep on the floor that night in Terminal 4. We were promised a hotel, nothing ever came of that. They said they couldn't book a hotel. At around 5 in the morning someone started sending around a piece of paper to get everyone's contact info to start a class-action lawsuit."
Midnight: Shortly after midnight, an empty China Southern 777, while being towed, clips wings with a Kuwait Airways 777 waiting for takeoff. The passengers en route to Kuwait City are taken to hotels.
BREAKING POINT
Saturday, Jan. 6
7:19 a.m.: At sunrise, JFK is sliding toward an eventual record low of 7 degrees and a wind chill of minus 13. The winter storm has "severely disabled equipment," the Port Authority will say later in the day, in its first extended comment on the state of things at JFK. The storm "created a cascading series of issues for airlines and terminal operators," the PA explained. Additional international flights bound for JFK are redirected. Just west of Ireland, Lufthansa 400 turns back for Munich.
7:25 a.m.: At Kennedy, passengers deplane Air China 989 from Beijing via air stairs after sitting for more than seven hours on the tarmac. Gusts of more than 30 mph bring the wind chill to minus 12.
Robert Mann, former charter-airline executive officer at JFK: "When hydraulics get cold, bad things happen. A scissor lift works fine under normal temperature ranges, but it's sometimes really finicky at low temperatures. If you've worked out on a ramp in 30-knot winds when it's 5 degrees, you don't want to do it for more than 10 minutes at a time. It's a life-safety issue to have thousands of people outside in that weather.
9:45 a.m.: Austrian Airlines 87 lands in Vienna, five hours after departing Vienna.
Jason Rabinowitz, aviation journalist: "I buy [the equipment explanation] to a degree, but then how does Toronto do it? It was also a manpower issue—some of them had worked so long they had to go home."
Natalie Eagle, passenger, Norwegian 7016: "We got to the airport at 8 in the morning [following a Friday night cancellation] and we didn't leave until 7 p.m. There were people sleeping on the floor and there was no one from Norwegian airlines there at all. We didn't get told our flight was delayed until probably 6 p.m. when it was meant to be at 3:20. There were passengers sitting on the luggage conveyor belts. There was one bloke sitting behind the check-in desk, every time we'd ask him he'd say, 'I don't know.' He told one passenger at one point—who had pretended to go on the computer trying to keep everyone's spirits up—that was almost as bad as pulling out a policeman's gun and he could have him arrested.
Réal Hamilton-Romeo, senior public relations manager, Norwegian USA: "These airplanes don't fly themselves. We have pilots and flight attendants with mandatory work requirements. There were people working 40 hours nonstop to ensure that our passengers were getting home on time. The first break they took was on Saturday afternoon."
Sam Horowitz, passenger, XL Airways 51: "We had blanket rations, a food voucher we couldn't use because all the food was inside security. We moved into the back of the airport. We started lying [down] outside the chapels."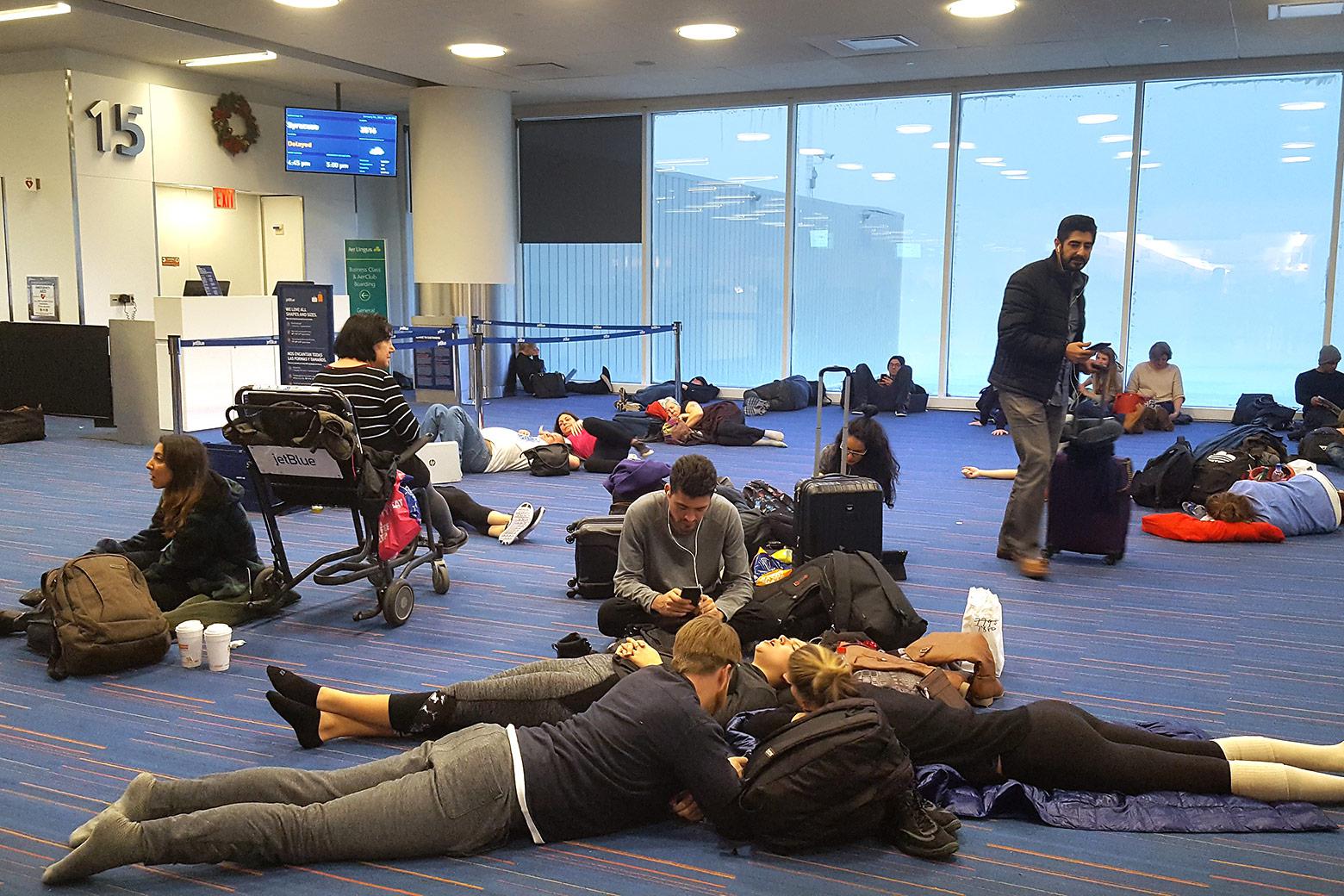 Natalie Eagle, passenger, Norwegian 7016: "The bathrooms were disgusting. There were seven bathrooms for hundreds of people, none of the soap worked, and none of the hand driers worked either—and that was in the whole airport."
2:15 p.m.: JFK records a high temperature of 14 degrees, a record for the lowest high temperature on this day. The Port Authority issues a NOTAM, or "notice to airmen," requesting that all incoming international flights call their dispatchers to see if they should continue to JFK. Later that afternoon, the Port Authority will issue a second NOTAM closing Terminal 1 to all arriving aircraft. Low-cost carriers like Norwegian and XL Airways are particularly affected. Among other things, they are less likely to have so-called interline agreements that make it easy to put passengers on other carriers' planes.
Robert Mann, former charter-airline executive officer at JFK: "It's like saying, 'Stop the conveyor belt, all the candy is falling off.' For most foreign carriers at Kennedy, you don't necessarily have your own people working there, you might have contractors or airline partners. And you don't have much flexibility in terms of using the facilities in that station because they're heavily scheduled and you're sharing terminal, check-in, and gate positions with a host of other carriers. It becomes a real food fight."
Nicholas Dagen Bloom, author, The Metropolitan Airport: "The Terminal City model of decentralized terminals [from the 1950s] was a pioneering 'public/private' partnership of the Port Authority. … The decentralized system as a whole is, however, more fragile. … You will notice that the Terminal City model was not widely imitated outside New York."
5:32 p.m.: Just west of Iceland, Aeroflot 122 begins its U-turn to head back to Moscow. A couple of hours later, Norwegian 7015, which is carrying the bags of the Norwegian 7013 passengers who landed in Albany on Thursday, is diverted to Stewart Airport, 60 miles north of New York City, where the luggage is finally unloaded. Back at JFK's Terminal 4, French travelers are so overjoyed at being permitted to check in for their canceled Thursday flight they chant "La Marseillaise." The flight will not depart until noon the next day.
Natalie Eagle, passenger, Norwegian 7016: "We were lucky to get put up at the Marriot in Downtown Manhattan. One man said it was nice to see the Statue of Liberty through the windows of the coach on the way to the Marriot."
Devani Ramoutar, front-desk agent, Best Western–JFK Airport: "The most they stay is two or three nights [usually]. Some of them were just tired, aggravated. Just wanted to get out of here. People are usually a little more calm. But we're used to it."
Sam Horowitz, passenger, XL Airways 51: "We're waiting for the buses, maybe about 10 p.m., and then it's 11, 11:30, nothing was happening. Then I saw the unaccompanied minors go back upstairs. And I thought: 'Oh my God, they're going to cancel the flight again.' After that, all hell broke loose. People were screaming, families sobbing, I starting crying. People started storming the podium area where the JFK people were. I turned around and there was NYPD corralling us again. They had to break up a few minor scuffles between passengers and workers. Everyone was shouting in French so I had no idea what they were saying. The last thing the XL passengers saw was another flight boarding. And that just increased tension even more."
THE FLOOD
Sunday, Jan. 7
8 a.m.: By the fourth day of the crisis at JFK, tens of thousands of bags are reportedly separated from their owners.
Stan Boyer, vice president, Sabre Airline Solutions: "At JFK, because there are so many terminals and bags need to go from terminal to terminal, you run into not just an automation issue but an equipment issue where you may not have enough equipment to tug those bags around."
Sam Horowitz, passenger, XL Airways 51: "I took a three-hour power nap at the Day's Inn and then went back to baggage claim until 2 p.m. The woman there knew me by name at that point, and she said, 'Your bag is not coming today.' "
Natalie Eagle, passenger, Norwegian 7016: "We were walking around asking people, gate to gate, 'Are you Norwegian? Are you Norwegian?' At the airport on Sunday they were giving out mattresses, like a bed that you'd have around a poolside."
3 p.m.: A water main breaks in Terminal 4, forcing a partial evacuation and flooding hundreds of bags in inches of water.
Gary Carey, passenger, Emirates 395 and 201 (Hanoi to Dubai to New York): "[After arriving Saturday] we didn't have our bags, and then on Sunday there was news that the baggage terminal had flooded. And some of my medications are in my bag. And I bought some custom suits!"
Chris Piasta, Roman Catholic chaplain at JFK: "After the pipe incident, everything changed and we really got busy—not as much with passengers but with employees. Airline people were facing a lot of angry people, and they were basically taking the heat. … Don't forget: These people have their own life. They need sometimes a few moments to relief the stress, vent, so that's what we provide for them."
Natalie Eagle, passenger, Norwegian 7016: "They were waiting for airport staff to bring on bottles of water [aboard the replacement flight] because we had to flush the toilet with bottled water. We were delayed on the plane for an hour and half because there was a mechanical problem. They said the engine was frozen, though we'd just seen it land. Then they told us the flight was canceled. There were people crying. I think it was just pure shock and devastation. People were trying to call their children, worried about losing their jobs."
Chuck Schumer, U.S. senator, at a news conference: "When it's cold, as cold as it was, you cut the airport a little slack. But what happened at JFK was way beyond cutting a little slack. It seemed almost everything broke down; it seemed like a disaster. Whether it's runways not being plowed, whether it's the baggage machines that transport the baggage freezing, whether it's not notifying people what's going on. … It seems almost everything that could go wrong went wrong, including two planes actually colliding. They should have been way better prepared, plain and simple JFK has to follow the Boy Scouts' motto: 'Be prepared.' They weren't."
Rick Cotton, executive director, Port Authority, to reporters: "What broke down—and it broke down badly—was the coordination between terminal operators and the airlines to assure that there were gates available for the arriving airplanes. … What happened at JFK Airport is unacceptable and travelers expect and deserve better."
AN END IN SIGHT
Monday, Jan. 8
2:35 a.m.: Sam Horowitz arrives in Paris via a La Compagnie flight out of Newark after abandoning her XL Airways flight and her bag, which will eventually arrive at Roissy–Charles de Gaulle Airport on Wednesday.
8:48 a.m.: After the airline denies his request for a flight voucher, Adam Newman of Friday's Delta 426 uses Facebook Live to broadcast his phone call with Delta HQ in Atlanta. Delta gives Newman a $200 voucher.
8:23 p.m.: The Norwegian 787 that had left Albany for London with the passengers' baggage still in its hold returns to Stewart Airport, in Newburgh, New York, where the bags are unloaded and shipped to JFK.
Natalie Eagle, passenger, Norwegian 7016: "The WhatsApp group was started between me and my husband and a couple other passengers, and we added everyone. People at other hotels, people who are already home. Probably a hundred people. You'd pass your phone onto someone else, everyone just trying to get through to someone. [My husband's] phone bill is an extra 100 pounds just from [Sunday] night."
Réal Hamilton-Romeo, senior public relations manager, Norwegian USA: "There are things that could have been done differently, but it's hard to single out any one particular thing, and I'm not going to say anything that could be misconstrued as negative against our partner, the Port Authority."
Sam Horowitz, passenger, XL Airways 51: "Frustration and terrible circumstances really lead to making good friends. Now I feel like I have contacts in Paris because I know girls in Paris, and we talked about them coming to visit me in Copenhagen. Now I can reflect that and think, I met these girls because we were all suffering together. I met some really good people that I hope I'll get to see again."
Christopher Schaberg, author, Airportness: "The conundrum of flight that airlines don't typically want to acknowledge openly, but it might serve them well to be more direct about: This whole thing is always on the verge of being such a total mess. … Perhaps we'd all be a bit better off (psychologically, at least) if we went in expecting, well, if not the worst, at least expecting something to go wrong at some point. … Airlines want to promote images of perfection and idealism. But that's just not the reality of mortal air travel.
CODA
Wednesday, Jan. 10
11:20 a.m.: Six days after the snowstorm, more than 5,000 bags remain at JFK Airport.
1 p.m.: After being rebooked on Iceland Air, with a seven-hour layover in Reykjavik, Natalie Eagle and her husband land on Wednesday evening at Heathrow Airport, more than 100 hours after first arriving at JFK for their flight, and with still one more hour to go: Their car is parked on the other side of London, at Gatwick Airport.
The Port Authority did not respond to repeated requests for comment. Terminal 4 did not respond to repeated requests for comment. Terminal 1's "contact us" link leads to a 404 error page.