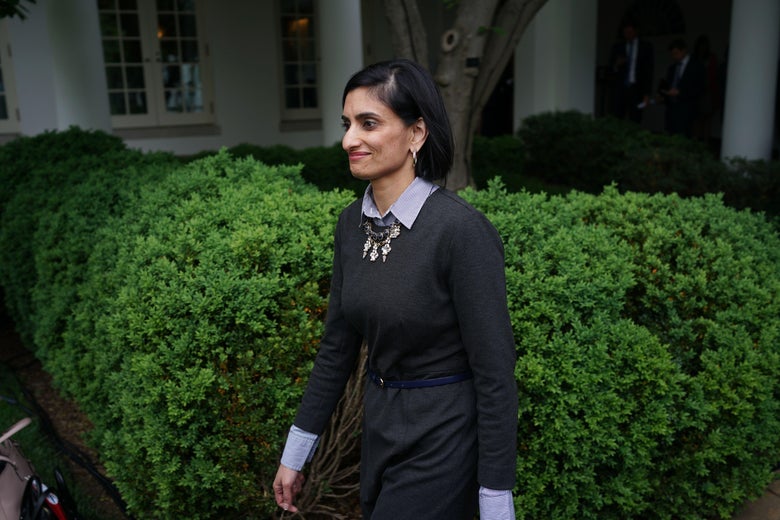 The Trump administration spent the better part of this year attempting to undermine Obamacare. It slashed the outreach budget for open-enrollment. It drove up premiums by cutting off important subsidies for insurers. It cut the signup period in half (albeit, at the request of insurers). It endorsed a tax bill that got rid of the individual mandate. But it seems the Affordable Care Act's markets managed to survive anyway.
With the federal open-enrollment wrapped up, Centers for Medicare and Medicaid Services administrator Seema Verma announced on Twitter today that 8.8 million Americans had enrolled in marketplace coverage for 2018 on the federal exchanges, down modestly from 9.2 million last year. And because Trump's people are pure chutzpah, she also lauded the administration's "cost-effective" approach to driving signups.
These numbers may actually go up a bit, too. Open-enrollment is still rolling in states, including Florida and parts of Texas, where it was disrupted by hurricanes.
This is all a reminder that the ACA, for all its flaws, also created a weirdly resilient insurance market. Yes, premiums jumped a bunch this year as health carriers worried that Trump might try to implode or explode the exchanges. But most marketplace customers were protected from price increases by the law's subsidies, which cap the premiums at a fraction of their income. When Trump finally tried to go nuclear by ending some of the law's direct payments to insurers, state regulators found clever ways to let health plans raise their premiums when necessary without hurting customers much, if at all. Thanks to weird interactions with Obamacare's subsidy structure, Trump's sabotage attempt may have actually made coverage more affordable for some.
Of course, Obamacare is still under attack. Though the Republican tax bill doesn't repeal Obamacare's individual mandate until 2019, it's not clear how strenuously the Trump administration will be enforcing the requirement that Americans buy coverage. If the administration makes it clear there won't be any real penalty next tax season for going uninsured, some people who've already enrolled might drop their plans. I'm also a bit curious what will happen to the number of people buying coverage off of the exchanges; most of those customers earn too much to be eligible for subsidies, so they've been exposed to price hikes. I would be surprised to see their enrollment figures drop.*
But those questions are still up in the air. For now, contrary to what our president might think, Obamacare lives.
*Correction, Dec. 21, 6:28 PM: This post originally stated that the Republican tax bill repealed Obamacare's individual mandate in 2018. It is repeals it as of 2019.
One more thing
You depend on Slate for sharp, distinctive coverage of the latest developments in politics and culture. Now we need to ask for your support.
Our work is more urgent than ever and is reaching more readers—but online advertising revenues don't fully cover our costs, and we don't have print subscribers to help keep us afloat. So we need your help. If you think Slate's work matters, become a Slate Plus member. You'll get exclusive members-only content and a suite of great benefits—and you'll help secure Slate's future.
Join Slate Plus
Join