2016 was not a terrible year for American families. According to the Census Bureau's annual report on income, poverty, and health insurance, released Tuesday, the median household income rose by a healthy 3.2 percent, building 2015's record-setting gains. The poverty rate also dipped a bit—from 13.5 percent down to 12.7 percent—as did the fraction of Americans who lacked health insurance. The folks at the census summed things up with this upbeat graphic. It's not inaccurate. Our economic well-being is gradually improving.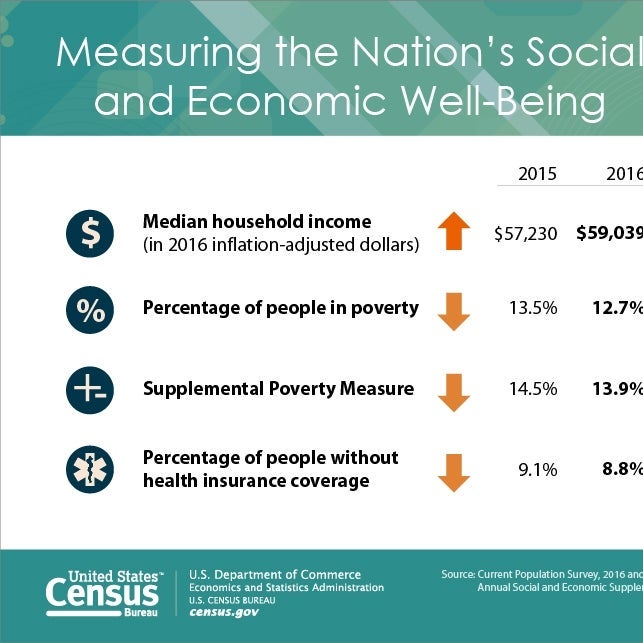 And yet, looking over the data, I couldn't help but feel slightly morose. Whatever you think of President Obama and Congress' attempts to revive the economy after 2008, you have to reckon with the fact that the recovery took years to meaningfully reach the middle class and poor. Yes, the unemployment rate ticked down slowly, month by month. But incomes were essentially stagnant for more than half a decade.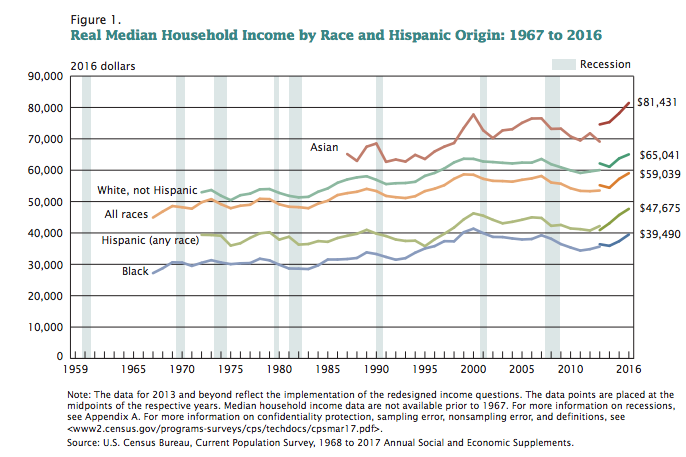 Even now, as economist Justin Wolfers points out, median incomes for most demographic groups are barely above their levels from 1999. Black households still have yet to recover fully. Americans have had to wade through a vast swamp of economic disappointment to reach even the moderately good news we're seeing today.
It's bitterly ironic that Donald Trump launched an entire presidential campaign about American decline at almost the precise moment that middle-class incomes and poverty began to heal from the recession. But he was able to do it in part because the economy took so many years to right itself. And while "economic anxiety" was obviously not the only thing (or even the main thing) fueling Trumps support, it's hard not to wonder what we might have been spared politically had Washington managed to engineer a faster recovery. A bigger stimulus, more help for struggling homeowners—maybe these things would have only helped around the margins. But maybe they also would have prevented a bit of hopelessness from setting in, before it was too late.