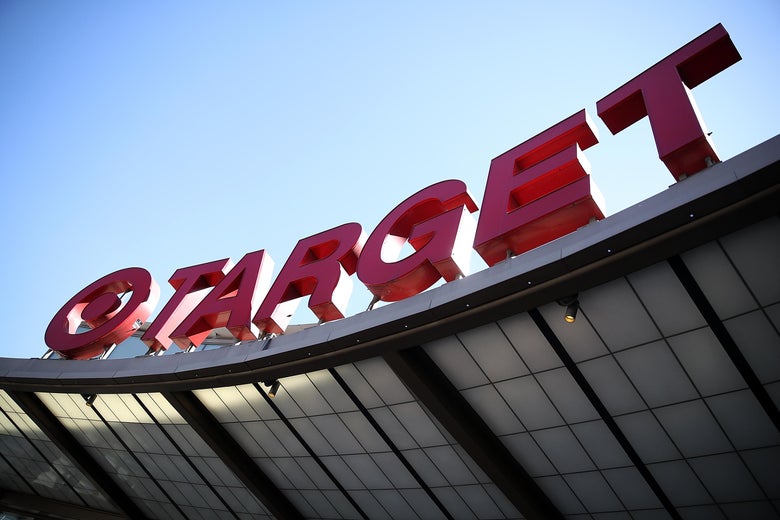 Target—a.k.a. Walmart for Democrats—announced today that it would increase the minimum wage it pays employees from $10 to $11 an hour next month, as it looks to recruit workers heading into the holiday shopping season. More tantalizingly, the company also promised to raise its pay floor to $15 an hour by 2020, thus ensuring the company's name will be mentioned in every argument you hear about the minimum wage for at least the next three years.
"We're investing to make sure that we recruit and retain the existing team, that we attract new team members, and, importantly, that we provide an exceptional service environment," Chief Executive Brian Cornell told reporters. It is unclear precisely how many of Target's 323,000 permanent employees will benefit from the hike, but it will apply to the 100,000 seasonal workers it plans to hire for the holidays.
In some ways, it's not a total surprise to see this move from a major retailer. A handful of major chains have been raising their entry-level wages over the last couple years to reduce worker turnover and help with hiring in a tightening labor market. The Gap led the pack by going to $10 an hour a few years back, while Ikea said it would set local pay rates based on MIT's living wage calculator. Target itself raised its minimum to $10 last year to catch up to Walmart, which had already made the move to much fanfare.
Meanwhile, a handful of states and cities—most notably, California and New York—have already passed $15 minimum wage laws that will force major retailers to adjust their business models in those places. Public policy has forced the industry's hand here, at least a bit.
Still, Target's announcement is fairly dramatic. To put it in context, Costco, a company regularly lauded for its generous pay, increased its minimum wage to $13 last year. The decision is especially striking coming from a company that, as the Wall Street Journal notes, is trying to pull itself out of a slump; its all-important Christmas sales tanked in 2016, and the stock has dropped 19 percent for the year. Target executives seem to think the pay bump will pay for itself through a more stable, efficient workforce, at least initially; the company didn't change any of its financial projections for the coming year, despite the added compensation costs. That feels a tad unrealistic, given that Walmart claims its own, comparatively modest wage increases have eroded its profits, but maybe Target's spreadsheets say otherwise. If the company can pull it off profitably, it'll suggest that—contra conventional wisdom—big box retailers can actually compete on pay with the likes of Costco and Trader Joe's. If that happens, Target will quickly become the labor movement's favorite talking point.