The first time Shane Moon lost his driver's license was in 2013, when his girlfriend was pregnant with his first child. Moon, a construction worker in Lapeer, Michigan, near Flint, was having trouble making ends meet and had let his car insurance lapse. "I don't make a whole lot of money," Moon said. "It's the only thing I could possibly get away with not paying." He got a ticket for driving without insurance and a special Michigan penalty called a "driver responsibility fee," which can cost violators up to $1,000 over two years. He couldn't afford to pay that either and missed his court appearance. His license was suspended, bringing on an additional reinstatement fee. But he had to keep driving to get to construction jobs, often 90 miles from home. Each time he was pulled over—often for his outdated tags—the state hit him with another ticket for hundreds of dollars.
Four years later, Moon is homeless and struggling to keep up with tickets that have him paying as much as a third of his income to local and state governments each year for fines and fees alone. "My ship has sank. I don't know how I'll make it out of it this time. I feel like a total loser failing my family," he told me. "If I can't pay my tickets, shame on me, but don't take my license away from me. Don't take my standard of living away from me." He continues to drive to work every day, without insurance or a license.
Moon is one of tens of thousands of Michiganders who have been trapped in a cycle of debt and criminality stemming from a suspended driver's license and the accompanying series of fines that begin with the state's driver responsibility fee. The penalty was first proposed in 2003, by Michigan state Sen. Jud Gilbert, who sponsored a bill to create an automatic fine tacked onto vehicular offenses both mundane ($100 for hitting seven points on a license) and serious ($1,000 for murder). The state was in a financial crisis, but as the fee's name implied, Gilbert thought the new penalties—suggested to him by the majority leader at the time—would improve driver safety. They were portrayed that way in the press, too: The Detroit Free Press' driving columnist called the fee an "immaturity penalty."
In 2014, the Republican-controlled statehouse voted by an overwhelming majority to abolish the policy, in recognition that the fee had simply been a "money grab," in the words of Joe Haveman, the representative who sponsored the repeal. Gilbert agreed with that view and regretted his sponsorship. "Quite frankly, before it was all said and done, it seemed like it was all about the money," he told the Holland Sentinel at the time. The fee will be phased out by the end of 2019.
In the meantime, however, it remains a heavy burden on Michigan's poor. In the 2016 fiscal year, according to documents obtained through Freedom of Information Act requests by Equal Justice Under the Law, a group that is challenging the practice, the state assessed $40.4 million in fees for driving with a suspended license alone, collecting $26.7 million. Suspended license violations accounted for about half the state's responsibility fees. Many of those people had their licenses suspended not for dangerous driving but because they were broke and couldn't pay fees they had previously been assessed—in some cases, court debt for nondangerous offenses like parking tickets. The fee is a way that Michigan, after punishing debtors with license suspension, binds license suspendees with debt.
The state had set a trap for hundreds of thousands of low-income residents. Without a license, drivers can find it nearly impossible to make the money to pay the fines and the ever-compounding late fees. Many of those caught driving with a suspended license—more than 40,000 Michiganders every year—find themselves drowning in debt.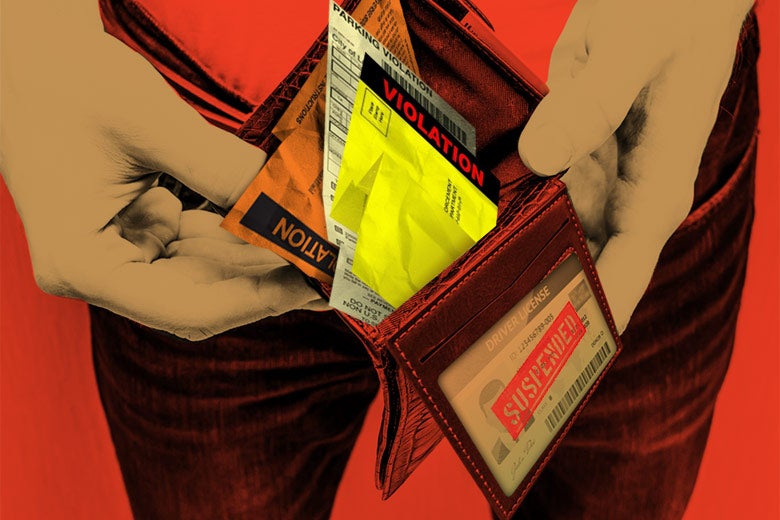 Over the past 15 years, dozens of U.S. states have moved to suspend more licenses for court debt, fines, and fees, and unrelated offenses. In 2006, nearly 40 percent of license suspensions in the U.S. originated with offenses like unpaid traffic tickets, drug possession, or unpaid child support—violations the American Association of Motor Vehicle Administrators, or AAMVA, categorizes as "social non-conformance." That was a 34 percent increase from 2002, according to research by Robert J. Eger. The surge has left millions of Americans the choice between driving illegally and reorganizing their lives around alternative transportation. The first option leads to debt and trouble with law enforcement, the second to poverty and unemployment. Three in four Americans with suspended licenses choose to keep driving, according to the AAMVA. California Gov. Jerry Brown called the predicament "a hellhole of desperation."
Michigan is one of a handful of states where lawsuits are underway against driver's license suspensions for nondriving penalties and in which legislators are working to undo the policies. Virginia and Washington state both passed reforms to reduce punishments. In June, California abolished the practice, which has suspended more than 2.7 million licenses over the past five years for failure to appear in court or make payments.
But in all those cases, advocates are finding that these laws are difficult to completely banish, thanks to courts that have become dependent on the lucrative status quo. What makes the suspensions so debilitating to Americans is exactly what has made them essential to cash-strapped state and local governments. In Michigan, the fee was adding approximately $100 million a year to the state's coffers from people like Shane Moon. For the millions of drivers like Moon, however, a political change of heart about revenue-driven policing has brought no relief.
As a punishment, license suspension has a lot in common with the revenue-driven policing practices that the Department of Justice found were rampant in Ferguson, Missouri, in its 2015 report on civil rights abuses in the St. Louis suburb. Like Ferguson, many cities and counties now consider fines and fees to be an important source of revenue, and design criminal justice policies accordingly. The threat of license suspension backs up the fines that keep the government funded.
With license suspension in particular, those policies can be counterproductive, generating short-term revenue but forcing thousands out of the workforce. A 2007 study of the practice in New Jersey provides the most detailed evidence to date. New Jersey began slapping violation surcharges on drivers in 1983 to pay off a bond issue but subsequently used the money to plug various budget holes. Nearly a third of the state's license suspensions stem from unpaid surcharges. Those suspensions, in turn, have had a devastating effect on employment. Forty-two percent of people lost their jobs after their licenses were suspended. Nearly half of them couldn't find new ones. Nine in 10 experienced income loss.
It's a vivid demonstration of how work in this country is contingent on car ownership, even in the nation's biggest cities. Nationally, barely 1 in 5 metropolitan jobs are located within three miles of the central business district, according to Brookings. More than 30 percent are three to 10 miles from downtown; nearly 45 percent are between 10 and 35 miles away. Historically, those who have lost the most from this arrangement are urban black populations, ghettoized in inner cities and suburbs by discriminatory housing policy. Woefully inadequate public transportation networks ensure that a car is the key to unlocking the job market.
That's only half the problem, explains David Silva, an employment specialist in Newark, New Jersey. Silva racked up nearly $20,000 in debt for suspended license infractions. It took him nearly a decade, and a personal bankruptcy, to pay it all off. Now, he has his license, lives in the tony suburb of Maplewood, and helps people like him find work. The jobs aren't just suburban, Silva said. It's also that having a valid license is a requirement for a whole range of low-skill positions, from car washes, parking garages, cab driving and delivery, to a swath of jobs at one of the region's largest employers, Newark Liberty International Airport. "I get them a license, I get them a job like that," he said, snapping his fingers.
When California ended the practice in June, the state acknowledged the deleterious effects of debt-driven suspensions. "Often, the primary consequence of a driver's license suspension is the inability to legally drive to work or take one's children to school," Gov. Brown wrote in his January budget proposal, endorsing an idea by Bob Hertzberg, a state senator from Los Angeles. The governor emphasized that there appeared to be no evidence that suspending licenses led to improved debt collection, rejecting a central argument for the practice.
California is a case study in the obstacles that confront reformers. A previous iteration of Hertzberg's bill was opposed by the California Police Chiefs Association and the California State Association of Counties, which noted that the bill "eliminates any incentive for individuals to pay outstanding debt for traffic violations … and does not address the underlying problem of exorbitant fines and assessments." This year's iteration of the bill was opposed by the California District Attorneys Association, whose director of legislation wrote to Hertzberg: "Some amount of responsibility must come with operating a motor vehicle and promising to appear in court when violating the rules of the road."
The repeal is a major victory for advocates, but nearly 500,000 Californians whose licenses were suspended will not get amnesty. In most places, legislative efforts to undo the harm come up against counties where user-funded courts fear reduced punishments. Tennessee's law, which went into effect in 2012—around the time other states were starting to turn against the policy—was sponsored by a state senator at the behest of court clerks struggling to collect fines. The law, which has claimed more than 250,000 licenses, is being challenged in court.
Other states have successfully limited the use of license suspensions, including Washington and Missouri. In New Jersey, Gov. Chris Christie approved a delay in suspensions stemming from unpaid parking tickets. Most of these policies are piecemeal. In Virginia, Gov. Terry McAuliffe called this January for scrapping license suspension altogether. Stopping people who owe money from getting to work and making money, he said, "makes no sense." As of 2015, 900,000 Virginians—1 in 6 of the state's drivers—had their licenses suspended for unpaid fines and court debt. The bill that passed both chambers of the Virginia statehouse gave courts more flexibility in fine assessments but fell short of several more substantive versions that had been proposed.
As Republicans and Democrats in state legislatures have started to confront the devastating impact of license suspensions, another front has opened up in the courts. In California, Michigan, Tennessee, and Virginia, civil rights groups have filed lawsuits alleging that suspending the licenses of Americans who can't pay fees or fines violates the 14th Amendment.
In November, the U.S. Department of Justice took the plaintiffs' side in the Virginia case. Depriving a person of a driver's license without notice or an adequate hearing constituted a due process violation, federal lawyers argued in a statement of interest. Suspending the license without figuring out whether the driver was simply unwilling or unable to pay, meanwhile, might result in punishing people for being poor, a violation of the Equal Protection Clause.
A case in Michigan goes a step further, alleging that the loss of a driver's license for nondriving issues is tantamount to a kind of geographic imprisonment, impinging on a "fundamental right to travel." "They can take away someone's right to travel, but there has to be a compelling need or a finite term," said Phil Telfeyan, the executive director of Equal Justice Under the Law, which brought the suit. "Unless we can win this lawsuit or she wins the lottery," he said of one of the plaintiffs, "she's never going to get her license back." In a country where transportation without a car can be impossible, a suspended license can be a kind of house arrest.
Michigan may have rolled back its driver responsibility fees, but the state maintains it has the right to suspend licenses for unpaid fines. "A license to drive entails many financial responsibilities," the state responded to the Equal Justice suit in a June court filing. "Driving privileges come with state-created strings that should not be severed by scissors sharpened on a wheel of unfounded claims of purported federal constitutional violations."
Lawyers who have challenged license suspension want states to institute more flexible payment schemes (like Virginia has done), recognize that different policies are required for indigent defendants, or restructure court funding to eliminate the incentive for judges to levy fees and fines. "As the amount of uncollected court debt increases and more driver's licenses are suspended, everybody loses. The state Legislature loses, the counties lose, employers lose, our clients lose the most," Theresa Zhen, who works at the East Bay Community Law Center in Oakland, California, told me before the state's bill passed. Some of her clients use public assistance to pay off court debt. "They'll never be able to collect that money." One man I met in Newark, New Jersey, lobbied, unsuccessfully, to have his fines converted to jail time in an effort to escape his license debt.
It's true that the policies seem aimed solidly at scaring those who can pay, even if that means creating a permanent crisis for those who can't. The state of Michigan has assessed more than $40 million in fees in each of the past four fiscal years from drivers with suspended or expired licenses, not including those that cause serious injury or death. It has collected just 60 percent of those fines in that time, indicating that a good amount of the debt is more or less permanent.
The other option is for municipalities to simply take reform up themselves. In the city of Muskegon, Michigan, officials realized that the system condemned defendants to a life of debt. "Very often someone who lacked the financial ability to take care of the first ticket got their license suspended, and they could never get out of that cycle," explained city attorney John Schrier. The city started offering reduced charges and no future suspensions to drivers caught with suspended licenses, and the county followed suit. "The entire goal was to get people back legally driving."
That was progress, but that was 10 years ago. In the past three years alone, according to the lawsuit, more than 100,000 Michiganders have lost their driver's licenses because they are too poor to pay court fees or fines. Even as the driver responsibility fee sunsets, debt-generated suspensions remain state practice.
For those whose infractions are years or decades old, the new wave of legislative remedies is little comfort.
Gary Reddick, 54, of Newark, New Jersey, had his license suspended decades ago and estimates he owes between $4,000 and $5,000 in related fines and fees. For years, he worked at the Impact medical device plant in West Caldwell, a suburb 12 miles northwest of the city. It took about 20 minutes to drive there but more than an hour on the bus. He carpooled with friends from work. In 2014, new ownership shut down the plant, and Reddick was laid off. He has machine work skills—he can operate a CNC machine, for example, a computer-driven precision cutting tool—but he's had to turn down jobs that he can't reach. Two of them were last week, he told me when we met in July—field service jobs fixing washing machines that can only be done with a car. "The jobs aren't around here," he explained.
He keeps up hope. "I think I'd be a commodity if the paperwork was OK," he said ruefully, referring to his suspended license. "I dream about the day I could go buy a car."
Top image: Photo illustration by Natalie Matthews-Ramo. Photos by Thinkstock.