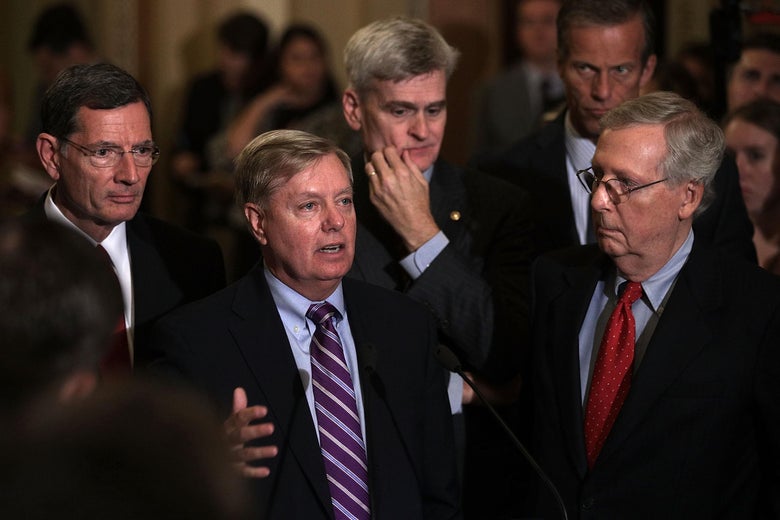 When Sens. Lindsey Graham and Bill Cassidy revealed their Obamacare repeal bill last week, there appeared to be one (and pretty much only one) somewhat comforting thing about it. Their plan cut government health care spending drastically, yes. But its design seemingly encouraged states to spend what pittance they received from the feds on insurance for some of their lowest-income residents. The bill was bad for the poor, to be sure. But it didn't ignore them entirely.
At least, that was the impression one got from reading the official summary documents that accompanied the legislation when it debuted. But the bill's actual text tells a very different story.
The issue has to do with Graham-Cassidy's elaborate formula for awarding health care funding to states. The bill would take the pot of money Washington currently spends on Obamacare's insurance subsidies and Medicaid expansion, then redistribute it as block grants that states can use to set up their own insurance schemes. This is supposed to give Alabama and Texas the "freedom" and "flexibility" to come up with appealing, innovative health care solutions for their residents—something Republicans in Washington have themselves proven incapable of doing.
Eventually, each state's block grant is supposed to be based on their share of America's low-income population (which, according to Graham-Cassidy, means households that earn between 50 and 138 percent of the poverty line). Then in 2024, according to Graham and Cassidy's summary, the government will start tilting its funding toward the states that do a better job enrolling those poor—and borderline-poor—families in coverage. Here's how they described the plan, just so you know I'm not making anything up:
Starting in 2024, a state's base amount changes from being based solely on percent of eligible individuals and becomes partially based on percent of eligible individuals enrolled in credible coverage in the previous year. This is defined as "State's enrolled population" (SEP) and is compared to the total number of eligible individuals enrolled in credible coverage.
Rewarding states for making sure poor people have health insurance is a decent—though certainly not foolproof—way to make them do it. Health care analysts took note. In a report released on Wednesday, Chris Sloan, a senior manager at the health care consultancy Avalere, pointed out that the formula might even drive states to spend their money on poor residents rather than the working class insurance shoppers who typically buy coverage on Obamacare's exchanges today.
"The bill creates a financial incentive for states to direct coverage to very low-income residents near or below the poverty line, potentially at the expense of lower-middle-income individuals who currently receive exchange subsidies," Sloan noted. Such a feature could prove to be an important nudge for states with traditionally thin safety nets like Texas and Mississippi, encouraging them to cover a population they've typically ignored.
Again, this was by far the most generous gesture toward the poor in a proposal that, otherwise, amounts to a historic blow against the health safety net. There's just one problem: The provision doesn't actually seem to be in the bill. The legislative text, which is a bit convoluted, says it will dole out block grants to states based on their share of the country's low-income population, but does not factor in coverage rates. States will be rewarded for having lots of poor people. They won't be rewarded for getting them insured. That bit just isn't there.
That was the conclusion I came to after talking to Matt Broaddus, a research analyst, at the Center on Budget and Policy Priorities and Avalere's Sloan, who generously spent a good chunk of time scouring the bill's relevant text with me this afternoon. It's not clear the bill Graham and Cassidy actually posted ever included bonuses for states that signed up more of their poor; according to the Internet Archive's Wayback Machine, that section of the text doesn't seem to have changed since it was first published on Sept. 13. I've emailed Cassidy's office requesting comment, but haven't heard back.
Judging from the summary documents they put out, it appears that Graham and Cassidy at least briefly considered gearing their legislation toward helping the poor. Then, for whatever reason, they changed their minds.