With Hurricane Irma swirling its way toward Florida, the internet has been filling up with angry accounts of airline price gouging, complete with pictures of thousand-dollar-plus fares that (of all people) Perez Hilton has been collecting. An Arizona PR exec racked up more than 30,000 retweets when she posted a screengrab showing a Delta ticket that had supposedly shot up from $547.50 to $3,258.50. The Miami Herald tracked down an absurdly sympathetic woman who wanted to fly "her mother, adult cousin, 71-year-old grandmother, [and] 11-year-old sister to New York" but could only find a flight that cost $1,318.80 per person. The issue is even getting some attention from the Sunshine State's politicos: Florida's attorney general says her office's newly opened price-gouging hotline has been getting a stream of complaints about airlines, and her staff has been calling carriers about the issue.
Many of these horror stories are obviously real—I've found a few $1,000-plus tickets myself. But overall, the rage seems maybe a little excessive. Airfares do appear to be rising in advance of Irma, but generally not by absurd amounts. Meanwhile, some airlines have even responded to the storm by increasing flights and capping fares in order to make sure people can get to safety.
According to an analysis by the travel-booking website Kayak, people looking to fly out of South Florida within a day last week could expect to pay somewhere in the "mid-$300s." As of yesterday, those prices were up by more than 25 percent. This is not surprising. Airlines set their prices automatically via algorithms that account for the number of seats available, demand, timing, and a whole host of other factors. Last-minute tickets can be especially expensive. When half a metro area suddenly decides to evacuate because a deadly hurricane is bearing down on it, you can expect prices to rise. "Situations such as these drive pricing anomalies due to an instantaneous imbalance between demand and supply," airline industry consultant Bob Mann of R.W. Mann & Company told me in an email. "Same occurred to United returns to Houston, post-Harvey, and to NY-DC fares after the Amtrak crash eliminated thousands of seats daily."
Of course, this is not necessarily a good thing. It's the flying equivalent of Uber failing to turn off surge pricing during Hurricane Sandy, which plenty of people found ethically grotesque.
But a 25 percent bump in last-minute fares is not exactly the equivalent of a $99 case of bottled water, nor are those surges the rule. JetBlue will only charge up to $99 for flights out of Florida to help more families get out of the storm's path. Delta is capping fares at $399 out of South Florida while adding flights on larger planes in order to provide more seats leaving the area. For what it's worth, I've been able to find sub-$300 tickets along with some obvious rip-offs while searching travel sites. If anything, it seems fair to criticize airlines for being slow-footed and failing to pre-empt their normal pricing strategies before the pre-storm panic set in. But this doesn't strike me as an example of capitalism at its most rapacious either. As far as fixes go, Mann told me one option would be for airlines to automatically flag rapid fare jumps "for a prompt manual review" by an employee.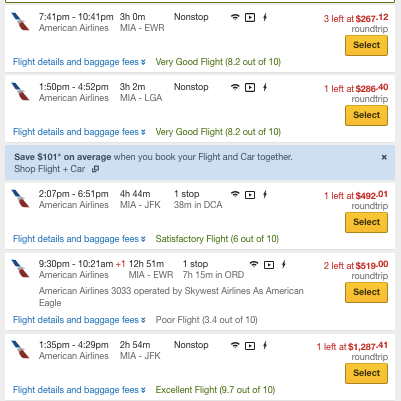 Meanwhile, some of the gouging stories may not be what they seem. When I asked Delta spokesman Anthony Black about the $3,258 ticket that caught Twitter's attention on Tuesday, he pointed out that the screengrab was actually from Expedia. "It wasn't posted on our site," he told me. And once Dow checked with Delta, it apparently addressed her issue.