Once a year on Memorial Day weekend the Movement Electronic Music Festival transforms downtown Detroit's Hart Plaza into an eardrum-splitting playground for tens of thousands of techno fans from around the globe. A windswept concrete expanse for much of the year, the riverfront park is tailor-made for a music festival, with Japanese artist Isamu Noguchi's Space Age sculptures providing a suitably cosmic backdrop to three days of booming electronica. This year, the festival was accompanied by more than 70 spinoff parties, bringing foot traffic and visitor spending to neighborhoods far beyond the downtown core.
Want to listen to this article out loud? Hear it on Slate Voice.
Detroit may seem an unlikely choice for a 72-hour dance-floor spectacular, but it's far from random: Much as the gay clubs of 1970s Chicago gave birth to house music, so 1980s Detroit gave birth to techno—house's sinister, synth-driven cousin—when artsy black teenagers began soldering the clinical electronica of Kraftwerk and other German experimentalists with the alien funk of Prince and Parliament. Meanwhile, aspiring DJs and wily party promoters capitalized on the city's surfeit of industrial spaces, repurposing the relics of the auto age for the city's first postindustrial generation. Motown became Techno City.
The genre never really hit the mainstream in the United States, and today Americans are more likely to cite Eminem as Detroit's most substantial musical export since Motown. (See: Chrysler's 2011 Super Bowl commercial.) But abroad, techno became a multibillion-dollar industry, providing the drug-fueled soundtrack to post–Cold War European integration. Berlin and Ibiza continue to draw cultural and economic vitality from club-driven tourism, sped along by cheap airfares and liberal after-hours regulations. Amsterdam, Paris, and London recently appointed nighttime mayors charged with keeping their clubs competitive and their dance floors open into the early hours (or, as in the case of Berlin, for all 24).
Today, some Detroiters are wondering whether they too might monetize this strain of the city's cultural heritage. Music is already a big part of the city's DNA: The Motown Museum, which draws about 70,000 visitors a year, is currently undergoing expansion, while the city's jazz festival in August is marketed as the largest free jazz festival in the world. Both are small change compared to Movement, which is touted as the Motor City's biggest tourist draw after the annual auto show. Although numbers are hazy in the absence of a formal economic impact study, city officials told me that "festival weekend" was Airbnb's busiest of the year in the area. For a city still reeling from 2013 bankruptcy proceedings, techno tourism has brought a spillover economic boost. (The San Francisco–based short-term rental company also recently agreed to pay a use tax in Michigan.)
In the longer term, Movement's effects are as much psychological as financial. "When people understand that this kind of creativity is homegrown in Detroit, it helps them reimagine Detroit in their mind," said Mark Denson, chief business attraction officer at the Detroit Economic Growth Corporation (and a college classmate of techno innovator Derrick May). "I've lived downtown for a very long time, and I've run into many people who will say that their first really great experience in Detroit was the techno festival."
"For people who know their techno, they know that Detroit is the birthplace," said Helen Stevens, a 44-year-old Australian who was visiting the United States for the first time. (At Movement this year, I also met Japanese tourists who chose Movement for their inaugural stateside visit). Sporting a "Detroit Techno City" badge on her head-to-toe black outfit—the standard for techno enthusiasts—Stevens said that the Motor City has long been on her "travel bucket list."
Dance floor–driven urban policy may sound like a parody of economic development guru Richard Florida's "creative class" mantra. But the city has not been blind to the potential of techno to draw young people back to town. In its early years, the electronic music festival was free, with the city largely footing the bill. By the time Movement shifted to a paid model in 2003, the event was hailed as one of the largest free music festivals in the world. That same year, the Detroit Historical Museum mounted "Techno: Detroit's Gift to the World," a large-scale retrospective that paired memorabilia with reminiscences from some of the genre's founding fathers. More recently, Mayor Mike Duggan officially declared "Techno Week" to coincide with the Movement festival.
Still, many in the music business here feel that the city has not done enough to capitalize on its cultural assets. That includes small, symbolic changes, like officially recognizing "Techno Boulevard," a block in the city's Eastern Market neighborhood that housed many of the genre's earliest record labels. And more substantial issues, like lobbying to change the state-regulated 2 a.m. closing time that bar-owners and city reps say stymies the growth of a full-fledged nighttime economy.
Part of the problem is that while techno has a large international following, it has a relatively limited audience here at home. "Detroit exported nightlife culture," said Adriel Thornton, a veteran of the '90s rave scene who was involved in organizing an early iteration of Movement and today leads techno-themed tours of the city through Airbnb. "You go to Europe and 'Detroit Techno' is a genre of music. But here at home, the idea that it is actually generating real dollars and creating reasons for people to move here hasn't been sufficiently recognized."
Instead the festival draws mostly suburbanites and out-of-towners, who depart loaded up with Detroit swag. International visitors make up 1 in 5 attendees, organizers estimate; indeed, one of the festival's biggest scheduling concerns is not to clash with the opening weekend at Ibiza, the clubbing hotspot off the coast of Spain.
The place most often invoked in discussions of Detroit's trans-Atlantic cachet is Berlin, another city noted for its techno culture and wealth of underutilized spaces. Crystallizing this dialogue is the Detroit-Berlin Connection, a nonprofit founded in 2013 by German club entrepreneur Dimitri Hegemann. The owner of Tresor, one of Berlin's landmark techno venues, and a frequent visitor to the Motor City, Hegemann is convinced that Detroit's comeback hinges on its countercultural appeal. "One of our jobs is to keep Detroit weird," he told me.
Following the Berlin model, Hegemann's dream is to renovate some of Detroit's most iconic industrial ruins into "lighthouses" for art and culture, blurring the lines between historical monuments, youth hostels, nightclubs, art galleries, and incubators. But in the face of political inertia and financial skittishness, getting such fanciful schemes off the ground is easier said than done. Hegemann's particular bête noire is the curfew. "If we had a 2 a.m. curfew, Berlin's nightlife would collapse," Hegemann said. "My advice for the city council is to cancel the curfew. Don't build shopping malls and casinos. Just cancel the curfew, and discover the nighttime economy." Critics contend that would require the city to expand strapped municipal services like police, and in a city with America's worst transit network, lead to more drunk driving.
Closer to home, cities like Nashville and New Orleans have also succeeded in trading off their own musical legacies. As recently as the 1990s, Nashville was on the fence about making country music the centerpiece of its tourism strategy, but last year the "Music City" brought in a record-breaking 13.9 million tourists, with upward of 150,000 visitors coming for the city's free, open-air New Year's Eve concert alone. The numbers are almost as impressive in New Orleans, where culture industry jobs accounted for 15 percent of local employment in 2015, up from 9 percent in 2006. Those reputations become economic assets: Music is Nashville's second-largest employment sector after health care. Half of all entertainment businesses in New Orleans are live music venues. Beyond the musicians, music tourism helps fill municipal coffers through tax receipts.
But even if there's a model to be emulated somewhere between Berlin and the Big Easy, Detroit has another problem: There isn't a huge homegrown techno scene waiting to be discovered. In a list of the country's top clubbing destinations compiled by Thump, an online dance music publication, Detroit didn't even make the top 10. Legendary venues like the Music Institute and Cheeks, which did much to set the template for nightclubs worldwide, are long gone.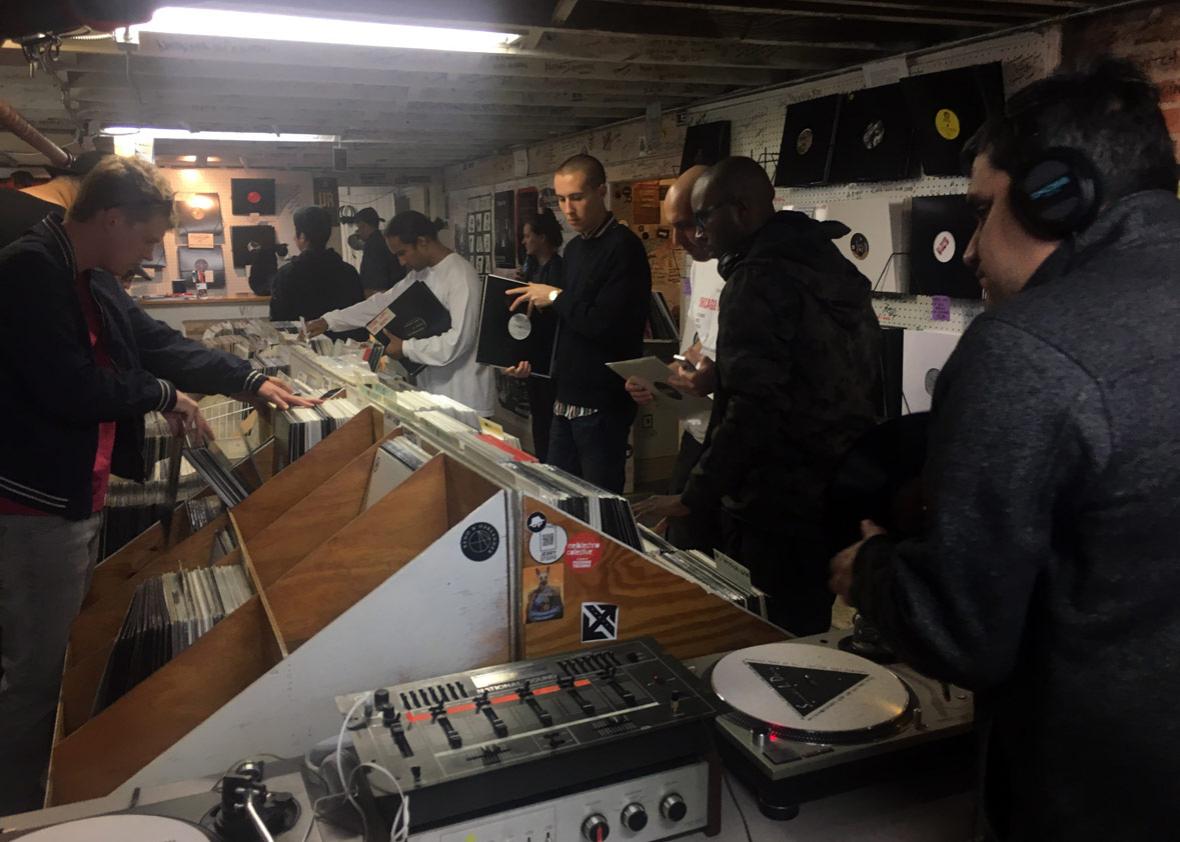 Even Motor City boosters like Sam Fotias, the Detroit-born-and-bred director of operations at Movement, concedes that getting a year-round scene going in the city is easier said than done. "Detroit has drawn a lot of comparison to other cities like Berlin," he told me. "I think that there are some similarities: post-wall Berlin, post-bankruptcy Detroit. But in Berlin you have huge population saturation, you have a regional thing, you have a city that is centrally located in Europe that has always been a very significant cultural hub. In Detroit, you have a burgeoning cultural scene, but as a whole the region is still very blue-collar."
Fotias and others worry that as the scene grows, it may become increasingly associated with outsiders—both tourists and out-of-town promoters—and dovetail with growing anxieties about gentrification. The genre's largely white audience doesn't help the image problem. In an 83 percent black city, attendance at Movement is predominantly white. (Ticket prices may be a factor: Longtime attendees recall a more substantial black audience in the festival's early years.) The question troubling the city's techno boosters is how to attract the jet-setting crowd while staying true to the genre's roots and ensuring that the city serves as more than just a gritty postindustrial backdrop.
A clue to this conundrum may lie at the northern Detroit headquarters of Submerge, a DJ collective and techno label with deep roots in the city's underground scene. Lining the company's foyer is "Exhibit 3000," a modest but mesmerizing overview of Detroit's dance music history that is billed as the world's "first permanent techno museum." With no formal opening hours and limited information online, Submerge is a destination for aficionados only. When I dropped by in the run-up to Movement, the place was buzzing with techno geeks from across the globe.
But when I met with Cornelius Harris, label manager for Submerge, he was ambivalent about the genre's global appeal. "People come here and do all these documentaries that are being shown to big crowds in Europe, but no one here has seen them," he told me. "All we're doing is enriching what's over there, and none of it comes back this way."
Harris is eager to reach another audience: local schoolchildren. Although techno's popularity with Detroit youth pales next to hip-hop, Harris hopes students will come away with a deeper appreciation for the homegrown history of a genre that upended the global music industry.
"What we're hoping is that these kids can see how people just like them refused to fit stereotypes and made their own future," Harris said. "That's what we've used the museum for: to offer an alternative view of what you can do. If I want to innovate in medicine, maybe I can learn from techno. The music is a tool. It leads to other things."