In the past year, Amazon has quietly slipped into the apparel-manufacturing business, with goods ranging from lingerie to men's dress shoes. These private-label brands have innocuous names like Paris Sunday and Goodthreads, and they haven't made huge splashes in their respective markets—except for one. Scout + Ro, Amazon's children's brand, has exploded, according to a recent report from analytics firm 1010data. The brand has increased its offerings five times over and achieved a 542 percent increase in overall growth year over year. The kids are wearing Amazon.
As a faceless corporation begins to dress children, the truly scary prospect is not simply the threat that Scout + Ro poses to precious, local brick-and-mortars. It's how mind-numbingly dull these Amazon clothes are.
If you search for Scout + Ro on Google, you'll find no dedicated online store or URL, just an Amazon landing page that features a small logo and generic campaign image. The store, such as it is, borrows its palette of gray and tangerine straight from the Amazon mothership, and with a half-hearted nod toward whimsy, perches a bird atop the o in Scout.
The brand is generally designed to be as unobtrusive as possible, with just enough creativity to seem relevant. The name itself follows the well-worn millennial tradition of sticking an ampersand or plus sign between two cute, vaguely vintage-sounding words. Scout scores double points, as it's also part of the somewhat inexplicable To Kill a Mockingbird–inspired baby names trend.
The brand's message is based around the very simple principle that children's clothing should be comfortable and designed for play. Beyond that, it's really more about what the clothes are not than what they are. One of the brand messages is, "Never interrupt a playdate with itchy fabrics or fussy styles."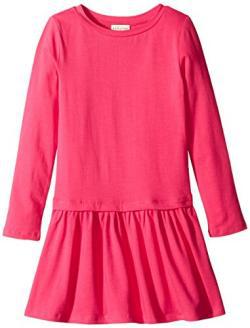 The clothes are all remarkably similar with only slight variations from item to item. You can, for instance, buy almost the same short-sleeve dress in five different, equally safe patterns. This is not to say that children need to be dressed in shoulder pads or asymmetrical hems, just that Scout + Ro's offerings appear to have been filched from the closet of an extremely unimaginative doll.
While the kids offerings at stores like Target and the Children's Place try to cater to modern sensibilities with hashtagged catchphrases and destroyed denim, Scout + Ro clothing doesn't even necessarily look contemporary. Instead, the pieces seem like something any child from a Disney sitcom in the past 30 years could have worn. There are no obnoxious slogans, no overly prissy ruffles or aggressive camouflage. While shirts that say "#1 Princess" or "Future Heartbreaker" won't get points for panache or creativity, at least they show some character.
If clothes this dull were being sold somewhere other than Amazon, they would likely be left in the remainders basket, but Amazon already has a huge, captive audience and pool of Prime subscribers. A study from last year estimated that Amazon captures 43 cents of every dollar spent online. The site's shoppers are happy to stock up on a whole variety of basic items with free, two-day shipping, which has led to success with other private label lines, showing that they can dominate categories like batteries and baby wipes. Scout + Ro clothes are simple enough that they can be thrown into the shopping cart with the rest of your Prime order—kids don't really need to try on clothing in stretchy fabrics and unobjectionable colors.
Retail analysts also note that because Amazon aggregates data on the market, it can use that to inform its own designs and create logical price points. Quickly identifying and manufacturing trends is key to success in a fashion market moving ever more quickly. As Marc Bain at Quartz points out, the speed of production is what has allowed fast-fashion brands to overtake longtime favorites like Gap.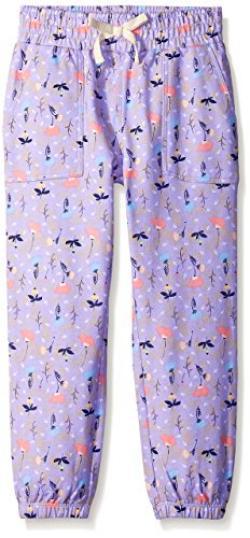 The clincher is that Amazon's scale allows it to slightly underprice its competitors. The site encourages shoppers to comparison shop, placing equivalent brands in tabs next to the Scout + Ro items, which are priced just low enough that they seem of similar quality, but clearly the better deal, an average of about 35 percent cheaper.
Scout + Ro clearly has a winning business model, and parents will appreciate the ease of buying their kids' wardrobe at the same time as their light bulbs and hedge trimmers. But dressing hideously as a child is a rite of passage, one that even the convenience of Amazon shouldn't force us to ditch. Kids' clothing should not be data-driven; kids should learn to root through messy piles of sale T-shirts to find one in a heinous shade of neon green printed with a giant cat head. They should have to occasionally wear a fussy velvet dress with an itchy collar or starchy pants. Cheesy, attention-grabbing, even ugly clothing is a key part of childhood. Let's not one-click it into obsolescence.