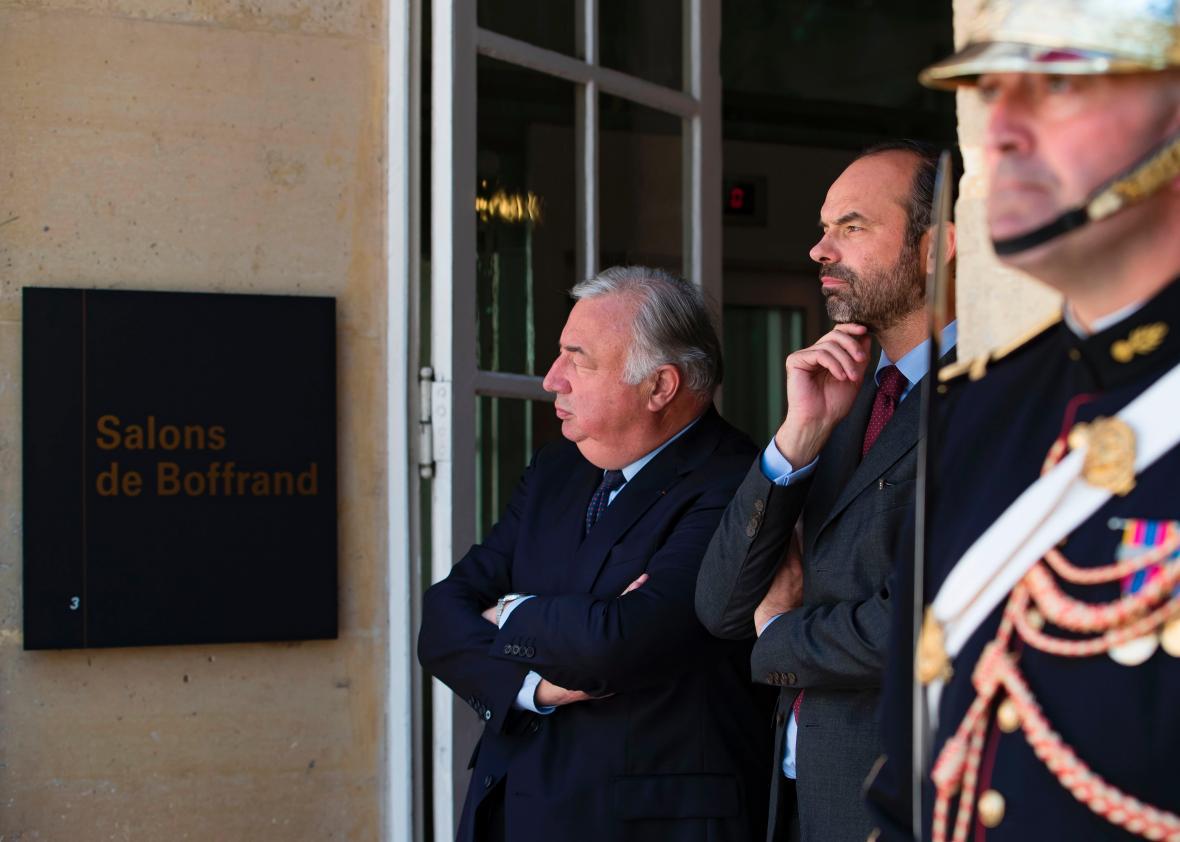 For once, foreign bankers are the most popular people in Europe, as pols in Ireland, France, Germany, and beyond try to recruit financial operations that will likely be disrupted by the United Kingdom's exit from the European Union.
Friday was the deadline for international financial institutions based in the U.K. to submit contingency plans to the Bank of England explaining what they plan to do in a variety of Brexit scenarios, including a "hard Brexit," meaning a situation in which the U.K. leaves the European Union without a trade deal in place.
That would make things very complicated for the thousands of bankers who have made London Europe's financial capital over the past two decades. The head of the London Stock Exchange predicted in September that the country could lose 100,000 jobs if (or, it now seems, when) the City of London loses "passporting" rights, which allow companies in London to sell services within the EU. In April, Sam Woods, the head of the Bank of England's regulatory arm, asked banks to send in their plans.
Those documents have not been made public, and so far most banks have been happy to play the field—the past few weeks have been marked by intense international campaigning, as Dublin, Frankfurt, and Paris compete to seduce bank chiefs.
Barclays head Jes Staley and JPMorgan head Jamie Dimon, for example, have both met with Irish Prime Minister Leo Varadkar in the past few weeks. Barclays decided months ago to establish its European base in Dublin; JPMorgan has said it will move jobs from London to Dublin, Frankfurt, and Luxembourg. The Irish capital has long been a hub for back-office banking jobs because of its low taxes and English-speaking culture. "It's a beautiful city, with great real estate and an open business climate," Dimon told JPMorgan staff on his visit, according to the Guardian.
Paris has also stepped up its game. In October, the capital's outlying business district and banking center, La Défense, launched a campaign: "Tired of the fog? Try the frogs." Both the region and the national government have also worked to attract firms.
In a memo sent earlier this month and published this weekend by the Mail on Sunday tabloid, the City of London's special representative to the EU, Jeremy Browne, said the French were the worst in Europe. "They are crystal clear about their underlying objective: the weakening of Britain, the on-going degradation of the City of London. … What we are witnessing is a whole-of-France collective endeavor, made more giddy and more assertive by the election of Macron." French President Emmanuel Macron worked as an investment banker before serving in the Cabinet of his socialist predecessor, François Hollande.
"It is entirely in line with the tone set by French representatives currently crashing conspicuously around London, making heroic relocation promises and pouring cold water on the propositions of alternative EU financial centers," Browne wrote. One example of this he gave was French officials trashing the more civil-minded Luxembourg, which has also pitched itself as a destination for London's financial workers.
Two weeks ago, the French Prime Minister Édouard Philippe—a moderate member of the French center-right party before he joined up with Macron—pitched a package of bank-friendly reforms to a conference of bankers in Paris last week, including scrapping the top payroll tax bracket and creating an international court to handle cases in English. "The message I want to share with you is clear and it is simple: the French government is committed to boost Paris' attractiveness by all means," Philippe said.
And because France and Germany are both now trying to lure banks, a six-year effort to impose an EU tax on financial transactions may be dead, Bloomberg reports:
French Finance Minister Bruno Le Maire said earlier this month that Brexit could bring "thousands of jobs to Paris," an opportunity that could be lost if the tax were imposed. His German counterpart, Wolfgang Schaeuble, said that "quite a bit speaks in favor of the French argument to look first at how the Brexit negotiations are going."
Frankfurt, a longtime hub for banking on the continent, has recruited the likes of Standard Chartered and Goldman Sachs.
The question for bankers is whether they can trust Paris. François Hollande won a landslide election in 2012 by declaring finance his "true enemy." Macron may be riding high right now, but it seems unlikely the French are suddenly hot on bankers. Humiliating London and proving its inferiority to Paris, however? Ça va.
---