This article originally appeared in CityLab.
Anita Beaty sees enemies on all sides.
Following years of litigation, the emergency overflow homeless shelter that Beaty operated in downtown Atlanta for 20 years will close on Aug. 28. She says that the local government and business community has been after the property at the plum intersection of Peachtree and Pine streets from the day it opened in 1997.
City council members, the last three mayors, Atlanta police, the 1996 Summer Olympics—Beaty fingers all of them and more as forces arrayed against her shelter. "There was never any help from the city," she says. "The developers really cemented their control over Atlanta, to re-envision and redevelop Atlanta. Now the only housing policy in the city is gentrification."
Beaty retired this year as director of the Metro Atlanta Task Force for the Homeless, which filed a lawsuit in 2010 against a host of parties, alleging that the shelter was the victim of a civil conspiracy. Earlier in June, the task force reached a settlement agreement with Central Atlanta Progress, a private nonprofit business membership organization that manages the Downtown Business Improvement District.
The Atlanta Journal-Constitution reports that Central Atlanta Progress paid $9.7 million for the 100,000-square-foot building, which was foreclosed on by lenders in 2010. Atlanta Mayor Kasim Reed threatened to use eminent domain to seize the shelter if the courts didn't do the trick. Central Atlanta Progress and other involved parties declined to comment on the specific allegations, citing the settlement agreement.
Privately, Atlanta leaders may breathe a sigh of relief when the massive shelter closes at the end of the summer, in the hopes that the problems that accompanied it—the crowds of homeless men and women it drew, the tuberculosis outbreaks every few years—disappear. But the city may then face a more daunting challenge: What happens to the men, women, and families—usually 400 to 500 people, but sometimes more than 1,000 on a given night—who occupy the shelter?
Atlanta is hardly alone. Across the country, downtown homeless shelters are caught in a perfect storm. Property values throughout America's urban cores are rising, making the work of sheltering the disadvantaged less sustainable and desirable downtown, even as displacement adds to their ranks. Plus, scarce federal dollars for supporting the homeless are increasingly directed toward programs that provide housing for the chronically homeless—which is great, and a big success, but not so helpful for families who are struggling with a sudden crisis that has put them on the streets.
Meanwhile, the nation's opioid crisis is rapidly changing the face of those living in homelessness, affecting a growing number of suburban and rural victims. Still, this population too often ends up in the city, turning to downtown shelters to meet their needs—especially those shelters that do not require sobriety as a prerequisite. The strain is showing. Compared with the structural stresses on downtown shelters, local politics is nothing.
* * *
Leaders in Atlanta needs to resolve all of these problems within the next 57 days. Which raises the question: If the problem of homelessness is so tractable that it can be solved in a matter of weeks—before the end of summer—why hasn't Atlanta stepped up with this plan before now?
"A lot of [Atlanta] communities have relied on Peachtree and Pine as the shelter of last resort," says George Chidi, social impact director for Central Atlanta Progress and the Atlanta Downtown Improvement District. "What that means, broadly, is that other shelters have been able to maintain what I would describe as an artificially high standard. They've been allowed to maintain barriers to entry that have made staying there prohibitive to people."
Like many other metro hubs large and small, Atlanta boasts soaring rents, escalating suburban poverty, and insufficient shelter space downtown. Advocates and elected officials may find building a substitute for Peachtree–Pine damn near impossible, thanks to these factors and others, ranging from the hyperlocal to the federal in scope.
At the broader scale, federal funding is tilted in one direction: finding permanent housing for the chronically homeless. That's been the case since 2002, when Mel Martinez, then-secretary for the U.S. Department of Housing and Urban Development, announced an ambitious strategy for ending homelessness. The model, known as Housing First, is an old idea. But for the government, the idea of providing the homeless with a permanent roof over their heads fast, before services like drug treatment or job training, was novel. In fact, it was one of the biggest federal moves on homelessness since the McKinney–Vento Homeless Assistance Act of 1987, the first bill to provide federal money for homeless shelters.
After reinvigorating the U.S. Interagency Council on Homelessness (under director Philip Mangano), the George W. Bush administration zeroed in on one category specifically: the chronically homeless. Mostly men, many of them veterans, many of them suffering mental disabilities or substance addiction. At HUD, Housing First means giving homes to the chronically homeless, substance abuse or criminal history be damned, as a cheaper and more humane alternative to letting them linger in jails or hospitals or die in the streets.
That emphasis on chronic homelessness carried over into the Obama administration. Housing First is less a program than a policy orientation, as Ann Marie Oliva, deputy assistant secretary for special needs assistance programs at HUD, explained in a 2014 memo. Since 2009, HUD has upped the funding available to Continuums of Care—these are regional or local coordinating bodies for homeless aid—that take a Housing First approach.
Permanent housing is on the rise. In the chart below, the red line represents permanent supportive housing, which means a lease and supportive services for a person with a disability contributing to chronic homelessness (or a family with a child who has a disability). The other permanent-housing category is Rapid Rehousing, a program launched in 2012—represented by the green line—to move homeless individuals or families into homes tout suite, disability status notwithstanding.
Funding for emergency and transitional housing, on the other hand, is falling fast: Witness the plunging orange line. Federal aid for transitional housing fell from a high-water mark of $430 million in 2010 to $172 million in 2015. HUD's supportive services–only funding category (the blue line) also declined.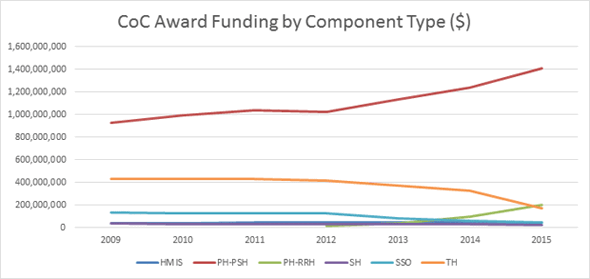 Left in the lurch are agencies looking for federal support to provide emergency relief for the transitionally homeless: largely families with children, most of them headed up by single mothers, many of them victims of domestic violence. Permanent supportive housing is a wildly successful program, but it isn't tailored to meet the needs of struggling families dipping into sudden crisis.
"People who are chronically homeless make up 15 percent of the homeless population, but they're getting 100 percent of the funding for the homeless right now," says Megan Hustings, director of the National Coalition for the Homeless.
That's an exaggeration, but the ratio isn't wrong: Homelessness is most often brief and nonrecurring. Most homeless people (overwhelmingly single adults) do not suffer chronic mental illness or substance-abuse problems. Hustings says that housing, specifically, affordable housing, is the only real solution to homelessness; ideally, Congress would give HUD a lot more money to address both transitional and chronic forms of homelessness. But with federal aid tight, Continuums of Care need to design the kinds of programs that the federal government will fund if they hope to compete for grants.
"HUD needs to ensure that their funding process is letting communities decide how to spend resources, what types of programs their communities need, and what types of programs are really working—and really trying to leave that as open as possible, for the communities to decide," Hustings says. "They also need to reemphasize that emergency shelter is definitely a part of the continuum. There is not just one subpopulation of people experiencing homelessness."
If President Donald Trump's proposed budget is any indication, HUD can expect far less funding. Even if the status quo holds, lawmakers are looking to push HUD on its priorities. On June 19, Rep. Darrell Issa and 22 other Republican lawmakers issued a letter to HUD Secretary Ben Carson asking him to change the way that the department weighs aid. Under the current dispensation, HUD gives great preference to programs with few to no barriers to entry, such as sobriety, employment, or participation in a training program. These House Republicans say that puts programs with accountability prerequisites at a disadvantage. "This is one of the worst examples of Washington's we-know-better-than-you mentality and is just the kind of top-down mandates we need to be rid of," Issa said in a release. (An official at HUD says that Carson is working on a response.)
On the one hand, some homelessness advocates don't think that Housing First is flexible enough to serve urban populations. Despite its successes for getting veterans and other subpopulations off the streets and our of tent cities, permanent supportive housing isn't a strategy for quickly diffusing transitional homelessness for families displaced by job less, death, or eviction. On the other hand, some House Republicans think Housing First cements nationwide priorities that are too liberal and permissive. Faith-based programs that require the homeless to be sober or employed before they receive housing aid—which is opposite of the intent of Housing First—can't compete for the same funding.
Stuck in the middle are cities such as San Diego, Oakland, California, and Seattle, which increasingly abide by tent cities as desperate, ad-hoc answers for homelessness. Many of these encampments look increasingly permanent, like Skid Row in Los Angeles. More and more cities tolerate them, clearing them when neighbors revolt but otherwise turning a blind eye. Atlanta isn't there yet, but it's well on its way. According to a report from the Federal Reserve Bank of Atlanta, more than 20 percent of all rental households in Fulton County, Georgia, received eviction notices (warnings) in 2015.
The stress on downtown Atlanta to provide shelter for people displaced by job loss, mortgage foreclosure, addiction, or domestic violence is exacerbated by the fact that—by and large—suburban counties aren't pulling their weight. For many major metro areas, downtown homelessness is a regional problem.
"They'll say, well, we don't have anything here, try Atlanta," says Chidi, referring to suburban jurisdictions. "Some of this, to be perfectly frank, is cost avoidance by suburban Atlanta. Social services are an expense. A lot of [Atlanta suburbs] have experienced tremendous growth in part because they've been able to maintain a low tax rate, relative to the city of Atlanta. If they've got to start paying for this sort of thing, then one of their competitive advantages as a community starts to erode."
Chidi occupies a unique role as a homelessness coordinator for a central business agglomeration; he says that he "[goes] back and forth between board rooms and under bridges." He sees the calculus of the issue potentially changing as a result of the opioid crisis. It's the thinnest silver lining to the heaviest storm cloud. The victims turned out of their homes by opioid abuse are whiter than the victims of the crack epidemic, and their ranks are exploding in communities that crack never touched. Will voters and taxpayers in the suburbs and exurbs be persuaded by white faces to actually fund social services—even if those services happen downtown?
* * *
Consider faraway Concord, New Hampshire, a rare city that's building a new homeless shelter downtown. With just a scratch more than 42,000 residents, Concord hardly compares to the ATL; its new winter-only shelter will have capacity for just 42 individuals. In other respects, though, the city reflects all the new challenges in addressing homelessness downtown. The city (and state) have been walloped by the opioid crisis. Concord benefits from the generosity of its local community; that said, the city has also had to adjust course to navigate around HUD.
Two programs in town require sobriety for placement, making them unlikely candidates for federal funding. According to Ellen Groh, executive director of the Concord Coalition to End Homelessness, up until three years ago, two churches provided winter-only shelters with lower barriers to entry—making them shelters of last resort for large swaths of New Hampshire. As the opioid crisis hit the state, its victims turned to one of the state's biggest cities for relief: Two-thirds of the people who used the winter church shelters hailed from places outside Concord.
"When you use HUD funding, at least in New Hampshire, if you receive the state funding for shelters, you then are required to be on the 211 hotline," Groh says. (She's referring to the confidential crisis helpline established by the Federal Communications Commission in 2000 and virtually nationwide today.) "If there's no room at the shelter on the seacoast, for example, the 211 hotline would pay for a taxicab for someone to come to our shelter. We have compassion for people from other communities, but we feel that each community really needs to take care of the people who reside there. We can't become the shelter for the entire state."
An official at HUD is quick to point out that transitional shelters are not ineligible for HUD funding; they're just not usually first in line. And even critics of Housing First willingly acknowledge its ample successes in reducing chronic homelessness. But as metro areas change—with poverty migrating to the suburbs and rents climbing ever higher in urban cores—the nature of homelessness is changing, too. Transitional homelessness is on the rise, but transitional shelter are more difficult than ever to maintain.
Jack Hardin, co-chair of the United Way of Greater Atlanta's Regional Commission on Homelessness, says that the city will find a solution for the people who rely on the Peachtree–Pine shelter. He names several promising public-private partnership efforts already underway. Atlanta may not find much help from the federal government, though, he says. While Hardin says that he commends the approach that HUD has taken in emphasizing proven strategies under Housing First, they work better in more liberal cities than in communities across Georgia. HUD's priority on serving people regardless of their work or addiction status "works a hardship on communities that don't have alternatives to HUD," he says.
Atlanta has eight weeks to find a way to place the people who, for the time being, are still living at Peachtree–Pine. Even if that works out, the city will still have a problem on its hands: how to address the rising number of families who can't find affordable housing, and who for lack of better options wind up downtown. Where else is there to go?
"It's hard to say that there are any successes. We were formed in the early '80s and helped to pass the original McKinney–Vento Act in 1987," says Hustings of the National Coalition. "I can tell you the people who are involved in the organization and helped to write and pass that legislation never thought they'd be here, still doing the same things, 35 or 40 years later."