Something has gone wrong with Connecticut, the golden boy of New England.
On Wednesday, health insurance giant Aetna announced it will move its headquarters out of the state capital, Hartford, where the company has been since 1853. "We are in negotiations with several states regarding a headquarters relocation, with the goal of broadening our access to innovation and the talent that will fill knowledge economy-type positions," the company said in a statement.
Translation: The people we need don't want to live here. In Hartford, as Freddie DeBoer wrote, workers "don't so much commute as escape." Still, Connecticut tried. Gov. Dannel Malloy, a Democrat, told reporters that the state had made offers to Aetna CEO Mark Bertolini, including proposals to invest in Hartford, adapt the state's workforce development programs around the company's needs, and make the state's health insurance exchanges more insurer-friendly.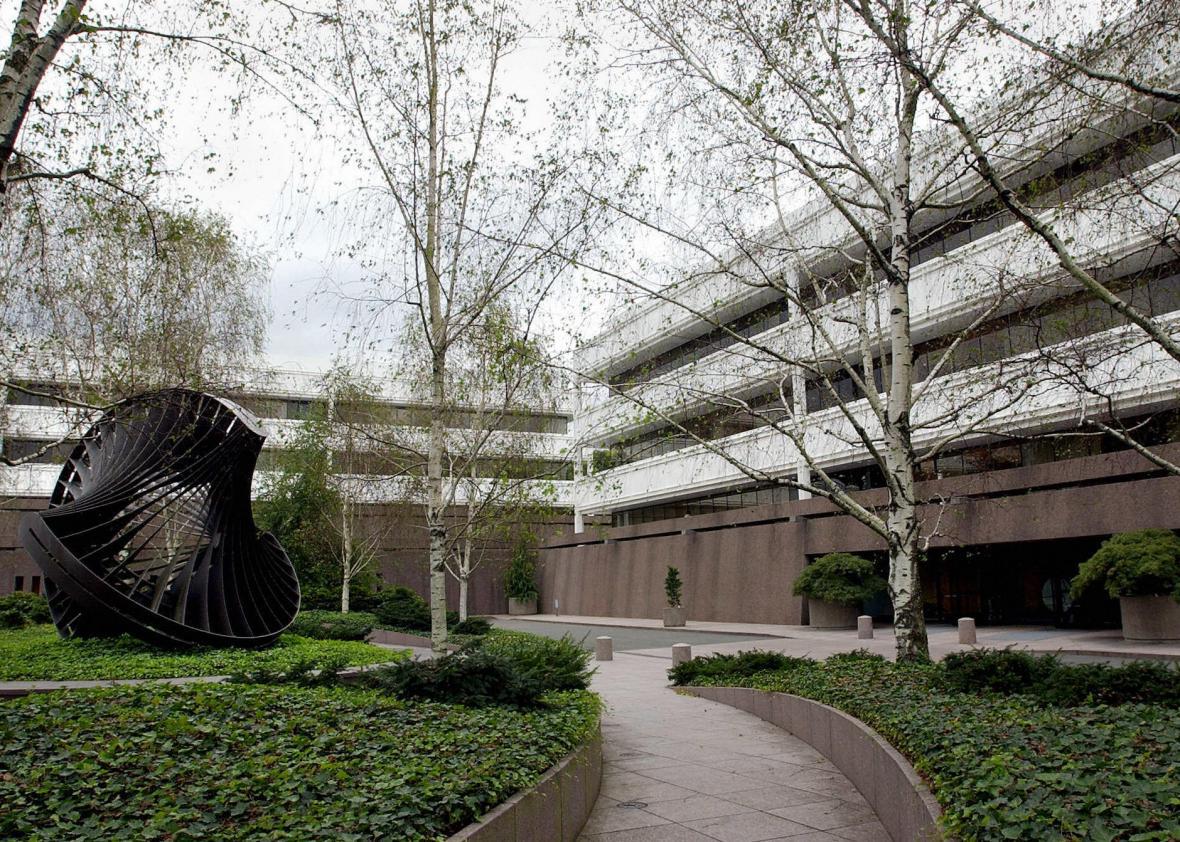 Everything but the kitchen sink. Nevertheless, Aetna is expected to announce a move this summer to pull high-level executives out of Hartford and put them in some creative-class downtown. In this, Aetna joins a growing list of companies leaving the suburbs. To take one city as an example, Caterpillar, Motorola, and Kraft Heinz have all moved top talent into downtown Chicago. It must be a familiar feeling for Malloy, who watched General Electric announce last January that it would move its headquarters to Boston.
Corporations like General Electric once believed self-contained suburban campuses were pragmatic. First, they allowed companies to consolidate their vertically integrated operations in one place. In Warren, Michigan, north of Detroit, the General Motors production line could culminate with product displays in the famous Design Dome. Second, suburban office parks were cheaper than skyscrapers. Trans World Airlines said it would save several million dollars a year by moving from Manhattan to Westchester in 1987. Third, these relocations followed suburban employees who had sought the quiet, safety, and good schools of the suburbs. As my colleague Daniel Gross wrote of GE's 1974 move to Fairfield, Connecticut, from midtown Manhattan: "The whole setup was designed to appeal to executives who wanted a suburban lifestyle — driving to work, sailing on Long Island Sound, puttering around two-acre yards, and golfing at local country clubs."
Between 1955 and 1980, more than 50 corporations left New York City, including IBM, Gulf Oil, Texaco, Union Carbide, General Telephone, Xerox, PepsiCo, and U.S. Tobacco.
Connecticut exploited that trend to build itself into an economic powerhouse. It offered enormous tax breaks to lure trading floors to Stamford, Connecticut. Its posh suburbs drew high earners out of New York. But the state was more dependent on the firms than the other way around, and the incentives never stopped. Eventually, low business taxes meant the state came to rely disproportionately on its wealthy residents.
If corporate flight is the long-term problem, the immediate crisis is with the income tax. The governor's office warned in April that projected revenues for the two-year budget would fall short by $1.5 billion, largely due to a "precipitous drop" in income tax receipts. The contribution of the state's hundred biggest earners fell by 45 percent, mostly thanks to changes in reported capital gains, dividends, and investment earnings.
The overall economic malaise is reflected in data across the state's metro areas, which are different but show similar problems. Hartford is an insurance town, "America's filing cabinet." New Haven is a college town and the state's cultural capital. Fairfield County is the Gold Coast, home to hedge funds, corporate headquarters, and the splendid homes of New York–bound commuters.
According to real estate website Trulia, only 6 percent of homes in Fairfield County are worth what they were at the market's peak in 2003. In Hartford, it's 4 percent. And in New Haven, it's 3 percent. Those numbers make all three of the state's major metro areas among the 20 hardest-hit housing markets in the United States, a distinction they share largely with overbuilt but rapidly growing Sun Belt cities.
Connecticut cities have other problems. For post-recession job growth, Fairfield, Hartford, and New Haven are in the bottom 25 among the 100 larger U.S. metros; Hartford and New Haven are both in the bottom 10 for population growth, with Fairfield County faring only marginally better.
Naturally, the state's Republicans have blamed the exodus on high taxes, an unfriendly business climate, and expanded social welfare programs. But the financial services firm UBS moved to Manhattan. General Electric, as Gross has noted, left for Taxachusetts. (It got a big tax break to do so, but employees will still pay blue state income and property taxes.) And millionaires relocate less than everyone else and don't seem to respond predictably to different tax regimes. Connecticut still has the nation's highest per capita income.
Connecticut's real problem was that it took a kind of middle road: It doesn't have the sunny days of Arizona, the regulatory nonchalance of Alabama, or the environmental degradation of Louisiana. But it also doesn't have a Boston, a Seattle, or a Minneapolis.
And it looks like companies want one or the other, or sometimes both: a big city to keep the top brass happy, and a low-rent Sun Belt metropolis for the back office. Uber is a San Francisco company, for example, but has hundreds of employees in Phoenix. Globalization has reduced the appeal of an isolated mega-HQ. Having your company in one place isn't as good as having it in multiple places.
The good news is that Connecticut has several midsized cities at a time when midsized cities are supposedly coming into vogue, especially in contrast to their larger counterparts. Places like Portland, Maine, and Charlottesville, Virginia, have thrived. As a city, New Haven is also a safer and more prosperous place than it was a decade ago.
The bad news is that as the state's budget deficit grows, the response from Hartford has been to put more obligations on struggling cities rather than on the financial sector. Connecticut's metropolises are already impoverished and dangerous, starved by decades of suburban separatism and victims of the state's highly segregated school system. Hartford is teetering on the verge of bankruptcy. But the state's public spending has lagged behind the national average.
Decades of corporate poaching made Connecticut rich but never resuscitated the places it needs to compete. Now, in a time of budget stress and ongoing population loss, Republicans are pushing for the state to recover its status as a New England tax haven. The truth is that it still is one. Its top marginal income tax rates are lower than those in New Jersey and New York. According to accounting firm Ernst & Young, Connecticut's total effective business tax rate is the lowest in the country.
The deeper, more daunting question is what besides a tax break will make Connecticut a place people want to live and work. The state still hasn't found the answer.