CHARLESTON, South Carolina—Stop me if you've heard this one before: A city in the throes of rapid demographic change, where rents are going through the roof, wants to convert an overgrown freight railway into a selfie-ready linear park.
Here in Charleston, the group behind the Low Line—see what they did there?—insists that the project won't do to their town what the High Line has done to a now-astronomically-expensive stretch of Manhattan. The undertaking has the potential to add 9 acres of green space to the city while providing a crucial link for bicyclists and pedestrians, knitting together neighborhoods ravaged by urban-renewal highway projects. It will generate $1.1 billion in economic output including $90 million in tourist spending (if you believe the report prepared by consultant HR&A Advisors) but not displace the low-income, largely black community that flanks its route north of downtown Charleston (if you believe the Low Line's optimistic proponents).
Does that sound like a pipe dream? The city of Charleston doesn't think so. It's currently in talks with the nonprofit Friends of the Lowcountry Lowline and the Norfolk Southern Corporation to spend between $17 and $19 million acquiring the abandoned right-of-way from the freight-rail operator this summer and then selling off two prime parcels for housing to help recoup the acquisition cost. After that the city will seek another $18 to 25 million converting rail to trail, creating a long path lined with greenery and to-be-determined park features, linking historic downtown Charleston with the residential districts isolated by the construction of the I-26 freeway in 1969. Streets that currently dead-end into no man's land will instead open onto a verdant public space.
"From the city's perspective, the primary goal of the Low Line project is to increase quality of life for residents of Charleston," says Jacob Lindsey, the director of planning for the city. "We see this unused rail line as a great future park site."
The fingerprints of New York's High Line—which draws about twice as many visitors as the Empire State Building—are all over this project. There's the name, of course. John Alschuler, the consultant who prepared the economic impact report, also worked on the High Line. In the summer of 2015, Charleston mayor John Tecklenburg visited New York to see the park for himself.
Charleston is just the latest city to cast an eye toward Manhattan's playground in the sky, a tourist magnet that has set a tantalizing example for industrial reuse projects all over the world. Less well-known is the High Line's failure to ensure that neighbors reaped the rewards or even used the space. For other cities, that should serve as a warning sign. In February, in an interview with City Lab, High Line co-founder Robert Hammond said he thought the project had ultimately fallen short in its goal of providing something for the community, where leaders have complained that longtime residents and businesses have been displaced by high rents. "Instead of asking what the design should look like, I wish we'd asked, 'What can we do for you?' " Hammond said. "People have bigger problems than design."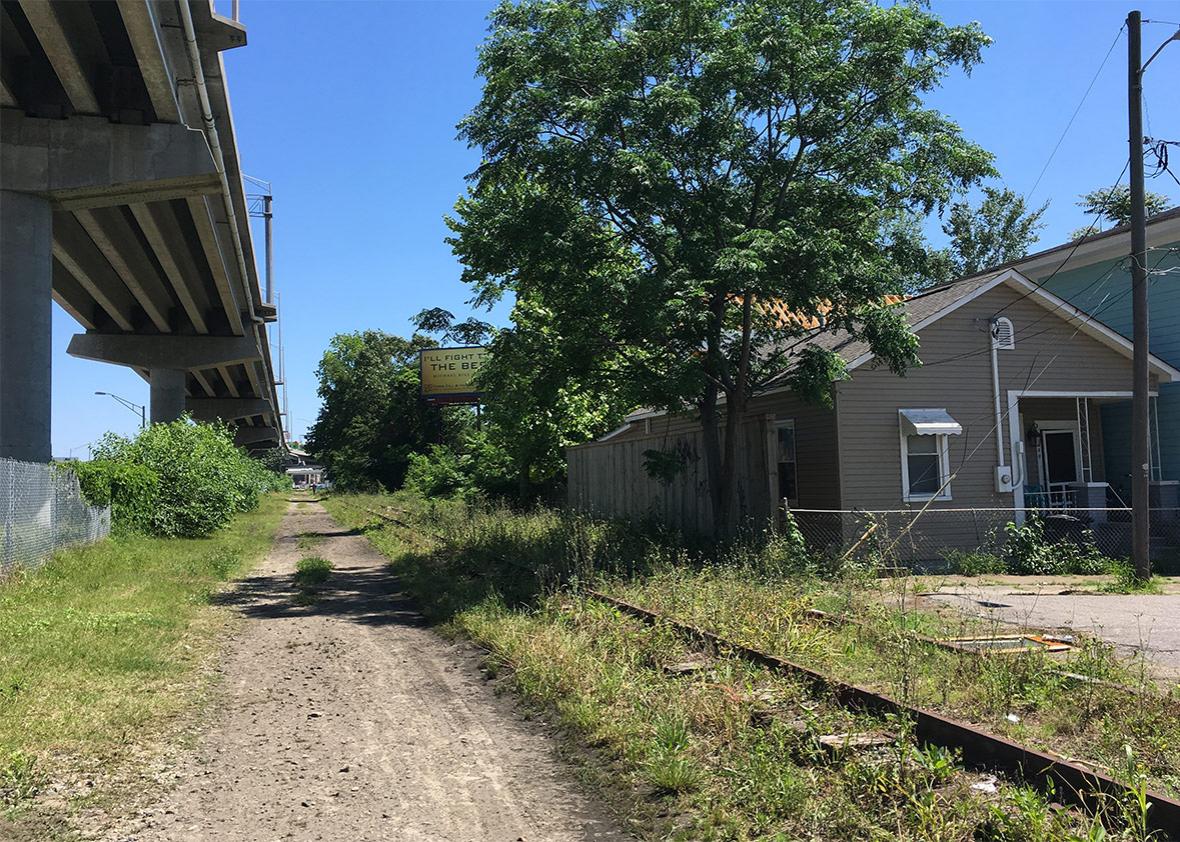 Ginny Deerin, the Friends of the Lowcountry Lowline's executive director, mentioned Hammond's remark as we walked along the rail spur on a hot April afternoon, joined by board president Winslow Hastie and Barney Blakeney, a journalist and board member.*
Deerin wants to focus on how the project can help locals, not what it looks like. There are few flashy renderings to lure private dollars, at least so far. Aside from a multimodal path, no elements of the design are set. You have to come out here and imagine it for yourself.
Just north of downtown, the spur is flanked by walls of new office and apartment buildings, more cranes than Charleston has ever seen. But after it passes under the highway, the rails run at the edge of North Central, a neighborhood of small, tightly packed houses. The railway separates them from the cavernous space beneath the interstate. In its current form, it doesn't look particularly inviting, but people do use it. Older residents remember their parents walking along the railway to work at the cigar factory, and playing in the shade of the highway.
"Shade is a commodity," Hastie said.
"I know from experience, man. In 99-degree weather, this is the coolest place in Charleston," Blakeney said.
It's easy to see the potential of a 1.7-mile greenway, a 9-acre spine of parkland running up the Charleston peninsula. Charleston is full of people riding bikes, from students to the elderly. The city is dense, flat, and warm, and it has a big college population and an ever-growing number of tourists. Bikers ride warily up and down the city's major north-south arteries, especially King Street—the bustling strip of new restaurants that runs a block to the west of the Low Line path. But everyone agrees it's more dangerous than it should be. In 2016, Bicycling magazine named Charleston the worst city in the country for bicyclists.
The city maintains that the Low Line is a park project, but the economic spillover effects are projected to be big. (Projections always are, of course.) The 13-acre right-of-way, which Deerin expects the city to purchase this summer (the option expires in August), includes four parcels for development. Selling parcels to developers can help offset the cost of the project, she explained, while other parcels can be set aside for affordable housing construction. The project is taking shape against a boom in downtown Charleston, where new construction is rolling up the peninsula. There are 2,700 units in the pipeline on the peninsula portion of the city, an enormous number for a district with a population of about 35,000. Lindsey, the city planner, feels the demand has given the city new leverage to get more affordable units built along the Low Line spur.
Since Interstate 26 plowed down the peninsula in the 1960s beside the rail route, stopping short of the city's famous historic core but demolishing hundreds of homes in the city's black neighborhoods, Charleston has cycled through different plans for the area. A vision of a revitalized rail-line park, for example, has existed at least since the 1990s. Dilapidated, forgotten park space sits empty beneath the expressway.
"Having grown up here, lived here, worked here all my life, I think it will bring economic opportunity to folks and fulfill a promise the city made 30 years ago to improve the quality of life," Blakeney said during our walk.
Still, he said, it was hard to ignore the demographic angle of gentrification in North Central. "All these new houses will be you," observed Blakeney, who is black, patting my shoulder. "All the old houses, those are the kids I went to high school with."
Blakeney was alluding to a radical racial shift that has taken place in Charleston over the past 35 years. Central Charleston has gone from two-thirds black in 1980 to two-thirds white in 2010. It has challenged the city's idea of itself, and lies just beneath the surface of conversations about development and housing. Neighborhood meetings follow a familiar pattern, says Melissa Maddox-Evans, the CEO of the Charleston County Housing Authority. "They always start with socioeconomic discussion, but end with demographics and race." Rents and home prices have risen across the peninsula, leaving the city's historic black churches downtown to draw many parishioners from across the rivers in the city's sprawling suburbs. In January, Realtor.com proclaimed Charleston the country's fastest-gentrifying city.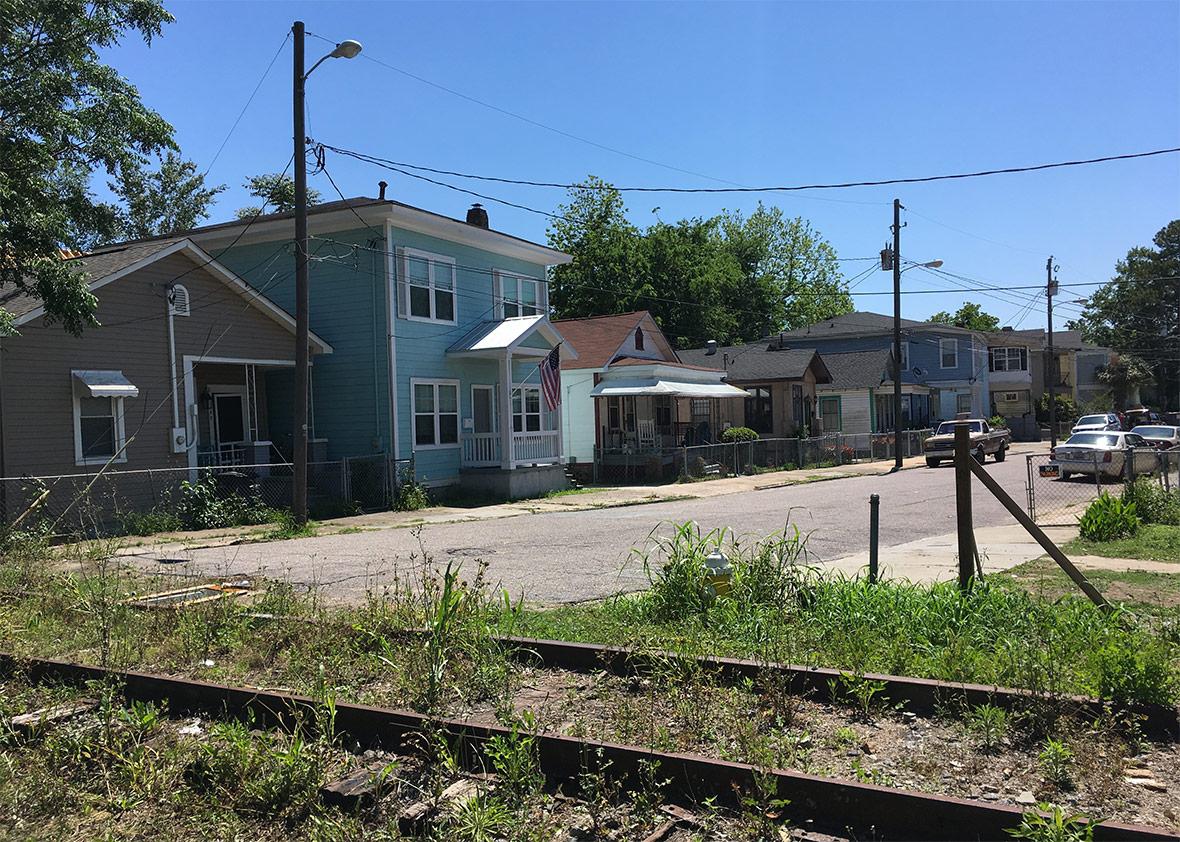 Every white Charlestonian will tell you about streets they were told not to cross when they moved here, racial boundary lines that have moved steadily north with the whitening of the city. The racial transition underway in North Central is hard to miss, explains Charlie Letts, a resident who manages the North Central Neighborhood Facebook page. "Many properties that people have bought, they're usually white people buying them from older black families," he says. "I don't see many young people of color moving in."
Letts, who is white, has lived there for seven years—an eternity or a moment, depending on whom you ask. "If I had to buy my house at its current value, I couldn't afford it," he said. "Things have changed that much in five or six years." Median home values in the area appreciated by 30 to 75 percent between 2009 and 2013, considerably faster than on the peninsula as a whole.
In 2015, the Historic Charleston Foundation, where Hastie serves as chief preservation officer, hired a consultancy to study changes in North Central. The report reveals a neighborhood that, despite having some of the area's fastest home-price increases, remains both diverse and relatively, fleetingly affordable.
"We've been seeing all these neighborhoods, and the rate they've been changing is quite shocking," Hastie said as we walked past new wood-frame houses fronted on the railway. "This is going to be a valuable asset; it's going to make the neighborhood more attractive. Anything you do that makes the neighborhood more attractive is going to impact people's desire to live here." He cited a community garden developed nearby; widely seen as a desired community benefit, it quickly became a draw for newcomers. One woman in the neighborhood told Deerin she had two people per week knocking on her door, offering to buy her house.
Which poses a challenge to the Low Line planners: How do you deliver an amenity promised, for decades, to a community riven by urban renewal—while ensuring that the people who live there can stick around to enjoy it?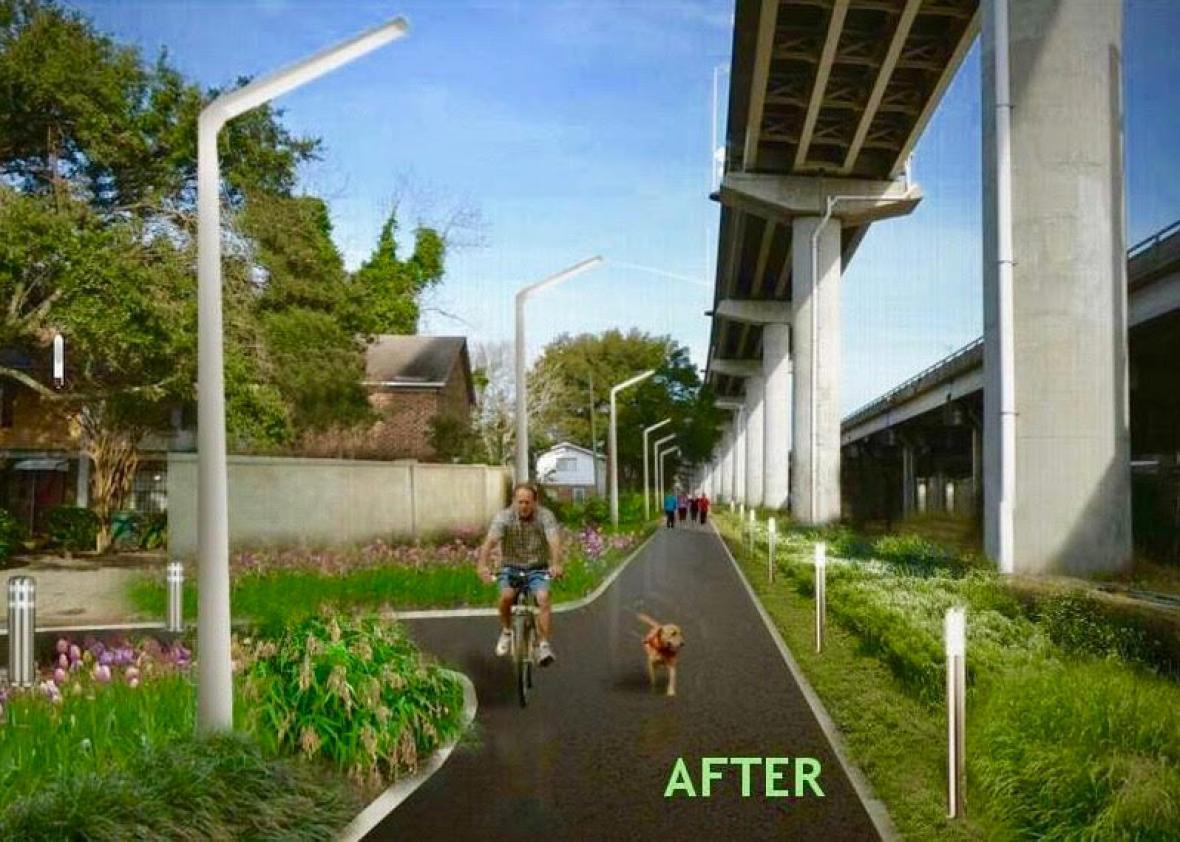 At city hall, the idea is to allow developers to build more units near the Low Line if they're willing to make some of them affordable. That's the carrot. The stick could come from the Statehouse. Marlon Kimpson, the state senator who represents Charleston, has sponsored a bill under consideration in Columbia that would allow South Carolina cities to enact mandatory inclusionary zoning, ensuring that all new developments of a certain size contain affordable units.* (This has been tried in a number of cities, with mixed results.)
"We very much regret the lost diversity of the peninsula," says Lindsey, the planner. "We work with our partner organizations to offset that as much as possible."
The Historic Charleston Foundation is one of those. Traditionally, the foundation's role in local real estate has consisted of buying dilapidated historic properties and pairing them with like-minded preservationist owners. But in recent years, says Hastie, the private market has taken care of that, prompting a pivot at the foundation toward a more holistic, people-based philosophy of preservation. It partnered with Habitat for Humanity and the city on a revitalization initiative aimed at longtime homeowners. This fall, the foundation will start a community land trust with the goal of preserving long-term affordability. "The needs of the community have shifted," Hastie told me.
The problem Low Line planners face is bigger than their project, of course. A national housing crisis has made tenants and even some homeowners, fearing higher taxes, suspicious of public amenities and new development as "Trojan Horses" for gentrifiers. Charleston is one of a number of American cities that have seen an influx of wealthy professionals to its downtown core. Their arrival has coincided with philanthropic enthusiasm for eye-catching public projects, including millions of dollars for a performing arts and convention center, a park conservancy (modeled after the one in Central Park), and now the Low Line. In short, projects like this are often more the effect of moneyed transformation than its cause, in Charleston as elsewhere.
Still, new green space can only drive housing prices up. "With the beautification comes a price tag for current and old residents in the area, and that's where our focus is," says Loquita Bryant-Jenkins, the president of the North Central Neighborhood Association. She's enthusiastic about the project, which she said would provide a much-needed conduit for pedestrians and cyclists, but she's also concerned about change. Since she moved in in 2009, she says, local vendors hawking barbecue have given way to restaurants selling $6 hot dogs. In the past 10 years, Bryant-Jenkins, who is black, has watched the exodus of her block's black families as second- or third-generation homeowners cash in on offers their parents could never have imagined.
"We get notices on our homes daily or weekly, 'We'll buy your house cash for this amount of money,' " Bryant-Jenkins says. "It changes your life. But you can't live anywhere else in this area."
*Correction, May 8, 2017: This article originally misspelled Marlon Kimpson's last name. (Return.) And due to an editing error, it also misidentified Winslow Hastie as William Hastie. (Return.)