This post originally appeared in Business Insider.
Under Armour CEO Kevin Plank is stepping up the effort to distance himself from comments he made praising President Donald Trump.
Plank published a full page ad in hometown newspaper The Baltimore Sun clarifying his previous remarks. The open letter never mentions President Trump by name, instead stating Under Armour's values in diversity, equal rights, job creation, and opposing Trump's executive order travel ban. "I personally believe that immigration is the foundation of our country's exceptionalism," Plank wrote.
Plank also promised in the letter that Under Armour will take "other public positions on legislation around the country in support of the interests of our teammates whenever policy conflicts with human rights."
Plank had originally landed his company in hot water after praising Trump as "an asset" in a CNBC interview on February 7. The letter says that this choice of words did not "accurately reflect" his intent.
After Plank's interview, many customers said they planned to boycott Under Armour, prompting the company to release a pair of statements clarifying its values. Under Armour sponsored athletes, including Steph Curry, Dwayne "The Rock" Johnson, and Misty Copeland also released statements on social media condemning the comments, but emphasizing their commitment to the company.
Read the letter in full: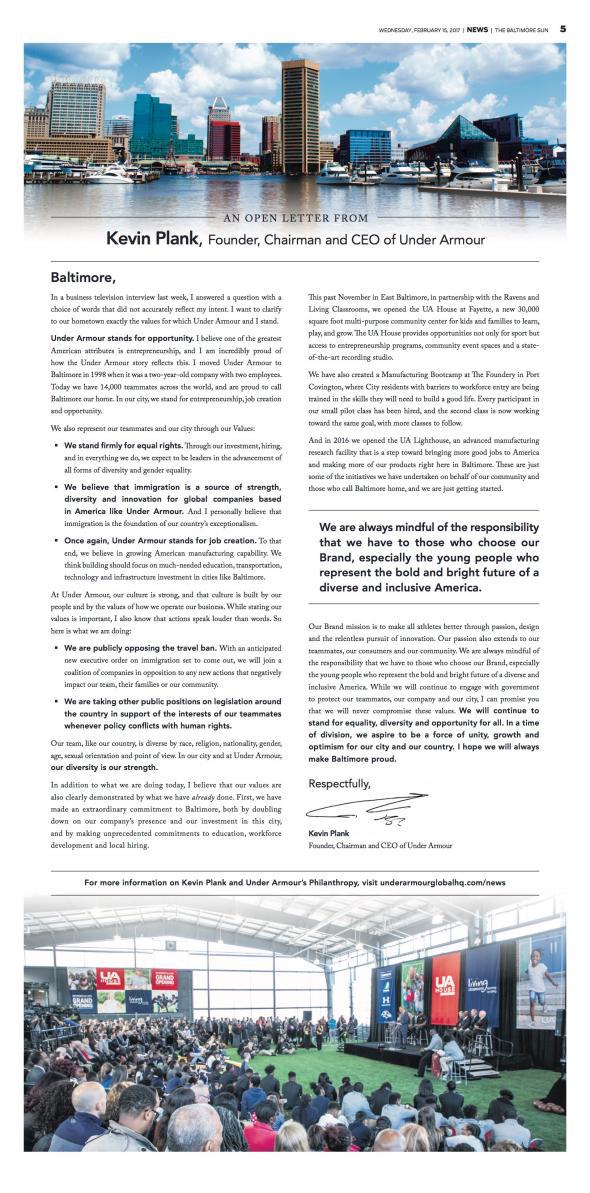 See Also: UNDER ARMOUR CEO: Trump is 'a real asset for the country'