GETTYSBURG, Pennsylvania—Logan Dennison walks up to Lyndon B. Johnson and pulls the 36th president's head off.
"Just like this, right?" asks Dennison, a college-age dude in a green hoodie, as he lifts the wax cranium from the six-foot wax replica. A denim- and T-shirt–clad museum employee nods. LBJ's head comes right off, leaving a tuxedoed body with a metal pole sticking out of its neck. That assured, fatherly face that intimidated senators into passing the Civil Rights Act stares at Dennison from his hands.
Earlier that afternoon—Saturday, Jan. 14, precisely—auctioneers sold off everything in the Hall of Presidents and First Ladies on Gettysburg's Baltimore Street, down to the lights, chairs, and railing. After nearly 50 years in operation, the tourism company that owns the museum, Gettysburg Battle Tours, closed it due to decreasing attendance and liquidated all its assets, most notably 44 full-size wax replicas of U.S. presidents and one-third–scale figures of first ladies in their inaugural gowns. Unlike the more famous hall at Disney World, which opened 14 years after the one in history-obsessed Gettysburg, this hall will never house a replica of President Trump.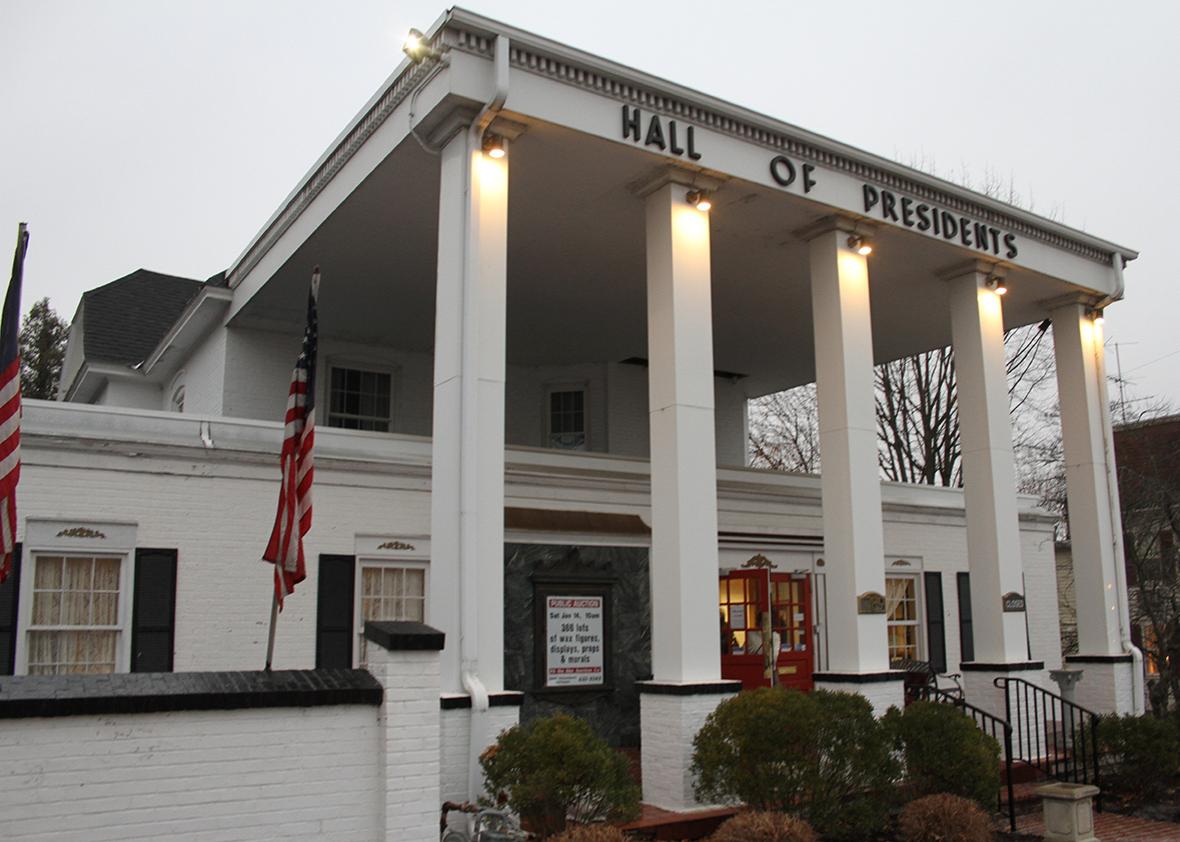 Several hours after the auction, some the hall's presidents are still lined up in sequential order across four rooms, only now each has a numbered tag stuck to his lapel and next to each is a wooden box stamped with the words "Pack Head in This Box." The museum is recommending buyers detach the delicate heads for transportation. Throughout the day, the bodies have been wrapped in plastic and hauled like cadavers into vans and SUVs lined up outside. Bidders included local history buffs, presidents' distant relatives, and a woman who said she was there on behalf of Stephen Colbert.  
Dennison and his family run a museum in Carlisle, Pennsylvania, dedicated to amusement parks and wanted a president to represent the common theme-park attraction of wax replicas. Coming to the daylong auction at the Inn at Gettysburg, they didn't have their sights set on LBJ, but he turned out to be a bargain when bidding stopped at $1,800.
The presidents sold for between $1,000 and $8,500. The top grossers were Abraham Lincoln ($8,500), Theodore Roosevelt ($8,000), Ulysses S. Grant ($6,200), and George Washington and Andrew Jackson (both $5,100). The lowest-selling were James Monroe ($1,000), James Madison ($1,300), Franklin Pierce ($1,300), and Andrew Johnson and Chester A. Arthur (each $1,700). Also, going for $1,700 was the hall's secondary figure of Dwight D. Eisenhower; in addition to a standing Eisenhower in an Army uniform, it housed a casually dressed Ike sitting in a chair in its lobby to celebrate his retirement in Gettysburg.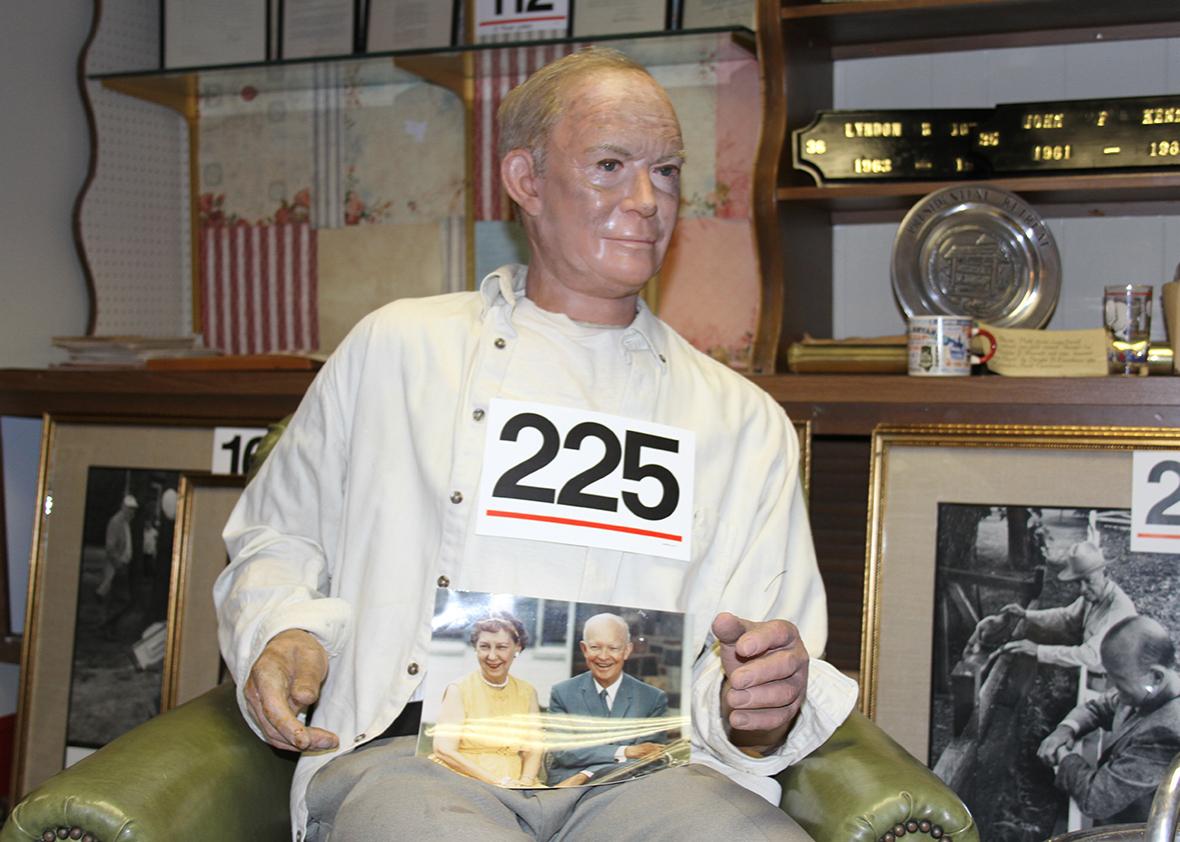 It probably doesn't pay to read these bids as dispassionate historical assessments; the locals' Civil War fixations probably inflated the prices of presidents connected to the conflict. Fifteenth president James Buchanan, maligned by historians for his ineptitude in the face of Southern secession, sold for a hefty $4,000.  
"I bought him because he's related to Abraham Lincoln, and I have a large wooden Lincoln sculpture in my barn," says Lou Capozzi, an attorney from Camp Hill, Pennsylvania. He plans to place the successive presidents next to each other.
Capozzi lost a bidding war for Grant to Scott Fisher, a physician from the Philadelphia suburbs. Fisher took home Grant, George H.W. Bush ($2,800), and the much sought-after Washington and Lincoln figures. The latter two will gaze at Fisher from his home office. The other two are gifts: Bush will go to a friend with an affinity for the Gulf War president while Grant is a retirement present for a history teacher in his town who often took students on field trips to the Gettysburg battlegrounds and monuments.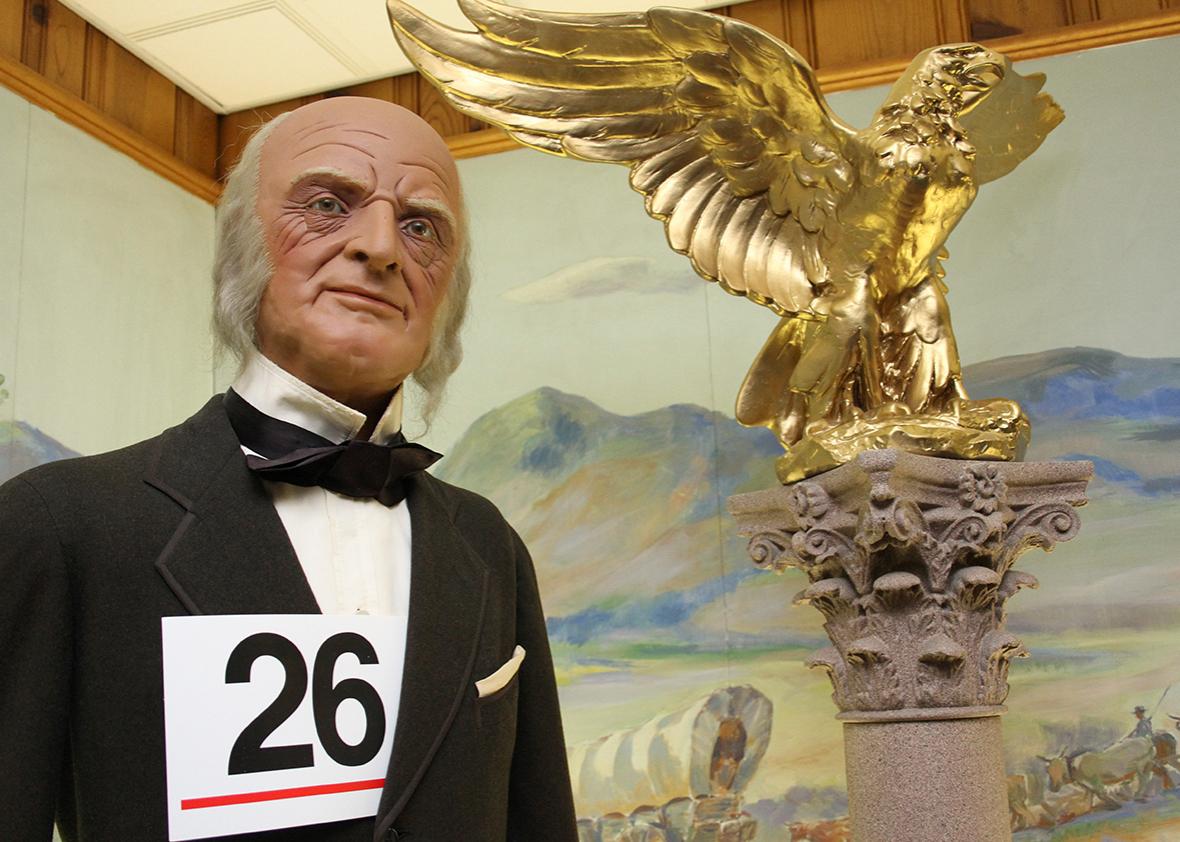 Stephanie Hoffman, also from the Philly suburbs, won George W. Bush ($3,200) and Andrew Jackson. She says she is descended from Jackson's nephew and the seventh president will stand in her foyer as a reminder of her lineage. "I've been trying to take more pride in my family history," she says. Bush is a gift for her son, a combat veteran who has long admired his commander in chief.
The auction house, Pennsylvania Onsite Auction Co., allowed a few mysterious bidders to participate via telephone. As father-and-son auctioneers Randy and Darren Dickensheets rattled off numbers, one of their employees had his ear glued to a cellphone for most of the five-hour process, entering bids on behalf of remote buyers. Gettysburg Battle Tours president Max T. Felty says that presidential descendants and stores and libraries located in presidents' hometowns expressed interest and some bid over the phone.
Ariel Dumont, a writer for The Late Show With Stephen Colbert, attracted attention by holding up a sign with the show's logo instead of a ticket number to place bids. She purchased ill-fated 12th president Zachary Taylor for $2,100 but said she could not specify why.
Nicole Murphy said her employer, whom she declined to name, sent her from Los Angeles with a list of presidents and the most he'd be willing to spend on each. She said she couldn't give any further information. She purchased William Henry Harrison ($3,200), Warren G. Harding ($2,600), and Bill Clinton ($2,500).
The museum's three-foot-tall wax replicas of first ladies sold for about $200 to $300 each, with some predictable exceptions: Mary Todd Lincoln for $875, Eleanor Roosevelt for $650, Jacqueline Kennedy for $550, Hillary Clinton for $700, and Michelle Obama for $525.
Wendy Walsh, who drove from Emmitsburg, Maryland, purchased the Michelle Obama. "I think she is incredible," says Walsh. "I think she is one of our best first ladies." She plans on displaying the Obama statue in her home.
Walsh also put in a few bids for the Hillary Clinton figure, which sports flowing blond hair and the blue beaded-lace sheath gown she wore to the inaugural balls in 1993. The winning bidder was a man who appeared to be in his late '30s or early '40s. He wore jeans and a thick jacket, his curly hair poking out from beneath a baseball cap. He declined to give his name. "I don't have good intentions," he said. He also declined to specify any further reasoning behind the purchase.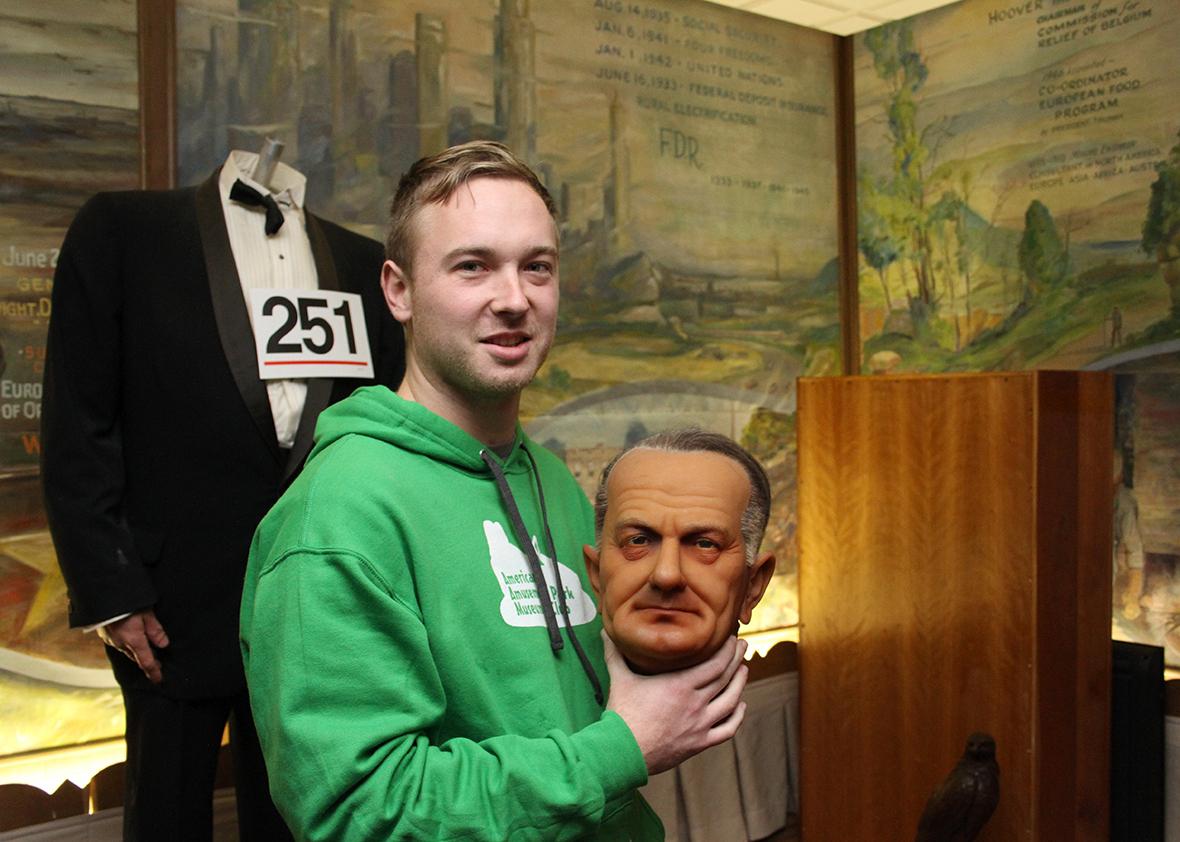 As Logan Dennison was disassembling Lyndon Johnson, the Hillary buyer and his friend, another ball-capped schlub, walked into the Hall. "Do you want to wrap [Hillary's] face in plastic?" an auction house employee asked forcefully. She then smiled and said, "To protect her from the rain, I mean."
"We wouldn't want anything to happen to her," said the buyer's friend, who also would not give his name. "She's had a hard year."