It's Friday afternoon, and Google Maps is telling me that the 70-mile drive from Downtown Miami to West Palm Beach will take two hours.
This summer, I'll be able to do it in half that time on a new, intercity passenger rail service called Brightline. It will be the first privately owned passenger rail operation to open in the United States in more than a century, and its trains—the first of which arrived in Florida this week—will whisk thousands of passengers a day along the car-choked coastal strip of South Florida.*
With stations in Miami, Fort Lauderdale, and West Palm Beach, Brightline will be an early test of the popularity of new intercity rail projects underway in California (public) and planned for Texas (private). The project has not proceeded without some snags: Market anxiety and lawsuits from coastal counties have stalled the company's tax-exempt, federally sanctioned bond issue, and the extension to Orlando—which will make up the bulk of the project's mileage and new construction—is on hold and will not be finished for at least two to three years.
Bond hang-ups aside, All Aboard Florida (the company that runs the Brightline service) has used debt and equity from its parent company, Fortress Investment Group, to convert a lightly used freight rail corridor for passenger service. It is completing stations in three downtowns and adding millions of square feet of residential and commercial space. In Downtown Miami, for example, the company is opening an Eataly-style food hall on one of the booming downtown area's last pieces of vacant real estate.
Mike Reininger, the president of All Aboard Florida and a veteran of Denver's celebrated Union Station project, told me that the company's real estate and rail operations are symbiotic, but the former won't pay for the latter. This isn't real estate development disguised as transit. Train service is expected to pay its own operations costs, like it does on the Northeast Regional and high-speed Acela services that Amtrak operates between Boston and Washington, D.C.
Of course, South Florida is not Boston. Though it was built on the speculation of the railroad baron Henry Flagler, the region is now highly auto-centric.
Cars are the reason that the country hasn't had a private intercity passenger rail line since the early 1980s, when a train between Denver and Ogden, Utah, was folded into federally bolstered Amtrak. Intercity passenger rail cratered during the auto boom as public money poured into car subsidies in the form of highways, cheap gas, and parking requirements. The number of passenger trains in the U.S. fell 85 percent between 1929 and 1965—and that was before the boom in commercial air travel.
And those cars are why critics of Brightline think the project is doomed to failure. While it constitutes one of the country's largest population clusters, South Florida has sky-high rates of car ownership and public transit is little used or nonexistent. "Delusional," says the Orlando Sun-Sentinel. "Impossible," says the Miami Herald.
But the region's worsening gridlock is one reason to get on the train, Reininger says. "Our ticketing strategy is built around making the cost of a ticket comparable to what it costs to drive a car. We already know we're going to be more comfortable and more convenient than driving your car on a crowded road system."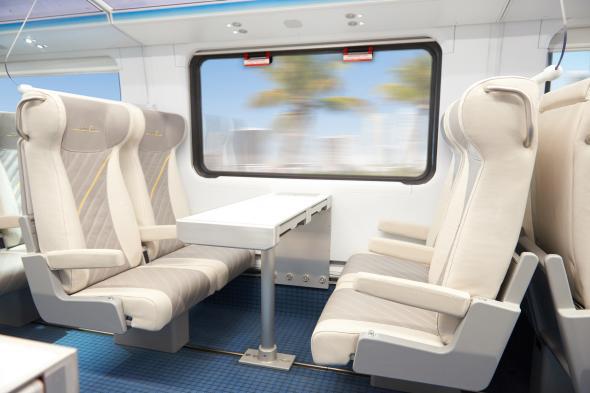 Observers have been skeptical of the company's prospects for turning a profit on rail operations. One critical analysis (funded by an anti-rail group) estimated the company would have to significantly outperform a scaled-down Northeast Corridor model (in terms of riders-per-resident) to break even. And it would have to do that despite operating in a sprawling region where homes and businesses are far from city centers, giving commuters additional incentive to default to driving.
The company hasn't released its pricing schemes, but Reininger says the truncated, three-city line on which service begins this summer represents the bulk of the expected ridership for the overall system. Orlando will be an attractive extension from a business perspective but won't make the difference between loss and profit on operations. The difference between Florida and the Northeast, he said, is Florida's massive tourism and hospitality industry. Put that together with seniors and college students, and Brightline says it will have a significantly more balanced ridership model than the Northeast's business-heavy clientele, making a direct comparison misleading.
The idea that Floridians will never want to get out of their cars, he added, is like saying people are never going to connect their television to cable.
"In the time we've been working on this project, Uber went from nonexistent to a verb," he said. "You don't have to look very hard to see how rapidly people's behavior changes when they're presented with a better alternative."
*Correction, Jan. 17, 2017: This post mistakenly referred to the densely populated strip of land between the Everglades and the Atlantic Ocean as an isthmus. It is not an isthmus.