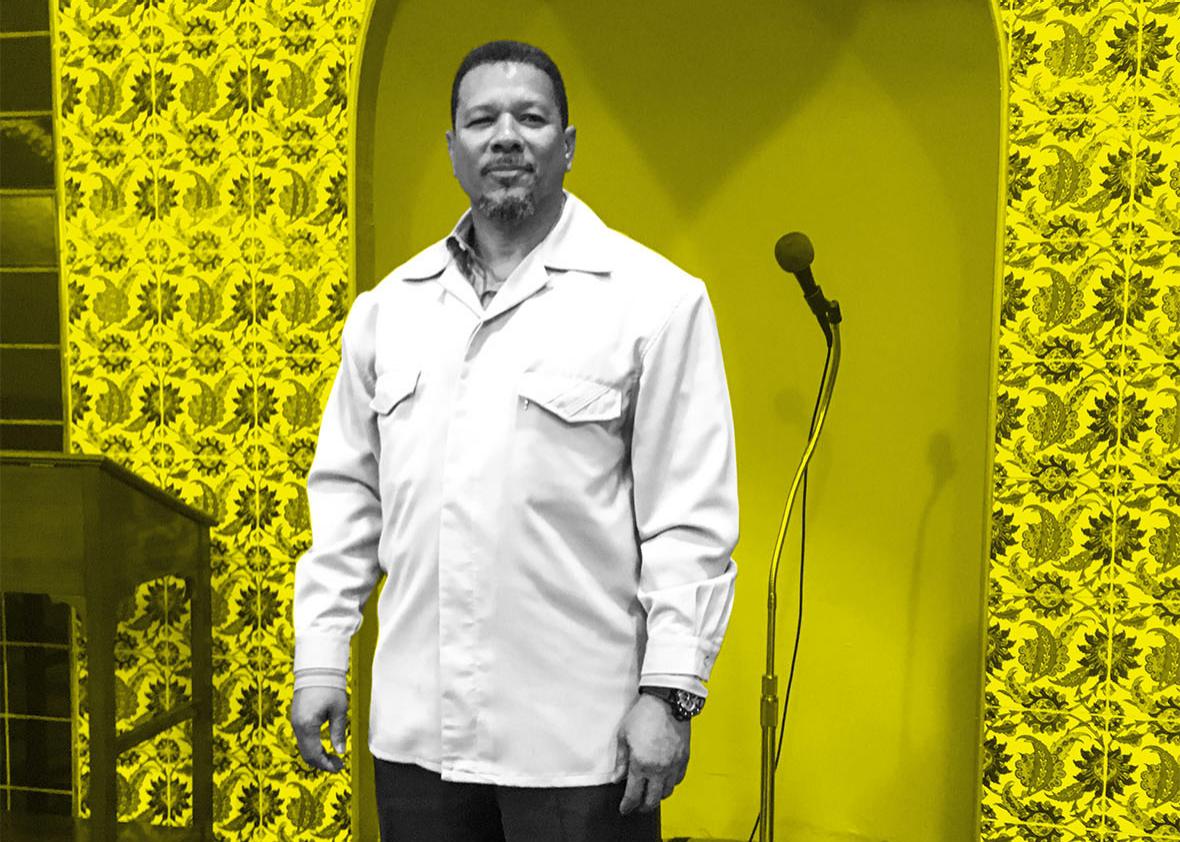 Click on the player below to listen to this episode of Working:
Subscribe in iTunes ∙ RSS feed ∙ Download ∙ Play in a New Tab
This season on Working, we're speaking to individuals employed in fields potentially imperiled by the Trump presidency. These are the stories of people doing difficult but important jobs—jobs that may get much more difficult and much more important in the years ahead.
Talib M. Shareef passed much of his life in the military, spending three decades in the Air Force, inspired to join by an uncle who had served in Vietnam—and by shows of patriotism within the Muslim community. During that time, he aspired to reform the military's treatment of its Muslim service members, helping to engineer a more inclusive climate.
"At first I had to pray in closets, because there just wasn't dedicated space," Shareef recalls in this episode of Working. Thanks in part to his efforts, that had changed by the time he retired—and he had changed along the way, learning Arabic and committing himself more fully to his faith. Among other things, he also aimed to help educate other service members about "what Muslims were doing, how they have been serving this country we love." As he puts it, "We were all on the same team, doing the same thing."
The people of Masjid Muhammad—a more than 80-year-old mosque in Washington—had followed his journey throughout the years. As it happened, that community's previous imam retired the same month that he left the military, and they invited him to join them. Having accepted their offer, he's now employed as Masjid Muhammad's imam and president. We spoke to him about what that entails.
In this episode, he leads us through a few of the tasks that now structure his days. Some of those activities, as he explains, are nearly constant, especially the morning prayer, which he typically leads. Afterward, he often heads into meetings, both with executives from the mosque and with "other leaders from other faiths." Together, they strive to confront issues that matter to the city and country as a whole, such as homelessness and affordable housing.
More often than not, though, he also passes some of his time with senior citizens on the mosque's ground floor, playing cards, checkers, or chess. But, of course, other regular prayers—one of which took place while we were chatting with him—dictate his both his workday rhythms and the form of his life as a whole, as they have at least since his time in the military. The difference is that he's now typically at the front of a spacious room, no longer confined to a solitary closet.
For all that's changed over the years, Islamophobia has always shaped Shareef's work. In this episode, he speaks about his efforts to create partnerships with law enforcement at all levels to help keep his community safe. He and his colleagues at Masjid Muhammad have had to up the security at the mosque itself, not least of all because they've received regular threats, both before and since the rise of Donald Trump. Because of those threats—which he attributes to simple ignorance—he spends much of his time reassuring and comforting members of his community, telling them, "Whatever we are going through, it's not permanent. It's temporary. There's always going to be more good."
Shareef has a message for non-Muslims too. "See us as neighbors," he says. "Stand up for life that stands up for you."
In a Slate Plus extra, Shareef talks about his decadeslong study of martial arts and discusses how it plays into his more peaceful work at the mosque. "They led with an attack, but I'm going to follow their lead, but I'm going to lead by following," he explains. "I'm going to take them to take them to a place of peace." If you're a member, enjoy bonus segments and interview transcripts from Working, plus other great podcast exclusives. You'll also help Slate hold Donald Trump accountable in our podcasts and on the site as a whole. Start your two-week free trial at slate.com/workingplus.
Email: working@slate.com
Twitter: @Jacob_Brogan
Correction, Dec. 12, 2016: This podcast originally stated that Shareef was an officer in the Air Force. He retired as a chief master sergeant.
---