There are lots of reasons why private philanthropy can't replace the government safety net, but one of the most fundamental is that people tend to stop giving to charity right when the poor need it most. Total donations plunged in the U.S. during the Great Recession, for instance, dropping 7 percent in 2008, and 6.2 percent in 2009. When the economy turned south, Americans closed their wallets.
This week, researchers from Texas A&M University are out with a new working paper asking why. Was it just because people's personal finances got worse during the downturn? Or did something else change?
To find out, the team, led by economist Jonathan Meer, looked at data from the federal government's Survey of Income and Program Participation, tracking more than 13,000 people over time. That allowed them to look at individual giving behavior instead of simply tracking aggregate national figures. The authors found that Americans became less likely to donate at all after 2008 and that the decline couldn't be explained entirely by changes to their income or wealth. Among those who continued donating, there was mixed evidence about whether the recession led them to contribute less. But on average, giving dropped, and by more than you'd expect based on families' financial circumstances, "suggesting that broader shifts in attitudes towards giving or increased uncertainty are at work," Meer & co. write. It's possible that a lot of Americans looked at the economic carnage around them and decided that, even if they still had a job, they'd be better off saving more instead of donating that year. Giving may have just started to seem like too much of a luxury.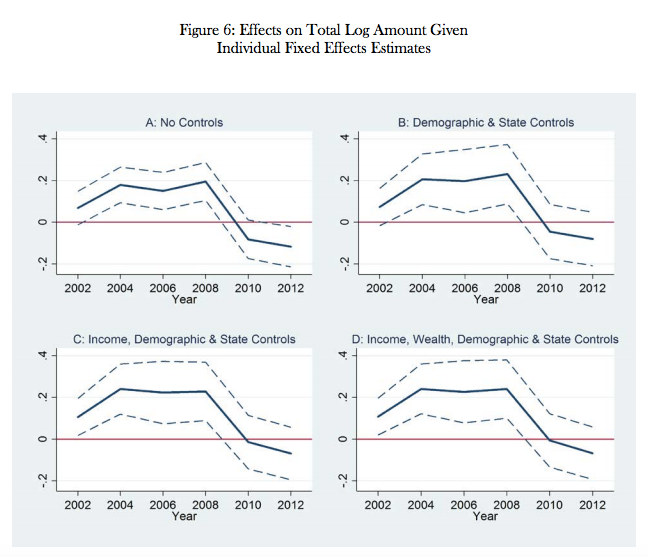 This isn't exactly a shocking result, but it has at least a couple implications. The first, which Meer and his co-authors point out, is that the Great Recession could end up being a long-term drag for U.S. charities, since many households seem to have broken their habit of giving entirely rather than merely curbing the amount they donate.
The second, which I'm choosing to extrapolate, is that nobody should be under the illusion that private charity will be able to come to the rescue during a severe economic downturn. Human beings are not endlessly altruistic and when the job market gets rough, some households get scared out of giving even when they can still theoretically afford to. Unfortunately, given the cuts congressional Republicans will have a chance to enact on safety-net programs like food stamps, we may soon have no choice but to bet against human nature.
*Correction, Dec. 5, 2016: A photo credit in this post originally misspelled Elisa Wulfsberg's last name.