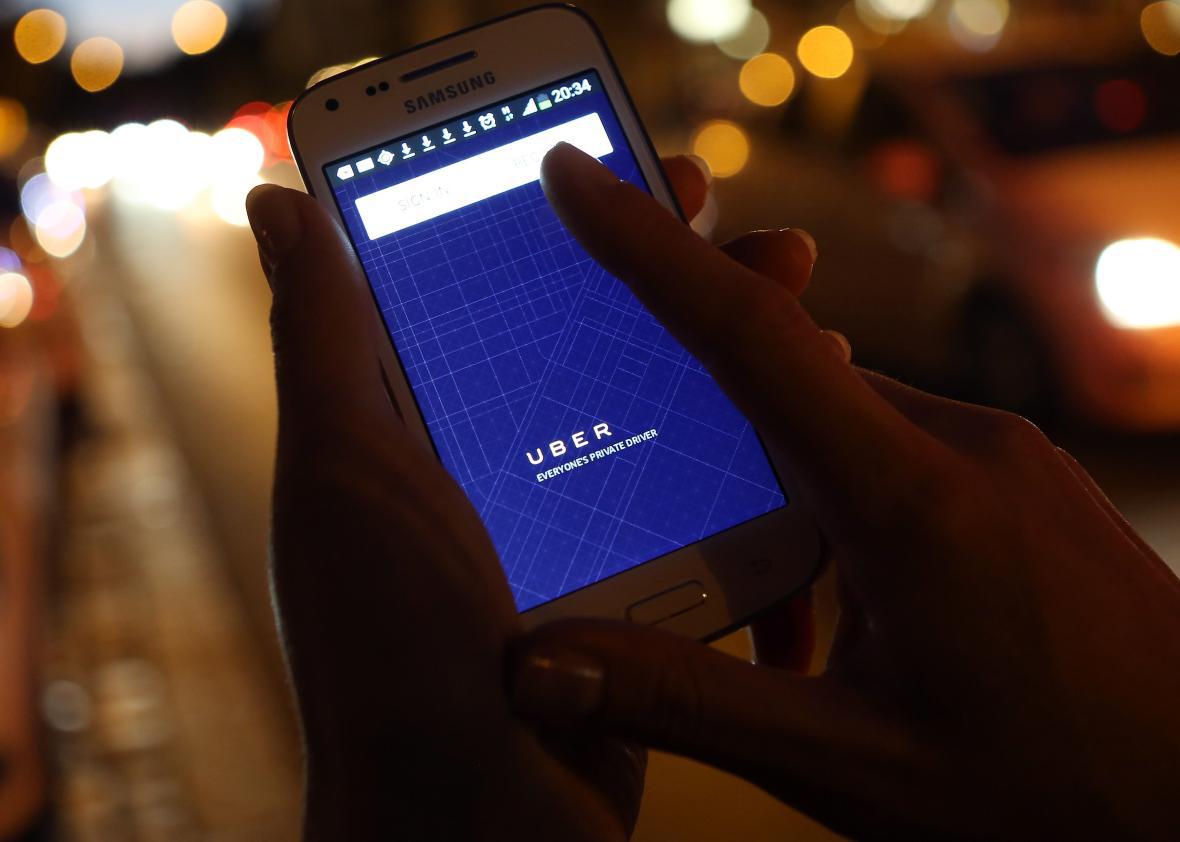 Perhaps you've seen tweets like these in recent days:
Ride-hailing services will colonize yet another corner of the American experience this Election Day, and for those snagging a free ride, that's hardly be a bad thing. Volunteer efforts to drive voters to the polls can surely use all the help they can get. But this project is a bit more discomfiting than initially meets the eye—offering yet more evidence that there are few remaining spaces where tech startups haven't figured out how to shave off a slice.
The campaign is the work of a recently formed super PAC, My Ride to Vote, formed by Silicon Valley investors Marc Porat and Adam Berke, plus Anna Soellner, the former vice president of communications for the Center for American Progress. Left-leaning and certainly well-intended, it's concentrating its efforts in Philadelphia, as well as working with Vote Latino in the vital swing states of North Carolina and Florida.
Here's how it works: My Ride to Vote is circulating a coupon code that offers voters in the targeted areas a credit of up to $15 for a ride to their local polling station, plus another for the return trip. And no, no one expects Uber or Lyft or their drivers to transport voters for free. They are not. Donations to My Ride to Vote are footing the bill.
My Ride to Vote's goal for its voter-driving effort was initially quite modest, and as recently as last Friday, newspaper reports had it that the campaign had raised $33,000 toward a $100,000 goal. But over the weekend the campaign went viral and it raised the goal to $850,000. It's currently raised more than $457,510, mostly from donations ranging from $25 to $250.
But My Ride to Vote isn't processing the donations itself. Instead, the for-profit political crowdfunding platform Crowdpac is hosting the campaign. Crowdpac is a Kickstarter for political campaigns, founded a few years back by Steve Hilton, a former top adviser to David Cameron, proving, I suppose, that it's not just American political factotums who are seeking their fortune in Silicon Valley. Crowdpac's investors include LinkedIn founder Reid Hoffman and venture firm NEA, which also backs BuzzFeed and Green Chef.
While a report in the Financial Times from a few years back helpfully explains that Crowdpac's long-term plan is to pay the bills by "an advertising revenue model in which companies or political groups pay to target users based on their views," there are short-term considerations, too. So when you click to make that $25 donation, you'll discover your initial bill, via an orange-red banner reads, "Donate $28.82." That's because you're asked to also pay $2.50 to Crowdpac, and on top of that to pay a "processing fee" of $1.32 to Democracy Engine, yet another startup, this one a political payment processor.
When you use a credit card in a store, you're also paying a fee to have your payment processed, but there it's almost always wrapped into the sticker price of whatever you're buying. Here it's an add-on. Its virtue is that it allows everyone to claim the entire amount you are donating goes to the campaign of your choice. Onward.
As for Crowdpac's fee, it turns out that's discretionary. If you click a very small "edit" link next to the Crowdpac bill, you'll discover it's actually an "optional tip" that "helps us cover operating expenses so 100% of contributions go to candidates and organizations."

How many people actually change the amount or eliminate it entirely? You got me. Crowdpac wouldn't tell me. And why not allow people to pay My Ride to Vote directly rather than through Crowdpac, at least eliminating one middleman and potentially saving some donors a few bucks? I don't know the answer to that, either. Soellner, who acts as the organization's spokeswoman, said she would call me and did not.
I can, however, tell you that if you decide to stiff Crowdpac, figuring people like Reid Hoffman, estimated net worth $3.7 billion, don't need your largesse, you'll save 9 cents on your tab to Democracy Engine.

So you do some good, a smattering of Silicon Valley startups make a few bucks, but all is basically right in the world, right? Not if you care about the ongoing financialization of our private lives. In The Outsourced Self, Arlie Hochschild described how we had converted everything from child rearing to housekeeping into hourly jobs done by others, commercializing, for good and ill, the most intimate areas of our family lives. The sharing economy extends the practice with a twist.
When you, say, pay a local party venue to hold a child's birthday party, you're aware that someone is profiting from your laziness (guilty!) or time-challenged lifestyle. Here you're paying a driver to volunteer on your behalf, which may be reasonable enough. Most of us don't live in Philadelphia or have time to drive people around on a Tuesday afternoon.
And it's true that commerce and Election Day are hardly strangers. Department stores have long-offered Election Day sales, and bars will make a mint Tuesday night by offering viewing parties. But we have a long-established tradition of volunteering to take people who lack transportation to the polls, typically organized by campaigns or people or groups who support them. These efforts are not, even in the age of the sharing economy, hard to discover. Warren Buffett is sponsoring Drive 2 Vote, which pairs voters in the greater Omaha area who need a ride with a volunteer driver. In the Phoenix area, the Bazta Arpaio campaign (which wants to unseat Republican Maricopa County Sheriff Joe Arpaio) is partnering with a local taxi union to get people to and from the polls. When I asked it if any money was exchanging hands, a spokesman quickly replied, "It is an entirely volunteer effort."
---