Just in time for the election, the Obama administration confirmed Monday that premiums on the Affordable Care Act's insurance marketplaces are set to rise by double digits in 2017. Before subsidies, the average monthly cost of a benchmark silver plan will increase by 22 percent in states that use healthcare.gov or where data is otherwise available, according to the Department of Health and Human Services.
That number hides a lot of local variation—in some large states, the increases will be small or nonexistent. For a 27-year-old customer in California, benchmark premiums are going up by 7 percent; in Massachusetts, they're set to fall 3 percent. But many more states are set for large hikes, with seven looking at increases of 50 percent or more. All of this is, unsurprisingly, giving birth to all sorts of #unaffordablecareact jokes on Twitter.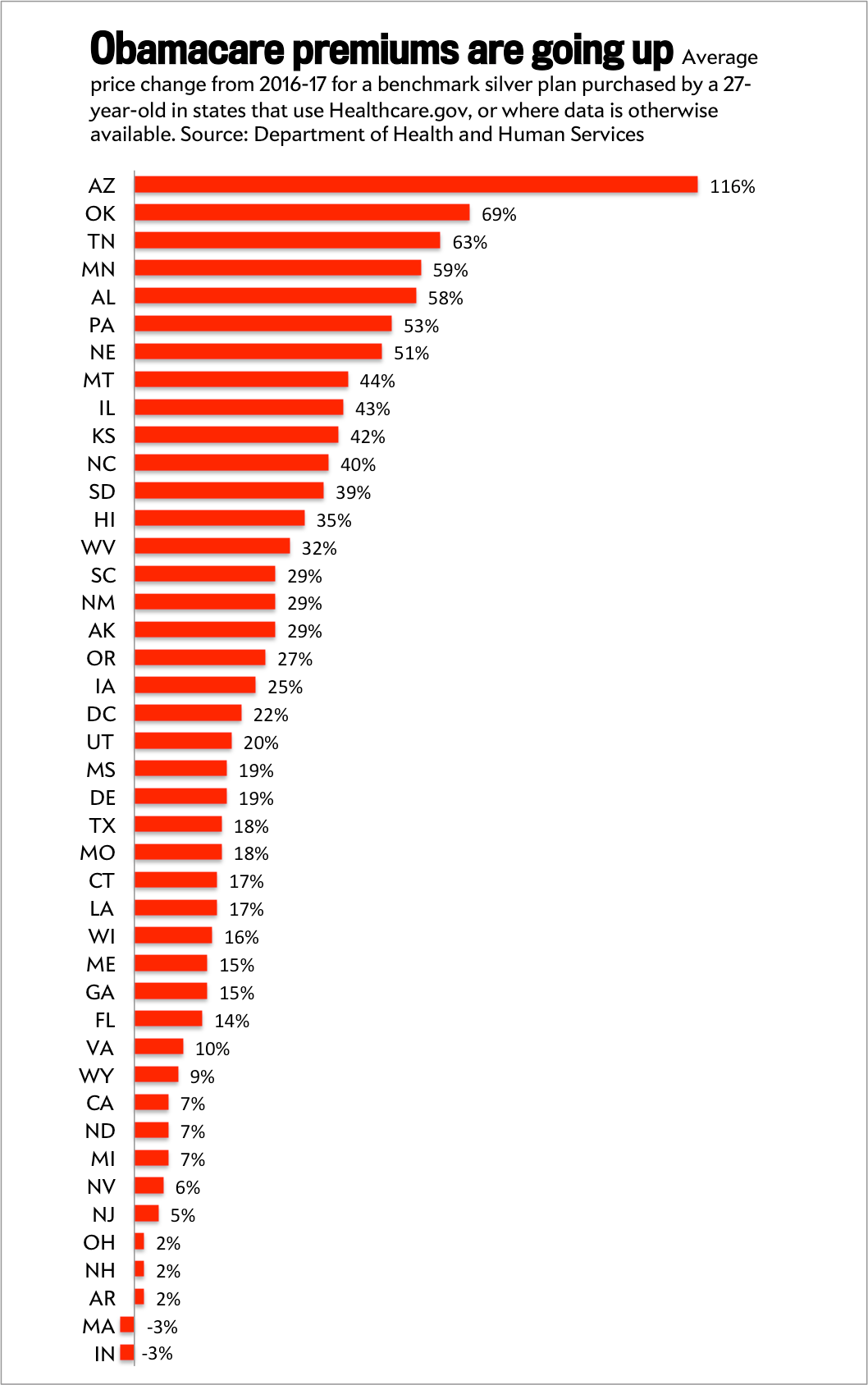 This news was ultimately not much of a surprise. Many insurers have been losing money on the Obamacare marketplaces, as the pool of customers has turned out to be older and sicker than they expected. Some major insurers, including United Health and Aetna, responded by pulling back from the marektplace while others asked for large increases. (I wrote about these growing pains at length back in August.)

The reality is that, despite these hikes, many Americans won't end up paying more for their insurance, because Obamacare's insurance subsidies cap premiums at a percentage of a family's income. Currently, 85 percent of customers on the exchanges get some sort of assistance. The administration notes that after tax credits, 73 percent of current enrollees will still be able to find a silver plan for less than $100 per month (a little more than half will be able to purchase one for less than $50).
Unfortunately, families that earn too much to qualify for subsidies are going to feel the pinch, and the higher prices could discourage new customers from enrolling next year, especially younger, healthier Americans. The exchanges were already having trouble attracting middle- and upper-middle-class households who don't get government help purchasing their coverage. The price increases certainly won't help on that front, even if, as the administration notes in its report, premiums are still pretty much in line with what the Congressional Budget Office projected they would be in 2009.

The HHS report reaffirms one other big problem Obamacare is facing: Some customers are looking at a serious lack of options when it comes to buying a plan. Five healthcare.gov states will have just one insurer offering coverage; about 1 in 5 Americans will have only one issuer to pick from. Which is to say that, on many of the marketplaces, there isn't much of a market to speak of.