Samsung's top-end smartphone is dead.
In a move that shook the mobile industry, the South Korean giant officially pulled the plug on its new Galaxy Note 7 on Tuesday, recalling every phone it had sold around the world and permanently ceasing production just six weeks after it went on sale. Thus ends a saga that included reports of overheating, burning, and even exploding phones, followed by a massive recall that failed to solve the problem.
Exactly what went wrong remains unclear. The company is investigating, as are regulators in multiple countries. As the Verge points out, every lithium-ion battery–powered device comes with some risk of a short circuit if it isn't designed or put together properly. (See: hoverboards.) That's why the cellphone industry has a well-documented history of exploding batteries. But a flaw this debilitating is rare. Samsung received more than 100 reports of Galaxy Note 7 batteries catching fire in less than two months, even after a September recall. Last week, a Southwest Airlines flight was evacuated after one of the new, supposedly safe handsets began emitting plumes of smoke.
Samsung is now instructing anyone with a Note 7 to shut it down immediately and return it to the store where they bought it for an exchange or refund. Those who purchased theirs directly from Samsung are getting a special fire-resistant box and gloves in the mail.
The flames may be subsiding, but the business fallout is just beginning—and it won't be limited to Samsung. Here's a speculative preview of how the company's disaster could affect the industry.
1. Samsung Takes a Beating
The company's shares plummeted 8 percent in South Korea on Tuesday, wiping some $17 billion off the company's market capitalization. And that was before it announced that it was killing the phone. How bad things will ultimately get for Samsung depends on its response to the crisis, including its ability to pinpoint the problem and reassure people that it was confined to the Galaxy Note 7. With the holiday shopping season approaching and rivals such as Apple and Google launching direct competitors, the timing could hardly be worse.
That said, Samsung has a long track record of making relatively reliable products, and it has established itself as the global leader in Android phones by a wide margin. The Note 7 was significant because it represented Samsung's best effort to beat Apple on quality and features at the high end of the market. But it served a relatively small, if dedicated, niche of smartphone users who like to use a stylus. For everyone else, Samsung has other flagship phones capable of competing with the iPhone 7 and Google Pixel, such as the Galaxy S7 Edge. If it can convince the majority of its existing customers to stick with the brand, it should be able to come out with another stylus-equipped device in relatively short order.
Even in the best case, this is a serious setback for Samsung's aspiration to compete with the iPhone on quality. Simon Blanchard, a consumer psychology expert at Georgetown's McDonough School of Business, compared it to Toyota's sticky-pedal recalls (which, incidentally, Malcolm Gladwell recently argued were overblown). But Blanchard said Samsung could recover more quickly if it can show transparency and accountability in its handling of the investigation. On the other hand, fortunes rise and fall quickly in the handset business. Nokia was the industry's dominant force in 2007, when it issued the largest battery recall in history. That was just one of a series of snafus that led to its decline, and today it barely exists as a cellphone company.
2. Apple, Google, and Maybe HTC Profit
An obvious beneficiary of Samsung's missteps is archrival Apple, whose stock rose to its highest price of the year on Tuesday morning before settling back to a more modest gain. Apple competes largely on quality and prestige, so the failure of Samsung's most expensive phone plays into its hands. On the other hand, Apple's phones run a different operating system, so those who prefer Android may prefer to stick with the software they know.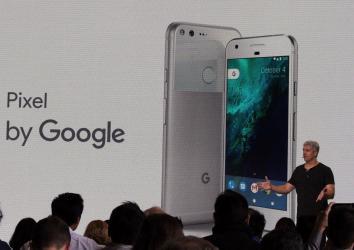 For that reason, the most direct beneficiary may be Google, which just announced its new Pixel smartphone. It's Google's attempt to reset after its struggles with the Nexus and Motorola brands, and some think it could be a legitimate alternative to the iPhone and Galaxy lines. The timing is almost perfect for Google, but not quite: The Pixel XL will be available beginning Oct. 20, meaning Note 7 owners would have to go phoneless for at least a week or two.
A quieter beneficiary could be HTC, the Taiwanese smartphone maker. HTC's fortunes have flagged in recent years, but it offers a viable Note 7 alternative in the HTC 10, and competes in several of the same key markets. Meanwhile, HTC has been revealed as Google's manufacturing partner on the Pixel. The phone carries no HTC branding, but the company still stands to gain if the Pixel can capture some of Samsung's market share.
3. The Insane Smartphone Hype Race Finally Slows Down
Smartphones these days are judged almost immediately by an influential cadre of tech reviewers before they even go on sale. Consumer reaction comes swiftly thereafter, with word of mouth helping to either build or rein in momentum from the launch. They're judged on their appearance, their features, their speed, and their price, among other criteria. But one important factor is almost entirely absent from the equation that determines a phone's failure or success in the marketplace: its reliability. By the time people realize that a particular phone falls apart or degrades more quickly than expected, it's often just about time to buy a new one, and the manufacturer can simply pledge to address those problems with the next release.
Not this time.
We don't know exactly what led to Samsung's batteries exploding. We do know, however, that smartphone-makers have been pushing lithium-ion batteries' capabilities to the limit. Samsung in particular has developed a reputation for jamming as many features as possible into a single handset, and it now seems that it may be rushing its devices to market in an attempt to win the hype battle. It never even produced a Galaxy Note 6—it skipped straight from the 5 to the 7, perhaps in part because it feared that the Note 6 would sound like it was a generation behind Apple's iPhone 7.
That race may now ease a bit. In the wake of Samsung's misfortune, smartphone executives both at Samsung and elsewhere may listen a little more closely when their engineers warn them of the potential drawbacks to implementing a given feature or performance benchmark. They might think twice about the incentives they're passing on to suppliers when they set tight production deadlines. They might call for a little more testing and quality control before pushing a phone to market.
We might look back on Samsung's battery meltdown as an inflection point in the history of the industry, when the frantic push for smartphone-makers to launch "revolutionary" new devices every year or two finally ran up against the physical limits of the form, and the lithium-ion battery in particular. Or maybe we'll keep pushing and phones will keep exploding. But in that case, we might want to rethink the idea of strapping them to our face.
Previously in Slate: Why We Keep Using Lithium-Ion Batteries, Even Though They Tend to Explode