CAMBRIDGE, Massachusetts—The first workers' strike at Harvard University in 33 years has been a remarkable one. Last Friday, nine university food-services employees were arrested for holding a sit-on in the streets of Harvard Square, just outside the campus. Earlier that week, Sen. Elizabeth Warren stopped by the demonstration to lend her support, as did Ben Stiller, who was in town filming a movie. And on Monday afternoon, the 13th day of the strike, hundreds of students filled the center of Harvard Yard in solidarity with Unite Here Local 26, the Boston chapter of a national hotel and food services union, whose members are displeased after months of negotiations with the university over health care and wages. As the protests spilled out through Harvard's gates into the Square, the students jockeyed for space with the filming of a Netflix series starring Keegan-Michael Key. While organizers spoke at the center of the protest, a picket line hundreds of workers long wended through the streets adjacent to campus, voices shouting, "Hey, Harvard, you can't hide, we can see your greedy side!"
What madness grips Harvard? The school "is the richest university in the world. It has an endowment of $35-plus billion, and has raised $7 billion and counting in its most recent capital campaign, and yet Harvard is failing to provide a livable existence for its lowest-paid and hardest-working employees," said faculty member Tim McCarthy to rousing boos. He'd cut his "American Protest Literature" lecture short so students could attend, he said, while reading from a petition signed by 150 of his colleagues in support of the workers.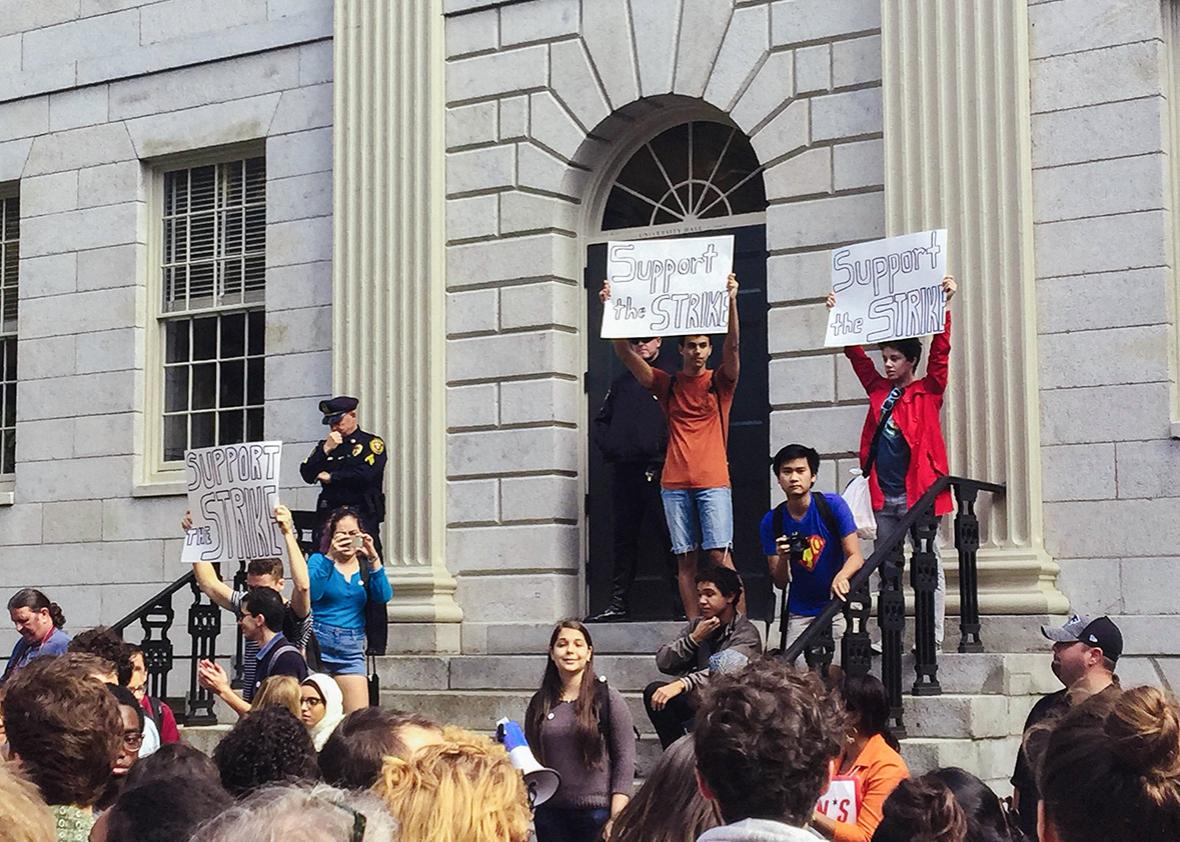 At the center of the dispute is a rise in the cost of health care premiums and co-pays that food services workers would have to pay out-of-pocket under the school's proposed plan. "It's very sad, to be at this point to do this because they didn't want to support us and give us what we deserve," said Melanie, a cook in one of the many dining halls that anchor the residences throughout the campus. The service workers who spoke at the protest were greeted with the enthusiastic cheers you might expect from a beloved campus athlete. The biggest lesson of the strike so far might be that when university workers butt heads with the administration, they have a special advantage: the sympathy of students.
A group of Harvard Medical School students recently analyzed the plan offered by the university, which, among other increases, would bump the cost of emergency-room visits from $40 to $100, and inpatient and outpatient services from $0 to $100. They found it would leave food services workers worse off than if they didn't have insurance through work at all and instead availed themselves of Massachusetts's Health Care Exchange.
Very few, if any, of Harvard University Dining Services workers earn a living wage by Massachusetts' high standards, another sticking point in the dispute. Most make around $21.89 an hour, or $33,839 a year, according to the school. Compared to many food service workers that doesn't seem like a bad wage, but the union says those estimates are a bit high and, at any rate, should amount to at least $35,000. Complicating matters is the seasonal nature of the workers' employment, with most only working eight months out of the year and being out of work during school recesses, a problem compounded by the fact that many of the workers cannot claim unemployment. (Harvard's administration has pointed out that the workers' salaries are higher than comparable local jobs and have offered a stipend for workers with seniority during off-months. It also argues that it's been eight years since Local 26 workers' health insurance has changed, a time during which costs have risen steeply.)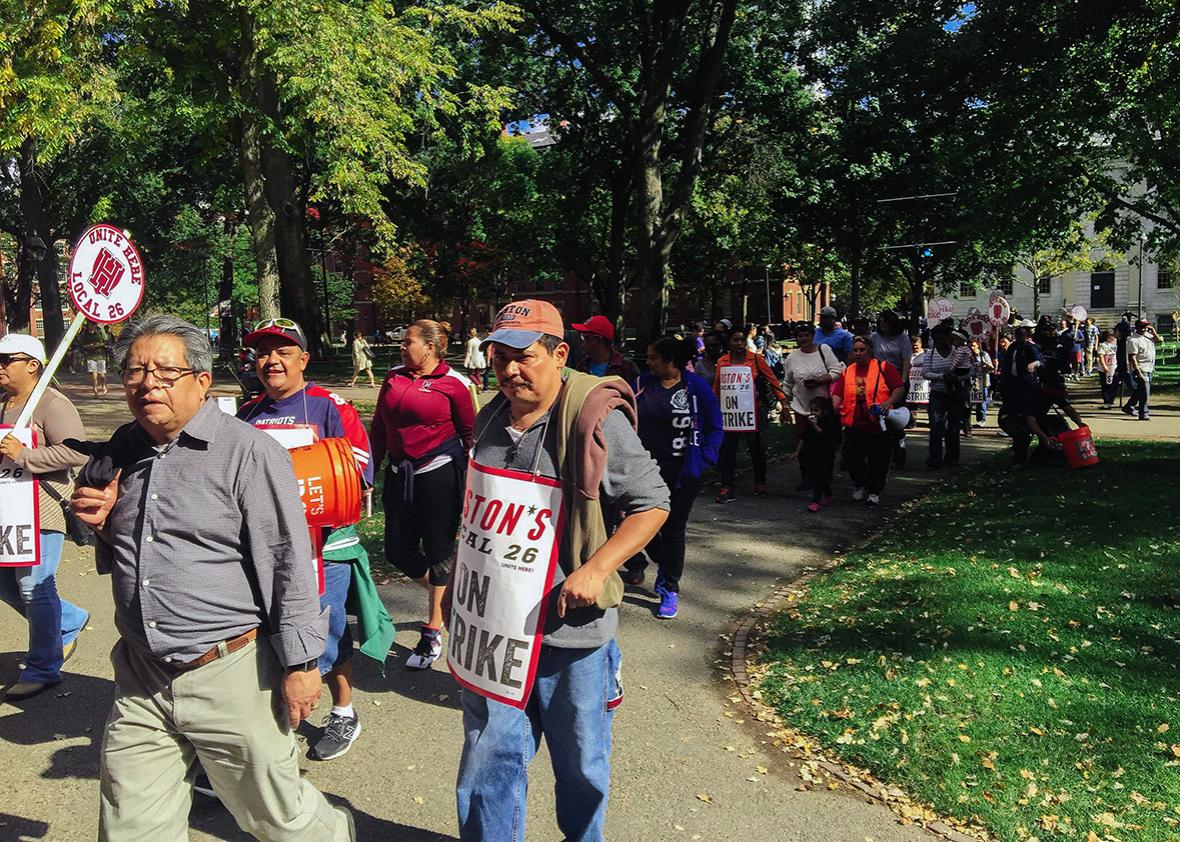 The contrast between Harvard's reputation as an institution of immense wealth and its failure to adequately compensate many of its employees—about 750 HUDS workers are on strike—is hard to ignore. It's not one unique to Harvard: A study released last week found that 45 percent of employees surveyed throughout the University of California system said they went hungry at times. But given Harvard's rarefied perch—not to mention the fact that it's one of the largest employers in Massachusetts, one nearly synonymous with privilege, wealth, and success—the disconnect is particularly galling. It also means Harvard has an important opportunity.
There is certainly a vast swath of subject matter a university like Harvard hopes to instill in its students. But for one that graduates so many of the world's future leaders—particularly at a time when issues of income inequality have moved to the forefront of political discourse—opting to go above the bare minimum for its employees seems like an exceptionally edifying lesson the school could impart.
Grace Evans, a sophomore who helped organize Monday's walkout, said around 3,000 students, roughly half of the undergraduates, had signed a petition in favor of the workers so far. "We're talking about a few ten thousandths of the endowment—my math might be wrong on that!—but Harvard has the money and resources" to give the food services workers better benefits and higher pay, she insisted. About 30 percent of the endowment at-large is flexible, the school says.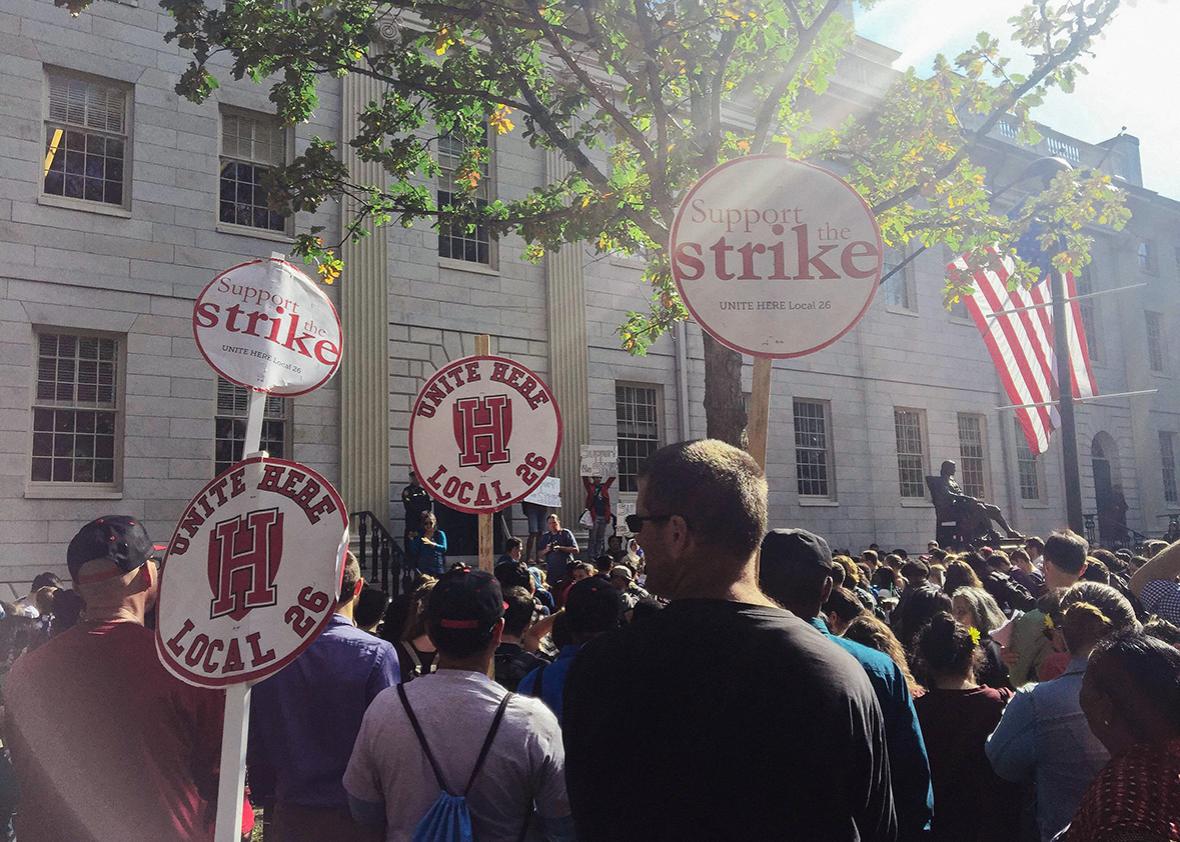 Support among students for the strike seems to be widespread, although some have begun to grow frustrated at the rapidly declining quality of food options, which are still a luxury compared to the food options available to the people who serve them. The dining halls are working at significantly reduced capacity, staffed by managers, temps, or workers under separate contracts who are not permitted to strike. The school has even taken to asking administrators or graduate students to volunteer to help fill in the gaps. In all, only seven of the dining halls are still open, while six are closed.
Itzel Vasquez-Rodriguez, a senior and a member of the Student Labor Action Movement, told me students have complained of finding undercooked meat, meat in vegetarian dishes, and even live bugs in their food since the strike began. But, she said, "We think it's appalling to ask salaried administrators and other employees of Harvard to give their time to this, especially when it creates a culture of, 'Oh, if I don't help out does that mean I won't get a promotion potentially?' "
As the strikers began marching out into Harvard Square, banging pots and waving signs to chants of "Si se puede," I approached Tommy Hardy, a 17-year employee of HUDS who currently works in Annenberg dining hall:
"This is Day 13, we've got a lot of tired and scared and angry people, but we're here, we're making the best of it. As much as it's a hindrance on our pockets and on our life, a lot of us just really want to go back to work. But at the same time I'm hopeful that five to 10 years from now we're going to be able to have made someone's life better because of this."
Police escorted the strikers across busy Massachusetts Avenue as impatient cars beeped their horns. A homeless man outside of the Harvard COOP bookstore looked on, holding a sign that read, "So this is Monday." The neighborhood workers on their own lunch breaks seemed largely uninterested in the protests, considering it briefly before returning their attention to their phones. None of the handful I spoke to said they were aware of what the problem was. Over toward the center of the Square, where the film crew was waiting for a shot, I asked Keegan-Michael Key if he'd caught wind of it. He said he hadn't, adding that it would make for some interesting complications in the background of the shoot.
Harvard Square was barely blinking—but that's not the audience the strikers have been hoping to reach. Like any business, it's their customers whose respect they need to maintain, and so far, students are peeved. The union, which represents workers around the country, may also be signaling to other institutions that improvement need to be made—and that it is happy to weaponize worker-friendly student bodies in order to agitate for better conditions. Given its heavy influence over standards in academia, a gesture here from Harvard—a mere pittance of its wealth—wouldn't just go a long way toward providing a better life for the mostly unseen workers who make its students' day-to-day experiences possible, but could potentially guide the actions of other institutions. Harvard is a symbol of aspiration throughout the world, even for other highly competitive universities. There's no better area where it should make itself No. 1.