At long last, Apple announced three new MacBooks on Thursday, and they all seem like lovely and highly capable machines. There's the 15" MacBook Pro, which starts at $2,400; the 13" MacBook Pro, which starts at $1,800; and the 13" MacBook Pro, which starts at $1,500. No, that's not a typo.
In what must be some sort of nomenclatural nadir, someone in Cupertino decided that both the $1,800 machine and the $1,500 machine should be called the 13" MacBook Pro. The distinction is that the more expensive one includes the Touch Bar and Touch ID, whereas the cheaper one does not. Mind you, Apple also still sells another 13" laptop called the MacBook Air, which despite its name is actually heavier than yet another existing Apple laptop, the 12" MacBook. Confused yet?
The proliferation of MacBooks might seem to run counter to Apple's penchant for one-size-fits-all simplicity. It's nonetheless a welcome development for Apple loyalists who have been waiting years for an all-new version of the company's workhorse PC.
Naming aside, the various versions are not redundant. The 12" MacBook, which debuted in 2015 and was updated earlier this year, is the smallest and lightest Mac. The cheaper of the new 13" MacBook Pros—the one without the Touch Bar—is similar in size to the old 13" MacBook Air, but more powerful and more expensive. Speaking of the MacBook Air, it isn't dead, despite Apple going to lengths on Thursday to convince people that its latest offerings are superior. No longer the lightest or sleekest MacBook, it lives on as the oldest and cheapest, starting at $999.
The 13" and 15" MacBook Pro with Touch Bar and Touch ID are the flagships, combining serious power and newfangled features in a beautifully compact package. They weigh 3 pounds and 4 pounds, respectively, and are about 15 percent thinner than their predecessors. Both feature a significantly brighter display, better speakers, faster graphics, an improved keyboard, a larger Force Touch trackpad, and four Thunderbolt 3 ports, which means lots of dongles but also plenty of versatility.
The Touch Bar and Touch ID are the big news here. Apple has replaced the top row of keys on the keyboard with a strip of touch-sensitive glass that displays different buttons depending on the application. Browse the web and you'll get forward and back buttons, a search bar, and volume buttons, among others. Edit a photo and you'll get a "rotate" button and a slider for things like brightness and contrast. Send messages to a friend and it morphs into an emoji bar.
The power button now doubles as a Touch ID sensor, which you can use not only to unlock the device but to pay for things on the internet via Apple Pay. When Apple Pay debuted, the idea was that your smartphone could take the place of your wallet. But it might actually be more convenient on a PC, where a single button can take the place of the often complex, multistep online payment process.
The Touch Bar seems like a genuine selling point, provided it functions intuitively. (It does, the Verge's Dieter Bohn assures us, in an early hands-on review.) Few will mourn the physical function keys that it replaces, and it just might be the feature that finally makes shortcuts accessible to the masses. If nothing else, it should make emojis less of a hassle.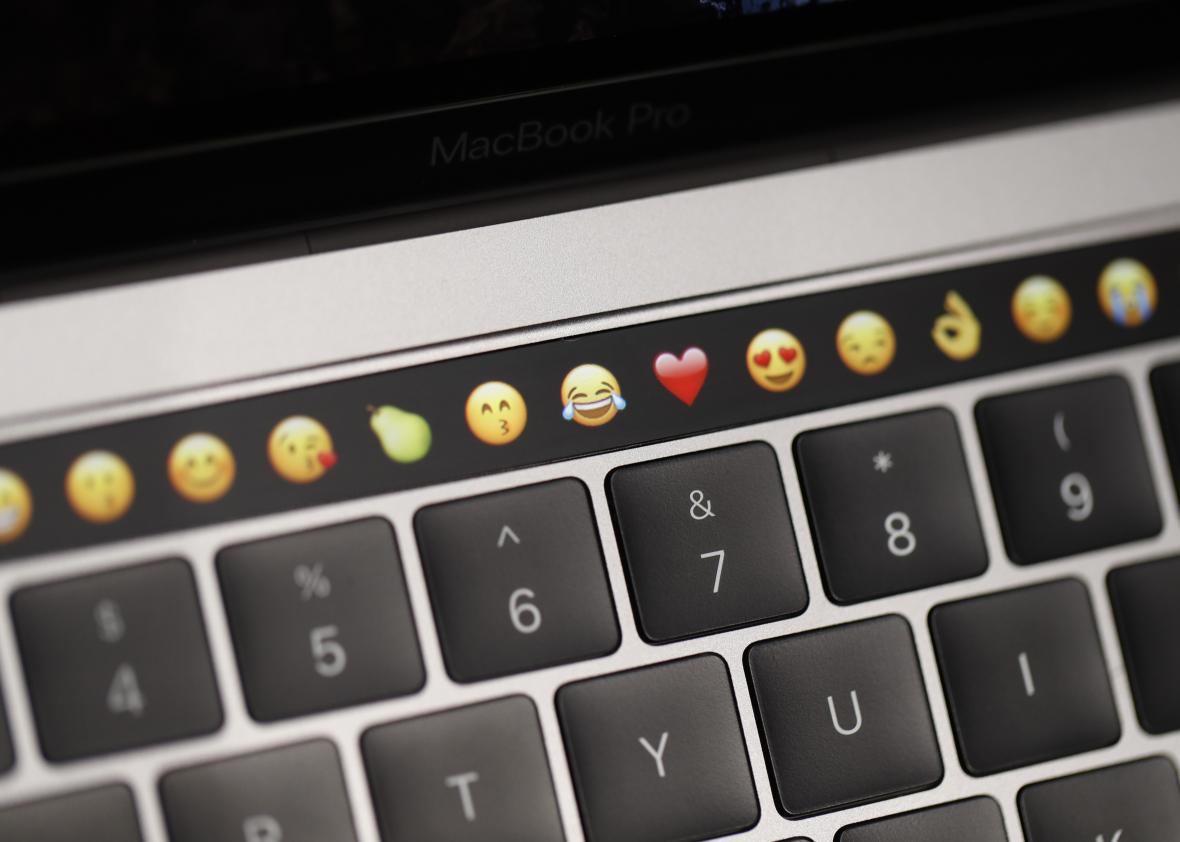 It also bears reiterating that Apple's MacBooks, by and large, have been tremendously successful balancing acts of performance and convenience, and the latest MacBook Pros continue that tradition. Making them thinner, lighter, and more powerful would probably be enough to secure their status as standard-bearers even without the new frills. Even if it weren't, it's hard to imagine too many MacOS users switching to a Windows PC at this point.
Still, the event left a nagging feeling that Apple could have done more to rethink the laptop, especially given all the time it's had since the last time it built new MacBooks from the ground up. In recent years, Microsoft has given us a tablet that works like a PC, a PC that transforms into a tablet, and most recently, an enormous desktop PC with a 28-inch touchscreen that pivots to a 20-degree angle, like a luminous drafting table.
Compared with all that, Apple's Touch Panel feels like a tentative half-step, a somewhat awkward grafting of touch technology onto a legacy device. Funny, isn't it, how roles can reverse depending on who's the underdog?