Every summer for the past 15 years, Paris has closed a portion of its central riverbank highway to cars. For six weeks, the Georges Pompidou Expressway is transformed into a temporary waterfront park. There's no swimming in the Seine or topless sunbathing—so it's not your classic French beach experience—but there are deck chairs, games, food stands, and of course, tracts of sand. To invert the '68 student slogan: On top of the paving stones, the beach!
That initiative has served, over the sleepy summer months, as a kind of test case of what it might look like for the French capital to lose two lanes of highway that motorists consider indispensable.
This month, Paris begins a six-month experiment to do just that: Close the 50-year-old expressway. The Right Bank road will function as a riverfront greenway for pedestrians, joggers, cyclists, and other activities. Barring a resulting Parisian traffic apocalypse, Mayor Anne Hidalgo hopes the closure will become permanent. (The city pedestrianized its Left Bank equivalent in 2013.)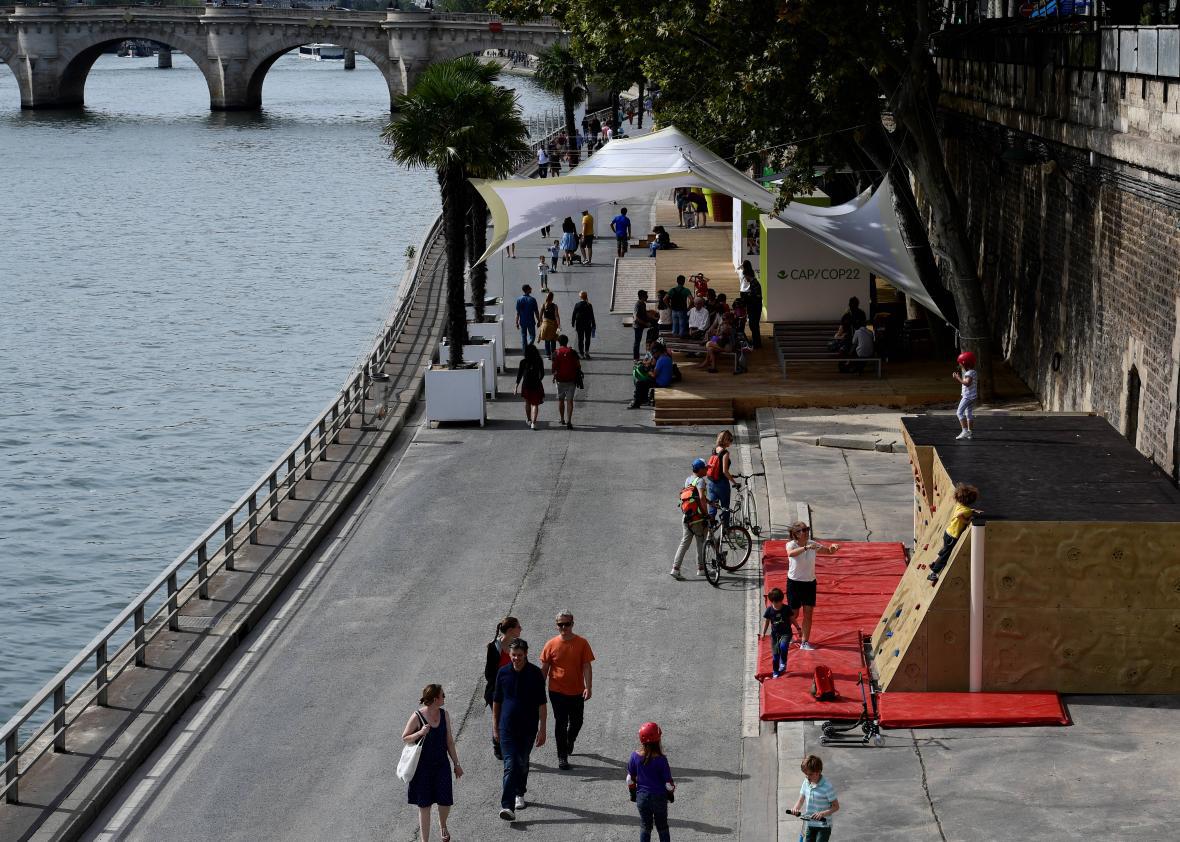 It's part of an ambitious plan to reduce vehicle usage in central Paris. The proportion of Parisians without a car has grown from 40 percent in 2001 to 60 percent today. To reduce pollution, cars manufactured before 1997 are banned from the city during the weekday. By 2020, Hidalgo wants to limit key thoroughfares like the Champs-Elysées to hybrid and electric vehicles. Last fall, she introduced the city's first Day Without Cars, for which vast swaths of the city were closed to traffic.
With its highway closure, Paris follows in the footsteps of U.S. cities like San Francisco, Boston, and Milwaukee that have converted midcentury highways back to surface streets, buildings, and public space. But it goes way further.
The real reason the project matters, though, is that it marks a tangible and likely brief juncture between Paris as a city where Life Sans Cars seems impossible and a city where Life Sans Cars seems inevitable.
The same thing is happening in London, where the ratio of cars to bicycles entering the central business district has fallen from 11-to-1 in 2000 to 2-to-1 in 2014. If trends continue, more people will be biking into central London than driving by 2019.
Sounds nice. For the rest of us, Paris and London are quickly moving from being cities we feel we can emulate toward cities whose policies seem hopelessly out of reach.
Until recently, they were the car-choked peers of cities in the U.S., South America, Africa, and East Asia. No region of the world, after all, has more cars per person than Western Europe. France and the U.K. both have more passenger cars per person than the U.S. Soon enough, though, it will be impossible to conceive of either capital in that light.
That's important. When we try to make changes in New York, critics say: "This isn't Amsterdam." It's a curt and effective dismissal of open-minded city planning as a delusional idealism. But Amsterdam, like most American cities, was subject to a program of car-crazed urban renewal that obliterated entire neighborhoods. Yet today, as a model, it seems laughably out of reach.
We can't let Paris and London get there. What began, in Paris, with a highway closed on Sundays—not so different from New York's Summer Streets, Los Angeles' Ciclovia, or Chicago's Bike the Drive—has evolved in 20 years into a full shutdown of four highway lanes that will open up acres of new public space at the heart of the densest city in the west. American cities should try to keep pace.