New Yorkers have the longest commutes in the nation, according to U.S. Census data released this month. That's true both within New York City, where the average commute is more than 40 minutes, and in the metro area at large, where the average commute is 36 minutes. That's a big drain on quality of life and economic productivity, not to mention a strain on the region's infrastructure and environment.
So you'd think that if you were spending $1.6 billion on a new train station for some 260,000 daily passengers, your No. 1 priority would probably be making sure that its location and design helped shorten commutes—or at the very least, didn't make them any longer.
Unfortunately, that doesn't seem to have been a design priority in New York Gov. Andrew Cuomo's approval of the Moynihan Train Hall, announced on Tuesday at a luncheon in Manhattan. This long-awaited extension of Penn Station, to be built in a converted post office on Manhattan's West Side, offers a connection to the New York subway that is decidedly inferior to that of its much-maligned neighbor.
Here's a rule for building multibillion-dollar transit hubs: Make sure they offer more, not fewer, travel connections than their predecessors. And make sure those connections get better, not worse.
It's a rule that's being broken in the rebuilding of two of Manhattan's three busiest commuter facilities: the new Penn Station annex and the Port Authority Bus Terminal.
The Moynihan Train Hall will be almost a quarter-mile from the busier of Penn Station's two subway stops, on 7th Avenue, and almost a half-mile from the city's third busiest subway stop at Herald Square, which travelers also use to access the hub. The distance between the proposed annex and the subway has been acknowledged before. Former Amtrak President David Gunn, for example, always had this beef with the location, as he explained to the New York Observer in 2013. "From a transportation point of view, it makes no sense."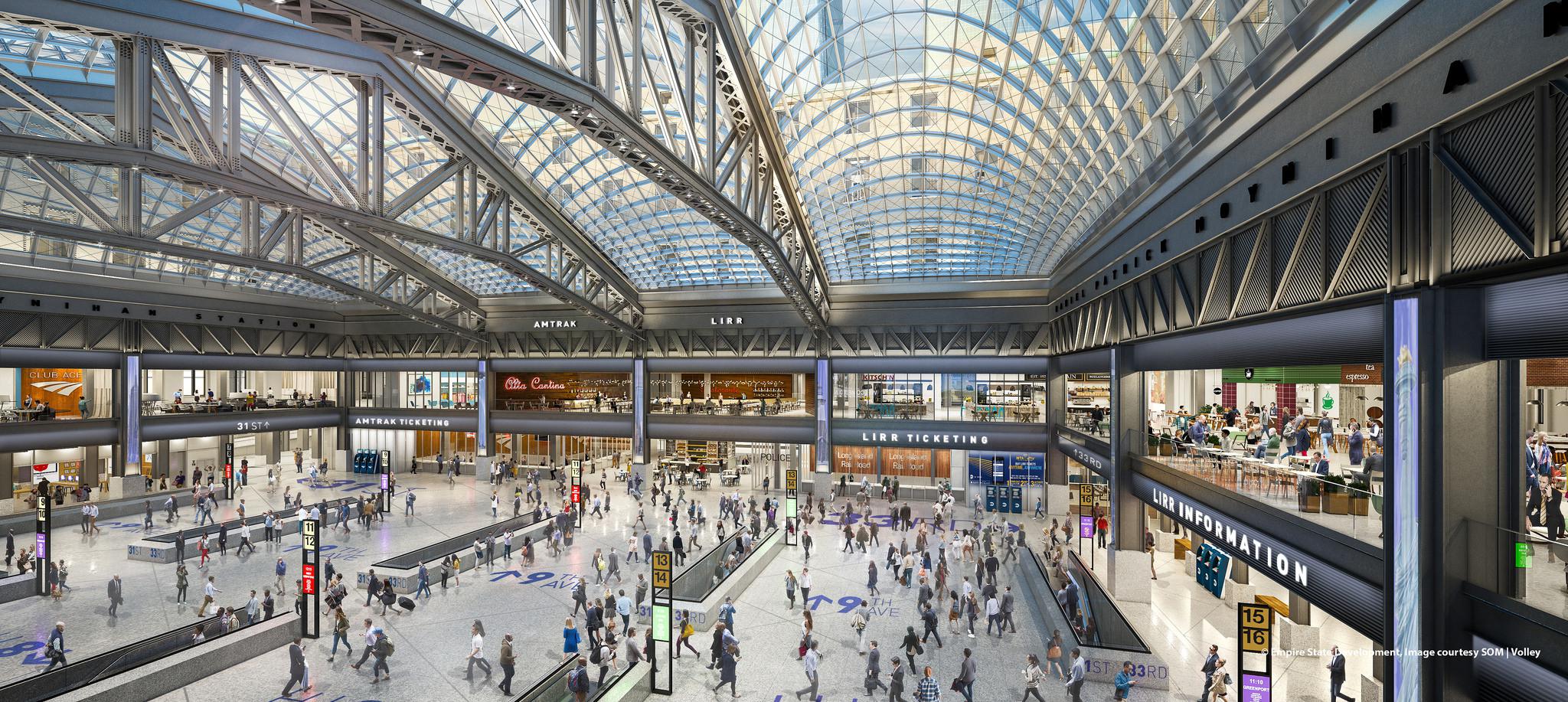 When it's done in 2020, the station will welcome passengers for Amtrak (30,000 a day) and the Long Island Railroad (230,000 a day) to a grand hall beneath skylights in the old post office courtyard, designed (in these renderings, at least) by Skidmore Owings and Merrill. Riders will ascend from platforms into a station with 50 percent more floor space than the current Penn Station, and one that looks to be much more pleasant. If it's an improved customer experience that the station promises, though, I'm not sure how many travelers will benefit.
For arriving passengers heading toward Midtown on foot or into the subway, the current Penn Station will still be a much more convenient point of access. It may be a rat warren, but as the rats always say: location, location, location.
It seems like nitpicking, I know. After all, the new hall will still be adjacent to one subway line—isn't that good enough? Well, sure. But two was certainly better.
It's New York's problem, but let it be a lesson to other cities contemplating mass transit improvements: The people in power like to take taxi cabs, and that's how they see things.
There are two reasons that boosters like the Farley Post Office conversion so much, and neither has to do with what commuters need from a train station. The first is that it offers a glamorous venue for shopping, like Santiago Calatrava's $4 billion "train station" in Lower Manhattan. Previous plans had fallen apart because the developers didn't think retail would pencil out. Apparently, they have changed their minds.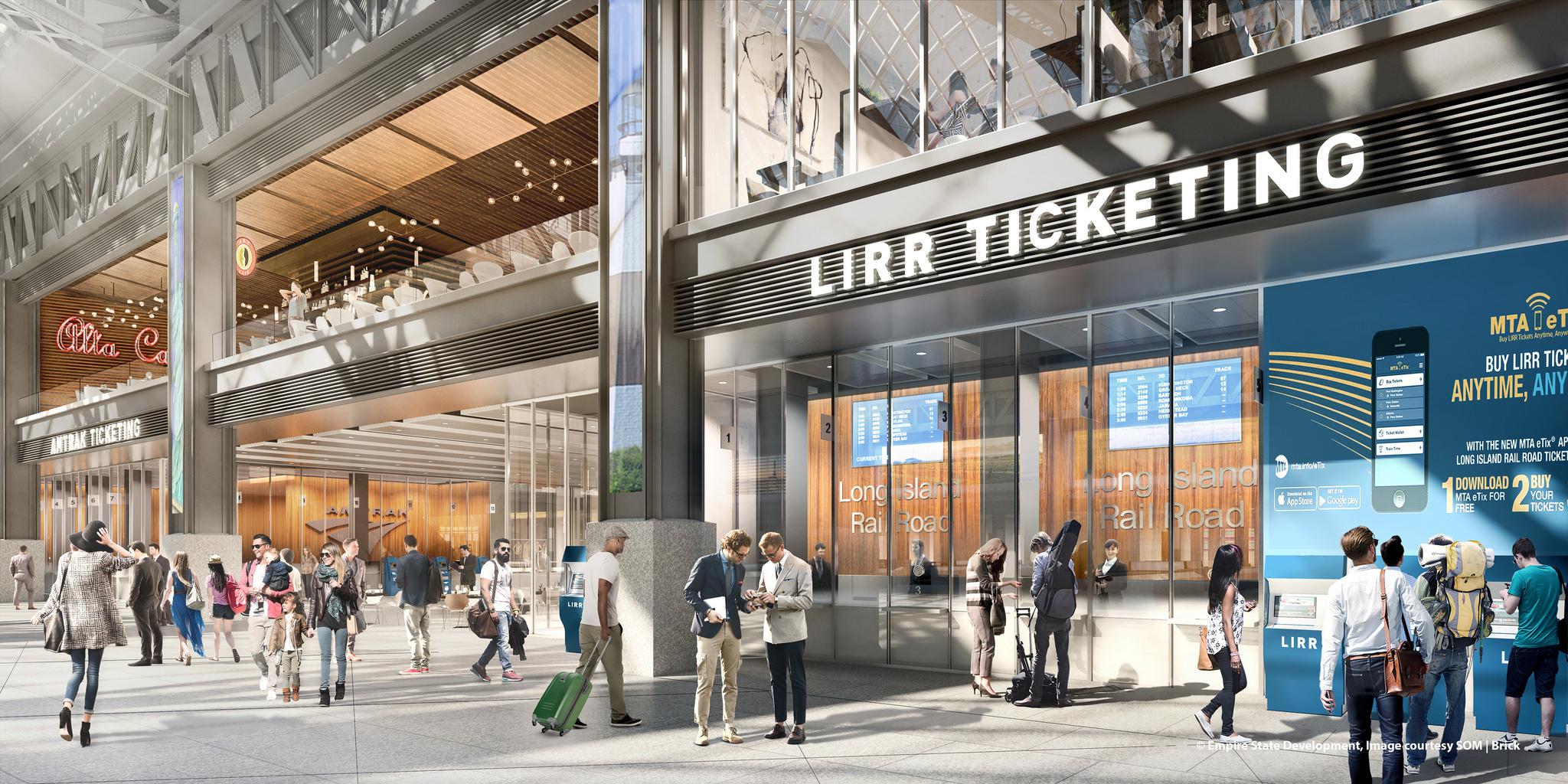 The second was alluded to by Cuomo in his slides: to "extend New York's premier transit hub to 9th Avenue and the door step of the newly developing Far West Side." (This is the 50-year dream of New York's rulers—to push Midtown to the west.) That's great news for Hudson Yards, the west-side megaproject whose lead developer is also in charge of the new train hall. The country's largest private real estate development now sits a little closer to the country's largest train station.*
But back to the original issue: This train station has worse subway access than the old one. That's not good. And worryingly, it's a mistake that's being repeated in the plans for the Port Authority Bus Terminal a few blocks north.
That facility, which carries 230,000 bus passengers a day, is conveniently located on top of a subway station. But it needs to be rebuilt. And the final proposals in the Port Authority design competition have the site moving west, away from the subway.
Which finally brings us back to New York's long commuting times. They are the longest in the country because New York is the biggest metropolitan area in the country. But they are also long because of mistakes and missed opportunities in transit planning that add a minute here, a minute there, to the region's transit-dependent workforce.
Every other city builds subway lines to connect to transit hubs. New York is moving transit hubs away from subway lines. The minutes add up.
*Correction, Sept. 29, 2016: Due to a New Yorker's aggrandized sense of his hometown, this post originally categorized Hudson Yards and Penn Station as, respectively, the largest private development and train station in the world. They are the largest in the U.S.