This article was reported in partnership with the Investigative Fund at the Nation Institute.
It wouldn't be the Olympics without the biennial onslaught of Swooshes, and 2016 was no different. Nike, its logo, and its sponsored athletes were ubiquitous at the Rio Games, as were its inspiring ads, like the heavily broadcast "Da Da Ding" spot featuring female athletes of color.
Just as Nike has worked hard in recent years to elevate the status of women on the field and court, it's been successful doing the same in the world of global philanthropy. Ever since the Nike Foundation launched the "Girl Effect" campaign in 2008—arguing that empowering and preparing girls to work is the key to lifting the developing world out of destitution—the company has left its brand all over the global anti-poverty field. The idea: that liberating girls from oppressive social norms and cultures, keeping them healthy and in school, will unleash their earning potential and "break the cycle of global poverty."
Many of the world's most powerful anti-poverty agencies and policymakers have embraced these ideals, including UNICEF, USAID, the World Bank, the World Economic Forum, and the Clinton Global Initiative. Prominent women's rights advocates and rescue organizations—among them Half the Sky, the Bill and Melinda Gates Foundation, Oprah Winfrey, President Barack and first lady Michelle Obama, and the president's U.S. ambassador for global women's issues, Melanne Verveer—have been proponents of the Girl Effect as well.
Nike didn't invent the idea that tapping into the earning potential and selfless spending patterns of impoverished women can ignite economic development. It's been promoted by the World Bank and other international development organizations since the 1980s; before that, attention to girls was substantially absent in global development efforts. But by coining and investing in the Girl Effect, the Nike Foundation, the company's philanthropic arm, "gave it authority and made it catchy," says Kathryn Moeller, an assistant professor of gender and women's studies at the University of Wisconsin–Madison, who is writing a book about the Girl Effect. "Without them, we wouldn't hear poverty and development experts talking all the time about the importance of prioritizing girls in development."
The Girl Effect was born amid an urgent PR crisis two decades ago, when Vietnamese Nike workers spoke to labor advocates and journalists about being routinely beaten by their managers; dozens of other news stories exposed negative working conditions in overseas factories making products for Nike. Under public pressure to take responsibility for its supply chain, then-CEO Phil Knight admitted that the company had become "synonymous with slave wages, forced overtime, and arbitrary abuse." He promised to not only transform Nike's supply chain but to lead the entire apparel industry into a new era of corporate social responsibility. Soon after, Nike employed two women, Maria Eitel and Hannah Jones, to overhaul the company's image. Both had extensive media experience; Eitel had served as a media adviser to President George H.W. Bush.
The for-profit company has invested millions in the Nike Foundation and its Girl Effect campaign, led by Eitel, who is president and CEO of the Nike Foundation. The campaign had early seed funding from the NoVo Foundation as well as support from the United Nations Foundation and the United Kingdom. (The Girl Effect was spun off into its own organization in 2015, with Eitel as its chairwoman.) Today Nike's profits, brand value, and corporate responsibility image are all in top-form.
But what effect has the Girl Effect had on Nike's own supply chain? Of the estimated million-plus workers who cut, stitch, sew, glue, label, and package shoes, sports fashion, and collegiate apparel for Nike contractors (including for Nike brands Converse and Hurley), almost a third work in Vietnam, the single largest host to Nike manufacturing in the world. With at least 75 contracted factories there, Nike is a major driver of employment in the country. About 80 percent of workers in Nike's Vietnam factories are women and girls; some may be as young as 16, the minimum age for certain factory work in Nike's Code of Conduct. Many migrate from poor rural areas in the central and northern provinces of the country to industrial parks in the south. According to Nike, they are often "the first women in their family to work in the formal economy."
Over four weeks in January, I interviewed 18 women, 23 to 55 years old, who currently or recently produced, labeled, and packaged Nike shoes and apparel at five different factories within 30 miles of Ho Chi Minh City, Vietnam. These plants are listed on Nike's site as employing more than 61,000 female line workers, and Nike sends inspectors to the sites to monitor working conditions and compliance with the company's Code of Conduct. Nike wouldn't put me in touch with employees of its contract factories, so I contacted an underground workers' rights organization and an independent researcher who specializes in women's issues. The women they introduced me to live in squalid conditions near the factories, where they mostly share single rooms with two to five family members. Joined by translators, I visited their homes, met some of their daughters and families, listened to their stories, and collected documents including company policies and pay slips.
Although they may be unfamiliar with Nike's global campaign, the goal of the women I spoke with sounds a lot like the Girl Effect—to raise themselves and their families out of poverty. Each of the 18 women, however, reported pay so low they could not even meet the basic needs of their families, let alone save money or contribute to their communities. (Four had been laid off less than three months before we met, after their factory building burnt down; they spoke only about their wages and child care, cautious of giving critiques that might jeopardize their chances of getting hired back.) They told me that they would need to earn between three to four times their current salaries to offer their families a basic level of economic security. The average monthly wage for manufacturing in Vietnam was $200 in 2015. Their stories highlighted something the Girl Effect campaign is silent about: the importance of a living wage.
I also found evidence that Nike's contract factories breach basic Girl Effect tenets of freedom from exploitation and harassment, security, safety, and Nike's own Code of Conduct, put in place to prohibit, among other things, harassment, abuse, and nonconsensual overtime. Women who worked in different factories told remarkably similar stories of being subjected to arbitrary punishments—such as financial penalties and threats of dismissal for making manufacturing mistakes, not working quickly enough, or coming in late, along with intimidation and ongoing humiliation by managers.
Finally, although the Girl Effect champions the importance of women protecting and empowering their own children, the women in Vietnam explained to me why their low wages make it impossible for them to ensure their children's safety. The 10 mothers with young children whom I spoke with either send their children to unlicensed child care services they consider underqualified or dangerous or they leave them with family in home villages they are able to visit only once or twice a year.
Nike's talk of empowerment notwithstanding, these women feel helpless in the face of these conditions. "We have voices," a 32-year-old pregnant worker, who receives a small hazardous work bonus for her work in the gluing section and fears the effects of chemicals on her unborn baby, told me. "But we can't really speak."
* * *
"We all have a part to play in ending violence against girls and women," Eitel told a roomful of development professionals and women's rights advocates at the 2014 Girl Summit in London. It's an idea she repeats in speeches around the globe, and it's one of the Girl Effect's signature causes: that "[g]irls can't succeed when they live in fear" and that "ending violence against girls is the first step to ending global poverty."
Of the 14 women I interviewed who are currently employed, 11 reported excessively high work pressure, frequent or occasional humiliation, insults, threats, intimidation, harassment, and abuse by their managers. Their managers, these women told me, call them stupid, shout at them, and threaten to have them fired if they complain about the work pressure or low pay.
On an early evening in mid-January, I sat with four workers from a Nike contract factory owned by the corporation Ching Luh , based in an industrial park in the rural district of Ben Luc. Three of them told me they had seen different managers throw shoes at workers, and one of them said she witnessed a manager "grab the nose" of a worker and threatened to slap her if she filed a complaint; the same worker also claimed her manager has called her a "di cho," the Vietnamese curse equivalent to bitch or whore. They also said they felt constantly watched by company cameras (which they believed were there to deter workers from stealing from the company or organizing protests or strikes). One woman broke down in tears discussing her manager. "They're just so mean," she said. "'You're an adult, make people respect you!'" she said managers will yell at her. She said that the response to complaints was to "only make your life harder and try to make you quiet."
The women I met with are not the first to level such critiques at Nike. Scott Nova, director of the Worker Rights Consortium, a Washington, D.C.–based nonprofit that conducts global investigations of working conditions in apparel factories, wasn't surprised by what I'd heard. He told me that "these kinds of abuses are unfortunately typical of working conditions in the Vietnamese supply chains of major Western brands and retailers. They're not limited to Nike." Nova said that "in particular, relentless and abusive pressure on workers to speed production is commonplace, as is forced overtime in violation of national law."
One factory near Ho Chi Minh City—Hansae Vietnam, a Nike supplier—stood out to him. There, he said, a WRC investigation "found some of the most egregious abuses we have seen in any of our investigations around the world: Workers routinely collapsing unconscious at their work stations from overwork and excessive heat, then being forced to return to work minutes after waking up; managers hurling epithets, often vulgar, at the mainly female workforce; absurd work rules, like a ban on yawning; the routine firing of pregnant workers; harassing workers for using the bathroom, including photographing them when they enter and exit; illegal overtime requirements that were not waived even for a worker who needed to attend a family funeral." The WRC sought access to Hansae Vietnam last year as part of its investigation, but Nike denied the request for nine months. In July of this year, two months after the WRC issued a public report about the factory based on offsite worker interviews, Nike agreed to facilitate access, according to communications from Nike and the WRC.
During my first week in Vietnam, I met a 26-year-old woman whom I'll call Lan, along with her mother and two older sisters. (All the women I met asked that I protect their identities because they feared termination or reprisal by their employers.) All four women make Nike shoes, at two factories owned by different firms —Pou Chen and Tae Kwang Vina—about 20 miles east of Ho Chi Minh City. We sat on the floor of the room she shares with her parents, and Lan reflected on her first year making shoes at Tae Kwang Vina, eight years ago. "They would shout at me all the time to make me work harder," she said. " 'Where's your brain? Are you stupid?' " One time, she said, her manager "was so unhappy with my work that she threw a shoe in my face, in front of all the others. … I cried so much those first months," she said. The early months are the toughest, the women told me, because they have to get used to the work. "It's the reason why some workers quit after a few months," said Lan's mother. "They just can't take the constant fear for what happens if they make a mistake or don't work fast enough."
Lan's sisters, who have been making shoes a few miles away for Pou Chen for seven and eight years, respectively, said they fear wage penalties levied on workers who make an error.
The majority of the women I interviewed told me that sitting down or making a manufacturing mistake can incur effective wage penalties, from losing their monthly attendance, productivity, or "diligence" bonuses (the latter are generally about $9 a month) to a six-month suspension of scheduled raises. While Vietnam's labor code allows for some of these penalties including the delays in wage increases, the Fair Labor Association, an international nongovernmental organization by which Nike is accredited, forbids them. It considers the penalties "a serious harm for workers' livelihoods."
Penalties differ by factory. Of the 14 working women, only six said they themselves had been disciplined with a monetary fine. Lan's mother was one of them. She told me her manager once made her pay $2.25 out of her own pocket for messing up a shoe.
In some factories, workers said they learned about these penalties from their managers. Pou Chen, however, prints them in a company handbook. The 2015 edition, which I obtained, allows wage penalties for wearing headphones, having a snack on the factory floor, making a manufacturing mistake, lingering around at work after a shift or leaving company premises without an ID card. If any of these are committed twice within three months, the worker's next raise can be delayed by six months.
More serious violations, such as "being rowdy," "gathering for personal talks," "filing complaints to slander others," "fabricating false stories or starting rumors that can cause damage to the company's order or reputation," and exceeding the speed limit on motor bikes on factory grounds, carry the same wage penalty after just one violation. Embezzlement of shoe laces, ID card covers, or other materials, the booklet shows, can result in immediate firing.
Almost every woman I spoke to said that the fear of making a mistake and the risk of monetary penalties were constant sources of anxiety. "We are always worried about breaking the rules," said a Chang Shin worker.
None of them had ever been asked by a Nike inspector, whose visits are usually announced ahead of time to workers, how they liked their job. According to Lan's sister, "They only care about the quality, they never ask us anything."
The Girl Effect, by contrast, encourages systems that help girls feel valued, trusted, and dignified. "It is really remarkable," said Moeller, the professor writing a book about Nike, "that ongoing critiques of the company's abusive labor practices involving poor girls and women have not prevented Nike from convincing government ministers, celebrities, and aid agencies that girls and poor adolescent girls of color have the potential to end poverty and promote development."
In a telling 2008 incident, after 20,000 workers at the Nike shoe factory owned by Ching Luh went on strike for better working conditions, at least seven women were fired for their role in organizing the strike. When the Free Viet Labor Federation, an independent labor advocacy organization now called Viet Labor, urged Nike to help get them reinstated, Nike demurred. "It is important," Charles Brown, then senior director of global corporate responsibility compliance at Nike, responded in a letter, "for workers to understand the boundaries of their legal rights and the rights and obligations of the employer in Vietnam." This includes, he wrote, the right of factories to fire striking workers when they miss five or more days.
* * *
Mai, who glues shoe soles for Ching Luh and was pregnant when we met, says she has faced extra challenges since her pregnancy began. "When you're pregnant, you only have to work seven hours a day," she explained, "but they didn't lower my daily quota, so I have to work extra hard and this is very tough."
Vietnamese law requires employers to reduce daily working hours by an hour for workers who are at least seven months pregnant or to transfer them to lighter work without cutting their pay. But according to Scott Nova, when legal protections reduce hours, this can lead to more, rather than less, work pressure. "Employers often just demand that workers produce the same amount of clothing in less time," he said. Nike has also been among those companies failing to protect pregnant workers from firing. In November 2015, Viet Labor alerted Nike, Puma, Columbia, and Adidas that their supplier Yupoong was laying off dozens of pregnant women. The email exchange between Viet Labor and the brands that followed shows that while Columbia, Puma, and Adidas said, at Viet Labor's urging, that they would ask the factory to postpone the retrenchment of pregnant women, Nike made no such commitment.
The women I met said pregnancy is often only the beginning of additional hardships for them. Once the child is born, finding safe and affordable child care is nearly impossible. Of the 10 mothers with young children I spoke with, six have sent at least one of their children away to family at some point because they couldn't afford quality child care, a situation that allowed these mothers to see those children roughly once a year. Five mothers send at least one child to "family-based day care," run informally by families poorer than the workers themselves. Four of those five said they believe the facilities they use are unsafe, and one wasn't sure.
Both Nike and the Girl Effect's materials acknowledge the importance of child care for working mothers and of parental presence for girls. And in its 2012–13 report, Nike noted that health and child care are concerns for workers in its supply chain and that they are "looking at how we can collaborate with other organizations and factory owners to support workers in their lives." But when I asked how many of its factories now offer child care and about its plans to expand such services, the company wrote me that child care decisions are the responsibility of the factories, which they "encourage" to "engage with their workers to identify and resolve needs."
Lien, a 32-year-old whose job is to check the quality of Nike sneakers for Pou Chen, told me about the issue when I met her and her two daughters in the small, hot room they rent near the factory. She was on maternity leave and was breast-feeding her 40-day-old daughter when I visited her. She told me she was 15 when she left her family in a coastal province to work in Ho Chi Minh to help provide for her parents, both impoverished farmers. After three years in a clothing shop she joined her aunt at the Pou Chen plant.
She met her husband at 23, and the couple's first child, Dung, was sick often. "She coughed all the time," Lien told me. "We just couldn't afford the hospital visits, so I had to send her back to my family," more than 500 miles away. During the next two years, Lien only saw Dung once. "I missed her so much. I cried every night and felt very guilty, but what was I supposed to do?" After two years, when Dung's health was more stable, Lien brought her back. That was five years ago.
But this presented new care challenges. Lien told me that she couldn't use public child care because of her frequent overtime with Pou Chen and that the only option she found was leaving her with a private, unlicensed day care, for two-thirds of her monthly salary at the time. "I was very worried, because I often hear stories of how they slap children and shout at them," Lien said. While all workers I spoke with were familiar with the bad reputations of these centers, Lien had a very personal reason to worry. "One day [in 2013] my aunt came to me in tears," Lien said. The aunt had just received a phone call from her child care providers, who were on their way to the hospital with her 14-month-old baby, who had choked on his lunch. "They could not save him, and he died that same day," Lien remembers. (Lien's aunt confirmed this happened.)
According to Louis Vigneault-Dubois from UNICEF Vietnam, such unlicensed child care facilities have developed due to the booming demand of young internal migrant workers working irregular shifts and overtime. In the past few years, UNICEF has heard of cases of day care accidents and abuses from across the country, he says. While families with older children can access licensed private day care, these typically don't admit children under age 2.
Most mothers I talked to depended on the family-based centers and paid between $45 and $65 per month for their services. One of them, who works for Ching Luh, showed me a bump on her girl's head. "This is how she came back from day care," she said. "I don't even know what happened."
* * *
The Girl Effect centers around the idea that women's access to paid work will build up prosperity for themselves and their families. But the Girl Effect is silent on the question of what constitutes a living wage. And without exception, the women I talked to told me that their wages were far too low for their families to meaningfully improve their lots. Unleashing the Girl Effect appears virtually impossible on the Vietnamese minimum wage, which Nike requires its local suppliers to meet. In the region where the women I met with work, the minimum wage currently stands at $156 per month for a 48-hour workweek.
The pay slips I looked at show that small bonuses, such as a diligence bonus, small housing allowances, and transportation costs, often bump it up to $170 or $180. Of the 18 women I spoke with, 15 made between $170 and $247 per month; two women with 11 and 12 years of experience each at their factories made $270 per month, and one supervisor, who had just started her 14th year at Pou Chen, made $436 a month.
"Workers still have nothing in Vietnam," a 55-year-old who sprays shoe soles at Chang Shin told me. "Our lives are very difficult."
Hao, a mother of three, who has sewn Nike sneakers for Tae Kwang Vina since 2012, earned $170 a month when I met her. Even with her oldest daughter in the care of her parents, the monthly bills for rent and day care combined totaled $144. So she borrows money, and at the risk of being fired for defying company protocol, she sells lottery tickets to co-workers during her breaks.
For Lien, the mother of two who earns $224, the inability to cover more than bare basics for her daughters weighed heavy on her. Rent costs $54 a month, milk and diapers another $90, and other food and groceries $162; and once her youngest daughter goes to day care, she'll spend another estimated $67 for child care. Her mother suffers from back pain and frequently calls on Lien for help with medical bills. Turning her down, Lien told me, feels like failing her family.
For the women I talked to, economic security meant earning enough to raise two children, putting them in reliable child care, and saving a bit of money. When I asked them how much they would have to be making to reach this standard, their answers ranged between $674 and $900 a month. In other words, about three to four times their current wages.
Nike's Sustainable Business and Corporate Responsibility reports of the past 12 years acknowledge that some workers' rights organizations are calling for higher wages and that "some workers feel that they are not fairly compensated in return for their work and this can lead to a lack of morale, low self-esteem and reduced productivity." Nike, in its 2010–11 Sustainable Business Performance Summary, promised to research "the impact of wages on overall quality of life" and to look into what Nike's own "role in wages" might be. But the company position is vague. In a 2010 email to Viet Labor, Hannah Jones, Nike's vice president for what at the time was called sustainable business and innovation—who now sits on the board of directors of the Nike Foundation and has served as a mentor in a Girl Effect project—wrote that there is no accepted definition for a living wage and called it a "complex" debate. "[L]ocal wage-setting is best done by negotiations between workers, labor representatives, the employer, and the government," Jones wrote.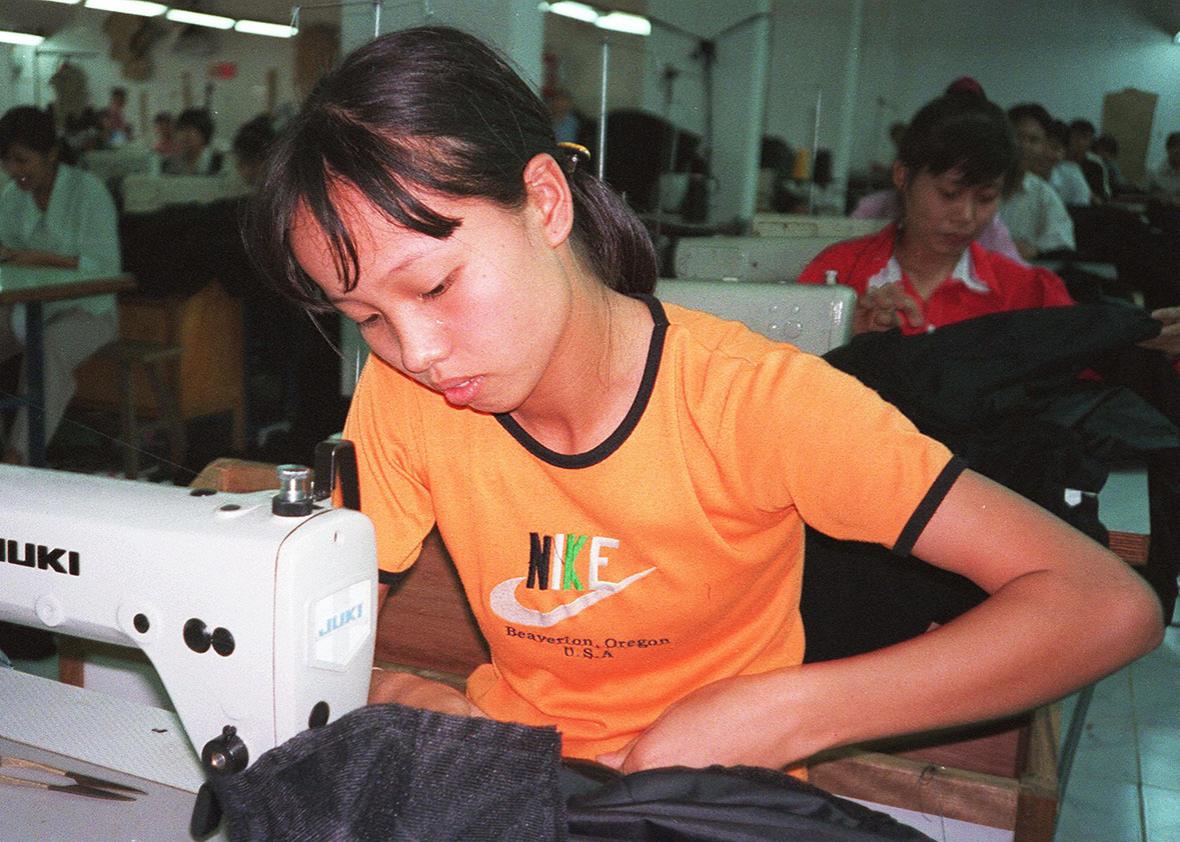 According to Nova, however, "The argument that wages in Vietnam should be set by negotiations involving worker representatives is deeply disingenuous." He points out that such negotiations would likely not favor workers in a country where the only union (which does operate in Nike-affiliated factories) is controlled by the government and where official union leaders are often factory managers. At Hansae, he said, the head of the union is the factory's top human resources manager. "Any wage negotiation at Hansae would, quite literally, involve management negotiating with itself."
Nova also does not buy the argument that failure to address the problem of poverty wages is justified by the "complexity" of the issue. The WRC has developed detailed measures of a living wage for garment workers, based on the cost of food, clothing, housing, transportation, health care, and other services for a typical family. The WRC's figure for Vietnam is lower than what the women suggested but still three times the current minimum wage: $516 a month, or $2.48 per hour, and almost double the earnings of what women with 11 years of experience made.
"Investing in the Girl Effect costs Nike a lot less than it would cost to ensure that the hundreds of thousands of young women and girls employed in Nike's supply chain are paid a living wage," said Tim Connor, a lecturer on corporate and employment law at the University of Newcastle in Australia, who has followed Nike's labor issues for two decades. "But ensuring [that] a living wage is paid to those young women would be a much more effective way of empowering a much a larger number of women."
Two women, from Ching Luh and Chang Shin plants, told me their managers had complained to them about Nike's purchasing rates. According to the managers, the women told me, Nike's prices hadn't kept up with factories' rising costs in materials and wages. Barbara Briggs, associate director of the Institute for Global Labour and Human Rights, uses U.S. Customs data to research U.S. corporations' international production. Her findings, she wrote in an email, support that claim. Comparing data from the first two months of 2015 with the same period this year, she wrote, "We found that the declared value of Nike shoes exported from Vietnam (essentially the price Nike pays) increased from $9.20 to $9.43 per kilogram of shoes—just 2.5 percent compared to an average 9 percent increase in wages—which would certainly put the squeeze on the manufacturers."
For its part, Nike responded with four letters over seven months. The first turned down my request for factory access; the second took issue with the WRC's complaints about lack of access to the factories; and the last two dealt with my findings. With regards to workers' complaints, Nike acknowledged that there is "still work to be done" and "we take your research seriously." It went on to say that "transformation takes time" and partnerships with other stakeholders, such as civil society and researchers. On the Girl Effect, Nike wrote that it continues "to believe in the unique potential of girls." Neither Maria Eitel nor Hannah Jones was available for comment.
I contacted but was not able to reach President Obama's first global ambassador for women's rights, Melanne Verveer, but I had interviewed her on the issue before, and she agreed to the inclusion of those comments. Last year, before my trip to Vietnam, I asked her whether she believed that Nike upholds the Girl Effect standards in its overseas factories and whether the company pays them a living wage. She noted that "there's a real effort [with] many brands involved in significant projects for them to speak up for themselves." But she also acknowledged that, with regard to the factories, "positive steps have to be taken" and that "it's not a perfect world." Overall, she felt that the current conditions were better than nothing. "If you ask these women if they rather work inside [a factory] or outside [at their farms]," she told me, "they will tell you inside."
For Lien, the mother of two, this was certainly true. But she isn't sure whether working inside will be enough to elevate her children. "I hope my daughters will have a better life," she said, "and they won't have to be workers like their mother."