Just when we were all set to consign the 21st-century American streetcar to the scrap heap, Kansas City comes along and injects a sliver of uncertainty into the debate.
Streetcars have been popping up all over the U.S. in the past couple decades, in cities like Salt Lake City, Tampa, Atlanta, and Washington, D.C. Critics say they're badly designed as short spurs of track, with streetcars stuck in traffic, and shoddily managed, with poor service that discourages riders from the get-go.
The proof has been in the ridership. Salt Lake's S-Line counted about 1,000 passengers per day along its two-mile route in 2015. Atlanta's 2.7-mile streetcar was counting just 1,000 riders a day during the first months of 2016. In June, Tampa's TECO line counted just 600 passengers a day!
And then there is the new streetcar route in Kansas City, Missouri, which is getting 6,660 riders a day over the first three months of operation—and rising. Total ridership is 550,000 riders in just 84 days of operation. That's an order of magnitude above its counterparts in Atlanta and Salt Lake City, and more than double ridership on the H Street Streetcar in D.C., which runs in a densely populated urban area.
Per mile, Kansas City ridership is double Phoenix's exemplary, set-apart light rail, and on par with the Los Angeles Blue Line, one of the country's most successful transit projects of the past few decades.
This is … surprising. Kansas City's streetcar runs in traffic, so it can't save riders any time over driving. It runs in a downtown whose residential population was just 20,000 at the time of the 2010 census. And—here's the craziest part—there are more than 12,000 off-street parking spots within one block of its route. That doesn't count on-street parking, or parking that might be two or three block away. And there's a lot of that too, as this map of the streetcar's central section attests.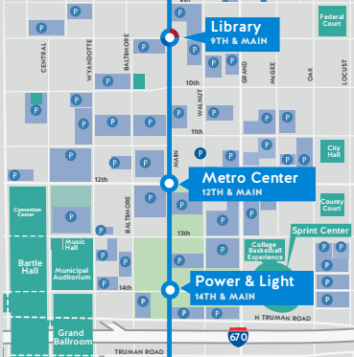 All that said: It's been a runaway success.
Time to revisit the in-traffic streetcar as an effective way to move people around the city? Not just yet. The KC Streetcar is definitely benefiting from a novelty boost in a city that hasn't had rail transit in half a century. The warm weather is also pumping up the numbers—June, July, and August were the best months for the Atlanta Streetcar last year, which peaked in July.
Finally, the KC Streetcar is free. Unlike Atlanta, which saw ridership drop when a $1 fare was implemented at the start of this year, KC has no plans to charge riders. But that makes it tough to compare with similar operations elsewhere, which must take in revenue at the farebox to support operating costs. (In a way, riders are paying for the streetcar anyway, via a 1 cent sales tax within the "Transit Development District" around the line. Property owners are also paying a small special assessment.)
Rail boosters in KC don't want to wait and see if the starter line's popularity holds—they've already got plans ready for a second phase. Best to strike while the rail is hot.