Why is the rent so high in America? It's not so complicated: In many of the cities where people most want to live, there aren't enough homes. The share of Americans who rent is at a 50-year high, and the housing stock hasn't kept up. More than 21 million Americans are "rent-burdened," paying more than 30 percent of their income in rent. The long-term solution, as most tenants have come to realize, is building more, bigger buildings—as well as correcting policy bias toward homeownership and enforcing stronger protections for tenants. But in the short term, there's an easy way to ease some of the pain: revising the patchwork of laws that dictate who may inhabit existing buildings, and how.
In Boulder, Colorado, for example, the code says that no more than three or four unrelated adults (depending on the neighborhood) can share a unit, no matter if it's a studio apartment or a 10-bedroom house. Distinct from overcrowding laws that regulate the amount of space per person, the occupancy law is a widespread modern policy of social preference, not of public health or safety. In Boulder, as elsewhere, it is widely flouted and seldom enforced. It didn't stop Emily Sigman and Steven Winter from renting a seven-bedroom house in Boulder four years ago, knowing that they would need help paying the rent.
Their house eventually sheltered more than a half-dozen people, and they called it Picklebric, a portmanteau derived from one housemate's pickling operation and Winter's conception of the place as bricolage, a term for art composed of found objects (their roommates, a piano from the 1893 World's Fair, a backyard fence built from chicken wire and firewood). For years, it served as a kind of local model for how a group of young people could adapt a single-family home into a respectable cooperative—and, more broadly, a paragon of how a generation struggling with high rents and student debt could adapt to inhabit America's ubiquitous, unchanging architecture of single-family neighborhoods.
"You couldn't get an affordable place in Boulder unless you wanted to break the law," Sigman says. Overoccupied housing is commonplace in Boulder, a university town of 100,000 people, and the couple filled the house with young men and women who would come in time to feel like family. But, of course, family is a legal term. And this spring, by publicly advocating to change Boulder's occupancy ordinance to permit a house like theirs, they wound up laying the ground for their own ouster.
The issue is present not just in Boulder, but in high-cost cities across the country. Even where illegal housing arrangements are tolerated, they put tenants at the mercy of landlords; make truly dangerous overcrowding harder to single out; and leave a whole class of people feeling distrustful of neighbors, and even wary of the police. Complaints by neighborhood associations about "mini-dorms" go back decades. But the problem has grown more acute in recent years, as rents have gone through the roof.
Boulder has grappled for years with growing pains over zoning, development, and growth. The median home price has gone up 60 percent in five years, creating a windfall for current homeowners and despair for prospective buyers. Yet there are signs that the old guard—slow-growth homeowners who moved here decades ago—is losing power to a movement that aims to make it easier for newcomers to settle in Boulder. In November, for example, a pair of anti-growth ballot initiatives failed to get even 40 percent of the vote. "This is a fundamental political realignment in Boulder," Will Toor, a former mayor who opposed the measures, said at the time.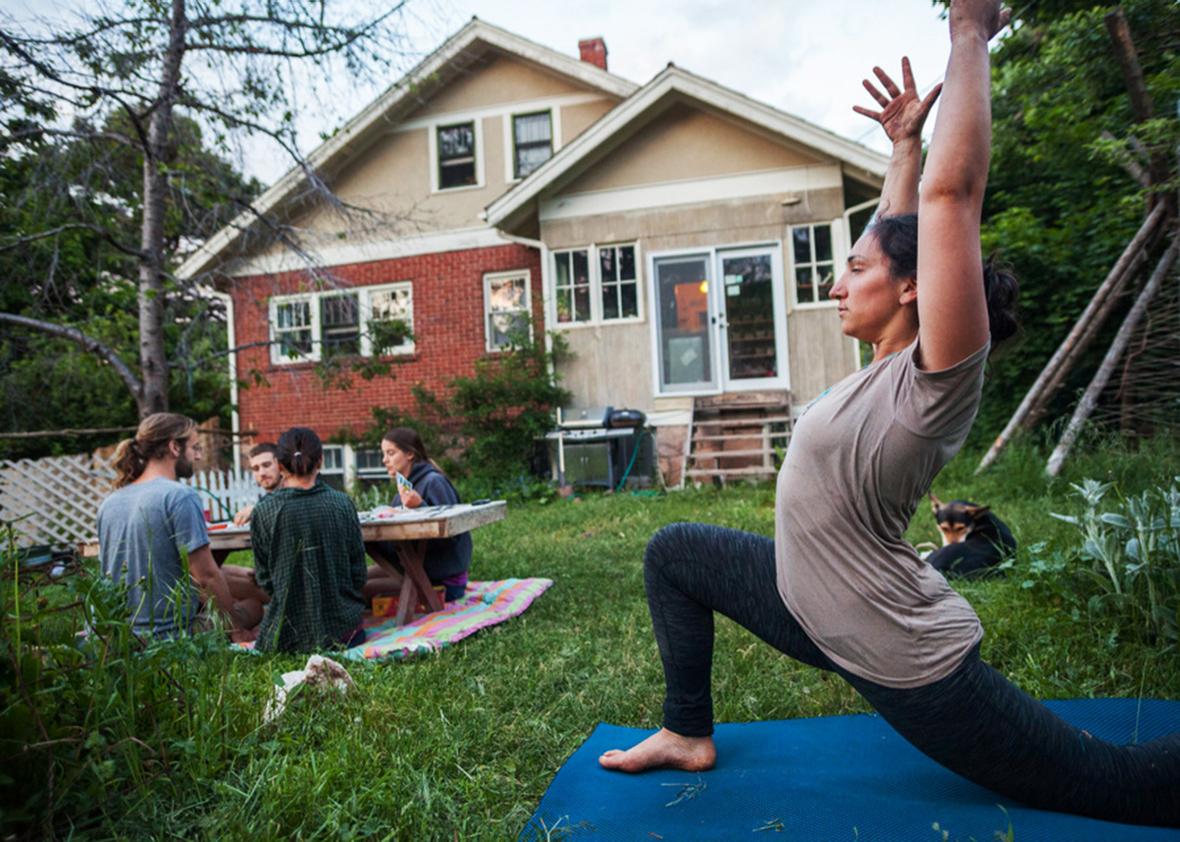 At the same time, the city vacillated on overoccupied housing. The City Council opted to step up enforcement on overoccupied buildings just a week after the vote, hiking fines on tenants and requiring landlords to list maximum occupancy in advertisements. Then the city's co-ops were given a reprieve, while officials waited for the council to create a legal framework for shared housing. "We've purposely not enforced because overoccupancy serves a purpose," City Attorney Tom Carr told the Daily Camera.
This spring, as momentum built for a new framework for shared housing, Sigman, Winter, and their housemates turned out to community meetings to introduce themselves and build support for the measure. Instead, their activism wound up spooking their neighbors, who, the housemates told me, put pressure on their landlord, who decided not to renew their lease. According to the Camera, those neighbors threatened to report the landlord, who declined my interview request, to the city. An accord the tenants described as "don't ask, don't tell"—as long as there were no issues with the neighbors—had fallen apart as they publicly pushed their cause.
Last Monday—after a public battle in the daily newspaper op-ed page over what constituted inappropriate behavior (angry neighbors' examples included the promotion of dumpster diving, weeds, out-of-season string lights, and drinking wine straight out of the bottle)—Picklebric was out.
* * *
Sigman and Winter, who were married in July, recall their years at Picklebric as a kind of paradise of good health and good feeling. The pair moved to Boulder in 2012, as Sigman was recovering from treatment for ovarian cancer. She had grown up in the Front Range, and wanted to be close to home. With the medications she was on, she didn't want to drive. Boulder seemed like a good place to recover.
It was, and she did. Another roommate, after breaking his leg, was put up in a comfortable downtown hotel by his parents but returned to the house after one night. With so many helping hands, it was an easier place to recuperate.
They thought of themselves as family, and did their best to foster that sense of community beyond their yard. In their relations with their neighbors, the two personified the nearly gratuitous neighborliness of Ned Flanders.
The couple had contemplated moving east for a while. Sigman had been offered a fellowship at the Yale Forestry School but deferred, and deferred, because it was hard to tear herself away from Boulder and Picklebric. But after a while, it began to wear. "There was a pull, but there was also a push," she says. "It's exhausting living illegally. It's hard to live day to day when you could lose all of that at any moment." Still they wanted the place to live on, and transferred the master lease to another roommate in preparation for their departure.
It didn't turn out that way. "It didn't matter that we shoveled out our sidewalks and our neighbors' sidewalks every time it snowed, it didn't matter that we baked people cookies, or limited our number of vehicles to three so they wouldn't clog up the street," Winter says. In the end, fear of what might come next outweighed the favor they had won. Ned Flanders wasn't good enough for neighbors who wanted Norman Rockwell.
* * *
It wasn't a question of whether the house was properly managed, anyway, neighbor Steven Meier wrote in the Camera, so much as the sheer number of people:
High-density boarding houses are simply incompatible with single-family residential neighborhoods. Nobody cares whether the occupants of the over-occupied boarding house have democratic meetings or are ruled by an authoritarian matriarch. The problem is the number of people per square yard, the temporary nature of most of the occupants, and the hostel/airbnb-like operation, that is most troubling to the neighbors.
That's the same argument that pro-growth advocates like Eric Budd, who works with Better Boulder and the Boulder Community Housing Coalition, hear about new construction at large. "A lot of the neighborhood pushback is about increasing the density in any way," he observes. Meier's concerns are echoed by single-family homeowners in countless cities where high rents and the limits of the housing stock have forced tenants—a generation of young people and immigrants—into larger, underused homes ill-suited (or too expensive) for America's shrinking families.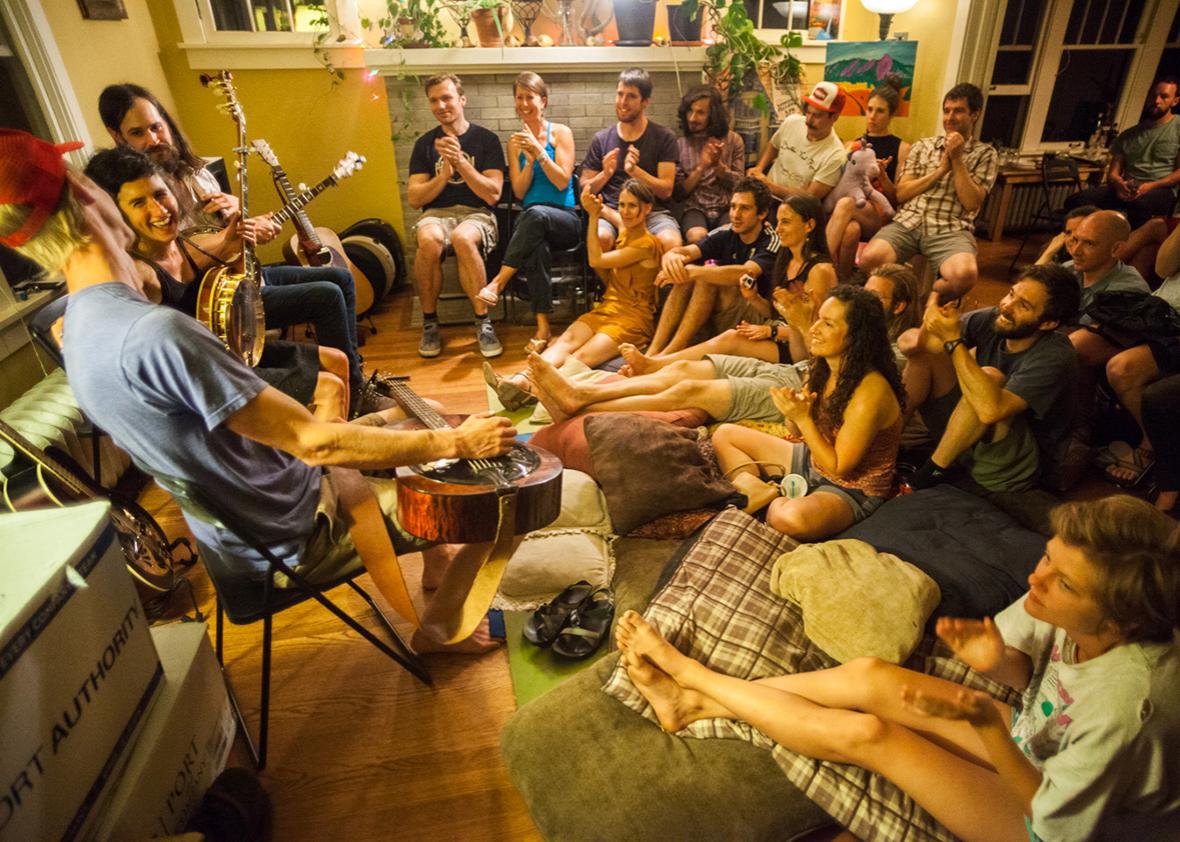 In 2008, the American Community Survey estimated there were more than 60,000 people living in violation of that code in New York, which prohibits more than four unrelated adults living in one unit. The real number is almost certainly much, much higher. The Citizens Housing Planning Council, a local nonprofit, estimates that 750,000 New Yorkers live with unrelated adults.
The violations also persist in cheaper cities, like Austin, Texas, where a 2014 study suggested more than 10,000 residents might be exceeding the occupancy limit in single-family homes. The city lowered its occupancy limit from six to four adults in new houses that year, a change that was made permanent in March. Such restrictions come up again and again in college towns like Bloomington, Indiana, and Amherst, Massachusetts. Overoccupied housing can no longer be characterized as an issue about college students. But the problem it presents to homeowners yearning for a neighborhood of nuclear families persists, even if beer pong and loud music don't.
The Supreme Court upheld the constitutionality of occupancy-limit ordinances in the 1973 decision Village of Belle Terre v. Boraas. Creating a quiet neighborhood was a permissible goal of the state, the court ruled. "Zoning officials properly concern themselves with the uses of land—with, for example, the number and kind of dwellings," wrote Thurgood Marshall in dissent. "But zoning authorities cannot validly consider who those persons are, what they believe, or how they choose to live."
In Boulder, most advocates agree that co-ops, which the Boulder Community Housing Coalition defines as a "community of people who share a dwelling and operate as a single housekeeping unit," make up only a tiny percentage of the city's overoccupied housing. (Most are more loosely organized clusters of tenants who can't afford a space of their own.) Co-op members are the most vocal and the most organized of Boulder's illegally housed population. That's why there's a citywide moratorium on enforcement against co-ops, and why housing advocates have poured their political energy into a carve-out exemption for co-ops. But legalizing co-ops won't do much for the city's other illegal tenants, especially if it's part of a bargain that renews enforcement on other illegally occupied residences. Most co-op residents envision an end to occupancy laws as a second step. But that's a big political hurdle: Sometimes, as the case of Picklebric demonstrates, it's social opposition—as much as law enforcement—that keeps shared housing on the back foot.
As for Picklebric? Its founders are gone, but somewhere in Boulder, the tenants who schlepped their belongings out of the house last week have begun the experiment again in a new house. And a neighbor has already left an anonymous overoccupancy complaint with the city.