New York City is unquestionably a bike town. According to the city's Community Health Survey, nearly 1.6 million New York adults—and likely another few hundred thousand kids—ride bikes in the city at least a few times a year. Nearly 800,000 New Yorkers—approximately the populations of New Orleans and Atlanta together—ride bikes several times a month. About 400,000 bike trips are made every day. And 86,000 New Yorkers commute to work or school using bikes. Last Wednesday, more than 56,000 trips were taken on the city's bike-share system, which covers just 20 square miles; for Citi Bike, that was a daily record.
The days of viewing bike infrastructure as a "creative class" amenity—an infrastructural sugar high for young white transplants, the planning equivalent of cupcake shops and cold brew—are over. That narrative was always B.S.—half of bicycle commuters, according to the census, earn less than $25,000 a year. The number of trips by black cyclists doubled between 2001 and 2009. Hispanics are more likely to make trips on bikes than whites.
That won't surprise anyone who rides a bike in this (or any) city. I've been biking to school and work in New York, on and off, for more than 10 years, watching New York's rebirth as a great biking city. (I say "rebirth" because a grand, forgotten history lies behind us: At the end of the 19th century, New York was teeming with bikes. Woody Allen may not like new bike lanes now, but he would have been appalled by the "scorcher squads" of the 1890s.)
But that renaissance is occurring despite glaring failures in the design, politics, and security of bicycle infrastructure.
I read about the death of cyclist Matthew von Ohlen, killed by a driver in Williamsburg, Brooklyn, earlier this month, with sadness and selfish unease. Von Ohlen was following all the rules. He was in the bike lane. It didn't protect him from a driver who left his body in the street.
He's the 12th cyclist in New York City to be killed by a driver this year, but the apparent viciousness of his killing—witnesses have said it was an intentional hit-and-run—makes it anomalous. When someone riding a bike dies on the road, it's usually by an act of careless violence, the banality of driving. In 2014, the most recent year for which statistics were available, almost a dozen bikers suffered serious injuries every day. The unrecorded figures are surely much larger.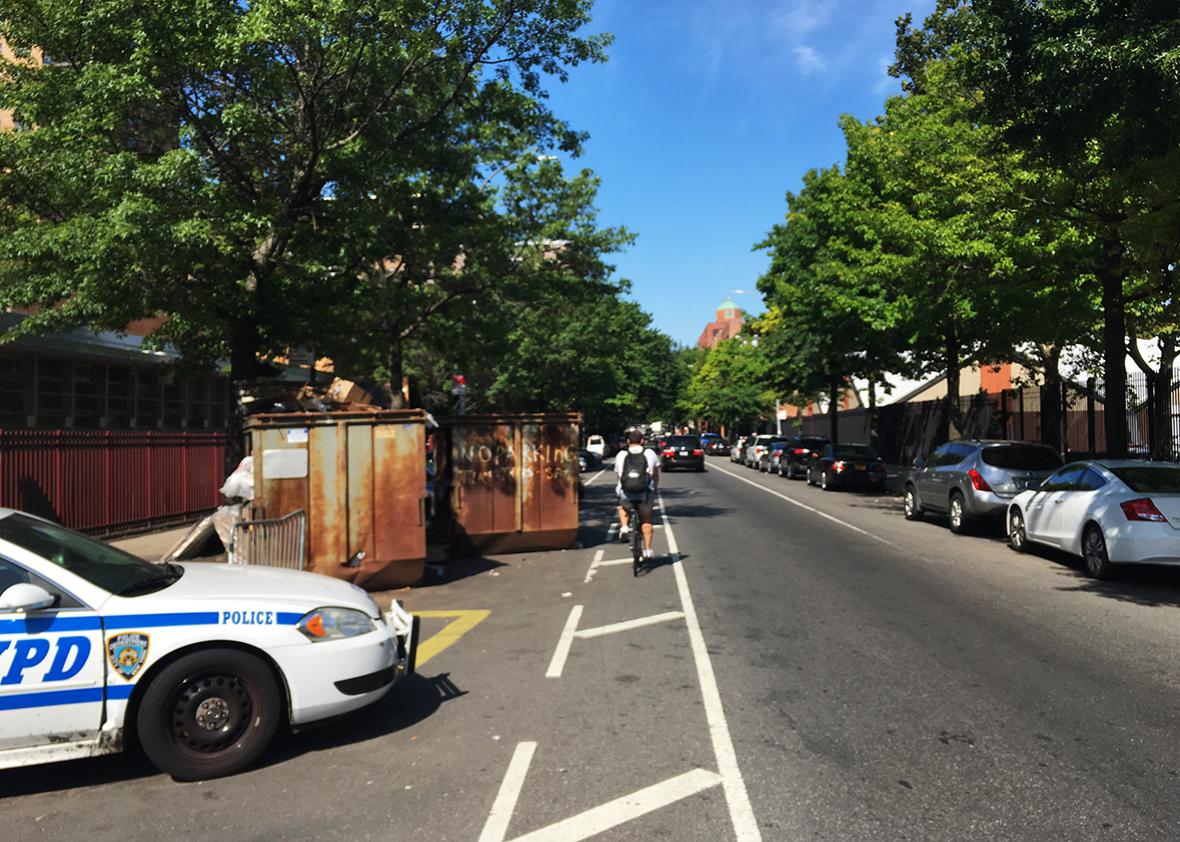 There's a point on my  3½-mile commute that encapsulates biking in New York today. It's on Dekalb Avenue, one of Brooklyn's oldest and busiest bike lanes, and the major corridor connecting central Brooklyn to downtown and the Brooklyn and Manhattan bridges. At the corner of Classon Avenue, the lane passes by the 88th Police Precinct. And outside the precinct, two huge rusty dumpsters are permanently stationed across the lane, forcing hundreds of bike riders into traffic.
That's biking in New York in a nutshell: an outdated piece of infrastructure, inevitably compromised, under the eyes of a police force that doesn't care.
The problem starts with design. The city's 1,000-mile network of bike lanes is riddled with gaps and incongruities. Outside of some very fine greenways, the system rarely measures up to global standards. Our 400 miles of bike lanes free of vehicle traffic are expanding at a rate of just 5 miles a year, and the network is only as strong as its weak points, which can be very weak: Sometimes lanes suddenly switch from one side of the street to the other. Sometimes they end without warning. Cars turn across them without signal permission. Mostly, they are full of double-parked cars. This doesn't always feel like a big deal: We can ride our bikes in traffic with cars, trucks, and buses. But sometimes it puts us in uncomfortable situations. It certainly doesn't inspire confidence.
One reason the network, built almost entirely over the course of the past two decades, remains so piecemeal is because New York gives its community boards, unelected groups of local cranks, the power to decide where bike lanes start and stop. That's why it has taken seven years for Amsterdam Avenue, which is on the Upper West Side and connects Midtown to Upper Manhattan, to get a protected bike lane. Transportation planning is the quintessential issue that should not be left to local determination. But bike lanes, for some reason, are subject to the whims of neighborhoods.
The result of this stalemate is that the Department of Transportation keeps up appearances by building bike lanes or shared routes between traffic and parked cars, while taxis, delivery vans, and police cars keep using that space for parking. Lanes that are marked off but not physically protected may be the preferred mode of bike infrastructure in this country, but on New York's busy roads, they are easily, readily taken away by drivers. Each double-parked car might force a dozen or so cyclists to swerve into traffic every few minutes. I find that constantly exiting and re-entering the bike lane feels more dangerous than simply riding in traffic to begin with. And on some busy bike lanes, like Jay Street in downtown Brooklyn, the double-parking is so thick there is virtually no lane left at all.
That most of our lanes aren't isolated from traffic is a design flaw, born of politics but compounded by disinterested policing. The NYPD has a short-sighted approach to bikes generally: The checkpoints for harmless offenses (like missing a bell or riding with earbuds) are an asinine misuse of police power. Activists often complain that the investigations of crashes have been less than rigorous and that crash reports offer knee-jerk cover to surviving motorists at the expense of dead pedestrians and bikers.
But a more fundamental issue is the department's responsibility to keep the streets safe for bikers by giving us places to ride. Those tiny ribbons of street aren't much. Sometimes they are, inexplicably, built in the paths of passenger-side doors of parked cars. But they're basically all we get.
Blocking a bike lane is illegal, and in fiscal year 2015, the NYPD issued 77,000 tickets to vehicles parked in bike lanes. That means that for every city block of bike lane, the department is issuing approximately one obstruction ticket every three months. (I usually count eight to 12 cars blocking bike lanes on my 3-mile ride to work.) During the NYPD's five-day Bicycle Safe Passage operation in June, which was focused on protecting cyclists, the department issued 1,757 tickets to drivers in bike lanes. That's twice its normal rate and still hardly a dent in the problem.
Did it ever make sense to try to partition a place for bikes with nothing more than some white paint on the roadway? On some lightly trafficked roads lanes may be better than nothing. But they remain a half-baked solution, decoration masquerading as infrastructure. If the NYPD can't keep the lanes clear, there's no point in having them.
For a glimpse of what could be, we can look to London, where Boris Johnson—yes, that one—helped push through a network of bike lanes physically separated from traffic. (Financial Times reporter Robert Wright recently wrote a delightful dispatch on the differences between riding in the two cities.) London has almost 50 percent more bike journeys per day than New York but fewer bike deaths. Most remarkably, the ratio of cars to bikes in central London has fallen from 11-to-1 in 2000 to 2-to-1 in 2014. In three years, if trends continue, more people will be biking to central London than driving.
Letting the city's jumbled beauty drift at me over my handlebars is still my favorite way to see New York. But there's nothing I sense so sharply as traffic: It's not just a visual preoccupation; the presence of cars is also a soundtrack (the heavy grinding of a truck is one kind of warning; the high-pitched buzz of rubber tires spinning quickly over asphalt is another) and a smell. It's a hot breath of bus exhaust in my lungs. Occasionally, it's the unwelcome surprise of physical contact.
But I'm tired of doing my best Ratso Rizzo impression every day: "I'm bikin' here!" There's room in New York for bikes to have their own space. And if we can make room here, every other American city should do just fine.