Listen to this episode of Working with guest Fiona Reeves:
Subscribe in iTunes ∙ RSS feed ∙ Download ∙ Play in another tab
Slate Plus members: Get your ad-free podcast feed.
This season on Working, we're going to the White House. For our first episode, we spoke to Fiona Reeves, director of presidential correspondence, who oversees an office that works through thousands of missives every day. She told us that people often begin letters to the president by writing that they know no one will read what they've written, but she told us about the process through which those messages do get read, sometimes even contributing to the administration's policies along the way.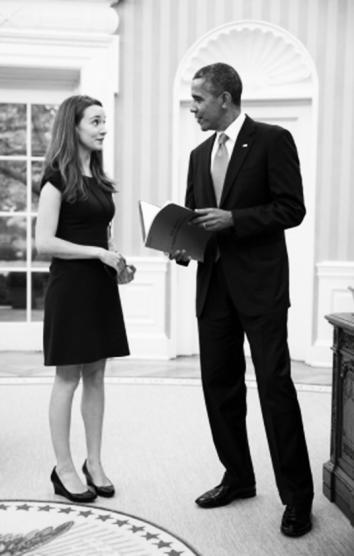 Reeves estimates that she reads 200 to 400 letters a day, selecting 10 of those that will make their way into the president's briefing book each evening. The Obama administration is the first to respond to emails. But it also still receives more traditional letters as well, and Reeves told us that she thinks that process isn't all that different than it was a century ago. "It is crazy to think that you are holding this piece of paper that was in this person's hand when they were reaching out to their government," Reeves said, reflecting on the continuity of handwritten contact.
Much of what Reeves does is specific to the present administration, however. She talked to us about how president Obama outlines responses to some of the letters he reads but also went into detail about how she and her staff channel his voice when working on responses to other message. That style plays into a more collective one:  Surveying the letters that pass over her desk, Reeves tunes in to the hum of the national conversation. She strives to make sure that the president sees both sides of issues, attempting to give him a sense of what people are actually saying and not just reaffirming what he's already doing. Those messages have changed over the course of the president's tenure, Reeves says, becoming more like testimonial journal-writing as his administration approaches its final months.
If the letters that Reeves and her staff receive affect the president's own thinking, they inform the experience of others at the White House too, perhaps Reeves most of all. Nowhere is that clearer than when she talks about the letter that she wrote to the president—and her own uncertainty about what's next.
And in a Slate Plus extra, Reeves tells how social media and other technologies have informed the old-fashioned art of letter writing. If you're a member, enjoy bonus segments and interview transcripts from Working, plus other great podcast exclusives. Start your two-week free trial at slate.com/workingplus.
Email: working@slate.com
Twitter: @Jacob_Brogan
Podcast production by Mickey Capper.