New York City smashed its all-time population record last year, topping 8.5 million for the first time ever. It's another step in a remarkable run of growth. Since 1990, the city has added more than 1.2 million people.
But some New York neighborhoods have yet to regain the population they lost during the urban crisis of the 1970s. Which are these desolate regions of our city?
Williamsburg, the Lower East Side, Astoria, and Upper Manhattan—and other New York neighborhoods where Labor is a place to buy a skateboard and the beer is measured out in mason jars.
The 15th annual State of the City Report, published by New York University's Furman Center, reveals that the hottest New York nabes are the ones that haven't yet recovered their lost population.
New York's 15 gentrifying neighborhoods—here defined by their low-income status in 1990 and above-median rent growth since—together form a band of territory whose total population is roughly 16 percent lower today than in 1970. Nearly 80 percent of the city's flight came from this area, which also includes the South Bronx plus Sunset Park, Crown Heights, Bed-Stuy, Ocean Hill, and Brownsville in Brooklyn.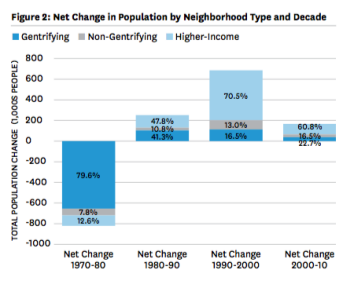 The city's total population has risen by 3.6 percent since 1970, but none of that gain has come in today's gentrifying neighborhoods. Even Williamsburg, the international standard-bearer of the urban revival, is less dense today than it was during Woodstock.
Development trends are similar. The city has increased its total number of housing units by more than 15 percent since 1970. But in the city's gentrifying neighborhoods, there are actually fewer units than there were in 1970.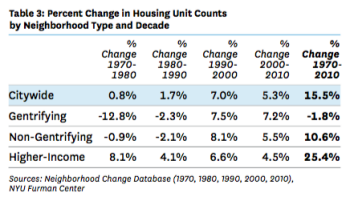 This puts the complaints about crowding, development, parking, and neighborhood character that often haunt such locales in a different light. Not only is your neighborhood not full—it's not even as full as it was at the dawn of the Bad Old Days. To paraphrase Yogi Berra, it's so crowded, nobody lives there anymore.
Of course, there are caveats: Treating Brownsville and Williamsburg as part of one coherent territory, which the study does, obscures some important differences. Williamsburg has many more housing units now than it did in 1970, even if the gentrifying swath as a whole has fewer.
There's something teleological about this conclusion, too. Because the Furman Center defines "gentrifying" neighborhoods as having been poor in 1990, the report ignores some of the nabes with the highest recent rent growth, like Chelsea and Park Slope, and gives special weight to struggling areas that people fled. If a low starting rent is part of the definition of gentrification, then gentrification can only occur in depressed areas. (My own experience suggests people are equally liable to apply the term to middle-income areas that have become unaffordable, like the West Village.)
Still, the broader conclusion is that the neighborhoods that have gentrified weren't just poor—they were also particularly depopulated.
This could be because the loss of buildings and people set the stage for residential change, Ingrid Gould Ellen, the faculty director at the Furman Center and a co-author of the report, explained to me. "In 1980, these neighborhoods had more vacant buildings and lots, which makes redevelopment easier," Ellen said. "The depopulation also made housing—at least initially—affordable to college-educated young adults who were looking for places where they could afford to live without paying all of their paycheck on rent."
The gentrifying neighborhoods that aren't already in Manhattan are close by, and all of them have excellent transit access, which raises another possibility. The very characteristics that caused these neighborhoods to decline after midcentury—high population density, mixed-use buildings, rental apartments, diversity, proximity to the center city—are now exactly the attributes that young, college-educated New Yorkers are looking for.