Beyonce's infidelity-themed new album, Lemonade, may not be doing wonders for her husband's image, but it sure looks like a coup for his business. Tidal, the streaming platform Jay Z relaunched last year to an embarrassingly indifferent public reception, has rocketed up the iTunes app charts—it's now in second place overall, and top among music apps.
This has been a major part of Tidal's plan all along. It promised to win over subscribers by offering exclusive music and videos from some of the world's biggest stars, many of whom either own equity stakes in the service or are part of Jay Z's personal circle. Up until now, the strategy hasn't worked particularly well. But Lemonade could tell us if it's at least salvageable.
This is the third time in recent months that interest in Tidal has surged following an exclusive release. Downloads spiked after Rihanna debuted her latest, Anti, on the service in late January, and again following the February release of Kanye West's The Life of Pablo, which was available only through Tidal for about six weeks. The two albums brought a flood of new subscribers to Tidal—by the end of March, the company claimed about 3 million paying users, up about 2.5 million for the year. But that still left it far behind rivals Apple Music, with its 11 million paying users, and industry-leader Spotify, which has about 30 million paying customers around the world. And remember: Spotify, which pays slightly less of its revenue to rights holders than Tidal, still isn't profitable, so far as anybody knows.

Worse yet, the bursts of attention Tidal enjoyed after Anti and The Life of Pablo quickly faded. After reaching No. 16 on the app charts following its Rihanna exclusive, the app swung back down to No. 553, according to the tracker-tool App Annie. It hit No. 1 during peak Pablo, then tumbled within a couple months to No. 661.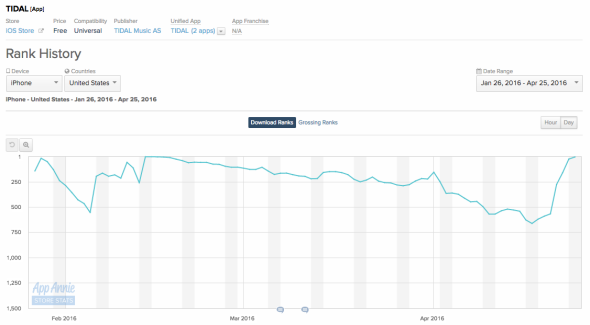 Spotify, in comparison, is consistently one of the top 18 to 25 apps downloaded in the United States. It hasn't had to rely on conquering the news cycle to grow.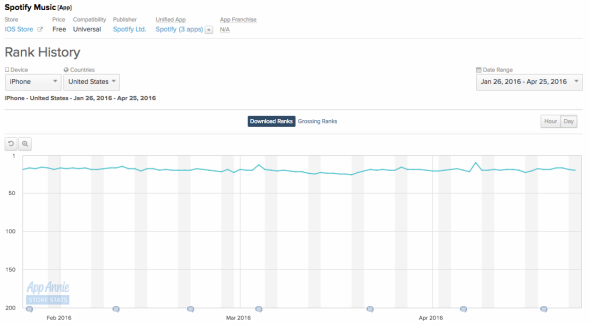 Could Tidal's Bey-fueled boomlet be different? Possibly. For one, Beyoncé is a bigger commercial force than either Kanye or Rihanna these days, so Lemonade may be a bigger audience draw. Meanwhile, one problem for Tidal, so far, is that its biggest exclusives haven't really been that exclusive. Anti migrated to Spotify and Apple Music a week after its release. And while Kanye notoriously vowed that The Life of Pablo would "never, never be on Apple" or go on sale, neither turned out to be true. If you weren't an obsessive fan anxious to hear either album the second it dropped, Tidal wasn't offering anything you couldn't get without a little patience.
Lemonade might be different. While the album was already on sale through iTunes by this morning, Beyoncé's camp has said it will stream exclusively through Tidal "in perpetuity." If that's true, it might prove to music fans that there are at least a few albums that you can only stream through Jay Z's platform.

In reality, though, there probably aren't going to be a lot of albums like Lemonade. Along with the likes of Taylor Swift and Adele, Beyoncé is one of a few artists with so devoted a fan base that keeping her music off of the most popular streaming services might drive up her album sales. But most performers who withheld their music from Spotify and Apple Music would probably end up leaving huge stacks of money on the table. Despite its reputation for paying a pittance to artists, the 100 most-streamed acts on Spotify are still on pace to earn millions this year. And while some performers might feel personally comfortable giving up that revenue because they have an equity stake in Tidal, the labels who own their recording aren't likely to share those sentiments. Even Jay Z, who does control his masters, hasn't been willing to pull all of his albums from rival services—just a few of the best ones (Reasonable Doubt and the Blueprint trilogy, for the record). If Shawn Carter himself can't bring himself to resist Apple and Spotify's money, how many others will?
So there's a lot riding on Lemonade. If Beyoncé can't get her husband's enterprise to escape velocity at this point, it's hard to imagine who could.