For a brief period following the Great Recession, it seemed as if maybe, just maybe, Americans' taste in housing had reached a turning point. With half the Sun Belt in foreclosure, suburban sprawl slowed down. Cities were suddenly in, especially among college-educated millennials. Perhaps, some thought, the country was finally headed for the kind of dense, walkable future that makes urbanists drool.  
But no. With the economy healing, Americans have started settling back into their old habits, moving off to warm suburbs in states like Florida and Texas. This week, the Census Bureau released a new batch of population estimates, and as former Trulia chief economist Jed Kolko writes, they show that growth is speeding up in the South and West and slowing down in the Northeast and Midwest. It's decelerating in dense urban counties while picking up pace in low-density suburbs and rural regions. Urban areas are still expanding, unlike during the peak of the housing bubble. But nonetheless, "suburbanization accelerated in 2015," Kolko concludes.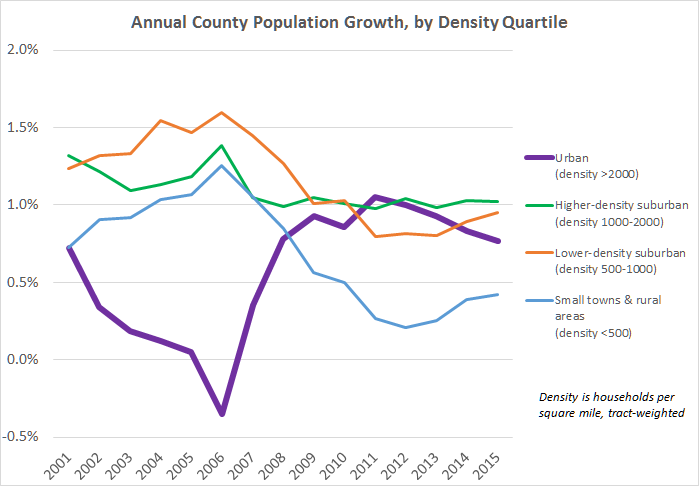 So we can probably stop waiting to find out whether Americans, as a whole, will move away from the suburbs. They're not. The more interesting question is who will live in them. The 'burbs, after all, are confronting more deep poverty while cities are attracting a greater share of young college graduates. And if the old class dynamics of the rich suburbs and poor inner cities continue to invert, it's going to create all sorts of profound public policy questions we've begun to grapple with, as low-income families find themselves pushed further from job centers and out into communities without much in the way of social support.
But anyway, sprawl is coming back. Enjoy driving your SUV to Sam's Club.